Given Stuurman (born 1996) is a South African actor who began his career as a child artist, and is best known for his roles in the popular TV serials and films Invictus, Straight Outta Benoni, Scout's Safari and Scandal!
Seeing a 7-year-old boy ask for a lady's hands in marriage by depositing her lobola payment like someone who knows what marriage is all about got everyone's attention. This was exactly how Given Stuurman found his way into the heart of the South African TV viewers. In 2003, he endeared himself to the South African public when he featured in a Postbank Lobola commercial where, as a 7-year-old, he asked for a lady's hand in marriage directly from her father.
The ad's popularity made Given Stuurman famous even before becoming a teenager, and the young man has managed to stay relevant in the television business for about two decades. Yes, at his current age of 26, Given Stuurman has been in the movie industry for almost two decades. He has managed to do this by evolving with the latest art and technology trends while also polishing his talent.
Summary of is Biography
Full name:

Given Mahlatse Stuurman

Nickname:

PapiAction

Gender: Female
Date of birth:

1996

Place of birth

: Johannesburg, South Africa

Given Stuurman's Age:

26 Years Old



Ethnicity: Black
Nationality:

South African

Sexual Orientation: Straight
Marital Status: Married
Given Stuurman's Wife:

Nomvelo Dlamini

Given Stuurman's Children:

One (daughter)

Occupation

: Actor, Presenter

Given Stuurman's Net worth:

$700,000

Famous for: His roles in the popular TV serials and films Invictus, Straight Outta Benoni, Scout's Safari and Scandal!
Given Stuurman Started Shooting Commercials At Age 5
Given Stuurman was born and raised in Johannesburg, South Africa. His exact date of birth is not known at the moment, but what is known is that he was born in 1996. In the same vein, the name of the particular high school he attended is currently unknown, but while in high school, Given spent his holidays as a cast member of the YoTV program. He was spotted on the show for his exceptional acting skills, super confidence, and comfort before the cameras.
Therefore, his mother was advised to hire an agent for him as he had all the talents for a proper acting career (Stuurman was five years old at the time). Thankfully, his mother made sense of what she was told and went ahead to hire her son an acting agent in a bid to tap into her son's developing acting potentials. Although the exact kind of family Given Mahlatse Stuurman was born into is unknown, from his mother's role in his career development, one can easily tell that he had a supportive family.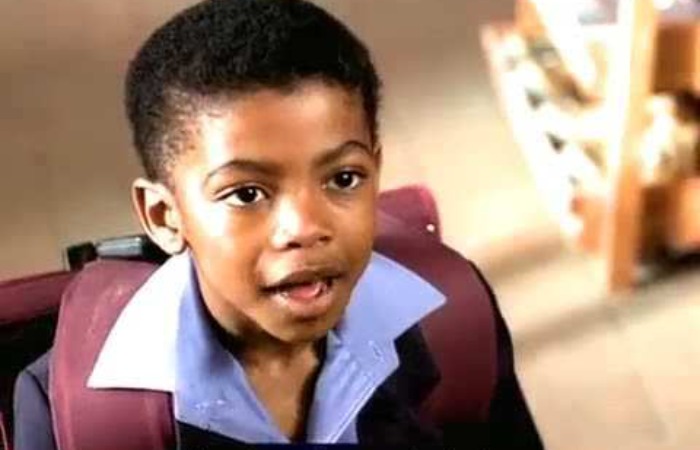 By the time Stuurman was seven years old, his outstanding talent was already becoming obvious to everyone – including big commercial brands who wanted him to be on the face of their products. His commercial for Postbank Lobola was a breakthrough in his career and endeared him to many people.
In the advert, he was seen depositing a steak as lobola to the father of a young lady he claims he wanted to marry. Given, a 7-year-old boy in the commercial was told by the man that he was too young to be married. In response, he told the man that he would deposit one steak every month, so he would have deposited the equivalent of six cows as the lobola by the time he is twenty years old. He then winks at his future father-in-law and walks out majestically.
He Wanted to Become a Sound Engineer But Dropped Out Of College
After high school, Given Stuurman got accepted at the Academy of Sound Engineering in Auckland Park, South Africa. After studying the course for some time, he quit his studies for reasons he is yet to reveal. Given's decision to start studying sound engineering never played a role in contributing to his fame, neither did his decision to quit stop diminish the love and support he received from the public.
Stuurman probably did not have enough love and passion for becoming a sound engineer, at least not enough passion to see him through the end of the course. But he had a passion for acting, and he never failed to prove that in every TV show and movie he was featured in.
He Has Been Active in the Movie Industry Since 2003
Given Stuurman has been a regular face in the movie industry since his mother got an acting agent for him in 2003. That same year, he was featured in the TV series Scout's Safari. Soon after that, he landed another role as Manziman's brother in the movie Straight Outta Benoni. In 2006, he played the role of Xlosis in the television series Tshisa and Mbugu's role in the movie König Otto.
2009 was one of the most significant years in Given Stuurman's career. This is because he was privileged to be a member of the cast of Invictus, which was directed by Clint Eastwood, the legendary American filmmaker and actor. Being directed (mentored) by Clint Eastwood in Invictus gave Given the opportunity to be trained by one of the best hands in the international movie industry.
The Actor is Yet To Receive an Award
Given Stuurman practically grew up as a celebrity. After 18 years of being active in the movie industry, starring in TV series that have fame across Africa, and being featured in blockbuster movies, he is yet to receive an award. However, all hope is not lost. Considering his age, as long as he keeps improving and adapting, he still has many more years to be in the movie industry. Judging from his hard work so far, it is almost certain that his first recognition in the industry is not far away.
Why Given Stuurman is Referred to as 'Real Life Kgosi'
Another major event in Given Stuurman's career was when he joined the South African TV show 'Scandal!' The popular soap opera has been airing for over a decade and counting. Acting the lead role in the TV drama as 'Kgosi Legae' earned Given Stuurman the nickname- 'real-life Kgosi.'
In 2017, Given joined the popular MTV series Shuga, where he played Reggie's role until 2019. His role in Shuga was his way of contributing to creating awareness on HIV/AIDS across Africa and advocating for an African society where homosexuals can be accepted as he played the role of a gay man who found it very hard to come out of the closet.
Given Stuurman Became a Dad At the Age of 24
Becoming a parent brings about a huge change in practically everyone's life, and Given Stuurman, who became a father at 24, is not left out. The former child actor now has a beautiful daughter, born on April 6, 2020, with his girlfriend, Nomvelo Dlamini, who has been dating since 2015.
The actor took to his Instagram page to announce their first child's birth in a now-deleted post. His expressions showed how happy he was at the birth of his child. He believes children are a blessing from God, and raising and nurturing a child is even a bigger blessing. So, just before having more children, he has decided to spoil his daughter; judging from what's on his Instagram account, he is doing just that.