As of today, Advocate Gerrie Nel is no longer in the employ of the National Prosecuting Authority after handing in a 24-hour notice of his resignation on Monday.
Upon learning that the State prosecutor who jailed Oscar Pistorius and former top cop Jackie Selebi has quit, South Africans have been left reeling with many describing his resignation as disheartening.
Described as a 'consummate professional', NPA spokesperson Luvuyo Mfaku said the association didn't know why he left but believes Nel might have left to pursue other interests.
Motive Behind His Resignation
While the country, especially those in the legal field are struggling to unravel the reason behind Nel's resignation, reliable sources say the renowned prosecutor left to head an incipient investigative unit at AfriForum.
The aim of the move, as gathered, is to look into matters which the NPA declined to prosecute. This decision has already got people talking on social media, with many condemning the move. Others expressed shock, questioning if AfriForum is 'actually' a civil right organisation, as claimed.
Poet and activist Ntsiki Mazwai tweeted that the organisation was more of a platform for 'racists', adding that 'whites will never change'.
South African top investigative journalist, Adriaan Basson simply described it as a 'sad day'.
Sad, sad day to see a dedicated, well-loved prosecutor like #GerrieNel quit the NPA to join a divisive organisation like @afriforum.

— Adriaan Basson (@AdriaanBasson) January 31, 2017
Quick Facts About Advocate Gerrie Nel
Education
Nel studied law in Pretoria after he matriculated from Hoërskool Piet Potgieter in Potgietersrus, Limpopo province in 1979.
In 1984, Nel started working as a prosecutor. He was a junior prosecutor in the trial of Clive Derby-Lewis and Janusz Waluś, who were both convicted of killing SACP former leader, Chris Hani.
Gerrie Nel Is Known For His Tenacity In The Courtroom
The advocate's doggedness, tenaciousness, fixity of purpose, bulldog spirit, tirelessness, indefatigability, resoluteness, firmness, patience, purposefulness and staunchness in the courtroom earned him the nickname – the 'Bull Dog of the NPA'.
Once he grips a case, he holds it firmly until justice is served to the letter. He is merciless, comes extremely prepared and does not overlook the tiniest detail.
He's Notable For Handling High-Level Cases
With more than 30 years' of experience, Nel had a string of successful prosecutions under his belt and was no stranger to high-profile cases.
He was the chief prosecutor in the State's murder case against former Paralympic champion Oscar Pistorius and former police commissioner the late Jackie Selebi, who was convicted of corruption in 2010, among others.
His trademark no-nonsense style of questioning won him legions of fans. Sadly, his resignation came at a time he was busy with the murder case of flying squad member Edward Kennedy Fox who is accused of murdering his wife as she slept at their Vereeniging home three years ago.
Nel Was Former Head of Gauteng Scorpion
Gerrie Nel was the founding head of the Gauteng province division of South Africa's elite police and prosecution unit the Hawks, then known as the Scorpions. The Scorpions was founded in 1999. He led the Scorpions' Operation Bad Guys investigation into Selebi and the late mining magnate Brett Kebble.
Was Once Caught In Fraud Allegation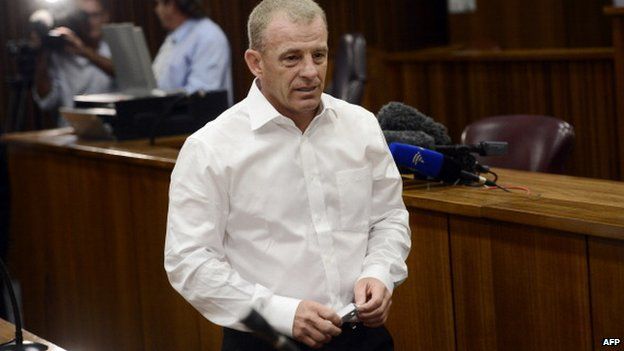 In 2008 Nel was arrested on trumped-up fraud charges while pursuing former police commissioner Selebi. He even spent a night in the police cells.
However, it later emerged that suspended deputy NPA head, Nomgcobo Jiba, was instrumental in securing an arrest warrant against him. Reports had it that Nel had something of a long-running enmity with Jiba.
Received Many Awards as State Prosecutor
During his 35-year career' the reputable advocate won many awards including the Society of State Advocates' Prosecutor of the Year in 2012 and the International Association of Prosecutors (IAP) Special Achievement Award.
He Is a Wrestling Teacher
Local Media Outlet Rapport once reported that the advocate teaches children wrestling in his spare time. The lesson usually takes place in the evenings.
"He has endless patience and never loses his temper. The children love him," a parent once told Rapport. Meanwhile, the man once competed in wrestling at a provincial level.
Certainly, Gerrie Nel once described as "one of South Africa's most respected legal minds" by the British Broadcasting Corporation (BBC) will be greatly missed in the State Prosecution squad.