Sammie Heavens (Real Name: Ntombizodwa Beatrice Sibanyoni, born 27th of April 1998) is a South African social media influencer, fashion enthusiast and YouTuber best known as rapper Nasty C's girlfriend.
Nasty C is one of the most fascinating South African musical rappers who has come to be respected and loved because of his unrivaled talent. One aspect of his life that doesn't seem to get anywhere close to such attention is his love life with his lover for a very long time, Sammie Heavens, although she has been there for and with him.
Although she mostly rose to fame, thanks to her relationship with the rapper, she also has her own life on the side as a social media influencer. Nonetheless, when her name is mentioned, it is mostly about her relationship with the rapper.
Summary of Sammie Heavens's Biography
Full name: Ntombizodwa Beatrice Sibanyoni
Nickname: Sammie Heavens
Gender: Female
Date of birth: 27th of April 1998
Place of Birth: Durban
Sammie Heavens's Age: 25 years old
Ethnicity: African
Nationality: South African
Zodiac Sign: Taurus
Sexual Orientation: Straight
Marital Status: Unmarried
Education: Nuz Junior High School
Famous for: Being rapper Nasty C's girlfriend
Sammie Heavens's Instagram: sammieheavens
Sammie Heavens Has Been Nasty C's Girlfriend For A Very Long Time
Even before fame and money came, one of the things that Nasty C has always had is Sammie Heaven. Their love story first started when they were still at Nuz Junior High School. At the time, the rapper was in grade 8 while she was a grade before him. Although that was the time they first met, they did not become an item until Nasty C was in grade 9. One thing that was fascinating about this is that the beauty was only 15 at the time.
Since they started dating, Nasty C has always taken out the time to appreciate his woman on their anniversaries and several occasions. In celebrating their seventh year together, Nasty C made a post where he made it known that he owed Sammie's mum the world because she created his own world.
She Was Dragged For Listening to A Reece Music
Heaven once found herself on the wrong side of social media in the war between fans of her lover and fans of A Reece when a video of her vibing to the music of the latter surfaced online. A fan of A-Reece shared the video with a caption; "If Nasty C girl can vibe like that to Reece music, then who are Nasty C's fans?"
This caused a row as Nasty C's fans questioned her loyalty, declaring that she had no right to listen to the music of a man who is Nasty's rival.
In a clap back, she made a sarcastic comment that she was no longer going to listen to any rapper's music or attend their shows or even like their posts on social media. She added that she was not going to follow any of them, neither was she going to see their names on social media because she would block them all.
Nasty C Once Cheated On Sammie Heavens 
The two might have enjoyed a relationship that has lasted a very long time, but it has not been one without its dramas, ups, and a few downs. What became one of their biggest lows was when Nasty C cheated on her.
In one of his songs, the rapper detailed how he cheated on his woman while also using the opportunity to apologize. He did not leave out the fact that she had always stood right by him even when he acted too brand new for her. Although they settled the case, she indicated that his rapping about it did not make matters easier.
What got the beauty more annoyed was people say she should have expected the rapper to cheat on her because that was what rappers do.
Her Boyfriend Has A History Of Singing About Sammie Heavens
https://www.instagram.com/p/B9GnUH8nYmI/
Sammie Heavens once registered her displeasure at how her relationship with Nasty C has become too public. That is in no little part due to the rapper's urge to always sing about things that matter to him, one of which is his woman.
She has been a topic of more than a couple of his songs since he became known as a rapper. She was his song Bad Hair's topic, where he talked about their relationship and how he cheated on her. She was also talked about in SMA (Send Me Away) with Rowlene, detailing their troubles and how she was always there for him, and he was never going to leave her.
According to Nasty C, it was only in Bad Hair that he did not inform her before he sang about her and their relationship, and she was not happy about it. Since then, he has always informed her if she would be a topic in his music, ensuring she listen to it before he drops it.
She Has A Man Willing To Always Defend Her
More Jazz in future plans please 🥰 @standardbankart #SBJOJ22 pic.twitter.com/cwAbn8EMa4

— HEAVENS (@sammieheavens) September 26, 2019
Nasty C has made it clear that he would always defend his woman against trolls on social media. This became obvious when a vlogger attacked Sammie Heavens and her character by describing her as a gold digger who was only after the rapper for what he has. The vlogger went on to add that Heavens had not achieved anything for herself and was a natural-born failure.
The video, which went wild, caught the rapper's attention, who soon shared a picture of himself and the beauty on Twitter, stating that his woman was Nasty and he was the one that taught her that. He stated that she was his backbone.
The Mrs. Me rapper also made it clear that he was Nasty C and all those around him had already developed a thick skin before adding that all the trolls were boring him.
Cassper Nyovest was the next rapper to support Sammie when he made a post, stating that instead of the vlogger disrespecting the poor girl like that, he should have just come out to clarify that he wanted to become the girlfriend of Nasty C.
A Closer Look At The Personal Life Of Sammie Heavens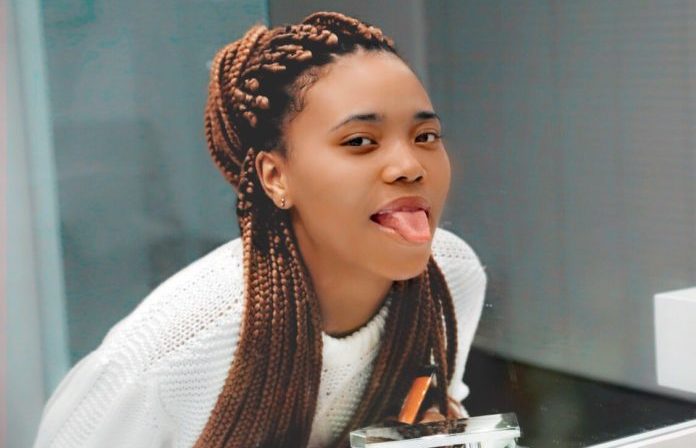 Even though everyone has come to know her as Sammie, her real name is Ntombizodwa Beatrice Sibanyoni and she was born on the 27th of April 1998, meaning that she is a year younger than Nasty C.
Although there is no much information about her childhood or parents, it is known that she was born and brought up in her hometown of Durban. She got her education at Nuz Junior High School, where, as stated, she got to meet Nasty. Other details about her education are none existent in the public domain.
Career-wise, she has built herself in an industry not too distant from what Nasty C is doing, as a social media influencer with thousands of followers on Instagram. She is also a fashion enthusiast and has a YouTube channel, where she makes videos on diverse issues.