Zikhona Sodlaka (born 7th June 1985) is a talented South African actress, singer, and philanthropist who rose to the limelight after landing her debut lead role in Tsha Tsha on SABC1 drama series. She is also known for her roles in the TV series Rhythm City, Shooting Stars, Soul City, Intsika and Montana. 
She has been active in the South African film industry for many years and has also starred in a good number of productions. This beautiful lady is not only outspoken and courageous in her endeavors but also in real life. Many consider her as one of the strongest women in the industry.
Sodlaka has been in the public eye recently for some reasons, one of which is the arrival of her baby. One aspect of her motherhood journey that has sparked media interest is the way she has been protective of the man who made her a mother. Interestingly, there's more to know about this beautiful actress and her personal life.
Summary of Zikhona Sodlaka's Biography
Full name: Zikhona Sodlaka
Gender: Female
Date of birth: 7th June 1985
Place of birth: Mthatha, Eastern Cape
Zikhona Sodlaka's Age: Use Age Shortcode
Ethnicity: African
Nationality: South African
Zodiac Sign: Gemini
Sexual Orientation: Straight
Zikhona Sodlaka's Children: 1
Zikhona Sodlaka's Parents: Both late
Occupation: Actress, singer
Famous for: Starring in TV series such as Rhythm City, Shooting stars
Zikhona Sodlaka's Instagram: zikhonasodlaka
Twitter: @zikhonasodlaka
Zikhona Sodlaka Originally Hails From Eastern Cape But Was Raised In KwaZulu-Natal
Zikhona Sodlaka was born in Mthatha, Eastern Cape, on 7th June 1985. She is currently 38 years old. The actress was raised in KwaZulu-Natal province after her birth. It's not clear why she moved to KZN and if she relocated to the area with her family. She is believed to have had a memorable childhood, as well as an amazing experience growing up.
The actress lost her mother many years ago and her father followed in the year 2020. She was left devastated by both losses and it took her time to come to terms with her father's passing. Mr. Sodlaka passed away on Christmas day in 2020, the reason Zikhona was heavily saddened. She mentioned that Christmas now has an entirely different meaning for her as she deeply loved her dad.
It's difficult to tell if the award-winning South African screen diva is an only child because she hasn't mentioned anywhere about having siblings or not. It could be that she has siblings but wants to keep them far away from the public eye and media.
The Actress Holds A Diploma In Business Administration
Zikhona Sodlaka is proof you can excel as an actress even if you have no degree certificate in the field. She began her academic journey at Excelsior SSS but withdrew from the institution in grade 9. She was later enrolled in Warriors Rust High School in Margate, where she eventually passed her matric.

She had her tertiary education at Shepstone College where she majored in Business Administration. The actress obtained a Diploma after her studies at Shepstone and was admitted at Havtec in Johannesburg as an IT student to study Computer Programming. However, she ended up spending just six months at Havtec.

Her decision to pull out was triggered by her passion for the arts, which she could no longer constrain at the time. It is believed that Sodlaka must have gained adequate knowledge in the course of her studies that helped shaped her career and also give it the needed boost.

A Look At Her Education/Institutions/Certifications
Excelsior SSS
Warriors Rust high school in Margate (Matric)
Shepstone College (Diploma in Business Administration)
Havtec (IT student; Computer Programming for six months)
Her Motherhood Journey Began In Early 2021
Zikhona Sodlaka became a mother in early 2021. She shared the news of the arrival of her son in the month of April 2021, months after she publicly confirmed her pregnancy. The actress announced that she was expecting a baby in the month of December 2020 after she was spotted at a mall in October 2020 with a baby bump.

In her African-themed photoshoot post, she expressed so much joy for the blessing and recounted her experience. She also asked God for the grace to carry out all her responsibilities as a mom now. The actress was however economical with information about her baby.
The name of his son, the exact day he was born, as well as details surrounding his birth, are not known yet. The actress kept her fans in the dark about her pregnancy for months. No one knows exactly why she decided to do that, even though she is known to be naturally reserved when it comes to matters that pertain to her personal life.
Well, it could be that Zikhona loves surprises and wanted to inform her fans about it at her own time.
The Father Of Her Child Is Yet To Be Publicly Unveiled
Sodlaka did not succeed in keeping her pregnancy away from the public eye for a long time, but she has done a good job hiding the identity of the father of her baby all this while. It's been months since she gave birth but it seems she is not ready to show the world the man who made her a mother.
While sharing the news of the birth of her baby, the actress spoke about several things but left out the name of the baby's father. Well, news making the rounds have it that her baby daddy is a South African but his name is yet to be publicized.

Since the name of her baby daddy is not known yet, it is difficult to tell how they met and when they started dating. It's not clear if he's been involved in the little boy's life and if he is in a relationship with the Rhythm City actress.

Talking about Zikhona's love life, a lot is still not known about this aspect of her personal life. There's no information about her past relationships, as well as the identities of the men she has mingled with in the past.
Zikhona Sodlaka First Appeared On-screen As An Actress In 2006
Sodlaka launched her acting career in 2006 but before then, she did some modeling jobs and also appeared in a slew of commercials for some brands. Her first acting job was in the SABC series Tshatsha season 4 where she portrayed the character Zukiswa.

Other projects she has been a part of include Rhythm City, the e.tv soccer thriller drama Shooting Stars, Skeem, Generations, Intersexions, Tsha Tsha After 9, A Place Called Home, and Mandela: Long Walk To Freedom.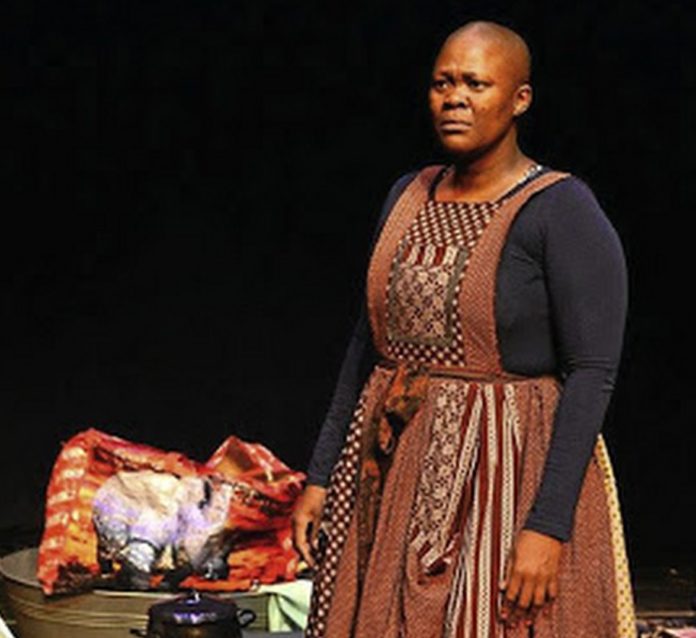 Sodlaka won the Naledi Theatre Awards for Best Lead Performance in Nongogo. She was once nominated for the South African Film and Television Awards (SAFTA) but couldn't win the award.

Some of the works that helped her rise to fame include Rhythm City, Tsha Tsha, Long Walk To Freedom, as well as Generations. To date, she is best known for the above-mentioned projects because they availed her the opportunity of working with celebrated actors and also increased her popularity.
Zikhona Sodlaka's Movies and TV Shows
TV Shows
A Place Called Home (Season 2) as Palesa
After 9 (Season 2) as Zee
Entabeni (Season 1) as Ava Modise
Generations (Season 1) as Prisca
Igazi (Season 1&2) as S'chotho
Intersexions (Season 2) as Mirriam
Indika (Season 1) as Phakama
Montana (Season 1&2) as Nolitha Ntshinga
Rhythm City (Season 1) as Suarez Baloyi
Shooting Stars (Season 1,2&3) as Ayanda Tau.
Soul City (Season 10) as Noluthando.
Tsha Tsha (Season 4) as Zukiswa.
Films
Magic (2019)
The Two Of Us (2014)
Mister Bob (2011)
Artist Connection (2016)
Happy Family (2017)
Imbadu (2021)
Skeem (2011)
Mandela: Long Walk to Freedom (2013)