There are not as many people that can boast to be very close with President Jacob Zuma as Dudu Myeni, a South African businesswoman who many have speculated to have even had a romantic relationship that produced a child with the SA leader. So close are the pair that even during parliamentary proceedings, Julius Malema, the founder of the Economic Freedom Fighters party, addressed Myeni as "Dudu Myeni Zuma", asserting that the ties between the pair are glaring and obvious for everyone to see.
Myeni and Zuma did not do themselves any favors in quenching the rumors as the businesswoman's time at the state-owned South African Airways was full of controversies. There were wide-ranging reports that she engaged in perpetual board-room wars, witch-hunt, and tactical maneuvers that were at the detriment of the corporation, with Zuma turning a blind eye to all that was going on.
But regardless of all this, both parties have severally reiterated that their relationship over the years has been nothing but professional, a fact that can be seen through Myeni's role as the longtime Executive Chairperson of the Jacob G Zuma Foundation.
Who is Dudu Myeni?
Unlike many other public figures in South Africa, not much is known about Dudu Myeni's background, including details of her place of origin and parents. What is only known is that she was born as Duduzile Cynthia Myeni on the 29th of October 1963.
Myeni's rise to prominence came in 1999 when she founded the consulting firm Skills Dynamics. Her firm, which operates in and around Richards Bay, has facilitated a number of social development programs on behalf of both private and public corporations. By 2008, she assumed the role of Executive Chairperson of the Jacob G Zuma Foundation before going on to receive an appointment to the board of directors of South African Airways (SAA).
Other notable high ranking positions that Dudu Myeni went on to hold include that of Director of Trade and Investment Kwazulu-Natal, vice-president of the African Water Association, and Chairperson of the South African Association of Water Utilities and the Mhlathuze Water Board.
Details of Her Educational Background
Dudu Myeni's educational background has been disputed and called into question on several occasions. While it is noted that the businesswoman obtained her Primary Teachers Certificate from Madadeni College and her a Secondary Teachers Diploma from Umlazi College, it is not clear if she managed to graduate from the university.
In 2009, the South African Airways annual report mentioned that the then-newly appointed board of director had a bachelor's degree in administration from the University of Zululand. The following year, however, this bit of information was missing from the report as Myeni admitted she had not been awarded the degree but was still "studying toward it".
About nine years later, Myeni looks to still not have completed the requirements for a degree as she was unable to land a position as a special adviser to Transport Minister Joe Maswanganyi after her failure to submit the requisite academic credentials.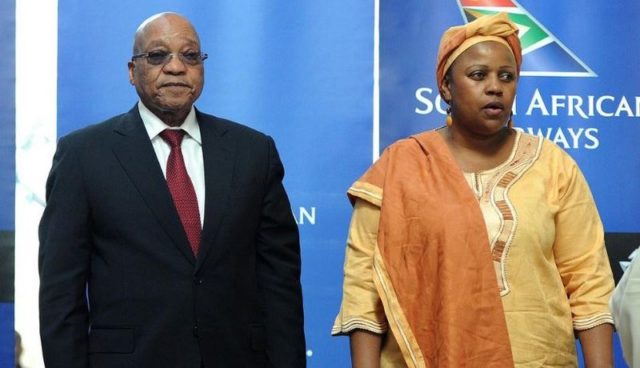 Other Facts About The Business Woman
Family
Details of Dudu Myeni's family are few and far between. While it is not clear who the former SAA Chairwoman is married to, she has publicly spoken about having a husband. She did so following Malema's statement in parliament when he referred to her with the Zuma surname. She said she was looking forward to her husband's retirement so that he could be able to confront those who talk about a relationship between her and the president.
Another known member of her family is a son named Thalente Myeni. Not much is known about the boy who is the sole shareholder of Dimadox, a shelf company that has shares in New Africa Rail (NAR).
Controversy at SAA
In March 2015, South African Airways signed an agreement with Airbus as part of the airline's turnaround plan to lease 5 Airbus A330s. In October 2015, without involving SAA executives, Myeni informed Airbus that the airways would be renegotiating the agreement to instead be an outright sale to an unnamed third party that would purchase the planes on SAA's behalf.
This move raised concerns about corruption by the Chairperson since she was by-passing the normal procurement process. The move further triggered a clause in the original agreement that any renegotiation of the agreement would need to be approved by the Ministry of Finance.
In December 2015, the then Minister of Finance Nhlanhla Nene began to re-look into Myeni's request to renegotiate the deal. This was one of the suspected causes of his controversial replacement a week later as a minister by President Zuma.
This move, however, caused a public outcry and a strong negative reaction by international markets that led to his replacement, David van Rooyen, being replaced four days later by the better known former minister of finance, Pravin Gordhan who went on to reject Myeni's request as he announced that the original agreement to lease the planes would be implemented.