Young Stunna is not currently married. He is not openly gay and he is not dating anyone at the moment, at least publicly. He disclosed in October 2022 that his girlfriend left him after it was rumored that he had seven girlfriends. 
Unarguably one of the fast-rising Amapiano stars, Young Stunna has made headlines for several reasons ever since he broke out. His sexual preference became the subject of discussion on the internet in late 2022 after he was seen in a video being affectionate with a young man.
Is Young Stunna Gay?
Young Stunna is not openly gay, nor has he admitted ever being in a relationship with people of the same sex. However, rumors about the Adiwele crooner's sexuality started circulating in November 2022 after he went on Instagram Live to jam to some music and interact with his overwhelming number of fans.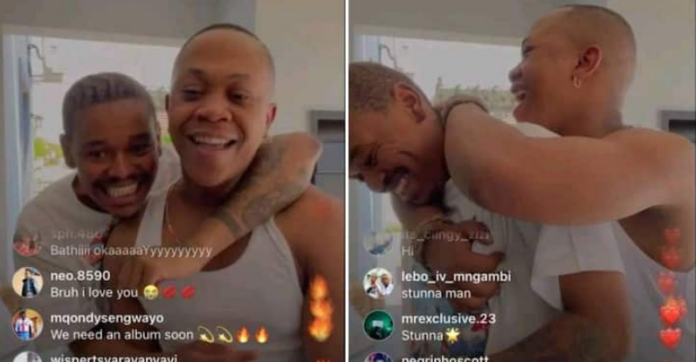 Most of his fans came to a conclusion during the live video that the singer could be gay, seeing the way he was affectionate and touchy-feely with a young man. The screenshot of Young Stunna and the young man from the video also trended for days, with many people insinuating that they could be dating.
Some internet users also went as far as quoting his lyrics to prove that he has been giving clues about his sexuality. Young Stunna is yet to set the record straight and put the rumor about his sexuality to rest.
A lot of the singer's fans still find his sexuality rumor confusing because Young Stunna is generally believed to be a Ladies' Man following a viral report that he was in a relationship with multiple ladies.
Who has Young Stunna Dated?
Young Stunna is currently not in a known relationship, and he has not been married in the past. The singer mentioned in October 2022 that his girlfriend left him after it was rumored that he had 7 girlfriends.
Allegations of the singer having 7 girlfriends started circulating on Twitter. Young Stunna, in an interview with JazzIQ, disclosed that everything was moving fine between him and his girlfriend until she finds out what people were saying about him. He, however, did not mention the name of his girlfriend.
He denied dating the said number of girls and reiterated that the allegation solidified his reasons not to open a Twitter account.
However, Young Stunna has been linked to a good number of girls who are said to have been seen with him on severally occasions. South African controversial Twitter blogger Musa Khawula made the revelation and also provided evidence that they are the singer's girlfriends.
when Young Stunna said "nami ayangibiza ama thousands" I thought he was referring to money 🤣🤣🤣

— Tabloids (@TheRealThaboN) May 31, 2022
The ladies are rumored to be:
Reabetswe Maja 
Tshego Mash
Mash is said to have shared a video of Young Stunna kissing her on her cheek with one of her lose close friends. She is said to have subsequently shared a video of them in the bathtub with her friends too, which ended up being leaked by one of them.
One of her friends shared the videos to prove that the singer was having an affair with her friend.
Dlamini was rumored to be one of Young Stunna's girlfriends. She is reportedly a Durban-based promoter.
Musa introduced Qayiya as Stunna's fourth girlfriend, claiming the Adiwele hitmaker once visited her at her home in Centurion.
Lol there is a difference between loving Women and being loved by Women 😂🤣.

In a nutshell I am certain Young Stunna is being loved by Women, it's just up to him to decide if he give them a chance. Or not 😂.

We have People who don't care if you are dating, they want you.

— Slaughter Top G. (@BafanaSurprise) May 31, 2022
It's not clear if any of the girls mentioned above was the one who quit her relationship with the singer due to the viral rumor.
Does Young Stunna have a Child?
No. Young Stunna has not given birth to his own kids. Although he has been rumored to have dated several girls, there is no report of him having a baby or babies with any of them.