Vodacom is one of the leading telecommunications companies in South Africa, and they have amazing offers. Most Vodacom users already know about the Vodacom Talking points, a reward program through which Vodacom users earn points for every R10 they spend on the network. VodaBucks Rewards and Vodacom Talking Points are almost the same; however, VodaBucks Rewards is like an upgrade of Vodacom Talking Points because, with VodaBucks, you are not only rewarded for spending alone. Vodacom users who joined the Talking Points reward program should also partake in the VodaBucks Rewards program.
Vodacom Talking Points Have Been Replaced With VodaBucks 
Talking Points was a Vodacom reward program to encourage prepaid users to continue using Vodacom and stay loyal to the network. For every R10 spent on the network, users earned a point which they could use to purchase reward items like tech gadgets, airtime, data bundles, and more.
On 31st July 2020, after successfully running Vodacom Talking Points for 13 years, Vodacom decommissioned the program and replaced it with VodaBucks. For those asking, this is why Vodacom Talking Points no longer work as Vodacom no longer gives talking points. So if you were involved in the reward program, you could consider joining the VodaBucks reward program instead.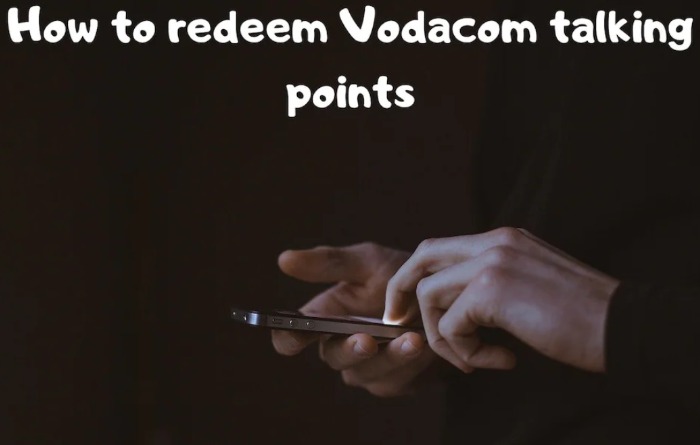 VodaBucks is also a reward program where Vodacom users earn VodaBucks by paying their bills via Vodacom, buying airtime, and data bundles. You can also set a goal on the Vodacom app, and whenever you achieve it, you earn VodaBucks. Users don't just get rewarded for spending alone; you get rewarded by just using any Vodacom service, like the app. Users even get rewarded for leaving their SIM card in a phone. This is what makes VodaBucks Reward program more amazing and worth more than Vodacom Talking Points.
Vodacom users can join the VodaBucks Reward Program Via USSD Code and Vodacom App.
Vodacom users can join the VodaBucks Reward program by simply using the app or via USSD code. Smartphone users can download the Vodacom app on the Google play store or App store, depending on the kind of phones they use. After registering your number on the app, you can log in anytime to set a goal. If you complete your goal, you win a VodaBucks. Alternatively, you can simply:
Dial *133# on your mobile phone
Select Option 1
Follow the prompts
The USSD code for VodaBucks and Vodacom Talking Points is different, so customers interested in the reward program will have to familiarize themselves with *131#. Before the decommissioning of Vodacom Talking Points, you could check your talking points using four different methods, which include:
Calling 082 2411 082 for free with your Vodacom number.
Dialing *111# and following the prompts.
Visiting participating Vodacom outlets.
Lastly, via the Vodacom website of the Vodacom4me.
Unlike Vodacom Talking Points, which had up to four different ways of checking the number of talking points you have, there are two ways to check your VodaBucks, including the Vodacom app and dialing *133#.
Vodacom Users Must Bank Their VodaBucks Before 12 Midnight Every Friday
Vodacom Talking Points had an accumulation period of 18 months, within which you are allowed to accumulate as many talking points as possible, after which any Talking Points that has not been redeemed will be forfeited. However, VodaBucks does not work that way. With the latter, you bank any VodaBucks you accumulate every week – between Saturday and 11:59 pm on Friday. After midnight on Friday, any VodaBucks that have not been banked will be lost.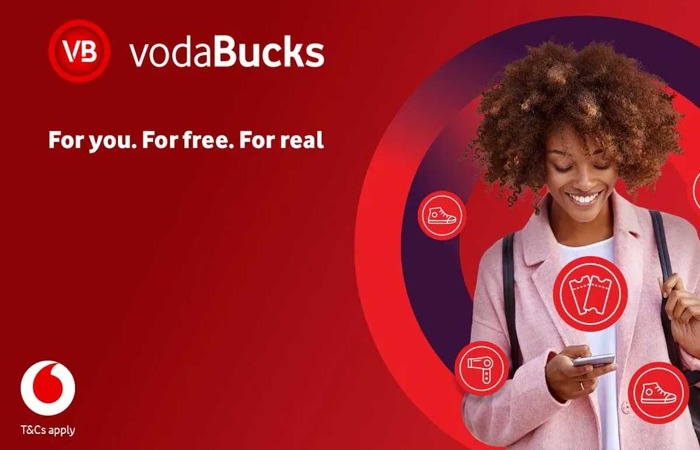 After midnight, your VodaBucks balance will be reset to zero to start the new week. You do not have to wait till midnight on Friday to bank your VodaBucks because you can bank them at any time. It is essential to bank your VodaBucks, so you can use them later, especially if you are saving VodaBucks to purchase something from the VodaBucks store.
Vodacom usually sends out a notification or SMS to their users on Wednesdays and on Friday mornings to bank their VodaBucks, so even if you get carried away with other activities, you would get reminded; make sure to pay attention to the notifications.
How To Bank Your VodaBucks
Banking your VodaBucks is a straightforward process. There are two ways to bank your VodaBucks instantly; they include:
Via the Vodacom Mobile App: The process is straightforward. All you need to do is log in to your Vodacom app and tap on 'Bank.' Using the Vodacom app is simple and does not require data.
Using USSD Code: You can also bank your VodaBucks by dialing *131# and following the prompts.
Note: This is different from Vodacom Talking Points which had more than five different ways of redeeming them, which included:
Via USSD Code: Prepaid users only needed to dial *135*7# and select talking points
Via the mobile app
By logging in to My Vodacom
Via SMS: Send 'TP' to 30150.
Call 082135 with your Vodacom number
By walking into any participating outlet
However, users have to forfeit using these methods and familiarize themselves with the two methods above.
Here is What is Available on the VodaBucks Rewards Store And How to Get Them
After saving up so many VodaBucks and banking them, there are actually a variety of things you can use to purchase from the VodaBucks store. Your banked VodaBucks are valid for only 12 months, after which they will be forfeited, so to avoid loss, you have to purchase a reward from the VodaBucks store within the space of 12 months.
The VodaBucks store is an online platform where users have access to various rewards, which they can use their banked VodaBucks to purchase. In a situation where a Vodacom user does not have enough VodaBucks to purchase a particular reward, they can complete the payment using their credit or debit card. Here are the things you can buy with your banked VodaBucks:
Airtime and data bundles.
Electronics
Food and grocery rewards.
Fashion rewards.
Travel rewards.
Appliances.
Home (household) rewards.
Lifestyle rewards.
You can spend your VodaBucks using the mobile app or by dialing *131# and following the prompts. A variety of rewards that you can purchase will be displayed to you.
For data bundles, you can purchase using a combination of VodaBucks and airtime, credit/debit cards, etc. While you can use a combination of credit or debit card and VodaBuck to pay for other rewards, Vodacom has the right to decide how much VodaBucks you can combine with credit card payment for a particular reward.
Reward orders can only be delivered within South Africa on a working day. Your orders will be delivered within 10 working days after placing an order using the app or USSD code. Users have 14 working days after their orders have been delivered to lay a complaint if they are not satisfied.
Before your delivery date, you will be sent an SMS that contains your delivery date. Therefore you will have to ensure that you or someone you trust is available on that day and at the registered address to collect your order. Before purchasing a reward, you should go through the terms and conditions.