Nelisiwe Sibiya, who is famously known for her role as Dr. Mbali Mthethwa in Durban Gen, is presently in a loving relationship but has kept the identity of her boyfriend secret. In recent times, the multi-award-winning actress has been romantically linked to eminent personalities in the entertainment industry, including Robert Marawa.
In January 2022, she was rumored to be dating Durban Gen co-star Mike Ndlangamandla. Later in May 2022, Nelisiwe's rumored affair with the broadcasting maestro, Robert Marawa, hit social media. The actress has confirmed that she is in a relationship but has maintained that she is just friends with Marawa.
Is Nelisiwe Sibiya Married?
Nelisiwe Sibiya is not married in real life. However, on Durban Gen, her character ended up marrying her long-time fiancé, Sibusiso Dlamini, played by Ntando Mncube. The 31 years old actress revealed in an interview on Engineer Your Life with Lungelo KM that she was previously engaged to gospel singer Ayanda Ntanzi.
The pair began dating while still very young during their university days. They subsequently took the relationship to the next level. Nevertheless, in 2019, Nelisiwe Sibiya called off her engagement to her long-term boyfriend. She revealed the main reason for the breakup was the difference in their religious beliefs.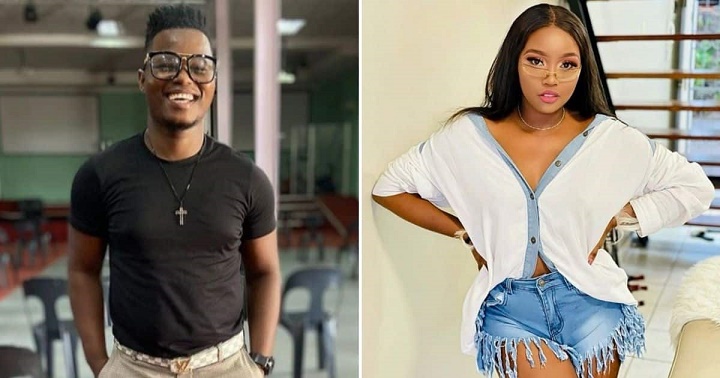 While Nelisiwe firmly believes in her ancestors and the Zulu culture, her fiancé is a Christian. Her practice of African spirituality put a strain on the relationship, which made it hard for both to make headway with the romantic affair. She further revealed on the YouTube podcast that since splitting with the 'Basuka' singer that her career has soared to incredible heights.
Nelisiwe Sibiya cited that she realized Ayanda was holding her career back after separating from him, as she landed the role of Dr. Mbali two days after the breakup. And that if she ended up marrying him, he wouldn't have allowed her to accept acting roles that require her to kiss or date other men. Despite the breakup, Ayanda and Nelisiwe have remained good friends.
Meet Nelisiwe's Ex-Fiancé, Ayanda Ntanzi
Nelisiwe Sibiya's former partner is a gospel singer famously recognized for releasing hit music albums such as 'Udumo' and 'Priestly Worship.' He comes from Appelsbosch, Ozwathini, in KwaZulu-Natal, and was born on January 31st, 1992. Ayanda Ntanzi lost his mother at a young age. Nonetheless, he has managed to realize his dream of becoming a successful gospel artist.
Thus far in his blossoming career, Ayanda has released smash songs such as 'He is Alive,' 'Nasempini,' and 'I am Safe.' He is signed to Koko Records. Despite being engaged with musical gigs, the KwaZulu-Natal native bagged an LLB degree from the University of KwaZulu-Natal in 2020.
His thriving musical endeavors have earned him some prestigious accolades as well. In 2018, Ayanda Ntanzi's single 'Nasempeni' won him the Best Praise Song at the 2018 SABC Gospel Crown Awards. Meanwhile, his debut album saw him nominated for the SABC Gospel Crown Award for Best Newcomer.
What Happened Between Robert Marawa and Nelisiwe Sibiya?
Robert Marawa (49) is reportedly dating Nelisiwe Sibiya (26). pic.twitter.com/zvX83limJl

— Musa Khawula (@MusaKhawula) May 25, 2022
In May 2022, celebrity and entertainment blogger Musa Khawula made an intriguing revelation about Nelisiwe Sibiya and Robert Marawa. He alleged in a tweet that the two TV stars were dating. Nevertheless, he never supported his claim with convincing evidence. Soon after the revelation, many tweeps began voicing their opinions about the rumored affair.
While some expressed disappointment at the huge age gap between Marawa and Sibiya, others were happy about the new relationship and wished them well. Tweeps condemning the famed sportscaster for entering into a relationship with someone he is way older than compared him to Busta 929, who reportedly impregnated a 17-year-old girl.
Despite the rumor gaining massive media attention, Robert Marawa never commented on it. Instead, Dr. Mbali from Durban Gen stated on Lungelo KM's YouTube podcast, Engineer Your Life, that the dating rumor was unamusing. She made it clear that she wasn't dating Robert Marawa. And that she is just friends with the celebrated broadcaster whom she considers to be a great man.
What to Know About Seasoned Broadcaster, Robert Marawa
Born on March 1st, 1973, Nelisiwe Sibiya's rumored boyfriend, Robert Marawa, is one of the most successful TV and radio broadcasters in South Africa. He attended Hilton College and then enrolled in the University of Witwatersrand. He, however, dropped out in 1992 to pursue a journalism career.
Robert has become an accomplished sports presenter, radio talk show host, and motivational speaker. Over the years, he has worked for SuperSport, Metro FM, and SABC. As one of the highest-paid broadcasters in South Africa,  Robert Marawa reportedly signed a three-year contract valued at over R5 million with SABC in the year 2018.
He allegedly earned a monthly salary of about R154,000 during that time. However, his contract was canceled by SABC after an investigation discovered that officials did not follow the correct internal procedures. Regarding his personal life, Robert Marawa has a son with a former partner, Zoe Mthiyane. Also, he was previously engaged to Queen Sono star Pearl Thusi.
Who Is Nelisiwe Sibiya's Boyfriend?
Recently, Mike Ndlangamandla (Dr. Lindelani Zulu) has been rumored to be the boyfriend of Nelisiwe Sibiya. The Durban Gen on-screen lovers sparked the relationship rumor after cozy snaps of them enjoying a romantic getaway in Cape Town were shared by Phil Mphela in January 2022.
SPOTTED: Nelisiwe Sibiya & Mike Ndlangamandla

The @etv telenovela #DurbanGen stars were somewhere in Cape Town#KgopoloReports pic.twitter.com/QBgZtD6mCs

— Kgopolo (@PhilMphela) January 21, 2021
Mike and Nelisiwe were captured having fun on the poolside, and the pictures set social media abuzz. The two have undeniable chemistry on-screen and are known mainly by their fans as colleagues. It seems that their on-screen chemistry has rubbed off on them in real life.
The pictures set tongues wagging and left many confused as both actors have remained tight-lipped about the alleged love affair. To date, Mike Ndlangamandla and Nelisiwe never confirmed or denied the rumored relationship. Hence, it has been believed that the pictures might have been taken from the scenes of the medical drama series Durban Gen.
This was backed up by the rumored ongoing affair between Mike and another Durban Gen actress, Fanele Ntuli. In August 2021, Dr. Zulu and Dr. Zondo from Durban Gen shared loved-up pictures on their various Instagram handles. They followed up the post with cryptic messages that suggested that both might be a couple in real life.
Later on March 7th, 2022, Mike Ndlangamandla celebrated Fanele Ntuli's birthday by posting another cozy picture of themselves with love emojis. As it stands, it's still uncertain whether Ndlangamandla is the boyfriend of Nelisiwe Sibiya or he is currently dating Ntuli.