Edwin Sodi is divorced and so does not have a wife. The businessman, who is the founder and Chief Executive Officer of a company called Blackhead Consulting, was previously married to Nthateng Lerata. Since ending things with his wife in 2016, he has officially remained single but has been involved in a few relationships that made the news.
Edwin Sodi was Once Married to Nthateng Lerata
The business mogul was once happily married to former television and radio host Nthateng Lerata. Lerata worked as a radio show presenter with Capricorn FM. The lovebirds got hitched in a traditional wedding ceremony sometime in 2012 after years of living together. They were married for less than four years, but in the end, they weren't so in love with each other anymore. It seemed like the couple had been having issues way before the final breakdown of the marriage, especially in money-related matters.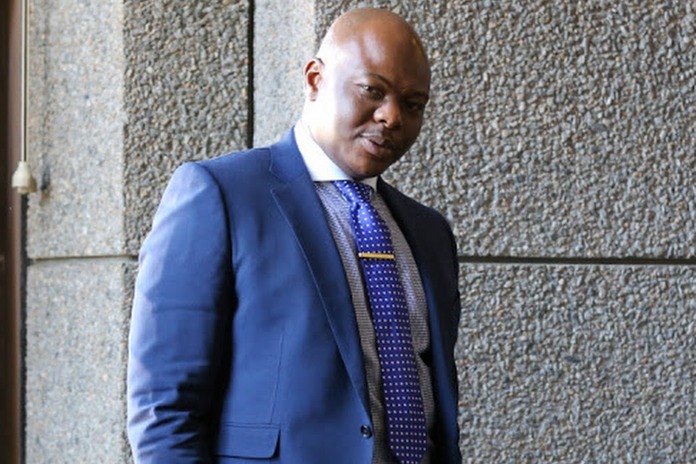 Being a wealthy man, it was only normal for Edwin Sodi to want to protect himself from gold-diggers; what wasn't quite right, however, was the fact that he appeared to regard his wife as one. Financial issues were not the only problems the couple was having at the time. It appears that Edwin was a serial cheat who kept seeing other women while he was married and that this blatant infidelity might have been a critical factor in their marital woes. When Lerata moved out of the family house in late 2016, it was clear that the marriage was over.
The Businessman Sued The Mother Of His Two Kids For Theft
It, therefore, came as a big surprise to hear that the businessman was suing his wife (now ex), over missing funds. It was alleged that Nthateng Lerata had robbed him of some valuables, including his Rolex, Panerai, and Audemars Piguet watches. He also claimed that a sum of R1 million was stolen from his safe when he was away for an overseas work trip. Although the case proceeded to court, the outcome was not made public, and it wasn't recorded if they ever resolved their issues amicably.
Nthateng Lerata gave birth to two kids – a boy and a girl – when she was still with Edwin and during the divorce, both of them contested for custody of the children. It is not clear who the court awarded the custody to at this point. They never came out to confirm the reason for their separation and although not much has been revealed about Lerata since then, Edwin has since moved on to other women.
His Relationship With Kefilwe Mabote Also Had A Dramatic Ending
Popular social media influencer, Kefilwe Mabote started dating Edwin Sodi in late 2018. It was a very flamboyant relationship with reports of the couple traveling all around the world and posting flirty pictures on Instagram. Unfortunately, the merriment didn't last very long and by the December of 2020, they had gone their separate ways. The reason was because of Edwin's arrest that happened around that same period. Apparently, he was arrested on charges of corruption, money laundering, and fraud in relation to a R295 million project which he failed to deliver.
It would seem that the accusations put a lot of strain on their relationship, with Kelfiwe complaining that the bad press that Edwin was getting was also rubbing off on her. She allegedly moved all her belongings out of her boyfriend's Durban mansion and has never looked back since then. A few weeks later, she announced her new single status on Instagram, claiming she was quite happy and content with it.
She also went on a long Instagram rant about rich men who expect to own women just by reason of the gifts they buy for them. She didn't mention any names but it was clear she was referring to Edwin Sodi. The millionaire hasn't made any statement concerning the split yet. As a matter of fact, he has moved on to yet another woman.
Edwin Sodi Has a Penchant For Stealing The Hearts Of Beautiful Women
Edwin Sodi is not just notorious for his shady business deals, he is also known for being a 'woman snatcher. In 2015, there were rumors that Edwin was the reason why DJ Sbu and his fiancée and baby mama, Disebo Makatsa, ended their engagement. This claim did not go down very well with Disebo and she stated that she had a clean breakup with the famous disk jockey. She also confirmed that Sodi had nothing to do with the issue, going further to say that she respected her baby daddy.
Later that year, there was another rumor that he was seeing Oralerona Moreo, a married woman. Oralerona had been the wife of Tebogo Thekisho, the South African rapper popularly known as Proverb, since 2005. According to an unnamed source, they met at a carwash and began spending a lot of time with each other and driving around town together. It was a messy affair that almost caused Proverb to commit suicide out of intense heartbreak. Thankfully the rapper decided not to proceed with it as he said the thought of his kids made him change his mind. He, however, ended his 10-year marriage with Oralerona.
Notorious Edwin Sodi struck yet again, this time with Matsatsi Rampa, who was JubJub's girlfriend at the time. The two even had a child together. It seems like this is a hobby of Edwin's after all.
Edwin Sodi's Relationship Status At The Moment Remains Unclear
It's almost the end of 2021 and this year has been an especially trying one for the business mogul. After his last relationship with Kelfiwe, it looked like he had finally decided to take time off from his dating to get his life together, especially considering that he was arrested and prosecuted just last year. However early in the year, it was alleged that he was in yet another relationship, this time with 21-year old beauty queen, Katlego Ncala.
The model and television presenter reportedly received a BMW car from her much older beau in January. Kat came out to deny the rumors and clarified that he was her mother's schoolmate. The model also denies that she received a car from the mogul, and has claimed that her parents bought her the vehicle. However, there are reports that the TV presenter is pregnant with Sodi's baby and will soon give birth. Only time will reveal the true situation of things and we will be glad to bring them to you.