You can't ignore DJ Black Coffee and DJ Fresh when talking about talented and successful artists who have made South Africa proud behind the deck stand. These two compete with the likes of DJ Maphorisa, Oskido, Euphonik, DJ Jimmy Jatt, who have moved to an enviable spot on the industry ladder. Besides their respective impressive career profile, DJ Black coffee and DJ Fresh's net worth and car collection are just too massive to overlook. But then, both of them are not on the same financial level. The question now is: Who has a higher net worth between DJ Fresh and DJ Black Coffee? Who has a better car collection?. The answers are contained in the paragraphs below. 
A Look At How DJ Fresh And DJ Black Coffee Made Their Wealth
Both DJ Fresh and DJ Black Coffee are successful artists. They garnered their wealth through multiple income streams, and their lifestyle reflects class and luxury. The duo occupies enviable spots on the list of highest-earning DJs in South Africa.
Let's find out how they could amass their wealth and become so successful.
DJ Fresh's Net Worth and Financial Portfolio Is Impressive 
Thato Sikwane, professionally known as DJ Fresh, is a radio DJ, producer, and entrepreneur based in South Africa. Born on 15 October 1972 in Botswana, his interest in deejaying began at the age of 13 in Botswana, way before he moved to South Africa in 1994. Today, he is a force to reckon with in the music industry, having earned fame and fortune from his music career and side hustles.
1. Radio Career
DJ Fresh is well-known for his career on both 5FM and Metro FM. He initially studied law for two years and later switched to media journalism before earning a Media Studies diploma at Joburg's Boston Media House. His radio career began in 1992, and in 1997, he joined the YFM regional station as a host for a breakfast slot. He spearheaded the program for eight years.
DJ Fresh moved to 5FM in 2006 and worked as a radio presenter for more than 10 years there before moving to Metro FM in 2017. His show at Metro FM Fresh Breakfast Show later rose to become one of the station's most-loved shows. However, he was fired from Metro FM in 2019 after a listener complained to the BCCSA about the strong language he used during a live broadcast. 
Thato was subsequently employed by Gauteng music radio station 947, where he took over the station's Drive Time show. In early 2021, rape charges were leveled against him and his colleague Themba' Euphonik' Nkosi by a woman who accused them of drugging and raping her in 2011. The two were fired from the radio station later. 
DJ Fresh is believed to have made so much money as a radio DJ during the years he worked at the radio stations mentioned above. Although his exact salary figures at the radio stations were not publicized then, it was evident he was receiving huge paycheques as a celebrity DJ he is.
The Up North trip, A beginning of a wonderful journey… THE LAUNCH of CUBAN LINX HLOTSE. With the legendary @DJFreshSA on the 19th Feb… #justlive pic.twitter.com/sGPBgz2R6h

— Cuban Linx (@cubanlinx_ls) January 27, 2022
2. Production Company
DJ Fresh owns a production company known as Big Dawg Productions Label. It was founded in 1997 and is situated in Randburg. Dawg Productions is a studio and record label that offers lots of services to artists, including marketing, event management, and media compilation for artists. They also render voice-over, MC, radio, and DJ services. Big Dawg also has an office in Botswana, which is being managed by the DJ's brother, Tshepo' Rox' Sikwane.
3. TV Career
Besides working as a radio DJ, DJ Fresh has served as a judge in the South African reality TV series SA's Got Talent season 5. He has also appeared on television shows such as Idols SA and Tropika Island of Treasure SA as a guest judge. As you already know, guest judges are well-paid on such high-profile TV shows.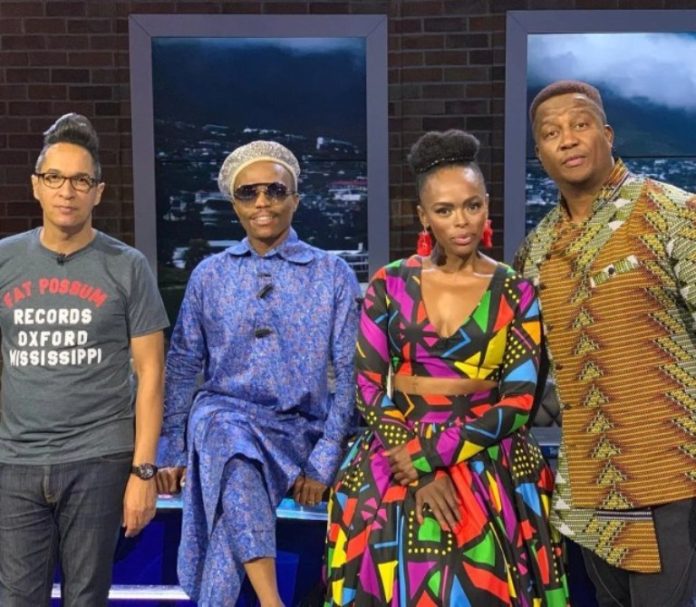 4. DJ Gigs
DJ Fresh has bagged uncountable DJ gigs since he launched his career. So far, his discography includes:
Definition of House
Mzansi House
Fresh House Flava
DJ Ski VS Big Dawg
The celebrity DJ's talent has also taken him to places like Miami in the United States, London in the United Kingdom, Moscow in Russia, and Dubai in the United Arab Emirates for performances before overwhelming crowds and audiences. He travels to Miami every year for a DJ conference which shows that he is someone that loves growth.
5. F. Eu Venture
Born and raised in Botswana, DJ Fresh is one of South Africa's top entertainment personalities. He has met and worked with several notable South Africans, including DJ Euphonik, with whom he established a mega business brand known as F.Eu.
6. MC and Public Speaking
The DJ also earns from MCing, speaking at events, podcasts, and other private engagements. He equally owns a foundation through which he reaches out to the less-privileged.
8. Real Estate
In a 2017 interview, DJ Fresh revealed that he owns a property but that he is finding it difficult to acquire another one of tenants. According to him, "tenants are a headache and the law is biased towards them."
DJ Fresh Has Accumulated Net Worth of $2 Million
DJ Fresh, who is also a social media sensation with a huge following across his social media pages, has amassed about $2 million from his numerous endeavors. His monthly income is unknown publicly.
DJ Black Coffee's Net Worth is From Multiple Sources
DJ Black Coffee is a South African DJ, record producer, and songwriter. Born Nkosinathi Innocent Sizwe Maphumulo on 11th March 1976 in Durban, he rose to stardom as a participant in the 2004 Red Bull Music Academy that took place in Cape Town. He is a celebrity DJ with numerous channels of income. 
1. Albums and Songs
DJ Black Coffee's DJ career began in the year 1994. Apart from singles and remixes, he has dropped nine studio albums and a live DVD under his record label, Soulistic Music. Their titles are:
Black Coffee (2005)
Have Another One (2007)
Home Brewed (2009)
Africa Rising DVD (2012)
Africa Rising CD (2012)
Pieces of Me (2015)
The Journey Continues EP (2016)
Music is King EP (2018)
Subconsciously (2021)
His fifth album, Pieces of Me, went platinum in South Africa after its release. His sixth studio album, Subconsciously, was also nominated for Best Dance/Electronic Album at the 64th Annual Grammy awards following its release in February 2021.
DJ Black Coffee's songs are too appealing to be resisted. Through his projects, he won notable awards such as the "Breakthrough DJ of the Year" award at the DJ Awards in Ibiza and Best Urban Dance Album and Best Male Artist awards at the 2010 South African Music Awards.
2. FlightMode Digital
DJ Black Coffee is not only good at spinning and mixing songs, but he is also a good investor. He is the founder of FlightMode Digital, an angel investor & venture capitalist seeking to play its part in growing and developing the African Tech Industry. His passions led him to establish the company.
2. Business Stakes And Companies
The celebrity DJ also has stakes in multi-million companies such as Gallo Record Company, Andela, Epione Healthcare Solutions, GOSPEL, Rocean, and Yoco, a technology company that creates opportunities for entrepreneurs to get paid and be more successful. He has more than 20 000 businesses that use Yoco. He is also the owner of SweepSouth Cleaning Company, an elite cleaning company with about 7000 workers.
3. Zone 6 Club
DJ Black Coffee is the owner of the club Zone 6, which has hosted numerous South African A-list performers such as AKA, Kwesta, Cassper Nyovest, and Euphonik.
4. Concerts and Record Label
Black Coffee is the owner of the record label, Soulistic Music Banner. The label has signed some artists in the country and helped shaped their music careers. One of their earliest signees is Culoe De Song.
The celebrity DJ has also been performing before international and local audiences for many years. He travels outside South Africa for concerts and shows regularly and has taken part in several notable music fests such as Coachella Valley Music and Arts Festival and Ultra Music Festival in 2016.
5. Collaborative Projects
Black Coffee has collaborated with numerous artists in South Africa and beyond. Some of the big names he has worked with include Mi Casa, Little Louie Vega, Alix Alvarez, David  Guetta, Frank Roger, Charles Webster, DJ Spinna, David Guetta, and Osunlade.
Certified G. pic.twitter.com/8RZFCTakO2

— Black Coffee (@RealBlackCoffee) October 16, 2021
He has also joined forces with American superstars Drake, Usher, and many other international figures on successful projects.
6. Online Presence
Social media is one of the fertile platforms to make money nowadays. Many people make good money through their presence on platforms like Twitter, Instagram, and Facebook.
DJ Black Coffee is one of those artists whose enviable online presence does not only fetch them followers but also cool cash. The DJ makes money from platforms like Spotify, where his music and song mix has over 77.2 million streams, with over 10.5 million listeners from 176 countries.
DJ Black Coffee has over 3 million followers on Instagram, more than 4 million followers on Twitter, and about 2.9 million followers on Facebook. He is indeed an online sensation.
Black Coffee's Net Worth is Estimated at $60 Million
DJ Black coffee has a net worth of $60 million. It was reported some time ago that he charges about $100,000 (R 1,530,963) a gig and that the Durban-born superstar is usually booked all year round.
The Durban native amassed a bigger part of his wealth from his music career. Apart from DJing, he has produced several records for prominent artists. He stands to become the wealthiest artist in Africa if he continues to sustain and expand his income streams.
Between DJ Fresh And DJ Black Coffee, Who Has More Cars?
Both DJ Black Coffee and DJ Fresh love splashing their money on fancy wheels and other exotic assets. Their social media pages allow followers to get a glimpse of these luxurious cars, which are not cheap at all.
Black Coffee is a fan of Mercedes. He owns:
A Mercedes-Benz Station Wagon 

A Mercedes-Benz CLK.
The two Mercedes rides are worth $40,000 each. His Mercedes cars are, however, not the only expensive cars in his garage as he also has:
A  Bentley GT Continental that is worth $100,000

A Maserati worth $50,000.
Recently, as seen from a post on Twitter, Black Coffee seems to have added a Porsche 911 to his collection, the luxury car worth more than $100,000.
Finally got my root of fame drip💧 Dankie Billiato!!!! @casspernyovest 🙏🏿🙏🏿🙏🏿 pic.twitter.com/jlgFqHEX4A

— Black Coffee (@RealBlackCoffee) October 1, 2021
Apart from his car collections, Black Coffee has two large-scale mansions in Sandton Johannesburg in South Africa and California, USA. His South African home was purchased for $400,000 million, and you can bet his US house is more expensive than the South African one.
DJ Fresh's car collection includes
A Jeep Wrangler that is valued at $40,000

A Benz AMG C63 coupe valued at $60,000 

A Saab Station Wagon 5 series BMW worth $30,000

A Chevrolet Tahoe valued at $50,000

An Audi RS Avant worth $100,000 

A Grand Cherokee SRT V8 valued at $50,000. 
DJ Fresh's love for rides isn't limited to cars alone; he reportedly has a collection of high-end motorcycles. His known luxury motorcycles include:
A Harley Davidson valued at $30,000

A Yamaha R1 valued at $15,000 

A Saxon Warlord $23,000
DJ Fresh doesn't move around with his motorcycles all the time as he mostly uses his cars.
It is difficult to mention the exact number of cars in the garages of two celebrity DJs or who has the most expensive car collection because both of them have never flaunted their entire cars online, and there's no way they can move around in all their cars at the same time. However, any time any of them turns up, they are always seen in luxury cars and expensive outfits.
DJ Black Coffee Is Reportedly The Richest DJ In South Africa
Both DJ Fresh and Black Coffee are doing great as DJs in the music world. They have an overwhelming number of fans across the world who are deeply in love with their performances and projects.
They are also highly respected both within and outside the shores of the country. There's no limit to the height they can reach if they continue to impress their fans with their lovely hits.
Though successful in their individual rights, it will be difficult to dispute the fact that DJ Black Coffee has amassed more wealth than Bostwana-born DJ Fresh. The former's net worth is way bigger than the latter's – thanks to his multiple income streams. Black Coffee has more known sources of income than DJ Fresh. He is more well-known globally than his colleague as well.
The Durban-born star travels for international shows regularly and has worked with people that matter most in the industry, including Drake and Usher. He tours around the world and performs for international audiences.
DJ Black Coffee, no doubt, is more successful than DJ Fresh even though both of them are not in any sort of competition. In 2021, he was listed as the richest DJ in South Africa and the third richest artist in Africa, behind Senegalese-American singer, producer, and entrepreneur Aliaune Damala Badara Akon Thiam, professionally known as Akon and Senegalese singer, musician, and composer Youssou N'Dour.