Khuli Chana got married to Lamiez Holworthy in 2019 and they have remained together to date. Before Lamiez, Khuli dated TV presenter and actress Asanda Maku for several years and their relationship produced a daughter named Nia Lefika. Sadly, they eventually parted ways between 2017 and 2018.
Khuli Chana and Lamiez have become one of the most loved couples in Mzansi and one of the reasons for this is the genuineness of their love for each other, and secondly because of the hard work they put into their separate lives. They have not been together for many years as lovers, but they do not make it a secret that they are ready to do all the work to remain together since she became the rapper's wife.
Before they met and became Mzansi's new 'It' couple, Chana was in a relationship with Asanda Maku through whom he is blessed with a daughter. Today, his daughter is also very close with his wife as they have formed a lovely family.
The Love Story of Khuli And Lamiez Began in 2018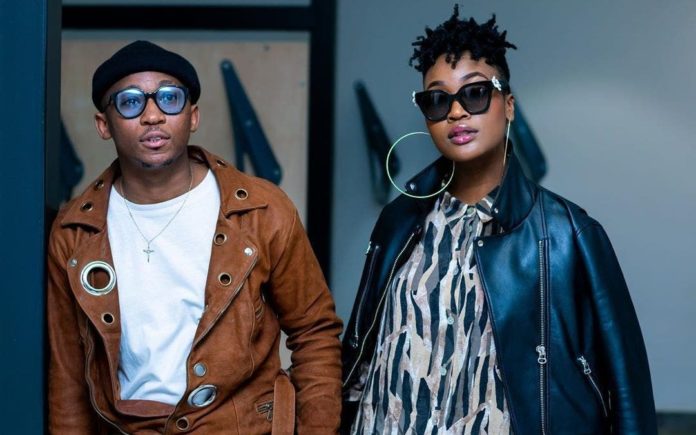 The legendary Motswako hip hop star who was born Khulane Morule and Lamiez Holworthy who is a media personality and DJ among other things have both been in the entertainment scenes for a very long time. However, it was in August 2018 that their paths first crossed.
The rumor had it that the rapper might have had a new woman in his life early in 2019 when the Hape Le Hape hitmaker was spotted at various places with the SABC 1 Live Music Show presenter. Among different places, they were seen in Tanzania, Zanzibar. One thing obvious at the time was that they were enjoying the company of each other.
Before long, the two started taking to their social media pages to share loved-up pictures which became a clear indication to everyone that they were indeed dating.
They Got Married A Year After They Started Dating
Khuli Chana's relationship with Lamiez was one that moved on a rather fast lane as by September 2019, just over a year after they first met, Lamiez and Khuli sparked rumors of an engagement when the DJ shared photos of herself sporting an engagement ring on her finger.
In one of the pictures she shared, she tagged herself a happy baby while in others, she only made sure the diamond ring was obvious enough for all to see. She also shared a photo of herself and Chana having a great time as fans wasted no time to congratulate them. True to the speculations that the pictures sparked, they were indeed engaged.
By November 2, 2019, Khuli Chana and Lamiez finally tied the knot after Chana's people led cows to Lamiez's home for the traditional rites. Their marriage was a very private event that had the attendance of very close friends and family members. Fans got to know of the union after images from the event were shared on social media.
In celebration of their first anniversary together as man and wife, Lamiez took to her Instagram to thank her man for being her happiness. She also indicated she would choose him over and over again.
Khuli and Lamiez Are Yet To Have Any Child Together
Khuli Chana and Lamiez have kept everything about their relationship on the fast lane since they started dating. One thing, however, that they do not seem to be rushing into is having kids. The couple who has now been together for more than two years is yet to have any child together, and they do not seem to be in a hurry to have one.
In May 2021, the celebrated DJ got fans talking when she made a post that if she became pregnant at that time when she was 28 years old, it would be like teenage pregnancy for her because she still felt she was still a child. Fans had different opinions on the matter as while some supported her, others advised her to have kids now so they could grow together.
Even as they do not have a child together, Chana is already a father. He has a daughter from a previous relationship, and Lamiez is maintaining a good relationship with her husband's daughter as her mother. They live in their multi-million rand mansion located in Pretoria.
They seem to be enjoying their life as a family as they always take to social media to celebrate each other. For Lamiez's 29th birthday, the rapper got 29 different gifts for his wife, including designer clothes and bags. The long list of gifts included popular brands such as Louis Vuitton, Gucci, MaXhosa, and Dolce & Gabbana.
Meet Asanda Maku, Khuli Chana's Baby Mama
Before meeting and starting his relationship with his DJ wife, Chana once dated Asanda Maku, another beautiful and talented woman. Asanda is also a well-known name in the country's entertainment sphere as she works as a TV presenter and actress. She was born in Namibia and raised in South Africa, where she also works.
Before Lamiez came into the picture, Asanda had been Khuli's woman for several years. They were first linked together in 2010. By 2013, the relationship produced a beautiful daughter, Nia Lefika, born on the 10th of July. This means that Nia is currently 10 years old.
The rapper and Maku's relationship came to an end between 2017 and 2018 rather quietly. Hence, when it was apparent that Chana had started seeing another woman, the allegations were that Lamiez stole him from Maku. However, the DJ made it clear that when she met the rapper, he was completely single and he had never been married before.
Also, to the assertion that she stole him from his ex, she said there is no way a man could be stolen from another woman. The response left Mzansi wondering if indeed she took him from Maku but justified it with the claim that he was not married, and so he was single.
Even though Chana and his ex are no more together, they still maintain a healthy relationship for the sake of the daughter they share together. They share custody of their daughter and are both fully involved in raising her.
Asanda Maku Suffered A Miscarriage With What Would Have Been Her First Child With Khuli Chana
Before Maku and Khuli Chana had their daughter in 2013, the actress once took in, but they lost the child after she suffered a miscarriage. Neither Chana nor Maku gave details about the miscarriage or how they went through the struggles at the time.
Not long after this, they had their daughter who became a source of joy for both of them. According to the rapper, his daughter kept him sane after he nearly lost his life in 2013 when he was shot by the police in a case of mistaken identity.