David Mabuza is one of those individuals who have been in the eyes of South African politics for a very long time, dating to the apartheid era. He is now the Deputy President of the country and also the Deputy President of the African National Congress (ANC). Before now, he has held some important offices in his career, and beyond his public life, he also has a personal life that has been stable for many years now with his wife, Nonhlanhla Patience Mnisi.
Born in the Transvaal Province as David Dabede Mabuza on 25 August 1960, it is his figure as a public person and politician that the light shines on all through the years, even though he has a story that cuts deeper than just that, as a family man.
Personal Profile Of David Mabuza
Name: David Dabede Mabuza

Date of Birth: 25 August 1960
Age: 63 years old
Place of Birth: Transvaal Province, South Africa
Profession: Politician
Wife: Nonhlanhla Patience Mnisi
David Mabuza And His Wife Have Been Together Since 2003
Arrival of Deputy President David Dabede Mabuza and
​​spouse Mrs Mabuza #PeoplesInauguration 🇿🇦 pic.twitter.com/X36KKUd1sf

— Presidency | South Africa 🇿🇦 (@PresidencyZA) May 25, 2019
The love story between Nonhlanhla and Mabuza has not been revealed in the past, although it is known that the two have been together for close to 20 years now. They seem to have tied the knot in 2003 after the first marriage of the deputy president came to an end.
Just like a bigger part of the private life of the couple, how they met, as well as where and when, are all mysteries that followers of the family have been unable to solve as they have not revealed much in that regard. More so, there is no information about their wedding ceremony.
Despite the many unknowns about the couple, it is fascinating to realize that they have continued to be together happily for many years after they tied the knot, with his wife being very supportive through his political journey. Most importantly, they have continued to keep all details about themselves away from the public domain, so much that it is not known for certain if the couple has any kids.
Nonhlanhla Patience Mnisi Is Not His First Wife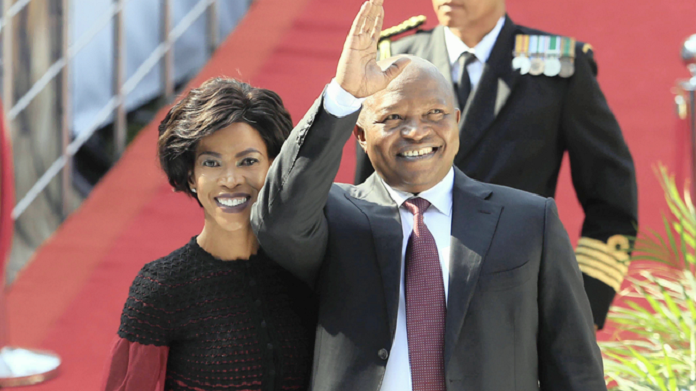 Even before the deputy president met and got married to Mnisi, he was once married to a different woman whose name is Ruth Funi Silinda. Unfortunately, not so much is known about their years together as a couple. There have been speculations from some avenues that the VP and Ruth were never married, but they were once engaged before they parted ways. Most online records, however, seem to have agreed they were once customarily married.
Not so much is known about the ex-wife of the deputy president, although her name has been dragged several times for reasons not so good, all connected to her former husband and his present wife. For instance, when David Mabuza was still a Mpumalanga Premier in 2010, he was accused of failing to discipline both his current and ex-wife after they were accused of doing wrong in a corruption case worth R500 million.
According to the reports, the construction company of his ex-wife, Lumkani Construction, as well as Lumekani General Trading, got tenders worth almost R280 million. Although the head of the department involved in the contract at the time, Priscilla Nkwinika, got suspended, the two women were said to have allegedly gotten away with their involvement.
The next time her name would be mentioned was concerning reckless and negligent driving also in 2010. She was allegedly caught on camera driving 114km per hour in her Mercedes-Benz in a 60km zone. She made an appearance at the Hazyview Magistrate's Court.
David Mabuza Has Held Many Important Positions Before His Political Career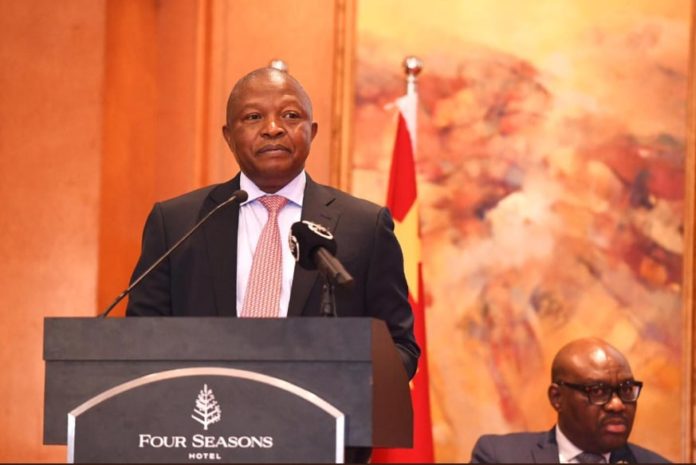 For a man who has described himself as a political cat because of the many political battles he has fought and come up unscathed, David Mabuza has remained relevant in the African National Congress and South African politics at different levels for a very long time.
The University of South Africa (UNISA) alumni has been into politics since his mid-twenties, at a time when the country was still suffering the grunt of apartheid. When he was 24, he became the secretary of the Azania Student Organization (AZASO) in 1984 and held the position for a year. Between 1986 and 1988, he was the chairperson of the National Education Union of South Africa (NEUSA) until it was banned.
At that same point, he was the coordinator of the National Education Crisis Committee (NECC), as well as the Chairperson of the South African Democratic Teachers Union from 1987 to 1989 and then  1988 to 1991, respectively.
With a National Teacher's Certificate from Mngwenya College of Education, he was employed at the KaNgwane Department of Education for two years from 1986, and then from 1989 until 1993, David Mabuza was the Principal of Lungisani Secondary School. From 1994 until 1998, he was a member of the Executive Council (MEC) for Education.
His Involvement In Party Politics And Active Politics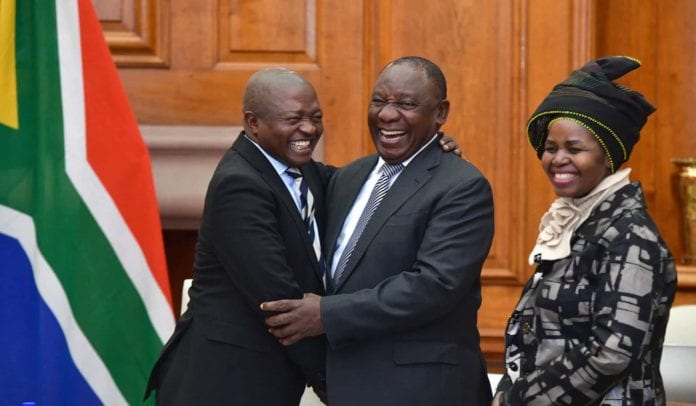 In 1994, David Mabuza became the regional Chairperson of the African National Congress (ANC), a position he held until 1998. From that point, he became a member of the party's Provincial Executive Committee until 2006. More so, he was a member of the Mpumalanga Provincial Legislature and also a member of Parliament from 1999 to 2001 and then 2001 to 2004, respectively.
From 2004 to 2007, Mbuza became a member of the Mpumalanga Legislature. Subsequently, he held other important positions, including serving as Deputy Chairperson of the ANC Mpumalanga Province in 2005, MEC for Road and Transport (2007 to 2008), and ANC's chairperson of the Mpumalanga in 2008.
For a year, from 2008 to 2009, the Deputy President was the GMEC for Agriculture and Land Administration. He rose to become the chairperson of ANC in Mpumalanga after Jacob Zuma, who he supported, became president of the country in 2007 after defeating Thabo Mbeki. He finally rose and became the Premier of the Mpumalanga Province from 2009 to 2018.
Following the ouster of Jacob Zuma, the path became clear for David Mabuza to become the 8th Deputy President of South Africa after he was sworn in on 27 February 2018 under the government of President Cyril Ramaphosa. On Thursday, 30 May 2019, he was sworn in with his principal for a 5-year term after he was picked.
Here's an overview of some offices he held:
Deputy President of the Republic of South Africa (2018 – )
Member of the National Assembly of South Africa for Mpumalanga (2018 – )
Deputy President of the African National Congress (2017 – )
Premier, Mpumalanga (2009 – 2018)
Chairperson, ANC Mpumalanga (2008)
MEC, Agriculture and Land Administration (2008 – 2009)
MEC, Road, and Transport (2007 – 2008)
Deputy Chairperson of the ANC Mpumalanga Province (2005)
 Mpumalanga Legislature (2004 – 2007)
 Mpumalanga Provincial Legislature (1999 – 2001)
David Mabuza Has Been Shrouded In Controversy For Decades
Recognized as the cat of South African politics, controversies have continued to trail almost every move of the Deputy President. These controversies that border on everything from alleged patronage to corruption and even murder have followed him since his time as Premier.
Somehow, his name did not escape being mentioned among the first major scandal to hit the country after independence when in 1998, he was alleged to have inflated the matric pass rate of the province together with his team when he was MEC for education.
Other allegations that followed him include the corruption leveled against him since his time as Premier with an audit showing that under his watch, more than R35 billion was spent in the small province. There were also claims of mismanagement of funds and irregular expenditure.
On his involvement in some murder cases, David Mabuza was accused by former Mpumalanga Premier, Mathews Phosa, of running a private army. He claimed that he was aware of as many as 17 murders that occurred since the rise of Mabuza. Although all these allegations against him were not substantiated, the shadows of the accusations still follow him. He was accused by a prominent member of the ANC, Bishop Hangwi Maumela, of being a murderer. This forced him to file for defamation against him.
Mabuzo has not only survived all these political onslaughts, but also an alleged attempt on his life when it was reported that he was poisoned. Mabuza was said to have attended a children's party in 2015, where he ate something that almost claimed his life. He was flown to Russia, where he was treated for three months before returning to the country. Years later, he still receives treatment for the alleged poisoning in Russia.