Which countries are visa-free for south African passports? Did you know that with a South African passport, you can now visit these 114 countries around the world visa-free or visa on arrival? There are a number of countries that require that South Africans secure visas before they are allowed into the country which in most cases, leads to endless paperwork, unplanned spending, and more bureaucratic stress. However, it is important that you are aware that your South African passport is more than you think of it in terms of what it can do as it can grant you entry to quite a number of countries without visas but note that entry requirements change constantly so it is always advisable to check with the embassy of any country close to the time of your travel. Nonetheless, as of now, here is a comprehensive list of countries for which no prior visa arrangement is needed for entry if you are a South African with a South African Passport:
South African Passport Visa Free Countries
Due to the good international relationship between South Africa and several other countries, you would not be wrong to expect an ample number of countries to be on the list below:
Brazil – 90 days
Antigua and Barbuda – 1 month
Argentina – 90 days
Costa Rica – 90 days
Ireland
Vanuatu – 30 days
Bahamas
Don't Miss: 30 Pictures that Prove South Africa is the Craziest Place on Earth
Barbados – 6 months
Chile – 90 days
Belize
Venezuela – 90 days
Benin – 30 days
Haiti – 3 months
Botswana – 90 days
Guyana – 3 months
Saint Kitts and Nevis – 3 months
Nepal – 90 days
Jamaica
Ecuador – 90 days
Dominica – 6 months
Colombia – 180 days
See Also: How to Apply for US Visa from South Africa and How to Apply for Schengen Visa from South Africa
Saint Lucia – 6 weeks
Guatemala – 90 days
Malawi – 90 days
Dominican Republic – 30 days tourist card must be purchased on arrival.
El Salvador – 90 days
Zambia – 90 days
Peru – 180 days
Namibia – 3 months
Fiji – 4 months
Nauru Georgia – 90 days within 180 days
Paraguay – 90 days
Micronesia – 30 days
Rwanda – 90 days
Grenada – 3 months
Nicaragua – 90 days
Uruguay – 90 days
Philippines – 30 days
Honduras – 90 days
Panama – 180 days
Lesotho – 30 days
Israel – 90 days
Malaysia – 90 days
Mozambique – 3 months
Tanzania – 90 days
South Korea – 30 days
Mauritius – 90 days
New Zealand – 90 days
Saint Vincent and the Grenadines – 1 month
Singapore –  30 days
See Also: 14 Things You Didn't Know about Henry Cele of Shaka Zulu 
Zimbabwe – 3 months
Swaziland –  30 days
Trinidad and Tobago – 90 days
Thailand – 1 month (air) / 15 days (land)
Below are more countries that offer fewer restrictions to South Africans. All the listed countries would allow you to travel without a visa, however, most of the countries in this section would preferably issue a visa on arrival. This removes the hassles and delays involved in securing visa before travel as the visas are almost always granted once you have a genuine reason and as mentioned earlier, it is imperative that you check with the country's immigration very close to the time of your travel as visa policies change frequently.
See Also: How to Book a flight and Check in with South African Airways
Countries that Issue South Africans Visa on Arrival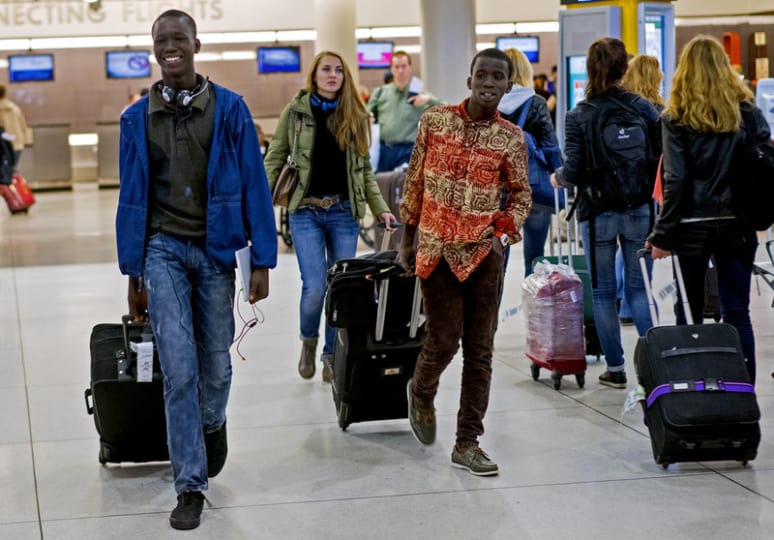 Indonesia – 30 days
Bolivia – 90 days
Madagascar – 30 days
Armenia – Visa on arrival
Tunisia – 1 month
Comoros
Mauritania
Jordan – 30 days
Guinea-Bissau – 90 days
Maldives – 30 days
Burundi – 30 days; obtainable at Bujumbura International Airport
Cambodia – 30 days
Oman
Iran – Conditions apply
Palau – 30 days
Ethiopia
Gabon – Visa not required for children under 16
Botswana
Djibouti
Samoa – 60 days
Zambia
Senegal – 3 months
Rwanda
Saint Helena
Madagascar – (Visa on arrival)
Malawi
Cape Verde
Timor-Leste – 30 days
Seychelles – 1 month
Mali
Mauritania
Senegal
Gabon
Guinea-Bissau
Somalia
Mozambique
Uganda
Zimbabwe
Togo – 7 days Benin
Kyrgyzstan – 30 days
Laos – 30 Days
Somalia – 30 days provided an invitation letter issued by the sponsor has been submitted to the Airport Immigration Department at least 2 days before arrival.
Tuvalu – 1 month
Turkey  – issues e-visa for 3 months
See Also: How to Apply for a UK Visa in South Africa
It is estimated that one in 10 new South African graduates will leave the country. According to a report, thousands of educated and skilled South Africans leave the country to find work elsewhere, resulting in a serious brain drain. It is estimated that brain drain from doctors alone cost South Africa $1.41 billion from lost investment in skilled labour.
Despite, the easy access to visit these several countries as mentioned above, South Africans fancy migrating or visiting top developed countries such as France – accommodating about 4,600 South Africans; Ireland, Germany, Netherlands, Canada, New Zealand, the US where SA diasporas are known to be successful; the UAE, Australia and the United Kingdom.