What is Ace Magashule's net worth? Ace Magashule's net worth is estimated at R16 million. Being one of the prominent names in South African politics, his popularity stems from the fact that he is a wealthy politician who has been involved in football, education, and most importantly, politics, which happens to be the major source of his income.
He was an anti-apartheid fighter and two-time Premier of Free State Province. He is currently the Secretary-General of the African National Congress (ANC), and these positions have contributed largely to Ace Magashule's net worth, estimated to be about R16 million.
When politicians show off some level of wealth, it is normal for people to suspect fraud and corruption. Ace Magashule has had and still currently undergoing his court cases for fraud and theft, but this time, not necessarily because he showed off wealth.
Football career was among the early contributors of Ace Magashule's net worth of R16 million
Elias Sekgobelo Magashule, popularly known as Ace Magashule, was born on 3rd November 1959 at Tumahole, Parys, Orange Free State Union of South Africa. He attended Tumahole Primary School in Parys and had his high school education in Phehellang Secondary School. As a young boy, Magashule was very good at sports activities. He was good at boxing and was also an outstanding soccer midfielder which earned him the name 'Ace.' The exact value his soccer career added to Ace Magashule's net worth is unknown.
The SA Politician Began His Career As A Teacher
After graduating from high school, Ace Magashule got accepted to Fort Hare University, where he obtained a Bachelor of Arts (BA) degree in the early 80s. While in school, he was already involved in activism and even got arrested in 1982 for high treason. Ace Magashule finally graduated from school and took a job as a teacher at Moqhaka High School in Sebokeng. After working in Moqhaka High School for a while, he moved to Phehellang High School in Tumahole.
Working as a teacher inspired his interest in youth education. As a teacher, he was privileged to meet students who could barely pay their fees and was moved to do something about it. In 1984, he decided to develop a program to help students who have financial challenges have access to funds. This was what inspired Ace Magashule's bursaries. The exact amount of money Ace Magashule was making from teaching and its contribution to his net worth is also unknown. Certainly, teaching is not the major source of Ace Magashule's net worth.
Politics is the Major Source of Ace Magashule's Net Worth
Magashule got involved in politics while he was still in the University. While on campus, he became one of the founding fathers of the Congress of South African Students (COSAS) in 1979. His activism involvement landed him in solitary confinement for nine months which were very difficult and trying times for him.
In the 1980s, he became a founding member of the United Democratic Front (UDF). Winnie Madikizela-Mandela and Chris Hani inspired his interest in national politics. After returning from exile, he became the ANC's Northern Free State region's chairperson in 1991. He was one of the longest-serving Free State provincial chairpersons – at the time.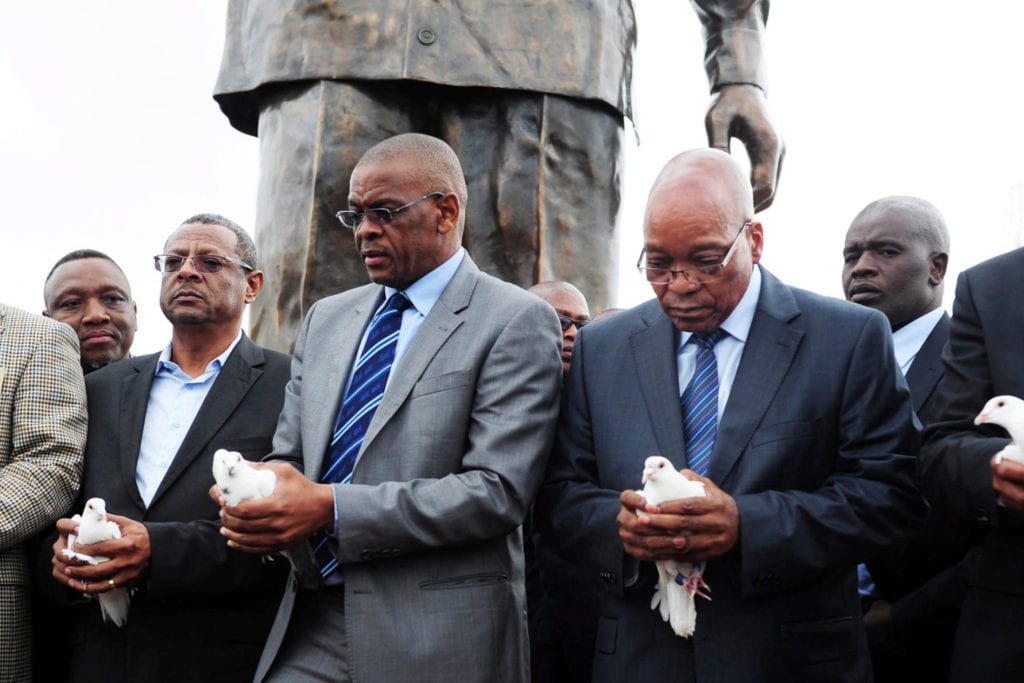 In 1994, he became a Member of the Free State Provincial Executive Council after successfully winning the election. This position put him in charge of Transport and Economic Affairs as a Member of the Executive Council (MEC).
In 2004, Ace Magashule returned to the Free State legislature and held the position of the Chief Whip of the legislature. On 6th May 2009, he became the Premier of the Free State provincial region, a position he held until 27th March 2018. His salaries in all of these positions are not on any record, but Ace Magashule's advent into politics began the substantial growth of his net worth.
Before leaving the Free state Premier position, he became the Secretary-General of the ANC after being elected at the party's 54th National Conference. He is expected to retain this position until 2022, when the next National Conference will be held.
Despite so much pressure to resign from his position as Secretary-General of ANC due to the court cases and several corruption allegations against him, he has refused to be forced out of office. As the Secretary-General of ANC, Ace Magashule is paid R133,000 monthly and claims to have assets worth R700,000.
Ace Magashule's Mistress Acts As A Conduit For His Assets
In 2010, his mistress, Mosidi Lydia Motsemme, paid R400,000 for an empty land in Woodlands Hills Wildlife Estate, where plots were sold at R6 million. In 2014, the property started gaining attention as construction started on it; from the building plan, it would be a large structure that would cost up to R6 million.
By 2015, when the structure was almost completed, there was no evidence of a bank loan in Lydia Motsemme's name, which implied that Ace Magashule's mistress was somehow funding the entire project cost without any loan. Despite the property being in Mosidi Lydia Motsemme's name, Ace Magashule had previously told the Volksblad newspaper that he was the property owner.
He also told the Volksblad newspaper that he has been funding the construction with a mortgage from the bank, but according to Deeds, neither he nor Lydia Motsemme had any loan or mortgage to their name as at the time. It seems they realized they should have actually taken a loan to cover their tracks, so they got a loan of R4.5 million from Nedbank in Lydia Motsemme's name.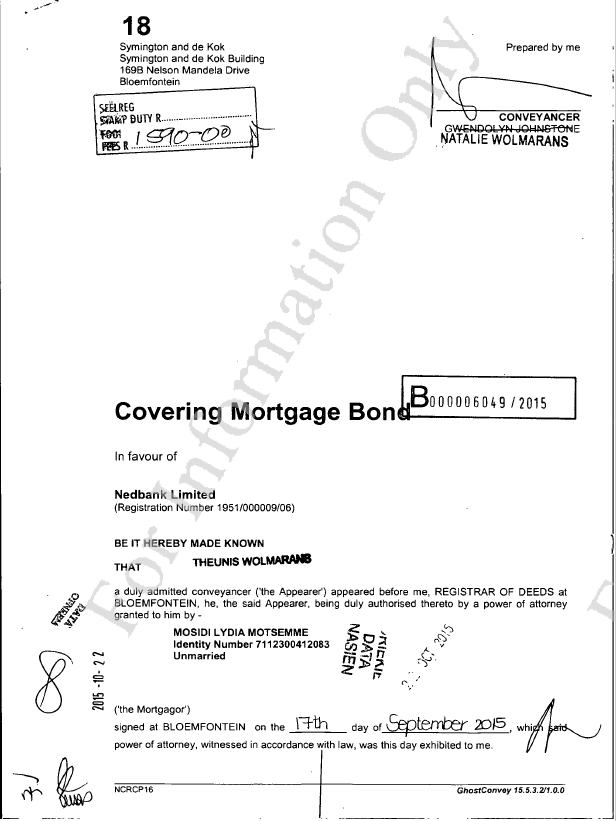 Sources have it that the house was being built by contractors who have scored huge contracts from the government due to Ace's influence.
Ace Magashule Has Been Arrested and Charged with 74 Counts of Corruption and Money Laundering
When President Cyril Ramaphosa became president in 2018 after Jacob Zuma was humiliated out of office, he promised to stamp out corruption, which he is doing, getting many corrupt politicians exposed. Unfortunately, Ace Magashule is one of the senior politicians who have been caught up in fraud and corruption scandals. In November 2020, he was arrested and charged with 21 counts of fraud and corruption. The Bloemfontein Magistrate's Court later granted him bail of R200,000.
Ace Magashule allegedly approved the payment of R470,000 to purchase 20 electronic tablets to a company called M–TAG Systems in 2015. Again he spent R300,000 on more tablets. One of the major fraud allegations against him was with the Free State Department of Human Settlements asbestos contract awarded to a joint venture between Igo Mpambani's Diamond Hill and Edwin Sodi's Blackhead Consulting.
The venture was awarded an R255 million contract to remove hazardous asbestos from structures in the Free State Provincial region. However, no asbestos was removed, and the money awarded for the contract was embezzled. Ace Magashule claimed that he could not afford the R200,000 bail grant, as he only had assets worth R700,000 and received a salary of R133,000 as the Secretary-General of ANC.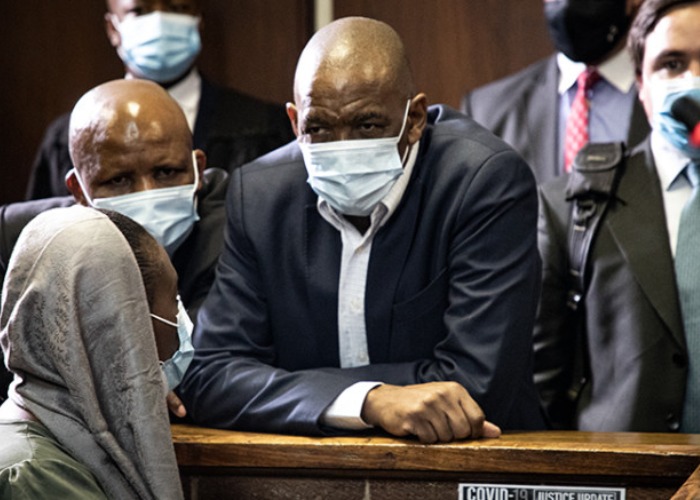 In a bid to recover the money awarded for the asbestos removal contract, the state had to seize the properties of those implicated in the fraud. The exact properties of Ace Magashule that were seized are not clear, but they include a Bentley and Ferrari Four F151, which cost R2.99-million, as of 2017, belonging to Edwin Sodi and his company Blackhead Consulting.
The National Prosecuting Authority's (NPA) Asset Forfeiture Unit received an order from the court to attach assets and cash totaling R300 million regarding the asbestos audit deal. The case has been upgraded to 74 counts – 50 counts of money laundering and corruption and 3 counts of contravening asbestos regulations – and would be heard on August 11, 2021. Ace Magashule and the 14 persons who have been accused with him will be expected to appear in the Bloemfontein High Court in August.
If he is proven guilty for all his crimes, it would mean that politics is not just the major source of his wealth; it would mean that he has amassed wealth for himself through corrupt practices.