South Africa is the 25th largest country in the world and has the second-largest economy in Africa. Although various economic sectors contribute to the growth of South Africa's economy, one of the biggest contributors is the manufacturing sector. South Africa is home to several manufacturing industries in different sectors like ICT, chemical, and textile. These industries are made up of companies that employ a good number of South Africa's labor force. In this article, we will discuss in detail the list of manufacturing industries in South Africa, according to the sector they fall into.
Different Sectors Dominate Manufacturing Companies In South Africa
We must establish that every country should strive to have an effective manufacturing sector as these industries and organizations are the major employers of the people and greatly influence the nation's economic growth. In South Africa, the manufacturing industry is dominated by six different sectors that employ the highest number of the country's labor force. These sectors include:
Automotive
Chemicals
ICT
Agribusiness
Metals
Textiles
Manufacturing Companies In The Automobile Sector
South Africa looks forward to being home to automotive investments and investors and has opened its doors to several automotive brands. As a result, the country has become a home to several automotive brands that are a major source of employment to the South African people and have placed the country perfectly for investments. Most of the automotive industries are located either in the Eastern Cape (coastal) or Gauteng (inland).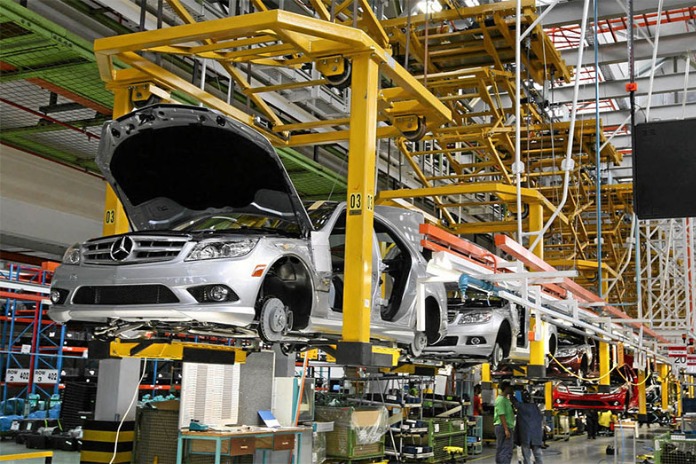 Some automotive brands that have established production plants in South Africa are; BMW, Ford, Volkswagen, Daimler-Chrysler, and Toyota. Even component manufacturers (like Arvin Exhaust, Bloxwich, Corning, Senior Flexonics, etc.) have also not been left out as they have also set up production plants in the country.
Companies in the automotive industry include;
AutoTrak
The company was established in 2000 with major offices in Gauteng, Durban, Pomona, and Cape Town. Autotrak produces, develops, supplies, and fits vehicle tracking systems. It has an employment capacity of about 101-200 employees.
Unitrans Automotives
This is one of South Africa's biggest automotive companies. It had been in existence since 1920. Unitrans' specialty is franchised retailing of cars. The company records sales of about  30,000 new vehicles, and 2,400 used vehicles yearly.
Unitrans is the third-largest car dealer in the country with an employment capacity of about 100,000 employees and is a retailer to some of the largest and well-known motor brands such as Toyota, Lexus, General Motors, Volkswagen, Audi, Nissan, Renault, Mitsubishi, Colt, Pajero, Fuso, Jeep, Chrysler, Dodge, Freightliner, Mercedes-Benz, BMW, and MAN.
Alpine Motors
Alpine Motors is a home for Volkswagen Motors in South Africa. They specialize in new Volkswagen vehicle sales, Mastercar sales, genuine Volkswagen parts and accessories sales, servicing, and repairs of all Volkswagen products. The company has an employee capacity of 201-500 employees.
Alpine has a Finance and Insurance department that takes care of the client's vehicle finance and offers the best deal available. They also have a vehicle tracking department Bidtrack and Motors. Here, the staff handles vehicle tracking and maintenance plan needs and optional Volkswagen Automation maintenance plans.
Audi
Audi South Africa has taken its place in the South Africa automotive industry since the late 1960s, after gaining brand independence. While Audi South Africa imports different Audi models that cater to just about every taste and desire of its customers, it has an average of 10001-100000 employees.
Avis
Avis South Africa dates back to 1967. They came into South Africa due to a joint venture between Federale (originally established in Bloemfontein) and Avis Rent-A-Car Systems Incorporated. Avis has grown to be very successful in the region and has six group companies: Avis MiniLease, Zeda Car Sales, Avis Fleet Services, Barloworld, Car Mall Car Sales, and Sizwe Car Sales. Avis employs about 101-200 employees.
Volkswagen
Volkswagen South Africa is a vehicle manufacturing industry that is located in the Eastern Cape. This company generates as much as $52.93 million as revenue and employs up to 330 people.
Manufacturing Companies In The Chemical Sector
South Africa's chemical industry contributes 5% of South Africa's GDP and approximately 25% of its manufacturing sales. It covers plastic manufacturers, pharmaceuticals, liquid/gas producers, etc., and it has an employment capacity to the tune of 200,000 employees.
The chemical industry in the country is one of the biggest of its kind, with end products that are highly complex, diverse, and with different combinations and properties. The industry is currently dominated by Sasol (through Sasol Chemical Industries and Sasol Polymers), AECI, and Dow Sentrachem.
Sasol
Sasol is a chemical company based in Sandton, South Africa, and was founded in 1950. This company has its market influence in up to 27 different countries. With over 70 years of experience in the industry, Sasol prides itself on its sustainability.
Hoechst SA
Hoechst SA is a chemical industry in South Africa that is located in Durban, KwaZulu-Natal, South Africa. This company has up to 1,450 employees and makes as much as $155.72 million. Hoechst SA is a family name to up to 640 companies in South Africa.
Shell Chemicals
Shell is a petrochemical company with influence in other 70 countries, including African countries like Nigeria. This company is currently over 200 years old and has more than 93,000 workers in South Africa.
BASF
BASF South Africa is located in Gauteng and currently has about 200 employees in South Africa. It is a mother company to over 1000 other companies and generates as much as $342.11 million.
African Chemicals
African Chemicals is a chemical manufacturing, distribution, marketing company. This company deals in chemical products like Caustic Soda, Virgin Carbon, Sulphuric Acid, Soda ash, Hydrated Lime, Ferric Chlorite, and Liquid Chlorine.
Engen Petroleum
Engen Petroleum is one of the oldest chemical industries in South Africa. It was founded in 1881 and is currently over 140 years in existence. It has its headquarters located in Cape Town. This company focuses on the production of fuel, petrochemical, and lubricants, and as of 2017, they were already making revenue of up to R70,033 million and had up to 3,485 employees.
Silicate & Chemical Industries
Silicate and Chemical Industries is a family name to 79 other companies and currently has about 62 employees.
Companies In The ICT Sector
South Africa has a well-rounded IT sector, with access to excellent skills, equipment, and technology. The ICT sector is a thriving one, and it contributes about 10% to the country's GDP, with the country ranking 23rd globally when it comes to ICT.
Some companies in the ICT sector in South Africa include;
SAP
SAP has an employee capacity of 10,000 and has a revenue of $1billion. And they aim at making the world a better and easier place to live in with the use of technology.
Microsoft
Microsoft is a renowned tech company and one of the biggest in the world. And Yes! Microsoft has an office in Africa and South Africa, to be more specific. This company has an employee capacity of more than 10,000 people and a revenue of $10 billion.
Companies in the Pharmaceutical Sector
Another sector where you can consider applying for a job would be the pharmaceutical sector, especially if you studied pharmacy or biochemistry. However, even those who studied non-science courses can work in these sectors, seeing that they also employ administrative staff. Some of these companies include;
Biovac SA cc. Border
Biovac is an acronym that stands for Biological and Vaccine Institute of South Africa. This company generates up to $34.56 million in sales and has up to 200 employees. Biovac is located in Western Cape, South Africa.
Brunel Laboratories
Brunel Laboratories has been active in the pharmaceutical industry for over 40 years. Their services and products range from complementary medicines, dispensary medicine, and distribution. This pharmaceutical company has about 14 workers and makes as much as $5.64 million in sales.
Colgate Palmolive (Pty) Ltd
Colgate Palmolive PTY Ltd is a family name for over 200 other companies, and they have up to 300 employees. This company generates as much as $326.50 million in sales.
Delta G Scientific
Delta G Scientific company was established in 1982 to produce chemical weapons. This company, which was initially owned by the South African Defence Force, was acquired by Sentrachem in 1993.
Other companies in the pharmaceutical industry include:
Hersol Manufacturing Laboratories cc
Glaxo Wellcome SA (Pty) Ltd
Geo Schwulst Laboratories (Pty) Ltd
Fine Chemicals Corporation (Pty) Ltd
Divpharm Manufac. And Packing cc.
Columbia Pharmaceuticals (Pty)
Compu Pharmaceuticals Prod Ltd
Companies In The Agribusiness Sector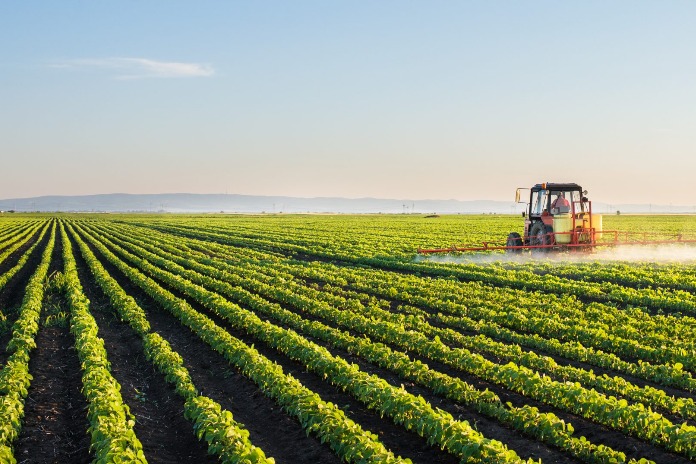 South Africa is also huge in farming as this sector generates 4% of the country's GDP. Agribusiness consists of sheep and cattle farming, while about 13% of the land is used for crop farming. South Africa grows mostly maize, oat, sunflower, wheat, sugarcane, and citrus, which is used locally for the production of wine or exported. By supporting small-scale farming, the government of South Africa creates more job opportunities for its citizens.
Some Agribusiness Industries in South Africa;
Tiger Brands
They manufacture, process, and distribute food products, including milling and baking, confectioneries, general foods, edible oils, and derivatives, with an employee capacity of over 14,000 and a yearly turnover of $2.8 billion.
Pioneer Food Groups
They are manufacturers of a wide range of cereals and juice products, with a staff base of more than 11,000 and a yearly turnover of $2.2 billion.
Tongaat-Hulett
Their specialty is in producing food products from sugar cane, raw sugar milling, and refining with starch and sweeteners. They are also biofuel producers and electricity co-generators. Tongaat-Hulett has a huge employee capacity of 42,000 and a yearly turnover of $1.5 billion.
Rainbow Chicken
This company operates as an integrated farming facility that produces, processes, and markets broiler chickens under the "Rainbow," "Farmer Brown," and "Bonny Bird" labels. They are also producers of animal feed through Epol (Pty) Limited. They have a yearly turnover of $900 million.
Companies In The Metal Sector
South Africa's large, well-developed metals industry represents roughly a third of all South Africa's manufacturing and is the largest steel producer in Africa. The industry contributes $44 billion to the countries GDP. The metals consist of iron ore and steel, which are basic non-ferrous metals and metal products.
This industry involves the manufacturing of primary iron and steel products from smelting to almost-finished stages. A few products from the metal industries are; billets, blooms, slabs, forgings, reinforcing bars, railway track material, wire rods, seamless tubes, and plates.
A look at some of South Africa's metal industries and what they do;
ArcelorMittal South Africa
This is one of the biggest steel companies in South Africa. The headquarters is located at Vanderbijlpark, Gauteng. They produce as much as 4.8 million tonnes of saleable steel and 7 million tonnes of liquid steel.
This company supplies up to 61% of the steel used in South Africa and also supplies steel to other countries in sub-Saharan Africa. They pride themselves in the fact that they have influence in up to 60 countries in the world, including countries in Europe, and have as many as 232,000 employees worldwide.
South Africa Metal Group
South Africa Metal Group prides itself as the leading and oldest metal recycler in South Africa. They collect and recycle metals ranging from nickel, lead, aluminum, copper to zinc, and the list goes on and on. This proudly South African company trades with other Southern Africa countries like Namibia and Botswana.
Companies In The Textile Sector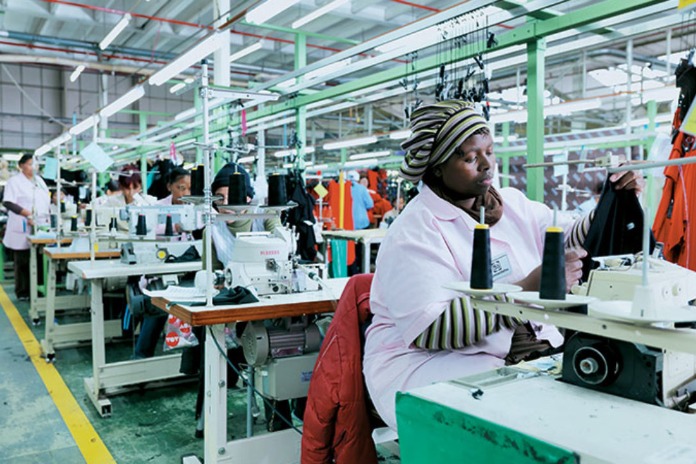 The textile industry is one of the smallest compared to other manufacturing industries. Still, it has evolved to become a capital-intensive industry that produces synthetic fibers in an ever-increasing proportion due to technological developments.
The vision of the South African textiles industry is to make South Africa the preferred domestic and international supplier of South African manufactured textiles and clothing by using all the natural, human, and technological resources at its disposal.
Let's take a look at South Africa's textiles and clothing industries.
Manhattan Manufacturers  Private Ltd.
Manhattan Manufacturers Private Ltd. is located in Western Cape and is a renowned supplier of computerized sewing machines. Suppliers of wool fiber and cashmere wool yarn. They make up to $582,792 in sales and have 28 employees.
JMV Textiles (Pty) Ltd.
JMV Textile Pty Ltd is a renowned textile manufacturing company in South Africa. They specialize in knitted fabric, off-screen printing, dyeing, and finishing and have been in existence for over 50 years. This company has up to 170 employees and makes up to $3.74 million in sales.
Gelvenor Textiles
Gelvenor Textiles have been active in the textile industry since 1965, and they manufacture textile ranging from industrial fabrics, protective fabrics, aeronautical textiles, outdoor textile fabrics, workwear, and technical apparel. According to Payscale, employees at Gelvenor Textiles earn an average of R21,000
Other companies in the textile industry include:
Helm Textile Mills
Textile Federation
AF Textile
Patbro Textiles cc
Aranda Textiles (Pty) Ltd
Organic Fabrics
What Is The Biggest Manufacturing Company In South Africa?
The largest manufacturing company in South Africa is Anglo American, and as of 2018, they had a revenue of $27.6 billion. This company is a mining company and deals with different types of precious stones like gold, diamond, and platinum. After extracting the precious stones, they refine these extracts to add value to their market worth. The second largest is Sasol. It is one of the biggest companies in the chemical industry, and they have their market influence spread across 27 countries.
Which Manufacturing Company Employs The Highest Number Of Labor?
The manufacturing industry employs about 1.491 million people, and out of the figure, Sasol employs the highest number of labor. The company has as much as 34,000 across all their different branches; Clicks Group Limited also has a tie with Sasol when it comes to the number of employees they have. Other companies with a high number of employees are SAP, Microsoft, Coca-Cola, and Unilever South Africa.