Netcare Group is an investment holding company with operations across several subsidiaries owned by Dr. Richard Friedland. It is South Africa's largest private healthcare provider and focuses on supporting the effectiveness of the national healthcare systems. Thus, it invests in its capabilities and capacity growth by partnering with the public sector.
Established in 1996, Netcare has 51 hospitals across South Africa, including two public-private partnership hospitals. The company has become the leading healthcare provider in South Africa by continuously investing in high-level professional expertise and the latest medical technologies. Also, Netcare Limited is highly committed to caring for patients.
As a result, it has over 10,600 registered hospital beds, 422 theatres, 15 Medicross day theatres, and 63 renal dialysis units with 860 dialysis stations across the country. For consistently providing world-class hospital services for decades, the Netcare Group was awarded ISO 9001-2015 certification by the British Standards Institution (BSI) in 2018.
What Makes Netcare The Largest Healthcare Provider in South Africa?
For several years, Netcare (Network Healthcare Holdings Limited) has focused on the consistent provision of the safest and best care across the healthcare spectrum. The company operates the largest private hospital, primary healthcare, emergency medical services, and renal care networks in SA. In addition to its top-notch services, it provides sub-acute care, occupational health, employee wellness services, and day surgery through its Medicross sub-section.
While Netcare 911 offers emergency medical services, the National Renal Care provides renal dialysis, and the Akeso sub-section provides mental health and psychiatric services. Netcare Group was founded in 1996 and operated four hospitals at the time. Through continuous investment and partnerships with government, healthcare professionals, corporate organizations, and suppliers, the company has made tremendous achievements today, and they include:
51 hospitals
2 public-private partnership hospitals
95 primary healthcare centres
79 Netcare 911 emergency sites
10 cancer care centres
7 Netcare training campuses
12 mental health and psychiatric clinics with 841 beds
63 renal dialysis units with 860 dialysis stations
10,605 registered hospital beds
422 theatres
15 Medicross day theatres
21,763 employees
It's worth noting that Netcare is not only the largest private healthcare provider in SA but also the leading private trainer of emergency nursing and medical personnel in the country. With Netcare hospitals being at the forefront of providing private healthcare, they are distinguished by the following features:
35 hybrid theatres, catheterization, and electrophysiology laboratories
6 paediatric oncology facilities/wards
7 oncology centres for radiation therapy
45 emergency departments
4 haematology and bone marrow transplantation facilities
2 level one accredited trauma units
54 retail pharmacies
Netcare Hospitals Recognitions/Awards
2019 PMR.africa Awards
2019 Newspaper Readers' Choice Awards
2019 Climate Champion Awards – Global Green and Healthy Hospitals (GGHH)
2019 SAAPMB Awards
2019 National Pioneer Pharmacy Awards
2019 AEE (Association of Energy Engineers) Energy Awards
2019/20 Ask Afrika Orange Index Awards
List of Netcare Hospitals and Their Contact Details
Netcare has 51 hospitals across Mzansi. The company encourages its patients to bring any concerns or complaints to the management, and here are the locations of Netcare hospitals in South Africa and their contact details.
Head Office
Physical Address: 76 Maude Street, Corner West Street, Sandton, 2196
Postal address: Private Bag X34, 2010
Phone number: +27 11 301 0000
Gauteng
1. Netcare Alberton Hospital
Physical address: 1 Netcare Avenue, Newmarket Precinct, Alberton, 1450
Postal address: PO Box 1059, Alberton, 1450
Phone number: 011 742 3000
2. Netcare Femina Hospital
Physical Address: 460 Belvedere Street, Arcadia, Pretoria, 0007
Postal address: PO Box 56215, Arcadia, Pretoria, 0007
Phone number: 012 304 1700
3. Netcare Akasia Hospital
Physical Address: Cnr Heinrich & Brits Avenue, Karen Park Ext. 25, Akasia, Pretoria, 0118
Postal address: PO Box 58850, Karenpark, Pretoria
Phone number: 012 522 1000
4. Netcare Constantia Day Clinic
Physical address: 374 Ontdekkers Road, Cnr Christiaan de Wet, Florida Hills, Roodepoort, 1709
Postal address: Postnet Suite 144, Private Bag X1, Florida Hills, Roodepoort, 1716
Phone number: 011 472 1478
5. Netcare Garden City Hospital
Physical Address: 35 Bartlett Road, Mayfair West, Johannesburg, 2092
Postal address: PO Box 45175, Mayfair, Johannesburg, 2108
Phone number: 011 495 5000
6. Netcare Krugersdorp Hospital
Physical address: 9 Burger Street, Central Krugersdorp, 1739
Postal address: PO Box 914, Krugersdorp, 1740
Phone number: 011 951 0200
7. Netcare Linksfield Hospital
Physical Address: 24-12th Ave, Linksfield West, Johannesburg, 2192
Postal address: PO Box 46337, Orange Grove, Johannesburg, 2119
Phone number: 011 647 3400
8. Netcare Jakaranda Hospital
Physical address: 213 Middleberg Street, Muckleneuk, Pretoria, 0132
Postal address: PO Box 30301, Sunnyside, Pretoria, 0002
Phone number: 012 421 6700
9. Netcare Lakeview Hospital
Physical address: 1 Mowbray Avenue, Benoni CBD, Benoni, 1500
Postal address: PO Box 962, Benoni, 1500
Phone number: 011 019 2500
10. Netcare Linkwood Hospital
Physical Address: 24-12th Avenue, Linksfield West, Johannesburg, 2192
Postal address: PO Box 46195, Orange Grove, Johannesburg, 2119
Phone number: 011 485 3250
11. Netcare Milpark Hospital
Physical address: 9 Guild Road, Parktown West, Johannesburg, 2193
Postal address: PO Box 91155, Auckland Park, Johannesburg, 2006
Phone number: 011 480 5600
12. Netcare Moot Hospital
Physical Address: 572-18th Avenue, Rietfontein, Pretoria, 0084
Postal address: PO Box 24765, Gezina, Pretoria, 0031
Phone number: 012 330 8200
13. Netcare Linmed Hospital
Physical Address: 5 Hull Road, Rynfield, Benoni, 1501
Postal address: PO Box 13028, Northmead, Benoni, 1511
Phone number: 011 748 6200
14. Netcare Montana Hospital
Physical Address: Cnr Dr. Swanepoel & Rooibos Streets, Montana Park, Pretoria, 0159
Postal address: PO Box 3115, Montana Park, Pretoria, 0159
Phone number: 012 523 3000
15. Netcare Mulbarton Hospital
Physical address: 25 True North Road, Mulbarton, Alberton, 2059
Postal address: PO Box 1701, Mulbarton, Alberton, 2059
Phone number: 011 682 4300
16. Netcare Olivedale Hospital
Physical Address: Cnr. President Fouche & Windsor Way, Olivedale, Randburg, 2125
Postal address: Private Bag X10029, Randburg, 2125
Phone number: 011 777 2000
17. Netcare Pinehaven Hospital
Physical Address: 1 Gateway Road, Pinehaven Estate, Krugersdorp, 1739
Postal address: PO Box 914, Krugersdorp, 1740
Phone number: 011 950 5400
18. Netcare Rehabilitation Hospital
Physical address: 28 Canary Street, Auckland Park, Johannesburg, 2006
Postal address: PO Box 150, Auckland Park, Johannesburg, 2006
Phone number: 011 489 1111
19. Netcare N17 Hospital
Physical address: 7 Tonk Meter Road, Pollak Park, Springs, 1559
Postal address: Private Bag X5, Selcourt, Springs, 1567
Phone number: 011 365 1400
20. Netcare Park Lane Hospital
Physical Address: Cnr Junction Avenue & Park Lane, Parktown, Johannesburg, 2193
Postal address: Private Bag X40500, Houghton, Johannesburg, 2041
Phone number: 011 480 4000
21. Netcare Pretoria East Hospital
Physical Address: Cnr Garsfontein & Netcare Road, Moreleta Park, Pretoria, 0181
Postal address: Private Bag X997
Phone number: 012 422 2300
22. Netcare Rosebank Hospital
Physical address: 14 Sturdee Avenue, Rosebank, Johannesburg, 2132
Postal address: PO Box 52230, Saxonworld, Johannesburg, 2132
Phone number: 011 328 0500
23. Netcare Sunward Park Hospital
Physical Address: Cnr Kingfisher Avenue, Aquarius Road & Bert Lacey Drive, Sunward Park, Boksburg, 1459
Postal address: PO Box 18483, Sunward Park, Boksburg, 1470
Phone number: 011 897 1600
24. Netcare Union Hospital
Physical address: New Redruth, Alberton, 1449
Phone number: +27 11 724 2000
25. Netcare Waterfall City Hospital
Physical Address: Cnr Magwa Crescent & MacMac Avenue, Vorna Valley, Midrand, 1682
Postal address: PO Box 12403, Vorna Valley, Midrand, 1686
Phone number: 011 304 6600
26. Netcare Sunninghill Hospital
Physical Address: Cnr Witkoppen & Nanyuki Roads, Sunninghill, Sandton, 2196
Postal address: PO Box 4867, Rivonia, Sandton, 2128
Phone number: 011 806 1500
27. Netcare Unitas Hospital
Physical Address: Clifton Avenue, Lyttelton, Centurion, 0140
Postal address: PO Box 15123, Lyttelton, Centurion, 0140
Phone number: 012 677 8000
Eastern Cape
1. Netcare Greenacres Hospital
Physical Address: Cnr Cape & Rochelle Rds, Greenacres, Port Elizabeth, 6045
Postal address: PO Box 27488, Greenacres, Port Elizabeth, 6057
Phone number: 041 390 7000
2. Netcare Cuyler Hospital
Physical address: 34 Cuyler Street, Central Uitenhage, 6229
Postal address: PO Box 1082, Uitenhage, 6230
Phone number: 041 995 9000
KwaZulu-Natal
1. Netcare Alberlito Hospital
Physical address: Kirsty Close, Central Ballito, 4420
Postal address: Private Bag X0007
Phone number: 032 946 6700
2. Netcare Kingsway Hospital
Physical Address: 607 Andrew Zondo Road, Amanzimtoti, Durban, 4126
Postal address: PO Box 94, Umbogintwini, Durban, 4120
Phone number: 031 904 7000
3. Kokstad Private Hospital
Physical Address: 51 Baker Street, Central Kokstad, 4700
Postal address: PO Box 112, Kokstad, 4700
Phone number: 039 797 8340
4. Netcare Margate Hospital
Physical address: 24 Wartski Drive, Central Margate, 4275
Postal address: PO Box 1922, Margate, 4275
Phone number: 039 312 7300
5. Netcare uMhlanga Hospital
Physical address: 323 Umhlanga Rocks Drive, Central Umhlanga, 4320
Postal address: Private Bag X09, Umhlanga, 4320
Phone number: 031 560 5500
6. Netcare Parklands Hospital
Physical address: 75 Hopelands Road, Overport, Durban, 4001
Postal address: PO Box 37014, Overport, Durban, 4067
Phone number: 031 242 4000
7. Netcare St. Augustine's Hospital
Physical address: 107 JB Marks Road, Berea, Durban, 4001
Postal address: PO Box 30105, Mayville, Durban, 4058
Phone number: 031 268 5000
8. Netcare Umhlanga Eye Institute
Physical Address: 5th Floor Medical Centre, 19 The High Street, Umhlanga New Town Centre, Durban, 4319
Phone number: 031 536 1800
9. Netcare The Bay Hospital
Physical Address: Kruger Rand Road, CBD Richards Bay, 3900
Postal address: Private Bag X1027, CBD Richards Bay, 3900
Phone number: 035 780 6111
10. Netcare St. Anne's Hospital
Physical address: 331 Burger Street, Central Pietermaritzburg, 3201
Postal address: PO Box 595, Pietermaritzburg, 3200
Phone number: 033 897 5000
Free State
1. Pelonomi Private Hospital
Physical Address: 121 Dr. Belcher Road, Heidedal, Bloemfontein, 9301
Postal address: PO Box 11985
Phone number: 051 407 1500
2. Netcare Kroon Hospital
Physical address: Noordweg Central, Kroonstad, 9499
Postal address: Private Bag X16, Kroonstad, 9500
Phone number: 056 215 1881
3. Universitas Private Hospital
Physical address: 1 Logeman Street, Universitas, Bloemfontein, 9301
Postal address: PO Box 11595, Universitas, Bloemfontein, 9321
Phone number: 051 506 3500
4. Netcare Vaalpark Hospital
Physical address: 40 Karas Street, Vaalpar, Sasolburg, 1947
Postal address: PO Box 60893, Vaalpark, Sasolburg, 1948
Phone number: 016 971 9000
North West
1. Netcare Ferncrest Hospital
Physical address: Moumo Street, Thiabane, Rustenburg, 0309
Postal address: PO Box 5975, Rustenburg, 0300
Phone number: 014 568 4399
Western Cape
1. Netcare Christian Barnard Memorial Hospital
Physical Address: Cnr DF Malan Street and Rua Bartholomeu Dias Plain, Foreshore, Cape Town, 8001
Postal address: PO Box 15364, Vlaeberg, Cape Town, 8018
Phone number: 021 441 0000
2. UCT Private Academic Hospital
Physical address: D18 Anzio Road, Observatory, Cape Town, 7925
Postal address: PO Box 13619, Mowbray, Cape Town, 7705
Phone number: 021 442 1800
3. Netcare Blaauwberg Hospital
Physical Address: Waterville Crescent, Sunningdale, Cape Town, 7441
Postal address: PO Box 11419
Phone number: 021 554 9000
4. Netcare N1 City Hospital
Physical address: Loutjie Rothman Street, Goodwood, Cape Town, 7460
Postal address: PO Box 12581, N1 City, 7463
Phone number: 021 590 4444
5. Netcare Kuils River Hospital
Physical Address: 33 Van Riebeeck Road, Kuilis River, Cape Town, 7580
Postal address: PO Box 1200, Kuilis River, Cape Town, 7579
Phone number: 021 900 6000
Limpopo
1. Netcare Pholoso Hospital
Physical Address: Cnr Grobler Street & Eland Avenue, Savannah, Polokwane, 0699
Postal address: PO Box 1181, Fauna Park, Polokwane, 0787
Phone number: 015 296 6500
Medicross Medical and Dental Centres in South Africa
As part of Netcare Hospitals, Medicross medical and dental centres provides a range of preventative and curative primary healthcare services to insured and self-pay patients. These services include pharmacy, GP consultations, x-ray, dentistry, physiotherapy, diabetic clinic, well-baby clinic, and HIV clinic. The locations and contact details of the Medicross centres in SA are as follows:
Head Office
Physical address: 3 Eglin Street, 1st Floor, 2 Sunninghill Crescent, 2191
Postal address: Private Bag X13, Rivonia, 2128
Phone number: +27 10 205 6600
Eastern Cape
1. Medicross Cape Road
Physical address: Dis-Chem Building, Cnr Cape & Second Avenue, Newton Park, Port Elizabeth, 6001
Phone number: 041 391 8700
Email address: [email protected]
2. Medicross Mosselbay
Physical Address: Cnr Melkhout and Louis Fourie Street, Heiderandt, Mosselbay
Phone number: 044 693 1470
Email address: [email protected]
3. Medicross Westering
Physical Address: 541 Cape Road, Linton Grange, Westering, Port Elizabeth, 6025
Phone number: 041 392 7800
Email address: [email protected]
4. Medicross Algoa Park
Physical Address: 50 St Leonards Road, Algoa Park, Port Elizabeth, 6001
Phone number: 041 456 1551
Email address: [email protected]
5. Medicross East London
Physical Address: Cnr Lukin & Pearce Road, Berea, East London
Phone number: 043 707 4200
Email address: [email protected]
6. Medicross Walmer
Physical Address: Cnr Buffelsfontein & 17th Avenue, Miramar, Port Elizabeth, 6070
Phone number: 041 396 4800
Email address: [email protected]
Gauteng
1. Medicross Boksburg
Physical Address: Cnr Trichardt & Northrand, Bardene, Boksburg, 1459
Phone number: 011 841 5000
Email address: [email protected]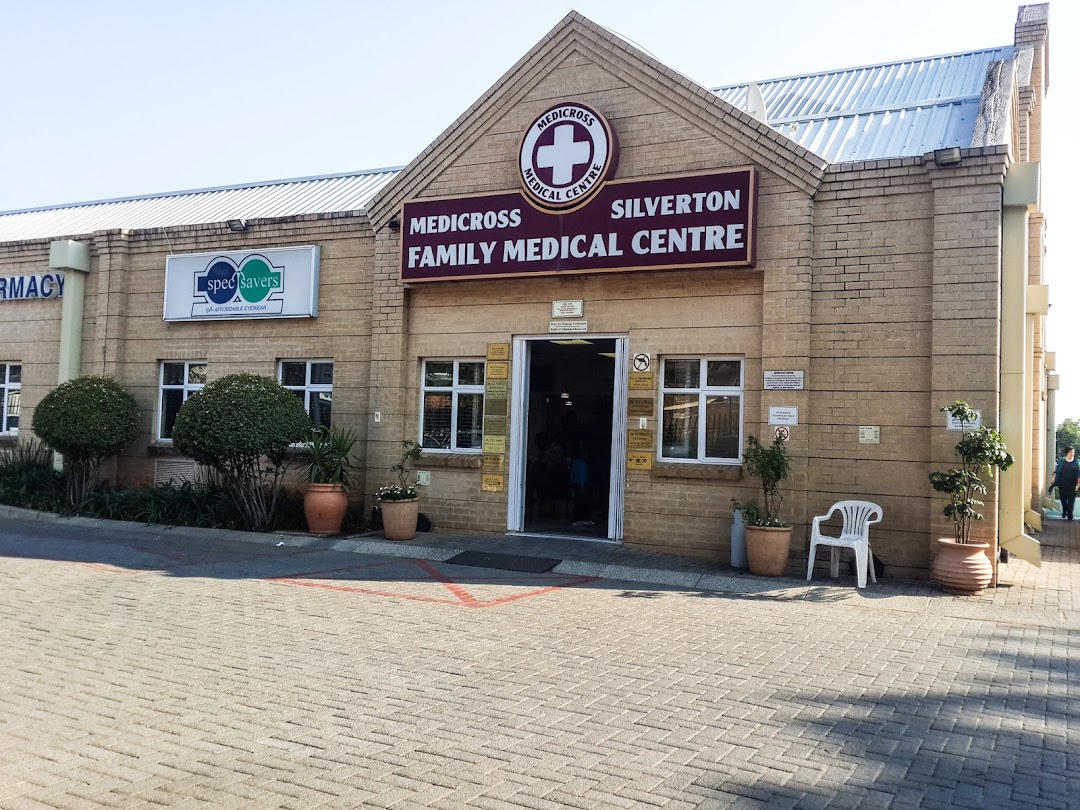 2. Medicross Constantia Park
Physical address: Cnr Chopin & Duvernoy Street, Garsfontein, Pretoria, 0063
Phone number: 012 998 5552
Email address: [email protected]
3. Medicross Germiston
Physical Address: Cnr Webber & Olivier Road, Estera, Germiston, 1422
Phone number: 011 824 7300/011 824 7301/011 824 7302
Email address: [email protected]
4. Medicross Kembirch
Physical address: Elgin Mall, Cnr of Elgin Road & Olienhout Avenue, Birchleigh, Kempton Park, 1619
Phone number: 011 391 4850/011 391 9000
Email address: [email protected]
5. Medicross Meldene
Physical Address: Cnr 3rd Avenue & Main Street, Melville, Johannesburg, 2109
Phone number: 011 482 2291/011 727 3404
Email address: [email protected]
6. Medicross Pretoria West
Physical address: 551 WF Nkomo Street, Pretoria West, Pretoria, 0183
Phone number: 012 327 5131/012 327 8404
Email address: [email protected]
7. Medicross Rangeview
Physical address: Rangeview Shopping Centre, Cnr Robert Broom Street & Norden Road, Rangeview, Krugersdorp, 1739
Phone number: 011 951 0100
8. Medicross Saxby
Physical address: 1053 Frederik Street, Eldoraigne, Pretoria, 0157
Phone number: 012 660 2355/6
Email address: [email protected]
9. Medicross Springs
Physical address: 1 Nigel Road, Selection Park, Springs, 1559
Phone number: 011 365 3800
Email address: [email protected]
10. Medicross Benoni
Physical Address: Cnr Kei & Great North, Farrarmere, Benoni, 1501
Phone number: 011 741 4500
Email address: [email protected]
11. Medicross Carlswald
Physical address: Carlswald Decor Centre, Cnr 5th and Harry Galaun Road, Carlswald, Midrand, 1683
Phone number: 011 318 0634/011 318 8934
Email address: [email protected]
12. Medicross Edenvale
Physical address: 111 Andries Pretorius Street, Edenvale, Johannesburg, 1610
Phone number: 011 451 9500
Email address: [email protected]
13. Medicross Gezina
Physical address: Gezina Stad Shopping Centre, 593 Nico Smith Street, Gezina, Pretoria, 0084
Phone number: 012 404 4600
Email address: [email protected]
14. Medicross Krugersdorp
Physical address: Cnr Luipaard & Paardekraal Road, Central Krugersdorp, 1739
Phone number: 011 953 1700
Email address: [email protected]
15. Medicross Monument
Physical Address: 82 Monument Road, Nimrod Park, Kempton Park, Johannesburg, 1619
Phone number: 011 928 5600
Email address: [email protected]
16. Medicross Randburg
Physical Address: Cnr Rabie & Malibongwe Street, Fontainebleau, Randburg, Johannesburg, 2194
Phone number: 011 796 1400
Email address: [email protected]
17. Medicross Roodepoort
Physical address: 54 Ontdekkers Road, Princess Crossing, Princess, Roodepoort, 1724
Phone number: 011 279 9400
Email address: [email protected]
18. Medicross Silverton
Physical address: 310 Pretoria Road, Silverton, Pretoria, 0184
Phone number: 012 804 4356
Email address: [email protected]
19. Medicross The Berg
Physical address: The Berg Shopping Centre, Cnr Gordon & Bergbron Road, Bergbron, Johannesburg, 1709
Phone number: 011 673 415/011 6702400
Email address: [email protected]
Mpumalanga
1. Medicross Nelmed
Physical Address: Cnr Rothery & Nrl Street, Central Nelspruit, 1200
Phone number: 013 755 5000
Email address: [email protected]
Free State
1. Medicross Bloemfontein
Physical Address: College Square, 183 Nelson Mandela Drive, Brandwag, Bloemfontein, 9301
Phone number: 051 406 0200/0250
Email address: [email protected]
KwaZulu-Natal
1. Medicross Bluff
Physical Address: 54 Lighthouse Road, Bluff, Durban, 4052
Phone number: 031 466 5030
Email address: [email protected]
2. Medicross Hillcrest
Physical address: Hillcrest Medical Centre, Cnr 54 Old Main Road & Nqutu Road, Hillcrest, Durban, 3610
Phone number: 031 765 3344
Email address: [email protected]
3. Medicross Meerensee
Physical address: 60 Anglers Road, Meerensee, Richards Bay, 3900
Phone number: 035 753 3671
Email address: [email protected]
4. Medicross Procare
Physical Address: 651 Andrew Zondo Road, Amanzimtoti, 4126
5. Medicross Richards Bay Day Hospital
Physical Address: Level 6 Central Business District, 5 Lira Link, Richards Bay, 3900
Phone number: +27 35 901 6000
6. Medicross Highway Sub-acute & Rehabilitation Hospital
Physical Address: 72 Old Main Road, Hillcrest, 3650
Phone number: 031 476 0997
7. Medicross Hayfields
Physical address: Hayfields Mall, Cnr Blackburrow & Cleland Roads, Hayfields, Pietermaritzburg, 3201
Phone number: 033 386 9208
Email address: [email protected]
8. Medicross Malvern
Physical Address: Cnr Ethelbert & Conabor Street, Queensburgh, Malvern, Durban, 4093
Phone number: 031 463 2055
Email address: [email protected]
9. Medicross Pinetown
Physical Address: Cnr Josiah Gumede & Meller Road, Pinetown, Durban, 3610
Phone number: 031 709 3070
Email address: [email protected]
10. Medicross Richards Bay
Physical Address: 1st Floor Calypso Centre, No 2 Krugerrand Street, Central Richardsbay, 3900
Phone number: 035 789 1596
Email address: [email protected]
11. Medicross Umhlanga (Gatemax)
Physical address: 321 Umhlanga Rocks Drive, Umhlanga, Durban, 4321
Phone number: 031 582 5325/6/7
Email address: [email protected]
Western Cape
1. Medicross Brackenfell
Physical Address: No 21 Roslyn Street, Brackenfell, Cape Town, 7560
Phone number: 021 981 5542/021 981 5543
Email address: [email protected]
2. Medicross Fish Hoek
Physical Address: 23-5th Avenue, Fish Hoek, Cape Town, 7975
Phone number: 021 782 6057 / 021 782 6115
Email address: [email protected]
3. Medicross Langeberg
Physical Address: Cnr Brighton & Kipling Street, Kraaifontein, Cape Town, 7570
Phone number: 021 987 1690/021 980 5100
Email address: [email protected]
4. Medicross N1 City
Physical address: Room 330, Louis Leipoldt Medical Centre, Broadway Road, Bellville, 7530
Phone number: +27 21 946 4707
5. Medicross Paarl
Physical Address: Cnr Verster & De Villiers Streets, Paarl, Cape Town, 7646
Phone number: 021 872 0565/021-8723867
Email address: [email protected]
6. Medicross Pinelands
Physical address: Block A Park Lane, Alexandra Road, Pinelands, Cape Town, 7405
Phone number: 021 511 2672
Email address: [email protected]
7. Medicross Tokai
Physical Address: Cnr Tokai Road & Keyser River Drive, Tokai, Cape Town, 7945
Phone number: 021 710 9950
Email address: [email protected]
8. Medicross Wellington
Physical address: 38 Jan van Riebeeck Street, Wellington, Cape Town, 7655
Phone number: 021 873 1057
Email address: [email protected]
9. Medicross Bellville
Physical Address: Unit GF02, 24 Bella Rosa Street, Omniplace, Bellville, Cape Town, 7530
Phone number: 021 948 5721
Email address: [email protected]
10. Medicross City Bowl
Physical address: The Link Building, 2nd Floor, Room 202, 11 DF Malan Street, Foreshore, Cape Town, 8000
Phone number: 021 423 2335
Email address: [email protected]
11. Medicross Kenilworth
Physical address: 67 Rosmead Avenue, Kenilworth, Cape Town, 7708
Phone number: 021 68305867
Email address: [email protected]
12. Medicross Monte Vista Clinic
Physical address: 16 Diaz Avenue, Monte Vista, 7460
Phone number: +27 21 558 1030
13. Medicross Northpine
Physical address: Northpine Drive, Northpine, Cape Town, 7560
Phone number: 021 981 3640
Email address: [email protected]
14. Medicross Parow
Physical address: 8 Mclntyre Road, Parow, Cape Town, 7500
Phone number: 021 930 5580/021 936 7300
Email address: [email protected]
15. Medicross Tableview
Physical address: 95 Blaauwberg Road, Tableview, Cape Town, 7441
Phone number: 021 521 1000
Email address: [email protected]
16. Medicross Vredekloof
Physical address: 69 Vredekloof Boulevard, Vredekloof, Cape Town,7560
Phone number: 021 981 6857
Email address: [email protected]
17. Medicross Worcester
Physical Address: 71 Fairbairn Street, Worcester, Cape Town, 6850
Phone number: 023 347 2724
Email address: [email protected]
North West
1. Medicross Rustenburg
Physical Address: Cnr Von Wielligh & President Mbeki Road, Central Rustenburg, 0299
Phone number: 014 523 5100
Email address: [email protected]
2. Medicross Ferncrest Accident And Emergency
Physical Address: Netcare Ferncrest Hospital, Moumo Street, Tlhabane, 0299
Phone number: 014 568 4338
Email address: [email protected]
3. Medicross Potchefstroom
Physical Address: Cnr James Moraka & Peter Mokaba Avenue, Central Potchefstroom, 2531
Phone number: 018 293 7800
Email address: [email protected]
Northern Cape
1. Medicross Kimberley Narko Day Hospital
Physical Address: 142 Du Toitspan Road, Civic Centre, Kimberley, 8301
Phone number: 053 832 1186
2. Medicross Kalahari Cataract and Eye Day Hospital
Physical Address: 13 Du Toit Street, Osterville, Upington, 8801
Phone number: 054 332 3989
3. Medicross Kimberley
Physical Address: Cnr Stone & Long St, Central Kimberley, 8301
Phone number: 053 830 4200
Email address: [email protected]