Brenda Mhlongo (born August 14, 1980) is a 43 year-old South African actress, dancer, and singer famous for playing the role of Nandi, the wife to Jack Mabaso, in Generations: The Legacy.
The multi-talented mother of four has made a name for herself with her many talents. She acknowledges her wonderful personality as the catalyst for her success which has put smiles on the faces of a lot of viewers. One of Brenda's many admirable qualities is her ability to create a perfect work-life balance as she steers her blossoming career with one hand while running a beautiful family on the other. As a modern woman, Brenda Mhlongo is proof that women can have it all, and that motherhood is no hindrance to success.
Summary Of Brenda Mhlongo's Biography
Name: Brenda Mhlongo
Age: 43 years old
Date of Birth: August 14, 1980
Place of Birth: KwaMashu, Durban, KwaZulu-Natal
Ethnicity: Zulu
Nationality: South African
Occupation: Dancer, Singer, and Actress
Spouse: Edmund Mhlongo
No. of Children: 4
Net Worth: $400,000
Social Media: @brendamhlongo (Instagram)
The 43-Year-Old Brenda Mhlongo Was Born in the City of KwaMashu in Durban
The delectable actress was born on 14 August in the year 1980 and grew up in the Durban township of KwaMashu, in KwaZulu-Natal. It is not clear exactly who her parents are or whether she had any siblings growing up but she has always pointed to how difficult it was to survive in Durban town, which was a post-apartheid settlement area. Brenda Mhlongo lived with her mother while her father moved to Johannesburg in order to look for work to support his family but unfortunately for them, he was murdered brutally when the thespian was only 13 years old.
She would launch herself fully into the entertainment industry at the tender age of 16 and attend an art academy called K-CAP, created and run by Edmund Mhlongo, whom she would later get married to. Usually, some people might try to finish school before settling on a well-defined career path but not Brenda Mhlongo. At that age, it was clear that she already understood what she wanted to become and all it would require. At the time of this report though, the only record of her education happens to be the fact that she attended a Durban-based college.
Brenda Mhlongo Began Her Showbiz Career as an Actress
At the age of 16, Brenda Mhlongo had already kicked off her career in acting. From our calculations, this would mean that she began featuring in minor roles in the late 90s. She acted in really small, forgettable roles, as such, her acting career didn't really take off until almost two decades after.  Her television debut was in eKasi: Our Stories, which aired on the 28th of July in 2014. Since then, she has appeared in so many other South African television productions, including Ihawu, The Queen, Uzalo, and Imbewu. She most notably starred as one of the main characters on SABC 1's hit series, Generations: The Legacy in 2016. In this series, she acted as Nandi Mabaso, the wife of Jack Mabaso, played by South African veteran, Vusi Kunene.
Brenda Mhlongo's versatility also extends to reality television and she has starred in quite a few. She was a contestant on the fifth season of the SABC 1 music talk show, Zaziwa. She also made a guest appearance on the popular television series, Top Billing. A single glance at Brenda's resume will reveal that she has appeared in some of the country's biggest television shows in the last couple of years. This is a remarkable feat for someone who was still in relative obscurity just about a decade ago. Brenda has really grown in her art and judging from public opinion of her, is a veteran in her own right who deserves all her flowers.
List of Brenda Mhlongo's TV Shows
eKasi: Our Stories (2014) as Mam Ngwenya
Ihawu as Ntswaki Mhlongo
Top Billing as a guest
The Queen as Zodwa
Uzalo (2015) as Buhle
Generations: The Legacy (2016-2018) as Nandi Mabaso
Imbewu (2020) as KaMadonsela
 Zaziwa (2017 Reality TV Show) as a contestant
Why Did Brenda Mhlongo Leave Generations: The Legacy?
The story of Brenda Mhlongo's exit from the elite Generations: The Legacy cast caused quite a ruckus on the internet. Cast as Nandi Mabaso, the character was the wife of Jack Mabaso on the show. Brenda didn't stay too long on the popular series, leaving only two years after her initial contract. Rumors began to circulate on different blogs, saying she was booted out of the show, and because Brenda is such a peace-loving person, she had to come out to clear the air in order to avoid lingering doubts in the hearts of her fans.
In a candid interview with Drum magazine, Brenda confirmed that she had indeed left the show, but not in the manner being described by the blogs at that time. In reality, she could not continue as a result of a flaw made by the show's writers. Speaking further, Brenda revealed that they had exhausted all possible story arcs for her character and the result was that the character was eventually made irrelevant to the central story. It was this realization that led to the termination of her contract.
If you watched her final episodes, you would remember that Nandi suffered a mental breakdown and had to be locked up in a mental institution. This was a natural dead-end for both Nandi and Brenda and the ideal thing to do was to move on – which was exactly what Brenda did. She was only on the Generations set for two years, from 2016 through 2018. After taking her exit from the show, she began to pay more attention to her Brenda Mhlongo Worldwide Foundation, which she put on hold during her stint with the SABC soapie.
As A Stage Performer, Mhologo Has Appeared In Several International Stage Plays
The 43-year-old actress has attained such enviable mastery over her craft which has left fans in awe time and again. Even though her track record is full of such excellent role interpretations in movies and television shows, Brenda Mhlongo's prowess in stage theaters remains one of the most impressive and rewarding aspects of her acting career. The Durban-born Zulu native was a young teenage mother when she first saw the movie, The Lion King. She especially loved it because it soothed her crying daughter whenever it was played.
In 2007 when auditions were open in Durban, the then mother of two dropped everything and decided to go for it. She was hired on the spot to play the part of Rafiki in the 'Festival of The Lion King'. Later, she was also invited to play in the German-produced version of the play by a Disney executive who was amazed by her stage delivery. Brenda has traveled extensively across the world for her stage performances. Some of the places she has performed in include Johannesburg, Hong Kong, Germany, and North America.
Her most notable stage character to date remains "Rafiki" and she has received two international awards for her role in that play. The awards she won are The Broadway Spain Award in the categories of Best New Artist and the Best Artist categories. Brenda Mhlongo toured the continent of North America for about five years while performing The Lion King.
She Has Been Separated From Her Husband, Edmund Mhlongo Since April 2021
It appears there is a very thin line between war and peace, especially as it concerns marriage because there genuinely seems to be a battle going on in the Mhlongo family as we speak. Brenda Mhlongo got married as a teenager to theatre director, Edmund Mhlongo, in the year 1998 while she was a student in his art academy, K-CAP. The couple has been blessed with four children and has lived happily together…until now.
No one saw it coming, in fact, it would have been very difficult to postulate such a theory – that the Mhlongos will be a thing of the past and that the marriage they had built for over two decades and counting would cease to exist. But one thing we have come to know with the entertainment industry, especially in South Africa, is that nothing is always as it seems.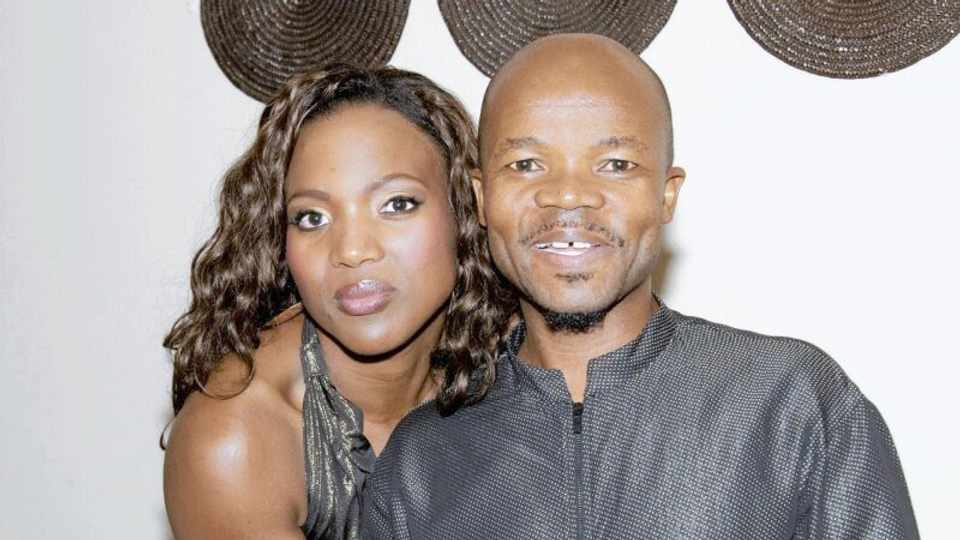 In April 2021, it was reported that Edmund Mhlongo was involved with another woman – a mistress who has been revealed to be Nkosi Mpanza – without the knowledge of his wife, Brenda. As though being involved in an extra-marital affair wasn't bad enough, she was said to be already pregnant and that Mr. Mhlongo has secretly paid her lobola. In a doubly ironic twist of fate, the new wife also happened to be a student at Edmund's Academy, now renamed Ekhaya Multi-Arts Center, and reports say they had allegedly been dating on the low for a long while.
This revelation came as a shock to everyone because no one had the slightest idea that all was not well in the love nest of the Mhlongos. It also showed that the current state of their marriage is such a far cry from the way it was, just over three years ago. In 2018, her husband, Edmund, lovingly presented her with an expensive brand new BMW, as a gift to celebrate her 38th birthday. In pictures uploaded to social media, Brenda was all smiles and it would have been quite unfathomable to imagine that the couple was going through any marital crisis at the time. However, information gathered shows that the marriage had been strained for a very long time, owing to the actress' extremely busy work schedule.
It is said that Edmund Mhlongo took advantage of his wife's work schedule (which had seen her relocate to Johanessburg for production) to start the process of marrying another woman. It is not really known if his wife, Brenda was aware of her husband's affair or not but the 43-year-old actress has not made any comment about the issue since the story broke. An inside source has confirmed that the couple has since split and is awaiting the final annulment of their 23-year-old marriage.
Brenda Mhlongo Has Four Children With Her Estranged Husband
Even though her marriage to Edmund Mhlongo is regrettably going to end on a sour note, the union produced four beautiful children – two daughters and two sons (although most online tabloids claim Brenda has only three children with Edmund, our records show that the couple actually had four children together). Their names are Nozibusiso, Snikiwe, Zama, and Nethezeko Mhlongo.
The first child born to the Mhlongos was Nozibusiso. Nozibusiso schooled at the Durban University of Technology and currently serves as the Deputy Director of the National Department of Higher Education. Nozibusiso is a very reserved person; little wonder why there is so little known about her, especially when compared to her more vivacious younger sister.
Their second child, Snikiwe Mhlongo is the absolute spitting image of her mother. Snikiwe was born on Christmas Day in 1997 and at the young age of 25, the Durban-born celebrity child has become one of South Africa's top influencers under the age of 25. Snikiwe has amassed thousands of followers along with several social media platforms, including YouTube and Instagram. She graduated from the University of Cape Town in 2019.
Their other children are the boys, Zama Mhlongo and Nethezeko Mhlongo. They are only one year apart as Zama was born sometime in 2002. Nethezeko, on the other hand, was born on the 24th of December in 2003 and is 19 years old, making him the last child Brenda and Edmund had together.
Her estranged husband, Edmund Mhlongo is reportedly expecting another baby with his new wife, Nkosi. Brenda has always had a wonderful relationship with her children and it is evident in the way they all relate with each other.