Bonang Matheba's boyfriend is not known at the moment, but she has previously dated several men, including AKA (Kiernan Forbes), D'Banj (Oladapo Daniel Oyebanjo), DJ Euphonik (Themba Mbongeni Nkosi), Siphiwe Tshabalala, Da L.E.S (Leslie Jonathan Mampe, Jr.), and Slikour (Siyabonga Metane).
Bonang Matheba is, without a doubt, one of the most talented South African TV presenters and businesswomen. She is also one of the most beautiful faces on TV, and that is why every big name, from singers to rappers, sportspeople, and more, want a piece of her. She has had a long list of men to her beck and call since she first hit the entertainment scene, and so the next question is always about Bonang Matheba's current boyfriend.
Bonang Matheba's Boyfriend Is Still Being Rumored
As stated, the name of Bonang Matheba's boyfriend is not known, but there have been rumors of late that there is someone who seems to be making her happy. In August 2019, after her relationship with AKA went sour, she was said to have started another relationship with Major League DJ Banele Mbere.
Fans started the rumors that something could be going on between them after Bonang made a tweet that she and her baby were having a wonderful life. When asked what she meant by baby, she made it clear that it was her man. Fans did some quick digging and believed it had to be the DJ that Bonang was talking about because they had a few dates, and he replied to her message on Twitter cryptically. Also, they joked about having babies together on social media. Both involved did not confirm or deny the claim, but nothing came from the rumor.
Even before Mbere, the rumor mills were busy with stories that Bonang Matheba's Boyfriend might just be retired footballer and businessman, Fatmir Hysenbelliu. Again, she was the brain behind the rumor since 2018 when she made a tweet that she was going to live with her man in Albania; that was where Fatmir was. Next, she claimed she had for herself, a rich Arabian man. There were more messages relating to Albania, but what many believed was the final giveaway was during his birthday when she shared some pictures of him on her Instagram story.
Even though she confirmed at the time that she was going out with someone, she refused to reveal who the man was, leaving fans to keep guessing. As stated, Fatmir Hysenbelliu is an Albanian who was born on April 4, 1992. He rose to prominence as a footballer before later delving into business. Hier to wealthy Albanian businessman, Irfan Hysenbelliu, he has not given anything away that would have suggested he had anything to do with the South African businesswoman.
Bonang Matheba's Past Boyfriends
She Snatched AKA From DJ Zinhle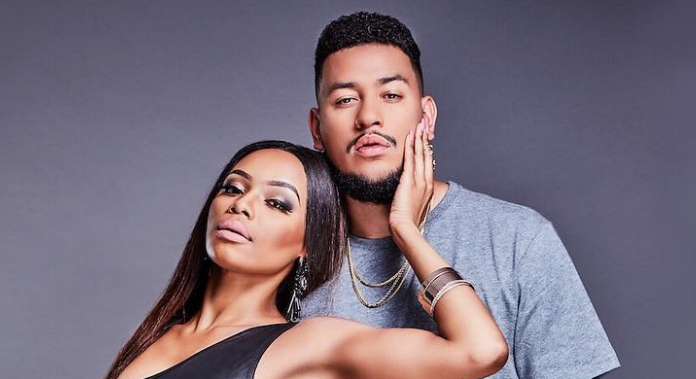 Bonang's relationship with South African rapper, Kiernan Jarryd Forbes, who is better known as AKA, started controversially and didn't end any other way. Before they became an item, AKA was in a relationship with DJ Zinhle who had his daughter in 2015. However, shortly after the birth, the popular DJ called off the relationship, claiming that her man was cheating on her with none other than Bonang.
Not long after it ended, the rumors continued that AKA and Bonang were seeing each other. They came out to confirm the rumor, springing up one of the hottest and most powerful celebrity couples at the time; also the envy of many.
By 2017, things had gone south between them as AKA claimed he found some rocks in his room, giving the idea that Queen B bewitched him. The relationship came to an end, and AKA went back to his baby mama whom he had left, believing he would find his soulmate in Bonang.
D'Banj Dated Bonang Matheba For A Short While in 2015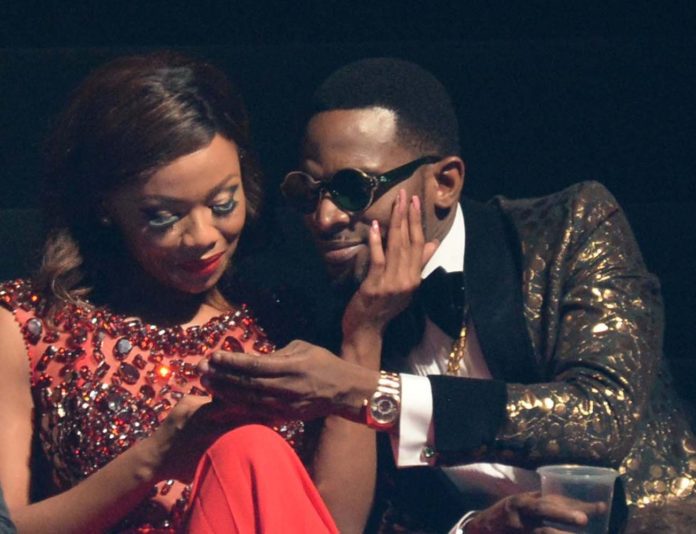 The relationship between Queen B and Nigerian Popstar, D'Banj, came rather surprising for many in 2015. Nothing was known about how they met, they were just seen to be getting too close to each other until they the media personality confirmed that they were dating when she wished him a happy birthday on Twitter, where she referred to him as her bae.
South Africans nicknamed them Bo'Nanj, but the relationship did not last a long time before it came to a sudden end after the Nigerian singer declared his love to his former lover, Adama Indimi, who is the daughter of Nigeria's billionaire, Mohammed Indimi, on social media. Bonang was dragged on Twitter that she got what she deserved for dating a Nigerian.
DJ Euphonik And Bonang Had A Turbulent Relationship
Needless to say, when DJ Euphonik was Bonang Matheba's Boyfriend, the two were "the couple" of South Africa. They met in the 2000s when the DJ was organizing student parties and Bonang was his door girl. Because of her goal-getter spirit, the too soon got close and started hanging out around 2007/2008. One thing led to the other and they started dating.
Even though they seemed beautiful together, Euphonik revealed he started feeling something was not right with the relationship after it started affecting his thought process, and he couldn't find positive answers to some questions he asked himself. Things went in the wrong direction, and the cracks of the once beautiful relationship came out for the public to see after Bonang accused her then-lover of domestic violence in 2012.
She proceeded to get a permanent protection order against him. However, she later dropped both her charge and protection order, making her fans very angry. Her lawyers revealed she dropped the charges because the House music disc spinner apologized for the incident. On another hand, Euphonik claimed he was the one who was attacked by Bonang at her residence in Hyde Park, Joburg, and not the other way around.
Siphiwe Tshabalala And Queen B Had A Fling
The Kaizer's Chief and Bafana Bafana star did not hide it that he had had a crush on Bonang. And according to many, they had something going on between them when she was a presenter for Kaizer Chiefs FC TV. However, the relationship was not so much open to the public.
The two were said to have had several dates and just when things seemed to be getting a little serious, they drifted apart and it all ended, leaving many to wonder if they had actually dated. Not very long after that, Siphiwe Tshabalala found love in former Miss SA Bokang Montjane, to whom he is now married and has a son, Owethu Orefile Temo.
Her Relationship With Da L.E.S Was Not Popular
Not too many know that the former Jozi member, Leslie Jonathan Mampe, Jr. was once Bonang Matheba's boyfriend. How they met remains a mystery, just as the relationship itself. Many people did not know they were an item from the time they started dating until they called it quits.
To date, neither Bonang nor the hip hop star has come out to make any comment about their very brief relationship.
Slikour Was Bonang Matheba's Favorite Boyfriend
She has had men who had stayed longer with her, and some who were more famous, but the media mogul revealed that Siyabonga Metane was the best boyfriend she had. The two were said to have started dating back in 2007, although how they met has not been revealed.
They would go on to date for a while before the relationship finally came to an amicable end the very next year. Unfortunately, they did not reveal why they called it quits, but they have continued to be very good friends many years later. What many have speculated is that the end of this relationship marked the beginning of her unsteady love life.
Here is a list of all the men Bonang Matheba has dated
AKA (Kiernan Forbes)
D'Banj (Oladapo Daniel Oyebanjo)
DJ Euphonik (Themba Mbongeni Nkosi)
Siphiwe Tshabalala
Da L.E.S (Leslie Jonathan Mampe, Jr.)
Slikour (Siyabonga Metane)
She Is Still Yet To Find A Worthy Man To Father Her Kids
Although she has dated many men in the past, and there are many more who wouldn't mind dating her, Bonang is still yet to have any kids, which many find amusing considering that many other women in the entertainment circle have kids.
According to her, she did not have any kids because for now, she has still not found any man that is worthy enough to be the father of her kids. Also, she is not in a rush to bring anyone into the world because she wants to have formidable kids who are going to change the world; an Elon Musk or even Trevor Noah. And so, she will keep searching for the right father.