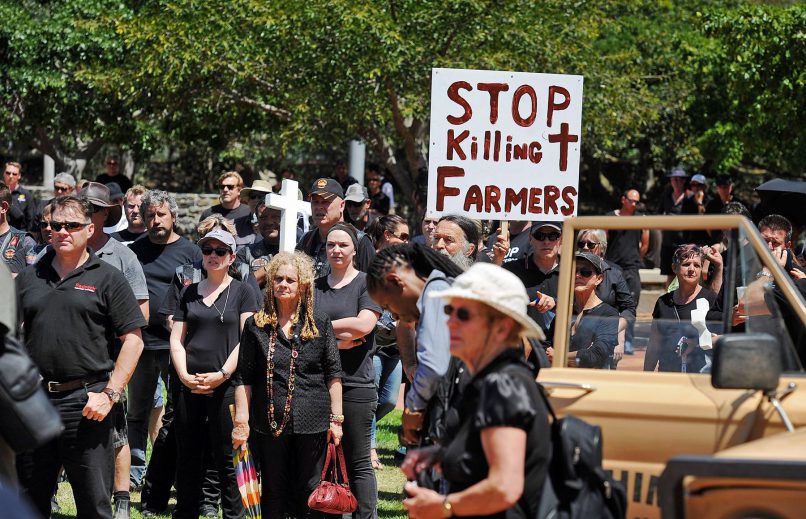 Black Monday Protest – The African National Congress (ANC) has called on all and sundry to treat all lives equally, irrespective of their race or colour, as all lives matter.
The ruling party's comments come hot on the heels of the Black Monday protest, embarked by white farmers in the country earlier this week.
See Also: Did Zuma Receive R1M Monthly Salary From Private Companies?
In a statement, the party pointed out that white farmers are not only the victims of farm murders, as black farmers have also had their fair share of the abominable act.
Above all, the ANC strongly condemned the display and flagging of South Africa's old flag during the protest. Party spokesperson, Zizi Kodwa remarked that "The racial characterisation of crime and the stoking of racial hatred by some elements in the campaign through, amongst others, the arrogant and offensive display of apartheid South Africa's flag, are indicative of an unrelenting yearning for apartheid fascism and white supremacy and make a mockery of the national reconciliation project; continuing to entrench obstacles to the creation [of] a nonracial society in South Africa."
In the wake of the perceived "racial" march by the farming community, the Congress of South African Trade Unions (COSATU), on Wednesday, condemned the excess attention being given to farm killings. The union pointed out that farm killings should be given the same kind of attention as the killing of an ordinary citizen.
COSATU also labelled the march as nothing but a "loutish posturing by some unredeemable and unreformed racists", adding that the Black Monday protest should have targeted something meaningful rather than glorifying the old South African flag.
Similarly, AfriForum is said to have also distanced itself from participants who carried the old South African flag during the protest. The Agri SA, on the other hand, condemned the racialised nature of the march, saying that farm murders affected all races.
Check Out: Former President Kgalema Motlanthe To Skip ANC Elective Conference
There has been a total of 65 murders on farms and 347 attacks so far in the country since the beginning of this year, according to recent information on Transvaal Agricultural Union's database.
The Black Monday protest, which was reportedly attended by over 1,000 people, saw about 1,500 cars blocking the roads while the march lasted.