African pastors have continued to reveal how gullible Africans can be when it comes to religion and how lucrative being a pastor in this part of the world can be. They always seem to have what looks like the perfect response to give to anyone who attempts to criticize their method of worship or turn the heart of their members away from them and Bishop Israel Makamu has made headlines a couple of times for being one of such.
The man of the cloth has become a source of trending news for online tabloids and gossip websites because of his lavish lifestyle, show-off tendencies (even though he claims not to be someone who brags), and alleged extra-marital activities. Despite constantly making the headlines for the wrong reasons, he seems to be having his way around it all and does not look like he has any plans of toning down his lifestyle.
Bishop Israel Makamu Is Widely Known As One Of South Africa's Controversial Clergymen
When the name Bishop Israel Makamu is mentioned, what quickly comes to mind is most likely a flamboyant clergyman and founder of Endless Hope Bible Church, a miracle-based church in South Africa. The man of God is also known as someone that has a penchant for showing off his luxury collectibles – the blessings of God on his life, as he will choose to describe them.
Another thing that Israel Makamu is known for is the endless controversy that trails him. At one time or the other, the Bishop has had to defend himself over one thing or the other. He also anchors the popular but controversial TV show dubbed Rea Tsotella on DStv's Moja Love channel, where he counsels families on marital issues.
Judging from the lavish lifestyle he tries to show off, you can tell that doing ministry work has done him a lot of financial good, but it is also important to note that his church is not the only source of his income as he is known to have interest in a number of projects. Irrespective of what people have to say about the way he lives his life, he does not seem to be one of those people who care so much about public criticism.
Makamu Drives Fast Wheels And Has A Top-notch Fashion Sense
Certainly, it is not nice to expect that because a person is a pastor, he or she is going to dress poorly just to please the public and avoid comments like 'he is using the money from his church members to look good' from the public. However, when a person is truly investing a lot of money into purchasing the latest cars, fashionable designer wears, and practically any type of material thing out there, then it is something extra.
Also, when the person is very intentional about making people know the worth of the things he is wearing as is the case with Bishop Israel Makamu, then they leave people no choice but to speak about or condemn the lifestyle.
Jehovah-jireh pic.twitter.com/3QCxoJ1gK9

— I am Bishop I Makamu (@Bishop_Makamu) March 23, 2021
You can barely scroll through his Instagram account without observing the particular way he shows off his wealth. There are equally pictures of his expensive shoes and on one occasion, he uploaded a picture of his legs only showing his designer shoe and used a Bible verse as the caption of the post. Irrespective of what our perspectives are, Bishop Israel Makamu will not compromise his flamboyant lifestyle for any reason because he believes God has blessed him, so why not show it off?
The clergyman is also a lover of fast cars, ranging from Mercedes Benz to Range Rovers, and just like his expensive shoes and dresses, he also makes out time to show off his nice cars, though he does not see himself as someone who brags.
He Has Received Criticism For His Lavish Lifestyle
As expected, Bishop Makamu has been severely criticized irrespective of what he says about not being someone who brags. His show of opulence and flagrant display of wealth is particularly disturbing for onlookers because they claim most of his church members are poor and struggling financially. They see no reason for the extravagance because he is a pastor and modesty should be written somewhere in the 'how to be a pastor' manual.
From what we gathered, his show-off seemed to have gotten to its peak in 2019 when the first episode of his reality TV show #IAmBishopIMakamu debuted. He was seen walking around with bodyguards and at some point on the show, he was heard referring to his church congregation as 'traffic'. Onlookers are also astonished by the fact that Bishop Makamu flys to Durban in Kwazulu-Natal every Sunday to preach in his church, something people see as a colossal waste of resources.
Another straw that broke the camel's back was when viewers realized that there was an ATM stand inside the church premises. When this discovery was made, Mzansi went wild as they questioned the rationale for that move. Knowing fully well that his lavish lifestyle would raise a lot of dust, Bishop Makameu has told everyone who cares to listen that they can only criticize him but he cares less about their tantrums.
He insists that he is not bragging or trying to show off but what he displays is him operating at the level God has placed him. In defense of the ATM in the church premises, he said nobody complains when they see ATM stands at taverns, so why would they question why there is one in a church.
After watching the first episode of the show, viewers took to social media to express how they feel and while some were disgusted about his lifestyle, others were considering the possibility of starting their own church.
Bishop Makamu Was Arrested For Sexual Assault
Following his arrest on the 26th of May 2021, Bishop Makamu appeared before the Palm Ridge Magistrate Court on charges of sexual assault on a 17-year-old church worker – an incident that happened in 2018. According to reports, the alleged victim worked in his church as a secretary. She narrated that Bishop Makamu called her on the 10th of September 2018, requesting that she brings the keys to the church building for him.
While on her way to give him the keys, the Bishop meets her on the way and asks her to hop into the car and accompany him to get something he forgot in the church office. When they got to the church office, he allegedly began to make sexual advances towards her, touching her breast and trying to kiss her. According to her, she only managed to leave his presence that day.
Following that incident, Bishop Makamu continued to call her and when she complained to her friend, the latter advised her to record their conversation the next time he calls. The young lady said she succeeded in recording their conversation as he was asking her to sleep with him and showed it to her parents. But in order to bury and sweep the matter under the carpet after her parents made efforts to confront him, she says Makamu tries to bribe her father with R1 million but it was rejected and she had to stop working for him at the church.
Finally, in 2021, she released the recorded audio on social media, and it quickly went viral. On the leaked audio, Bishop Makamu's voice was heard asking if anyone would see him if he comes to the premises and asking her 'o tlo mpha akere? (will you give me?)' while the lady's voice responds with a 'No'. As the recording continues, the Bishop is still persisting with his request and after refusing several times, she finally accepts "to give him" on Sunday. In his defense, Bishop Makamu admits that the voice in the leaked audio was his, but denies that the conversation was sexual in any way.
He Was Released On Bail For R2,000 And He Celebrated His Freedom With A New Car
Following his arrest and first court appearance, he did not spend up to 2 weeks in jail before he was released on a bail condition of R2,000, which did not seem like a big deal for him. Though the scandal and arrest were enough to make him step down from his hosting duties on the Moja Love channel, he soon picked up the pieces of his life, and his wife who everyone was expecting to divorce him, also forgave him.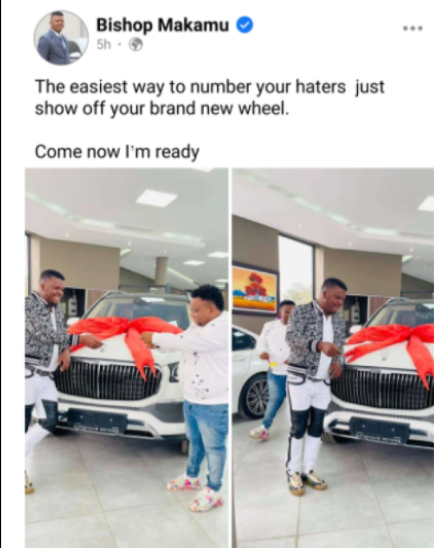 Just after the whole cheating and infidelity scandal, he gifted himself a new Mercedes Benz, probably to prove to Mzansi that he was back on his feet and beyond reproach. It was obvious that was the aim as he captioned his social media post with words that sounded like he was trying to show his haters that he survived that phase of his life. While some fans were happy for his new wheels, others were disgusted by his caption.
Makamu Followed His Father's Footsteps And Is The Founder Of Endless Hope Bible Church
Bishop Israel Makamu was born in Katlehong in Gauteng Province into a family with high moral standards as his father was a pastor. This fact piled a lot of pressure on young Makamu to live his life in a certain way as would be expected of a pastor's son but he did not cope well with such pressure. However, when he got into secondary school, he finally opened himself up to working for God and earned himself the nickname 'Bishop'.
From being the son of a pastor, he has now become a pastor himself and a church founder. Bishop Israel Makamu is the founder of Endless Hope Bible Church, a church that has over 10 branches across South Africa and unlike some founders who say they don't receive a salary from their church, Makamu admits that his church pays him, just like he pays his employees.
As a pastor, Makauma is known to have a controversial method of teaching. Some of the people who have sat under his ministration say he preaches opportunistic sermons, just like the convenient topic he used for his first sermon after getting bail from police detention on the 16th of May. While he used the opportunity to render an open apology to his wife and asked for forgiveness, some saw it as manipulative and even suggested that he ambushed his wife with the whole show.
Asides From Pastoring, He Is Also A TV Presenter And Businessman
Just before anyone criticizes Bishop Makamu's lavish lifestyle, it is important to keep in mind that he has a diversified means of livelihood. Bishop Israel Makamu, like so many of his contemporaries, also wears the hat of an entrepreneur. Besides the work of the church, the flamboyant clergyman also owns a funeral home called iMakuma Funerals that provides a wide range of funeral services. He also owns a still water company called VeriFied Water, a division of Makamu Holdings that distributes still water to individuals, churches, companies, and conferences.
He is also well known as a TV presenter. He is seen on the Moja Love channel on DStv where he anchors the show dubbed Rea Tsotella. On the program, Bishop Makanu helps to reconcile family members and settle family issues. However, as a result of the alleged infidelity scandal that he faced in May 2021, he stepped down from hosting the show.
A Father of six children wants to confront his ex-lover. #ReaTsotellaMonday tonight 21h30 pic.twitter.com/LCBUh6Ia0Z

— MojaLoveTv DStv Channel 157 (@MojaLoveTv) August 30, 2021
The Moja Love channel announced that it was the right thing to do as it will help him effectively cooperate with the investigations and clear his name. They added that depending on the outcome investigation, they would know what decision to take about his position as host of the show going forward.
As the case was eventually settled out of court after the alleged victim claimed that appearing in court every other time was taking a toll on her and it was also distracting her from focusing on her academics, the head of Moja Love, Bokani Moyo announced that Bishop Makamu will be reinstated to his previous role on the show. According to him, the decision was made after much evaluation. Bishop Makanu has since continued with the channel in his role as host and anchor of Rea Tsotella. He resumed on the 16th of July 2021.
Despite all the controversies and criticisms that Bishop Israel Makamu has faced, he seems to have everything under control. He still flaunts his wife on social media and is active in his ministry and business. Fortunately for him, the cheating scandal did not have a permanent effect on his career.