A retirement village is a lifestyle community where older adults who are fully retired from active service or full-time employment live. Retirement villages are specifically designed for older adults who need assistance with their daily living but still wish to live independently.
A typical retirement village provides a range of services, facilities, and accommodations to residents. In some communities, socialization opportunities are provided, and pets are allowed. Generally, most communities only admit adults over a certain age (mostly 50 years) and offer a lifestyle of exclusivity, convenience, comfort, and safety.
Best Retirement Villages in South Africa
There are several retirement villages scattered across South Africa. Potential residents usually consider lots of factors before choosing when searching for a desirable retirement village.
Security, frail care facilities, medical assistance, nursing with 24-hour emergency response, facilities such as entertainment area, library, swimming pool, bar, dining room, walkway, garden are some of the features available in a typical retirement village.
However, some retirements in the country are better than others. Our list contains about ten best retirement villages in South Africa for potential residents. Take a look at them below.
Retirement Villages in Cape Town
Also known as the Mother City, Cape Town is the oldest and second-largest city in South Africa. In addition to the city's unique geography and cultural attraction, Cape Town has several retirement villages.
1. Oasis Care Centre
Location: Century Way, Century City, Cape Town, 7441
Age range: N/A
Days Open: Monday – Friday; 8:30 AM to 4:30 PM
Facilities: Wi-Fi, Hairdressing, Garage, Transport to shops, Restaurant, Complex Security, Wheelchair Access, Laundry Service, Library Service
Contact: (+27) 21 528 7301 or lizzieb@capetownoasis.co.za
Oasis has been offering professional, warm, and loving care to residents since 2007 in a comfortable environment. Residents at the retirement village are allowed to live their lives in accordance with their individual preferences in a homely environment. Oasis Care is one of the best in Cape Town because they are focused.
They are not a jack of all trades rather, they are asters in 4 aspects of this business. The home offer services in four phases of care. These phases include Assisted living, frail care, physical rehab, and Alzheimer's/dementia care. Their onsite physical rehab is conducted by a multidisciplinary team for post-hospitalization treatment.
Residents on this care option are offered delicious and nutritious in-house catering, pre-admission hospital visits by Oasis rehab care coordinator, medical aid authorization obtained by Rehab Medical Aid liaison before admission, and single rooms with half en suite bathrooms and TV bouquet. Their frail care service takes place in a nice environment built around a beautiful courtyard with a soothing pond and fountains.
The wing has private, single rooms with en suite basin and toilet, DSTV bouquet in all rooms, and a call bell system in each room. Residents also get medication administration and 24-hour nursing and care by a dedicated nursing team. Doctors are also always onsite during business hours. Oasis care is ideal for taking your relative or family member with Alzheimer's or Dementia for professional care.
Such residents are kept in single private rooms with en suite toilet and basin and private full suites. The retirement home also offers specialized memory care staff training, medication administration, 24-hour nursing and care, special diets, daily laundry and cleaning services, individualized care plan for each resident, and more.
Finally, their luxury assisted living service takes place in a hotel-style environment with various activities and outings. Residents receive one hour of personal care per day, three meals per day, special diets, weekly outings to scenic venues around Cape Town, medication administration, twice-weekly shopping trips, general health monitoring in conjunction with resident doctors, and more activities.
2. Summerley Court 
Location: 305 Main Rd, Kenilworth, Cape Town, 7708
Age range: N/A
Days Open: N/A
Facilities: Dining room & Bistro, bar, library, multi-purpose suite
Contact: 021 879 0203, 081 271 0543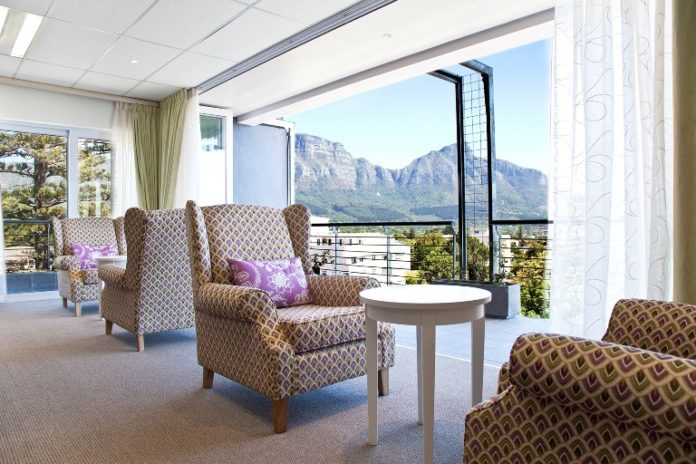 Summerley is unique in so many ways. If you want to view the iconic Table Mountain and Table Bay, it is impossible from the 6th Floor of the home. Also, just in case you want to patronize brands like Pick a Pay, Woolworths Foods, Oakhurst Farmstall, Noyes Pharmacy, and other convenience shops, they are just a short walk away from Summerley.
The retirement home's services include sectional title ownership, hotel-style services, a high-level security system, various care packages with a high level of medical support by a specialized Summerley Court Health Care Wing that provides private care companion nursing, frail care suites, an assisted care center, and a Summerley court clinic. Summerley has 1-bedroom and 2-bedroom apartments, while their primary essential care package is Gold care.
Residents under the Gold care receive three-course lunch seven days a week (though optional), administration services, organized entertainment and outings, concierge and reception services, and more. The home's diamond care option takes care of residents' apartment servicing twice a week, laundering their bed linen, administering medicines, bathing, dressing assistance if required, daily visits by nursing personnel, and more.
Finally, their platinum package assists residents in their apartments with daily bathing and dressing assistance, additional cleaning where necessary, three meals per day served in the dining room or apartment, daily servicing of the apartment, and more. All these benefits and more are some of the reasons Summerley is an ideal place for potential residents.
3. Great Oaks 
Location: Schoenstatt Estate, Constantia Main Rd, Constantia, Cape Town, 7848
Age range: N/A
Days Open: Monday – Friday' 10:00 AM – 4:00 PM
Facilities: Restaurant, lounge, and café, ladies bar, boardroom, Wellness Centre & Spa, heated ozone pool, function room, beauty room, gymnasium, and therapy rooms
Contact: +27 (0) 21 794 8842, +27 73 119 9999, info@constantialife.com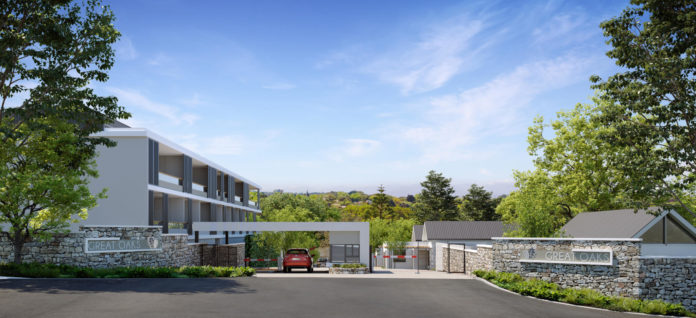 At Great Oaks, residents are given primary health care services as part of their monthly levy contributions. Some of these services include administering general medical care,
annual health assessments, assistance in requesting and obtaining medical aid benefits, 24-Hour Call-for-Care assistance, and more. Their health care services are tailored to suit each resident's changing needs, which can be also be offered in the comfort of their home.
Their health care options include basic wound care, assisted living, frail care, home-based care, and memory care. Great Oak is an ideal retirement home because they are among the few retirement villages that offer memory care service. This service is based on ground-breaking Memory Care principles.
Their frail care service is 24-hour personalized care in a comfortable and calm environment. Notably, their memory care menu covers 24-hour monitoring and care, activities and programmes, assistance with nutritional needs, laundry and cleaning of rooms, medication management and administration, meals, teas and snacks, and more.
Retirement Villages in Pretoria
4. Waterkloof Marina
Location: 296 Orion Ave, Waterkloof Ridge, Pretoria, 0181
Age range: 50 plus
Days Open: Monday – Friday 8:00AM – 6:00 PM; Saturday 9:00 AM – 6: 00 PM
Facilities: Single and double rooms with en-suite bathrooms and kitchenettes
Contact: 012 883 1913, 012 883 1914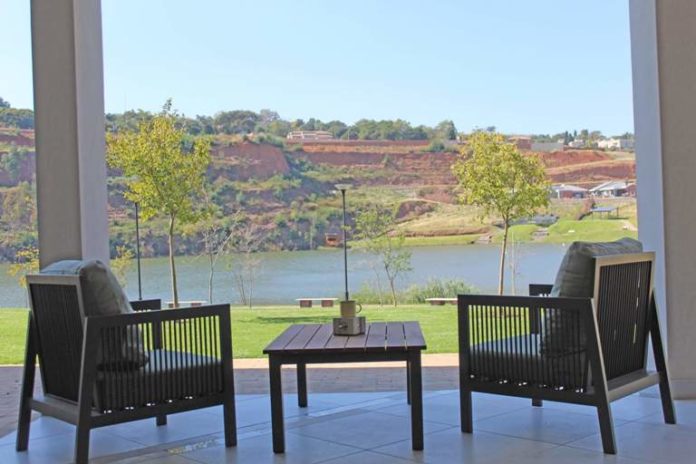 Situated in the Waterkloof Ridge suburb of Pretoria, Waterkloof Marina provides 24-hour personal multidisciplinary nursing care to its residents. The retirement home strictly takes care of frail and dementia individuals. They have a 30-bed Frail Care and 15-bed Dementia Care facility these individuals are catered for.
Waterkloof is ideal and hotly sought after but of their excellent services and the way they residents. Their services include frail care, dementia care, 24-hour nursing care, on-call physicians, dedication management, respiratory care, physiotherapy, occupational therapy, palliative care, respite care, wound care, and more.
5. Equestria Centre 
Location: 

229 Meerlust Rd, Equestria, Pretoria, 0082

Age range: Over 50s
Days Open: N/A
Facilities: Community Centre, coffee lounge, dining area, library, 24-hour gated security
Contact: 012 807 8732
Emphasis on "quality of life" is what makes Equestria Village different from others. Residents are provided with quality services via Equestria health service. Some of them include assisting and controlling medication, health guidance, giving vitamin injections, in-house visits, health talks, etc.
The retirement home's Frail Care is a 23-bed unit situated onsite. Residents are fed homemade meals from their kitchen daily and cared for by professional medical practitioners such as; occupational therapists, music therapists, general practitioners, nursing personnel, and others.
Dining area, leisure area, private rooms (DSTV Available as an option), laundry, doctor's visits are some of the available frail care offers. It is important to note that Equestria offers Assisted Living as an option. Their 24-hour gated security, pleasant surroundings, elegant water fountains, and spacious designs are some of the things that make people patronize the retirement home.
6. Willowbrook Retirement Village
Location: 134 Willowbrook Pl, Sandown, Sandton, 2196
Age range: 55 years and above
Days Open: Monday – Friday 8:00 AM – 4:00 PM
Facilities: Library, beauty spa/salon
Contact: (011) 781-4920
Located in the northern suburb of Sandown, Willowbrook retirement village is made up of bachelor or one-bedroom apartments in a relaxed and friendly environment. Their care options include Assisted Living, Alzheimer's and dementia, and Frail Care.
Willowbrook's general feature includes 24hr security, shuttle service, nursing assistance, daily cleaning service, garden maintenance, general upkeep and maintenance of the unit and facilities, and more.
The variety of social activities that take place at Willowbrook remains one of the reasons the retirement home is hotly sought-after. Some of them are movie nights, happy hour, knitting, bingo, as well as arts and crafts.
Retirement Villages in Johannesburg
7. Kensington Gardens 
Location: 75 11th Ave, Kensington, Johannesburg, 2094
Age range: N/A
Days Open: Friday 8:00 AM – 4:00 PM
Facilities: Salon, community center, library, transport to shops, chapel
Contact:011 781 4920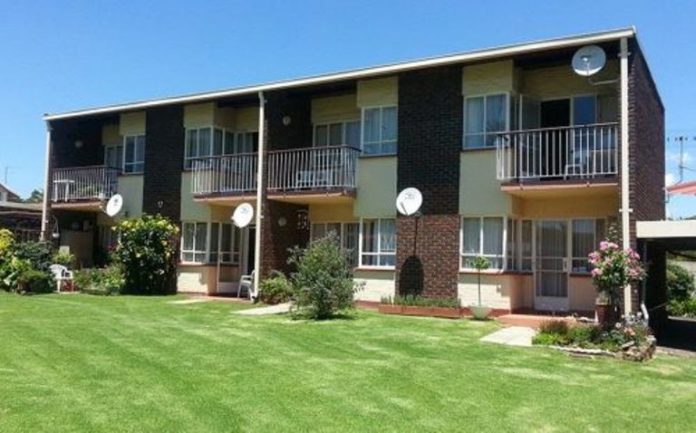 The features of Kensington Gardens retirement village include exercises, games and socials in the community center, perimeter secured and night guard patrol, handheld emergency panic buttons, carports at a nominal fee, doctors visit, dining room and lounges, regular manager and matron, and more.
The retirement home is ideal for people who cannot stay without their pets. This is another reason the hoe has so many residents – their pet-friendliness. They also have complex security, illness check, and a good number of cottages and apartments.
8. Orchid Place Retirement Village
Location: Kensington Gardens, 75 11th Avenue, Kensington, Johannesburg, 2094
Age range: Over 55 years
Days Open: N/A
Facilities: Community center for socials and meeting, panic button,
Contact: 011 615 6196
Orchid Place is an ideal home for retirees who want to live an active and sociable lifestyle. The retirement village lies within the heart of Houghton on 2 acres of land that offers residents exclusivity and space. The home has ten stunning 2 and 3 bedrooms cottages and offers Assisted Living and Full Care.
Some of Orchid's features include a regular clinic, lock-up garages, area security patrol, visitors parking, and more. The retirement village has an amazing garage attached for each unit while residents are regularly visited by the manager and matron. Their Assisted Living and Full Care facilities are situated at Pioneer House in Oaklands and are well-equipped.
Many people patronize Orchid Place not just because of the home's classy services and facilities but also due to its closeness to shops and the Rosebank shopping center.
9. Fairland Village
Location: 150 Smit St, Fairland, Johannesburg, 1925
Age range: 60 years and above
Days Open: N/A
Facilities: Dining room, Library, Laundry, Borehole, garages, carports, Sickbay facility

Contact: (011) 475 5300, 078 250 7505
Fairland village was established in 1985 in the heart of Fairland, a northwest suburb of Johannesburg. It is one of the best retirement homes in Johannesburg for obvious reasons. Their Frail care is top-notch, residents are given personal attention, it is well-known and situated in a central area. Lastly, the facility is for both independent and semi-independent adults.
Potential residents must be emotionally and physically healthy and financially stable. Some of their onsite features include social activities, video shows, mail collection, 24 hr nursing service, emergency bell response, cleaning service, maintenance service, Frail care, hairdresser, and exercises.
Their 1 and 2 bedroom garden cottages have a lovely garden setting and private patio with bathrooms, kitchen, and carpets. One amazing fact about Fairland is that it has lots of nearby facilities, including churches, hospitals, shopping malls, retail centers, and medical centers.
10. Randjes Estate
Location: 6 Randjeslaagte Rd, Highlands North, Johannesburg, 2192
Age range: N/A
Days Open: Monday – Friday 8:15 AM – 4:15 PM
Facilities: Library, multi-purpose building, coffee shop,
Contact: 011 440 4441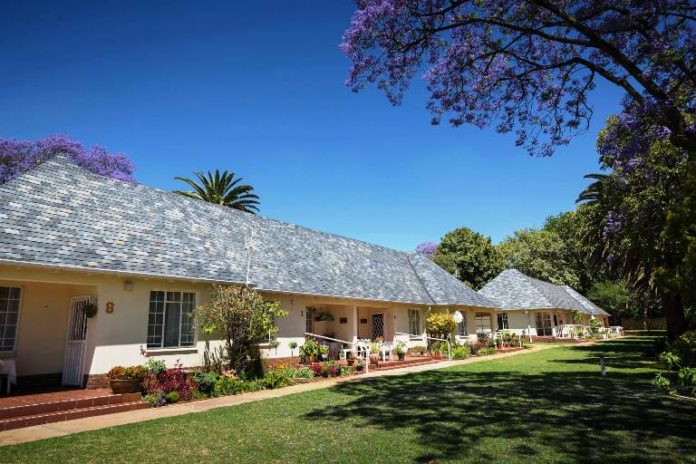 Apart from Randjes Estate's Fleming House Care Facility that provides mid-care, frail care, and memory care services, other social activities that take place in the retirement home are what pull in numerous residents on a daily basis.
Security is strictly controlled there, with residents responsible for allowing their visitors entry and exit. Knitting, running, jogging, gardening, games such as snooker, yoga classes, pottery room, wood and metal works are some of the activities that keep residents busy.
There are also lots of professional nurses and caregivers to take care of residents. Randjes also has rental accommodation for people who want to live independently. The units are 38m², with a bedroom/lounge, separate bathroom, kitchen, and patio/balcony. The Estate is ideal for adults who want to live an active social life in a retirement property.