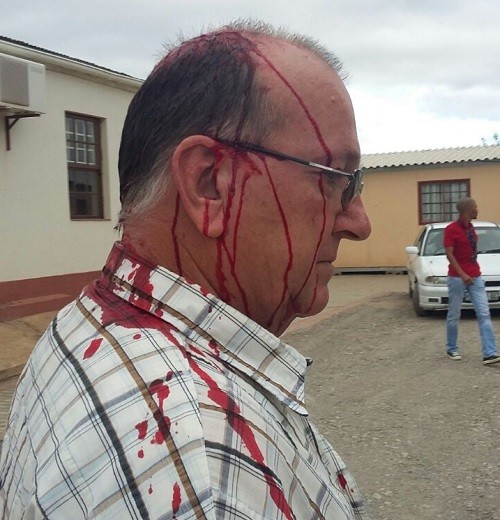 Angry municipal protesters have hit the Executive Mayor for the Baviaans Municipality in the Cacadu District of the Eastern Cape with a knobkierie.
The victim, Ewald Loock was attacked on Friday in Willowmore. According to police, workers have been protesting in the area since this week.
Read Also: Cops Rescue Limpopo Premier Mathabatha, After Being Locked Up In Stadium
Speaking, Baviaans Constituency leader and MP, Dr. Malcolm Figg, said that the Democratic Alliance has expressed sadness over the "vicious and ugly assault" of Mayor Ewald Loock who was allegedly hit by striking workers.
"This thuggery must be stopped. The local Willowmore police have failed to act and ensure that the striking workers do not damage municipal property and assault employees in keeping with a court order. The police cannot stand idly by while violent assault and damage to property are the order of the day," said Figg.
Following the ugly incidence, Baviaans Constituency leader Figg stated that MP Marshall von Buchenroder has reported to the South Africa Police Service at a provincial level and that a Public Order Policing Unit (POPS) is expected to be deployed to Willlowore.
Figg, however, asserted that police should not wait till blood flows before coming on rescue missions.
"This should have happened long ago. Why does it take blood to flow for the police to act?" asked Figg.
See Also: "Vandalizing Metrorail Assets And Attacking Personnel Are Totally Unacceptable" – Prasa
The leader said that the strike erupted following pay parity after the Rietbron-area was added to the Baviaans Municipality.
Many have insinuated that the current protest is beyond the Baviaans Municipality. As the support of Sarah Baartman District Municipality and the Department of Cooperative Governance is greatly needed.
However, provincial police spokesperson, Major Ernest Sigobe, said that POPS from Port Elizabeth have being deployed to the area.
And that, although the protest is still in progress but the police have been working to ensure that situation doesn't get out of hand.
The provincial police spokesperson said police were investigating a case of public violence, malicious damage to property and assault.
South Africa has continued to experience persistent protests from different municipalities.
On Thursday, Limpopo Premier Stan Mathabatha, who visited the Mookogopong stadium to address the residents was locked up in the township local stadium by community residents.