Beautiful and fascinating, Babes Wodumo has been a popular figure in the South African entertainment arena for a very long time now, as a choreographer and Gqom artist. Her love life with fellow musical artist, Mampintsha, hasn't gone unnoticed for a good number of reasons not so good; first, she has been with him since she was 22, with more than 11-years age difference, and second, because of the controversy that the relationship courted following issues of domestic abuse and infidelity, among other things.
Born Bongekile Simelane on July 26, 1994, in Durban, she seems set to start a family with her lover having adopted a baby and with news in recent times of a proposal between them.
Profile of Babes Wodumo
Name: Bongekile Simelane

Date of Birth: March 25, 1994
Age: 29 years old
Place of Birth: Durban, South Africa
Profession: Musician, Choreographer
Babes Wodumo and Mampintsha Started Dating Before She Became Famous
The first thing that first brought Babes and Mampintsha, whose real name is Mandla Maphumulo, together was work, back in 2013. At the time, Babes was still a young woman who was trying to find her way through with her musical career while Mandla, also from Durban, had already made some headway.
DJ Tira has been credited as the main person who discovered the talent in her, but Mandla was always there. He worked on her and helped transform her into becoming a model musician as he managed her until she recorded her hit and breakout music, Wololo. This became the birth of a partnership for the duo.
With 12 years age difference between them, the two continued as partners in the music business, but this slowly turned into a friendship that evolved into something more than just friendship when they were said to have started their relationship. At the time, Babes was 22. Their romance caught the attention of everyone, thanks to the chemistry that they shared, as well as their support for each other.
The First Case Of Abuse Surfaced In 2018
Although at first they were seen as an ideal couple, it soon emerged in May 2018 that there was more that was behind the covers. During an interview with Masechaba Ndlovu on Metro FM, the South African actress and presenter encouraged Babes to speak up about her relationship, which the singer did, detailing how she has suffered abuse in the hands of the man who was her lover and manager.
It was alleged that he physically abused her, punched her in the face, and went as far as breaking her leg. Mampintsha released a statement, insisting that it was a private matter and was not supposed to be brought to the public. Nonetheless, he showed some remorse for overreacting a couple of times, but the allegations of breaking her leg or even punching her were false. He apologized to South Africans and called on other men abusing women to stop.
Wodumo decided to leave the relationship and also Mampintsha's brand, as well as his West Ink Records to which she was signed. She started Wena Wodumo Entertainment, her own record label but only a few months later, the news broke that the lovers were now back together.
Mampintsha Was Caught On Instagram Live Assaulting Babes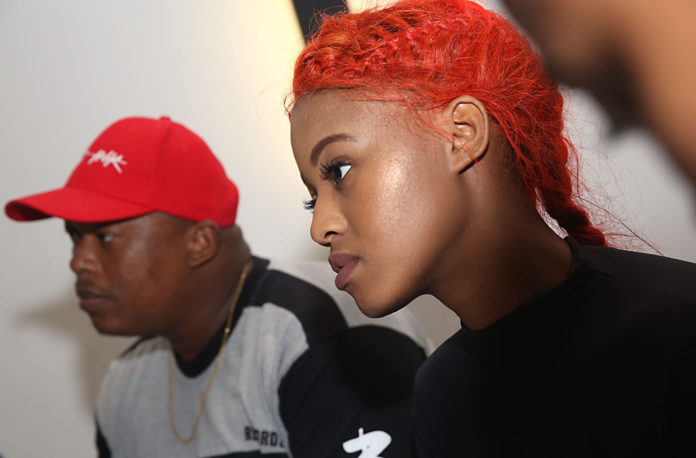 In March 2019, Babes Wodumo was live on Instagram when her boyfriend assaulted her again. The very disturbing video showed the Gqom Queen arguing with her boyfriend after she set the camera on why he assaulted her, and as they continued talking, he came over and slapped her on the face repeatedly.
The assault attracted condemnation on social media, with many encouraging Babes to press charges against Mampintsha. Others laughed it off, stating that she deserved whatever she got from him for failing to make the wise decision of leaving him, even after he seemed not ready to change his ways and stop assaulting her.
Babes was encouraged by many, including Minister Nathi Mthethwa, to press charges against Mampintsha, which she did. In his defense, the musical artist claimed that he attacked her in self-defense because she was the first person to attack him. He claimed that he was sleeping when she returned to their hotel room after a party and assaulted him. The Big Nuz member filed a counter-assault charge against Babes for the assault he claimed.
To the utmost disgust of many who hoped the case would be used to set an example to men abusing women, Babes Wodumo officially dropped the charges against Mampintsha, letting him off the hook. The duo revealed that they had reached an agreement in the Pinetown Magistrate's Court to undergo some sessions with FAMSA and also an ADR process.
Her Father Was Forced To Take His Hand Off Her Relationship
Babes Wodumo's Father :

I'm a Zulu Man and I know Mandla ( Mampintsha ) is using Muti on Babes

My daughter ( Babes Wodumo ) found a doll rapped around with a wool underneath the bed

I told her to distance herself from Mandla but within a two three days, she's back there. pic.twitter.com/0GNphSwcOv

— Great Zulu👑 (@SuperiorZulu) March 4, 2019
With what seems to be an unending fight between Babes and Mampintsha and the domestic abuse, one, or at least her father, Reverend Welcome Simelane, would expect her to take a firm step, but she continues going back to Mampintsha. It was because of this that he decided to wash his hand from his daughter's relationship with the musician.
According to the reverend, he had never harbored any hatred for Mampintsha, but he was not happy that the man continued to abuse his daughter, and he told him to stop. The Mount Zion Faith Mission reverend in Lamontville, south of Durban said he got sick of the abuse that he wanted to take care of things himself by taking the laws into his hands, but there was nothing he could do since the lawyers of his daughter and her lover told him the couple would settle their differences.
He also added that the only thing that now mattered to him was his wife, kids, and church; his daughter could go ahead and do whatever she wanted with her love life as long as it made her happy, he was not going to get himself involved again. Before then, he alleged that his daughter has been bewitched by Mandla, and he was scared about that. The pastor revealed that she once found a doll that was tied under her bed, and he prayed for her, but each time she promised to leave Mandla, she always returned to him again.
The singer's father is not the only one worried about her, as her fans and other celebs have aired their concerns for her at different points, including Boity, Cassper Nyovest, and DJ Zinhle, who have all aired out against Mampintsha after the video of him assaulting Babes emerged.
Babes Wodumo And Mampintsha Are Set To Walk Down The Aisle
So now it's official,she's mampintsha's legal punching-bag pic.twitter.com/CWvI976qsT

— odwajake (@JakeOdwa) October 29, 2020
Despite the unending turbulence that has continued to hit their relationship, the duo, who seem to have a way of coming back to each other's arms, are set to get married. There have been rumors several times in the past that they were either engaged, married, or about to, but all these turned out to be fake.
On October 29, 2020, during a live interview on Gagasi FM, the West Ink Records boss went on a knee and proposed to Babes, who was caught off-guard. He told her they had been together for a long time, and he now felt it was time.
It was a happy period for the lovers, but not so much for followers on social media, mostly because of their tumultuous history. For now, they are yet to fix a date for the wedding, even though they have already started referring to themselves as "Mr and Mrs" on social media. In 2019, there were rumors that the couple was expecting a child together, but that turned out to be false.
There Have Been Claims He Is A Control Freak
Mampintsha's name will rightfully be mentioned when there is any talk about the career progress of Babes, but there are those who believe the man who has been her boyfriend and manager for a long time, is probably a control freak.
The concerns were raised by some when Babes continued to feature Mampintsha in almost all of her tracks, even though she's a solo artist. More so, he has always been there by her side everywhere she goes and even on stage. When she released her first album, Gqom Queen Vol.1, Mampintsha was featured in all 15 songs. Four years after she released her first album, the talented singer would release yet another album in 2020, Idando Kazi.
As one would guess, her boyfriend again appeared in 10 of the 13 songs as a featured artist. It was alleged that Babes may be rich and famous, but she doesn't enjoy either because everything is controlled by her lover. In a report by City Press citing a source close to the singer, she doesn't have her own bank account, and so she cannot access her money without the approval of her boyfriend. The report also alleged that her social media accounts are also controlled by him.
Their Reality TV Show Was Rejected Before It Even Started
Please can we not normalize dysfunction and abuse thank you.

— Nicole Graham (@NicoleGraham031) January 22, 2020
With a relationship that has often been described as toxic, Babes and Mandla were set to start their reality TV show titled "Impilo" in January 2020. The show was supposed to show the lives of the duo as a couple on Moja Love (DStv channel 157).
However, fans criticized the show as an attempt at normalizing dysfunction and abuse after snippets appeared online, showing the lovers arguing about infidelity while Babes used swear words against him. Both visibly angry, Babes was seen hitting at her boyfriend after she accused him of being disrespectful.
The strength of the backlash forced the three-part docu-reality show initially set to start airing on January 23rd at 9 am to be suspended.