Linda Mtoba is a South African actress who has made a name for herself in the TV industry following the enormous success of the projects she has featured in and her brilliant performances in portraying her roles. Since her breakout role, the Umlazi-born actress has continued to grow her craft. She has also shared screen time with notable actors in the South African TV industry, including Sindi Dlathu, Presley Chweneyagae, laLunga Shabala, Hlomla Dandala, and Lunga Mofokeng. Mtoba, no doubt, is already on her way to becoming a legend and symbol of her era, and her fans are excited that she has what it takes to get to the top of the ladder.
Linda Mtoba Made Her First Appearance In The River In 2018
Linda Mtoba joined the cast of The River in May 2018. She was 27 years old when she was unveiled as the actress to portray the fictional character of Nomonde in the television series. Mtoba joined the show three months after she left the Mzansi Magic drama, Isibaya. 
The actress is currently 31 years old. She was born in Umlazi, in KwaZulu-Natal, South Africa, on November 11, 1991. She has been making appearances in the series since she joined the cast in 2018, and her on-screen presence is simply impossible to ignore.
I'm thrilled to announce that I'm joining the amazing cast of #TheRiver1Magic
Please do tune in tonight
8pm channel 103@1MagicTV.
It's a Date y'all 💋 pic.twitter.com/MJc1quueKR

— Mrs Linda M (@Linda_Mtoba) May 8, 2018
From the time viewers first saw her performance in The Rivers, most of them knew it wouldn't be the last time they'd watch her grace the screen. Linda's acting chops are quite incredible and spellbinding. She has a lot of people who draw inspiration from her acting skills and also follow her on her social media pages.
Her Role In The Series Introduced Her To A Larger Audience
Linda Mtoba is a talented actress in the truest sense of the word. She's been a thrill to watch since she joined The River; she is a fan favorite and one of the best brains in the show. Her character is Nomonde Dikana, a member of the wealthy Dikana family. She has a step-mother, Lindiwe-Dlamini Dikana, who is also the mother of Andile and Mbali Dikana.
Ma Lindi-Dlamini is a very ruthless and calculating woman who can do anything within her powers to maintain her flamboyant lifestyle and also protect her family. At some point in season 2 of the series, Nomonde became the CEO of her step-mother's mining company (Khanyisa Diamonds) after her husband divorced her following a revelation that she actually committed some criminal offenses. Nomonde later hired Gail Mathabatha as the new CEO of Khanyisa Diamonds after she was almost killed by miners.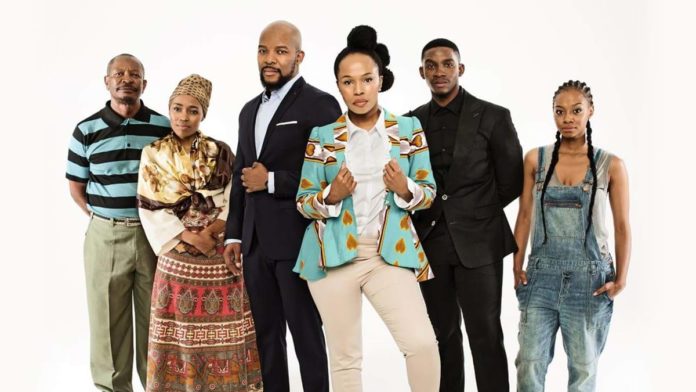 There's no getting around it, Linda Mtoba really shined through her role in The River. Her ability to portray her character seamlessly before our eyes were magical. Though she took on a role that could have broken down most actors yet she flourished, winning the praises and admiration of viewers, her colleagues, and producers in the South African TV family. 
Linda Mtoba's Character Contributed To The Success Of The Telenovela
The River is one of South Africa's top watched shows, featuring well-known TV stars who have also had roles in other big-budget, high-grossing productions. It competes with popular TV programs such as SABC1's Skeem Saam, Generations: The Legacy, Uzalo, Muvhango, Lithapo, as well as 7de Laan.
Linda Mtoba's presence contributed to the success of the TV series, including at the box office and critically. She became one of the most recognizable actresses in South Africa after she dazzled the audience with her incredible role. Through her character, she held viewers spellbound and craving for more of her performances.
Through the TV series, 23 awards have been won both by individual actors and the series itself. Though Linda Mtoba has not won an award for her role in the telenovela, her fans are positive she would get noticed someday.
So far, the drama has won four awards from six nominations. They include:
Best Achievement in Wardrobe − Telenovela (2019)
Best Achievement in Hair & Make-Up − Telenovela (2019)
South African Film and Television Awards – Best Telenovela (2019)
 South African Film and Television Awards – Best Telenovela (2020)
Best Achievement in Art Direction − Telenovela (Nominated, 2019)
47th International Emmy Awards – Best Telenovela (Nomianted, 2019)
Is The Actress's Character Nomonde Leaving The TV Series?
No. Nomonde is not leaving The River. In the series, however, Nomonde disappeared without any trace for months at some point and later returned to her family's mansion in Pretoria, East. Of course, she was not warmly welcomed by her family because of the way she vanished into the thin air.
When asked why she disappeared and even missed her own sister's funeral, she lied that she was serving in Vietnam as a volunteer. Truth is, she was having a good time with a Prince she met at a party who also showered so many gifts and love on her, including flying her to Greece to have ice cream.
Nomonde didn't see the need to come back for her sister's funeral because, according to her, there is no way she could have brought her back to life. In the end, it turned out that Nomonde was running away from something. Viewers came to know about this after a troublesome-looking woman suddenly appeared and asked if she could contact Prince Abdul. She was not only shocked, but she also demanded to know how the woman found her.
Without mincing words, Nomonde is too good to leave the series without bringing her role to a perfect end. She is smart, outspoken, beautiful, and an important person in the Dikana dynasty.
Nomonde knows just the right buttons to push to get what she wants #TheRiver1Magic. pic.twitter.com/qoT3K6TeKs

— 1Magic (@1MagicTV) May 9, 2018
Talking about the actress herself, Linda does not have plans of leaving the drama telenovela. The actress's continuous participation in the show has been a subject of interest among the public ever since she became pregnant. However, we do know that she took a maternity break from the show and has since gone back to work following a safe and successful delivery.
Apart From The River, Linda Mtoba Has Been Part Of Other Local Productions
Mtoba knew what she wanted when she left her teaching job to pursue a career in acting. Besides her talent she has a good personality; one that has helped her win numerous acting gigs and also sail through the highs and lows in the entertainment industry.
Here are the names of the television series she has also featured in:
Isibaya as Zama
Good Boys (TV Movie, as Lerato; she is currently filming this project)