South African gospel singer Dumi Mkokstad who married his wife Dr Ziphozenkozi in June 2019 when he was 27 years old, became the country's darling with his 2003 album titled 'Dumi Mkokstad.' This album, which contained songs like Nang'ujesu, Mdumiseni, We Are Marching, among others, launched him into the national consciousness, and he has been going from strength to strength ever since.
Having begun his music career at a young age, he has remained relevant and has several awards to show for his efforts. His sustained relevance today is a testament to his hard work and ability to remain dynamic. Although he is largely known for his strides in the gospel music industry, Mdumiseni Ndzimande (his real name) has also been on the national discourse for reasons such as his 2019 marriage to his childhood friend, Ziphozenkosi Mthembu.
Quick Profile of Dumi Mkokstad
Full Name: Mdumisenzi Nzimande
Stage Name: Dumi Mkokstad
Date of Birth: May 7, 1992
Age: 31 Years Old
Place of Birth: Pietermaritzburg, South Africa.
Occupation: Musical Artist, Producer
Spouse: Dr. Ziphozenkosi Mthembu-Ndzimande
Dumi Mkokstad Met His Wife, Ziphozenkosi In Church
Dumi Mkokstad's marriage to Dr. Ziphozenkosi Mthembu-Ndzimande in 2019 was one of the highlights of the year in the gospel and entertainment circles, following several reactions the event generated. There was an alleged betrayal on the part of Dumi (with a section of the media claiming he jilted someone else to marry his wife, Zipho). There were also claims that he just married Zipho out of the blues with no prior relationship existing between them. Anywhere you looked, there was always somebody who had something to talk about the couple. However, some were genuinely happy for the couple.
The award-winning gospel singer met his wife, Zipho, as a young kid in church when he was about eight years old. They both played together and became friends. However, they only started courting in October 2018 before he proposed to her privately in February 2019. Describing the event to Afternoon Express, Dr. Zipho said she was not expecting a proposal. They had gone on an Easter weekend trip to the Eastern Cape, and even though she knew he was going to do the lobola in a couple of days, she did not expect him to propose to her formally – but he did. She said he went down on one knee and asked her to marry him.
The Couple Got Married in Their Twenties
Dumi Mkokstad and Ziphozenkosi Mthembu got hitched on June 6, 2019, when he was 27 and his wife, 25. Their wedding was a very lavish ceremony and has been described by many as a fairytale wedding. The white wedding ceremony was held at a Pietermaritzburg premium venue decorated with fresh flowers, snow-white draping, white linen, and gold chairs for a bit of sparkle. The ceremony was officiated by Zipho's father, Bishop Sifiso Mthembu, the presiding bishop of Power of God Assemblies – Dumi is also a church member.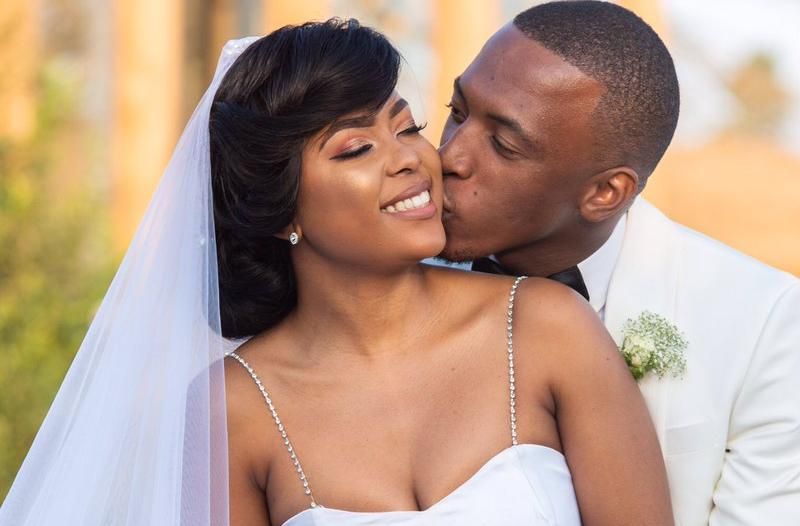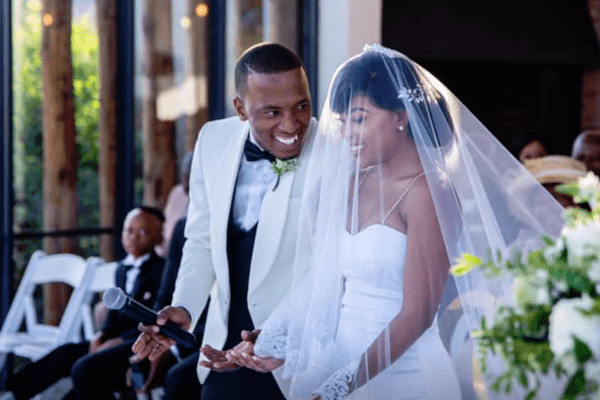 It was attended by about 250 persons – as a result of Covid-19 regulations. The guest at the wedding included His Majesty King Goodwill Zwelithini, radio personality Dudu Khoza, event planner Zanele Mbokazi, and many others. Although many suggest no relationship existed between the duo before the wedding, the Ukuhlala Kuye singer had explained that they courted for eight months before they eventually got married. He said it was only a matter of protecting his wife's privacy. Dumi said he knew all he had been through because of his fame, thus wanted to safeguard the woman he loves from the same experience.
After the wedding, the couple followed up with the Umembeso ceremony two days later. The couple has remained together since their wedding in 2019 and is still committed to each other despite the attacks they have faced from the media. Being married at a young age comes with its perks, and many fans have been surprised at the age difference between the couple. Dumi Mkokstad is 31 years old while his wife is 29. We guess the difference does not matter after all!
Dumi Has Been Accused of Being Involved With Other Women
There have been several scandals associated with gospel super-star Dumi Mkokstad, especially with regards to infidelity. In 2018, he was accused by a 21-year girl named Nomfundo Ngcobo of impregnating her. Nomfundo revealed that the secret affair between herself and the award-winning gospel act began via social media, and after they exchanged a few chats, their friendship turned intimate.
She said they decided to meet face to face, and Dumi allegedly took her to his place, and they ended up in his room, where he had carnal knowledge of her. She would also visit him at other times in his studio. According to her, she was a virgin before she had sex with Dumi, and when she became pregnant and contacted him, he felt embarrassed and persuaded her to have an abortion and also paid R700 for the procedure.
Nomfundo further claimed that things became different after she went through with the abortion as Dumi stopped taking her calls. She, therefore, decided to come forward with her story as she called out Dumi Mkokstad to pay for damages. Though the media outlet reached out to the singer, he refused to respond to the story since then.
In 2019, there was an alleged promise-and-fail case when a certain Amanda Bhengu claimed that the singer had promised to marry her, but instead, went on to marry Zipho. She claimed Dumi Mkokstad had told her that he would shoot a music video that week only to see his wedding video circulating online.
Unlike the first instance, the Mbize crooner vehemently denied the report – which surfaced just a day after his wedding to Zipho Mthembu. He has insisted that he has never met Amanda Bhengu and asked for the newspaper outlet that published the story to arrange a meeting between both parties to uncover the allegation. According to him, he has not heard from anyone since then.
His Wife Ziphozenkosi Mthembu is a Medical Doctor
Most people know that Dumi Mkokstad's wife, ZiphozeNkosi Mthembu-Ndzimande, is the daughter of Bishop Sifiso and Gugu Mthembu, who are the presiding overseers of Power of God Assemblies in South Africa. However, that is not all about the beautiful bride of the award-winning gospel singer, Dumi Mkokstad. Apart from being a daughter and a mother, Zee, as she is fondly called, is also a medical doctor and founder of Dr. ZiphozeNkosi Foundation.
Although nothing is known about her elementary and high school education, ZiphozeNkosi Mthembu got into Nelson R Mandela School of Medicine in 2009 and graduated in 2013 with a Bachelor of Medicine, Bachelor of Surgery (MBBS). She did her medical internship between 2014-2015 and then completed her community service in 2016.
She worked as a Senior Medical Officer with Maternal Adolescent and Child Health (MaCH), a non-governmental organization (NGO) that reaches out to those living with HIV/AIDS & Tuberculosis in healthcare centers across South Africa. There, she provided clinical advice and helped in coordinating the team of doctors there. She currently works with the Department of Health and National Health Insurance and has vast general and emergency medicine experience.
How Many Children Does Dumi Mkokstad Have?
Family is everything, and the family of Dumi and Zipho believe in the value of family ties. The couple has a child named Likuwe Mkokstad, but there is a lot of mystery surrounding her existence. The adorable girl, who is billed to follow her father's footsteps as a gospel singer, is 10 years old as her parents have publicly celebrated her birthday on November 19th.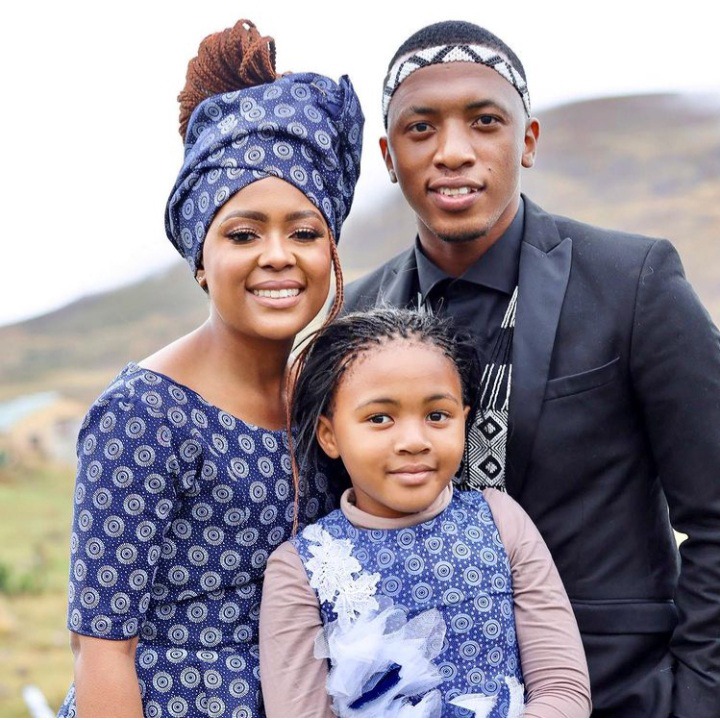 While the child only appeared on Dumi Mkokstad's social media page in 2019 when he celebrated her 7th birthday, questions have been asked about her existence before 2019. From what is known so far, Likuwe Mkokstad was born on November 19, 2012. However, it is not certain at the moment who the biological mother of the child is. There is also a possibility she is adopted, but that is also unclear as at the time of this writing.
Since their wedding in 2019, the couple is yet to welcome a baby into the family. They have, however, been giving their best love to their daughter, Likuwe. Having a child has also been downplayed by the couple who are still young and are pursuing their career goals at the moment. They believe the time for kids would certainly come.