Andile Ramaphosa (born 1981) is a 42-year-old South African businessman best known as the first son of Cyril Ramaphosa, South Africa's fifth president. He is married to Bridget Birungi, the daughter of Uganda's former prime minister, Amama Mbabazi. They tied the knot in 2018 and at the time, he was 37 years old.
Being one of the famous sons of the President of South Africa, Cyril Ramaphosa, Andile Ramaphosa can't help but deal with the fact that he and his family are also of interest to the citizens of the country. However, to the dismay of the beautiful South African women who were hoping that the president's son will choose one of them as a wife, love did not have their interest in mind when it led Andile to fall in love with a non-South African woman.
Since Andile Ramaphosa, who was born in the 1980s got married, his union and relationship with his foreign wife have become real couple goals. His wife, who is now South African by marriage, has openly embraced the South African culture and had been living in South Africa even before their wedding.
Summary of Andile Ramaphosa's Biography
Full Name: Andile Ramaphosa
Gender: Male
Date of Birth: 1981
Andile Ramaphosa's Age: 42 Years Old
Ethnicity: Black
Nationality: South African
Sexual Orientation: Straight
Religion: Christianity
Marital Status: Married
Andile Ramaphosa's Wife: Bridget Birungi
Andile Ramaphosa's Children: Ainebyona Ramaphosa
Andile Ramaphosa's Parents: Cyril and Hope Ramaphosa
Siblings: Tumelo, Tulisa, Kiki, and Mashindu
Famous For: Being the son of the president of South Africa, Cyril Ramaphosa
Facebook: Ramz Andile Ramaphosa
Twitter: @RamaphosaAndile
Andile Ramaphosa Met His Beautiful Wife At The Age Of 27 In China
It is easy for any woman who already knows Andile Ramaphosa to fall in love with him as he is the first son of the first citizen of South Africa. Even though any woman would easily want to marry Andile because of his status, that may not be the case with his wife because she is also from an affluent home. She reportedly did not even know that he was the first son of a top South African politician before being friends with him.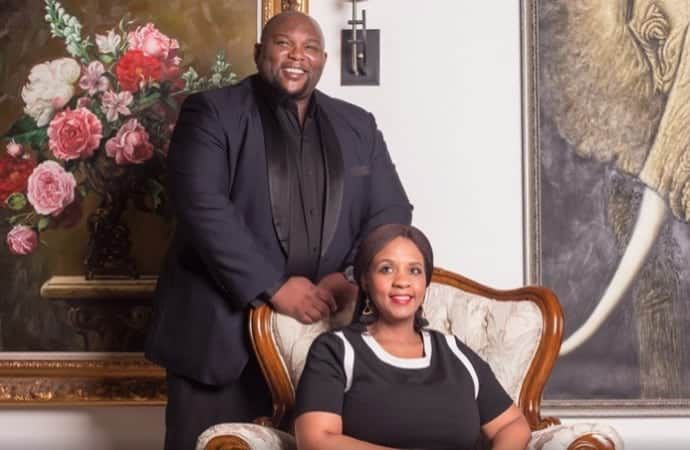 Andile Ramaphosa traveled to Beijing in 2008 on a business trip, but unbeknownst to him, that business trip was going to change the course of his life as he met Bridget Birungi, the lady who he got married to 10 years later.
Bridget Birungi, the daughter of the former prime minister of Uganda, Amama Mbabazi, was in Beijing studying. And even without knowing who each other was and the kind of family they both came from, they became friends and bonded easily.
Bridget Birungi's Love and Acceptance Of Other People's Culture Attracted Andile Ramaphosa To Her
Bridget Birungi and Andile Ramaphosa met in Beijing when he traveled to China on a business trip. As already mentioned, she was in the country at the time studying for her undergraduate degree. The duo met at a social function. Andile spoke with one of her friends and noticed her. He reportedly immediately knew that he wanted to be close with her afterward.
Andile was completely thrown off by her love and appreciation for other people's culture which is one of the things that made it really easy for her to reside in South Africa after her studies. Another major thing that Andile found really irresistible about her was her humility and the classy and elegant way she carries herself, like an African woman who knows her worth.
One of the first things they talked about the first day they met was farming and while the conversation was on, they both realized that farming was one thing they had in common. Bridget's love for farming gave him the impression that she was someone who had the patience to watch things grow.
Their Union Was The Talk of The Town in Uganda and South Africa
Andile Ramaphosa and the love of his life, Bridget Birungi, got married 10 years after they met, on the 4th of August 2018. Their marriage ceremony, which held in the Kololo suburb in Uganda, was indeed the union of two African countries. The traditional wedding was attended by high profile individuals, including the President of South Africa (whose son was getting married), his wife first lady Tshepo Ramaphosa, and the president of Uganda, Yoweri Museveni, among other prominent personalities.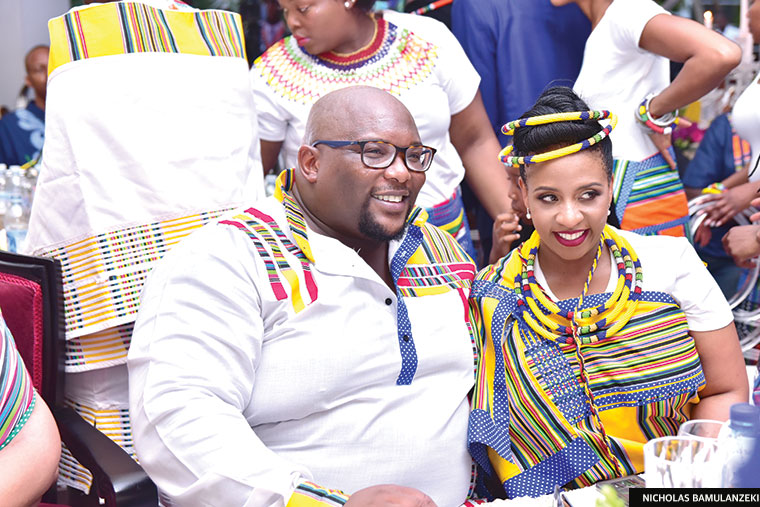 The bride was dressed in white top wrappers made of Ugandan traditional prints, while the groom wore a white shirt with the same prints. The bride was handed over to the groom's father as his newest daughter and the president was satisfied with receiving the bride as his daughter and assured everyone that they were happy to receive her.
Aside from the first lady, the president stormed Uganda for his son's wedding with a delegation of 150 people that also included his ex-wife, Hope Ramaphosa.
The Couple Have a Child Together
While a lot of South African ladies were busy on social media stating their dissatisfaction over the first son's decision to get married to a lady who was not from South Africa, the newly married couple has already started a family and were parents.
The couple, who got married in 2018, has a daughter called Ainebyona. According to Bridget, one of the most effective parenting strategies to have worked for them is being able to listen to their child and having patience with her. Hopefully, other kids will come as the family begins to expand.
Bridget and Andile Are Also Business Partners
The marriage between South Africa's first son and the daughter of Uganda's former prime minister has every reason to last because other than being a couple and parents to their daughter, they are also business partners.
Bridget Birungi, having lived in China for a number of years, has gotten good connections with businesses in China. With her help, they are currently running a good number of China-African businesses. But one thing the couple does not fail to do is to strike a good balance between work and their family, and this is one thing that has helped them stay happy together for about three years now.
Another thing that keeps their marriage working is the fact that they try as much as possible to respect each other. They have found a way to share their opinions even in times of arguments in such a way that they do not disrespect each other. The couple also hopes to someday reside in Uganda and build their home together there.
So far, Andile Ramaphosa has had some scandals regarding his business, but the couple has not had any known scandals with regards to their marriage. The union between Andile Ramaphosa and his wife, Bridget Birungi, is proof that people from different cultures and countries can get married and still accept and imbibe the cultures of their partners without disregarding each other's cultural beliefs.