Menzi Ngubane has managed to stay strong in the face of adversities regardless of all he has been through over the years. From his failed marriage to joblessness, and then to unfounded rumors about his health, the actor has indeed faced hard times.
Despite all difficulties Ngubane has passed through, he is still considered a great inspiration both within and outside of the South African entertainment scene, having been able to transform his challenges into strengths. Recently, he was reported to have died from his illness, but it all turned out to be false.
Quick Profile of Menzi Ngubane
Name: Menzi Ngubane
Date of Birth: August 28, 1964
Age: 59 years old
Occupation: Actor
Most Notable For: Isibaya, Generations, How to Steal 2 Million
Wife: Sikelelo Sishuba
Menzi Ngubane Was Born In The Early 1960s
Ngubane, who is popularly known for his role in the South African soap opera, Generations, was born on August 28, 1964. He is currently 59 years old. Menzi is a native of Ladysmith, in KwaZulu-Natal province, South Africa. The actor is the son of a South African father born in 1930. He was raised in the country alongside his siblings.
Ngubane began his career in 1987, at the age of 23 when he played the role of the fictional character Cijimpi on the then-popular television show, Kwa Khala Nyonini. He has also made appearances in notable works such as Ubambo lwam, Generations, Isibaya, Yizo Yizo, Ashes to Ashes, How to Steal 2 Million, and many others.
The Actor Received A Life-Saving Organ From An Unnamed Donor Many Years Ago
Menzi Ngubane's health status has always been a subject of interest to many people ever since it came to light that he had kidney failure. His health woes began in 2011 until 2014 when he eventually had a life-saving transplant after receiving an organ from a good Samaritan.
After searching tirelessly for a long time, the actor's family received a call in October 2014 that a donor has been found, and that the person had died in a fatal accident. He is said to have had his transplant at Charlotte Maxeke Academic Hospital in Johannesburg.
The actor's kidney donor is a white man, whose body parts also saved the lives of 7 other people. His treatment was so intense that he was homebound for over four months.
Did Menzi Ngubane Recently Suffer A Relapse?
Yes. The actor was recently rushed to the hospital for treatment after suffering complications from the surgery he had in 2013. The public was alerted about the development after some websites reported that Ngubane was lying critically ill and fighting for his life at the hospital.
Shortly after the report went viral, his fans on Twitter quickly started a #PrayForMenziNgubane hashtag with the aim of drawing people's attention to his health and also soliciting prayers on his behalf. Apart from making it to the top spot on Twitter's trending list, the hashtag caught the attention of many people, including this family and friends.
Menzi Ngubane's family was forced to release an official statement, condemning the unfounded and unverified news about their son making the rounds. They noted that his condition was simply blown out of proportion and that he was fast-recovering after visiting the doctors. In addition, they thanked his fans for their concerns but pleaded for privacy. The family, however, did not reveal the cause of the relapse.
The Death Hoax That Trailed His Condition Made Matters Worse
In a bid to come up first on the page, a lot of websites sometimes end up carrying unverified and baseless information about a particular individual. Reporting someone's death when the person is actually alive is one way they tend to achieve this mischief. A lot of celebrities have had their fair share of death hoax reports, and unfortunately, Menzo Ngubane is one of them.
On a couple of occasions, the Generations actor was reported to have died, but each time it turned out to be a piece of misleading and false information. The last time such a report left his fans fearing for the worst was in May 2020 when some websites claimed that Ngubane died peacefully in Pretoria by a gas station.
After learning about the news, his wife quickly released a statement condemning the sources that fabricated the lies. She noted that the actor was not happy with the report and original reporters, urging people to quit sending in their tributes because her husband was still alive, hale, and hearty.
Apart From Death Hoax, The Actor Is No Stranger To Family Life 'Drama' As Well
In 2012, the actor was also rumored to have died severally after he was rushed to the hospital with organ failure. Despite being at the center of multiple death rumors on several occasions, Ngubane has always remained grateful to God for giving him another chance to live.
He owes his existence first to God and then his wife Sikelelo Sishuba, whom he married after his first marriage crashed. The actor and his first wife, Lerato Sedibe, parted ways in 2013 after spending five years together.
Sometime in May 2020, Ngubane became a topic of discussion among social media users after his 'daughter' reportedly gave birth to a baby. The KwaZulu-Natal native quickly rubbished the report after the said girl was linked to him as his biological father.
He made it clear that the lady isn't his daughter and that he had ended his relationship with the girl's mother many years ago. The young girl was later discovered to be Aisha, Lerato Sedibe's daughter from a previous relationship.
Isibaya Remains One Of His Most Successful Works In The Industry
Apart from the action film, How 2 Steal Million, which won an award at the African Movie Academy Awards in 2012, Menzi has been part of notable projects in the film industry with the daily drama series Isibaya being one of them.
He left the series in April 2020 after he joined the crew in 2016. Through his brilliant portrayal of the fictional character, Judas Ngwenya, Ngubane pulled many viewers to his side and also earned the respect of filmmakers in the country.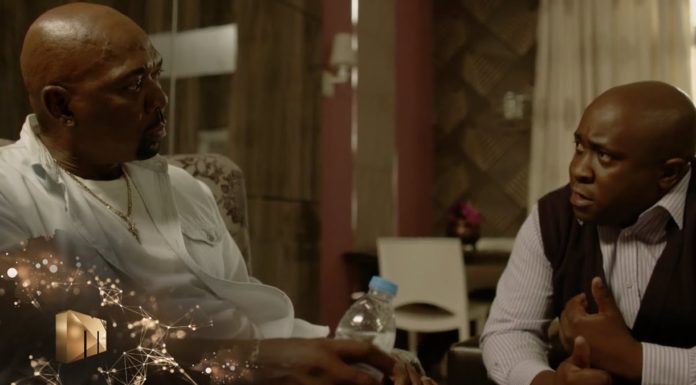 Menzi also did a wonderful job on the soap opera, Generations. He left the show in 2014 after spending more than a decade with them. His performance has also earned him an impressive number of industry awards from numerous nominations.