Arthur Mafokate is a very popular Kwaito musician and one of the greatest singers from South Africa. He is also a producer, performer, songwriter, television personality, and astute businessman and has earned the title of "King of Kwaito" due to his prowess in the South African music genre.
He began his career as a backup dancer for popular musicians such as Johnny Mokhali and Brenda Fassie. In 1995, he released his first hit titled "Kaffir". Kaffir is a derogatory name for a black man. In the song, he sang about the political changes South Africa saw in 1994 while questioning the black man's oppression and discrimination by white men.

Summary of Arthur Mafokate's Biography
Full Name: Arthur Mafokate
Nickname: King of Kwaito
Gender: Male
Date of Birth: July 10, 1962
Arthur Mafokate's Age: 61 years old
Place of Birth: Soweto, Gauteng Province, South Africa
Nationality: South African
Sexual Orientation: Heterosexual
Marital Status: Single
Arthur Mafokate's Children: Arthur Jr, Owami, Kelello, and Onalenna Mafokate
Arthur Mafokate's Parents: Enos Mafokate (father)
Siblings: Oupa Mafokate
Famous for: Being the founder of 999 Records
Occupation: Singer, Songwriter, Record Label Owner
Arthur Mafokate's Instagram: @arthurmafokate
Twitter: @ArthurMafokate
What Is Arthur Mafokate's Age Now?
Arthur Mafokate is currently 61 years old as he was born on July 10, 1962, in Gauteng Province, Soweto, although his family would later relocate to Midrand. His father is Enos Mafokate, a philanthropist and Olympic equestrian. There is no information about his mother.
Mafokate was not the only child of his parents. He had a younger brother who was named Oupa Mafokate. He was also a notable kwaito singer during the 1990s; unfortunately, he committed suicide in 1998.
Arthur Mafokate's Songs and Albums
Arthur Mafokate warmed his way into the hearts of Kwaito music lovers with the release of his politically controversial first hit in 1995, titled Kaffir. As the dust was still yet to settle on that one, the talented singer released the club anthem Oyi Oyi in 1997. This further endeared him to the hearts of his fans.
Furthermore, he broke barriers with his smash hit, Yiyo Lendawo, in 2000. The sensational, multilingual chant-like chorus reverberated well with the house-inspired beat in a way that kept the listeners hooked and yearning for more. He has since continued to hypnotize his audience with hit song after hit song.
Arthur Mafokate has several albums to his credit. Some of which include;
Albums
Windy Windy (1994)
Kaffir (1995)
Oyi Oyi (1997)
Mnike (2000)
Seven Phezulu (2001)
Mamarela (2004)
Vanilla & Chocolate (2006)
Dankie (2007)
Kwaito Meets House (2008)
Kommander (2013)
Arthur Mafokate had several hit songs, but some were more popular and successful than others. Although he is no longer releasing new songs, he is still making money from his old hit tracks through YouTube. Some of these songs include:
Songs
Mnike (2006)
The official video for Mnike was uploaded on YouTube on May 22, 2020, and it has amassed over 135k views in less than two years of its release. Judging from the video quality, it is obvious that the song was released several years ago. But even in recent times, people are still enjoying Arthur's music as they are still streaming it.
Oyi Oyi (1997)
Oyi Oyi is the second most-watched video on Arthur Mafokate's official YouTube channel. It has more than 60k views. The comment section is filled with people who give credit to the song for reminding them of their childhood.
All Stars
Arthur's song 'All Stars' has more than 37k views on YouTube. It is one of his most-watched and popular YouTube videos.
Arthur Mafokate's Work Has Been Recognized Through Several Awards
Arthur Mafokate has been dubbed the King of Kwaito, and it is a crown that befits the head that wears it. His work in shaping the kwaito in South Africa never went unnoticed. He bagged his first award in 1998 at the SAMA FNB Awards when he won the Song of the Year award for his viral song Oyi Oyi. He became the pioneer winner of the Song of the Year award at the South African Music Awards (SAMA).
In 2007, he was honored at the SAMA FNB Awards for his part in revolutionizing South African music. Nine years later, he received the Lifetime Achievement Award at the 2016 South African Metro FM Music Awards. This award coincided with the celebration of his 22-year old successful music career.
Who Is Arthur Mafokate's Wife?
Arthur Mafokate has never been married and does not have a wife. However, he has children from his sexual affairs with different women.
He is a single father of four children. The mother of his first daughter, Owami Mafokate, is Queen Iyaya. The name of his first son is Arthur Mafokate Jr, and his last two daughters go by the name Kelello and Onalenna Mafokate.
The Kwaito Singer Has A Controversial Love Life
Arthur Mafokate, no doubt, is one of the most controversial artists in South Africa. This is probably due to his unusual family and amorous affairs with his supposed clients. Although he is still single, he has managed to father four children with different women.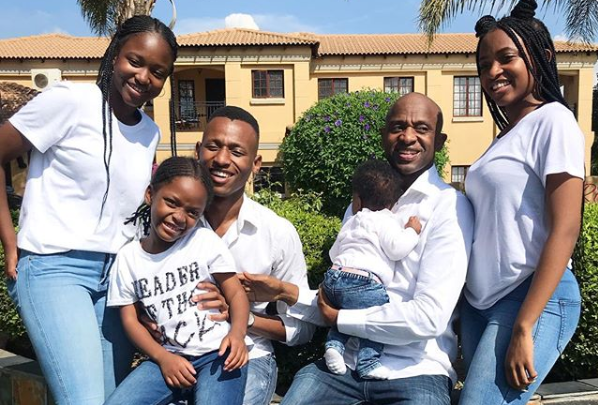 Arthur Mafokate has been entangled in a love affair with Queen Iyaya. She was one of the lead singers of the popular 90s kwaito band, Abashante. Their affair produced his first daughter (second child), Owami Mafokate, who is a disc jockey.
After Queen Iyaya, Mafokate got into another publicized relationship with another artist signed to his music label named Thulisle Madihlaba (Chomee). They dated for a few years and eventually broke up in 2014. Their love affair, however, produced no child.
One Of His Biggest Controversies Was With Busisiwe "Cici" Thwala
After he ended things with Chomee, the legendary Kwaito musician began another romantic relationship with another artist from his record label – Busisiwe "Cici" Thwala. However, things began to go south for the Kwaito singer when his love affair with Cici turned awry.
She had laid sexual and physical abuse allegations against him, claiming that she had sustained injuries resulting in her pelvic surgery hospitalization. Following the allegations leveled against him, he was arrested and arraigned before a law court.]
He, however, pleaded "not guilty" to the charges leveled against him. He claimed that he never assaulted Cici, and in August 2019, he was discharged and acquitted.
Arthur Mafokate's Health Has Not Been Stable Lately
In November 2021, the legendary king of Kwaito suffered a health scare, which had him hospitalized. Most of his fans were worried about his health, as some malicious persons rumored that he had lost his life to ill-health.
Arthur Mafokate took to his social media and revealed that though he had suffered a health scare, he responded well to treatment. This message went a long way in bringing relief to his concerned fans.
He went ahead to thank everyone that wished him well. He made it known that he was impressed with how the information about his illness was kept from his parents, which could have caused them undue stress. Finally, he expressed his profound gratitude to the hospital's humble and dedicated medical team.
A Look At Arthur Mafokate's House
Arthur Mafokate owns a guest house by the name of Villa Rosa. He lives in this house with his children. He had shared some pictures of his new house, though he remains modest about his acquisition.
However, the house was a bone of contention between him and the wife of the former house owner. She had reportedly abused him, calling him "a fool." He, however, chose to let go and forgive the woman, thereby ending the case.
Judging from the pictures he shares on social media, you can tell that he has a good eye for owning properties. The house has carefully selected furniture, curtains, and household appliances.
Arthur Mafokate's Cars
Arthur Mafokate is a car lover. His car collection includes a Mercedes and a BMW i8, which perfectly suits his high-caliber profile as one of the biggest Kwaito shots in South Africa. Here are the specs of his fast cars.
BMW i8
Output: 369 hp and 420 lb-ft of torque
Engine Output: 228 hp and 236 lb-ft of torque
Powertrain: 1.5L BMW TwinPower Turbo 3-cylinder engine + eDrive Electric Motor
Mercedes C63
Torque: 479lb ft @ 1750-4500rpm (516lb ft for C63 S)
Horsepower: 476bhp @ 5500-6250rpm (510bhp for C63 S)
Engine: 3982cc, biturbo V8