Andile Ncube (born October 4, 1981) is a South African media personality known for his career as a sportscaster and television personality who was once Ayanda Thabethe's husband.
Andile Ncube has given up on serial dating ever since he fell in love with his current girlfriend. Before making their relationship public, he was a serial dater and best known for his relationship with South African model, actress, and TV personality, Ayanda Thabethe. Ncube is one of the finest presenters in the media industry. He is also well-versed in sports broadcasting and is a respected TV producer. Apart from his active love life, here are other interesting aspects of his life you probably didn't know about.

Andile Ncube's Biography Summary  
Full name: Andile Ncube
Gender: Male
Date of birth: October 4, 1981
Andile Ncube's Age: 42 years old
Nationality: South African
Sexual Orientation: Straight
Marital Status: In A Relationship
Andile Ncube's Children: Gabriella
Siblings: Sisi Shirilele and Sabelo Ncube
Andile Ncube's Net worth: $1 million
Famous for: anchoring the talent search Nedbank Ke yona and South Africa's X Factor
Andile Ncube's Instagram: @andilencube
Twitter: @AndileNcube
Facebook: Andile Ncube
Andile Ncube Is A South African Radio Broadcaster, Not A Zimbabwean
Contrary to speculations, Andile is a South African, not a Zimbabwean. Speculations about the presenter being a Zimbabwean have been ongoing for a long time, but we can establish that Andile's life began in South Africa.
On October 4, 1981, he was born in Johannesburg, in Gauteng province. He lived under the same roof with his father and mother for the first 11 years of his life. Sadly, his parents divorced when he was 12 years old, which led him and his siblings to start living with their mother.
Andile Ncube's Birth Family
Not much is known about his life as a child, his family background, parents, and how his relationship with his father was before he found fame and fortune. The names of the TV presenter's siblings are Siri Shirilele (@frekface), a model, and Sabelo Ncube, a musician popularly known as Papa Ghost.
The presenter and his siblings are very close to their grandmother Manroe. Andile once shared several beautiful pictures of himself and his grandmother looking gorgeous. His fans hailed him for looking gorgeous and also complimented his grandmother.
For unknown reasons, Andile attended seven different primary schools before he eventually settled in Johannesburg. He also secured admission to study journalism at Pretoria Technikon, after which he enrolled at AFDA to major in film and drama. Before fame, he had wanted to be a footballer, but his dream of becoming great through the round leather game was cut short by injuries after enrolling at Ajax Football Academy.
The Johannesburg-Born Media Personality Has Had An Amazing Media Career 
Andile has had an amazing journey in the industry since he launched his career. The Johannesburg-born star started his career in the year 2003 while he was studying at AFDA. Over the years, he has anchored, presented, and worked with notable names in the South African media, including the likes of Phuti Khomo, Bianca Le Grange, Ntombi Ngcobo Mzolo, and Claire Mawisa, whom he worked with on the SABC 1 music show, One, at the beginning of his career.
He has hosted several sports shows on SABC Sport, including Soccer 411, Soccerzone, and Laduma television shows. He was picked for the shows after hosting the FIFA World Cup in 2010. He has also worked with 5FM and presented the Breakfast show on TruFM.
In 2008, he became the executive producer of Urban Brew production house after investing several years there as a presenter. Andile was unveiled as the host of season 1 of X-Factor's music talent show in 2014. He is also popularly known for hosting the Mzansi Friday night music show LIVE.
Other TV shows he's been part of as either a host or presenter are:
The Search: E! Host South Africa Season 1
Zaziwa Season 1
City Ses'la Season 1 as DJ Mphosa
Live AMP Season 7
Ncube, no doubt, is one of the finest presenters in South Africa. Although he has made remarkable impacts in the industry, he appears unstoppable. The Andile we know and have seen all these years is set to break records, and we don't see anyone stopping him.
Andile Ncube Works With National Radio Station, Radio 2000
Currently, Ncube works at the Radio 2000, where he anchors the Sports Night Live With Andile (SNLWA) programme. The show aires from between 6-7 pm at @Radio2000 from Monday to Friday. Andile also makes extra cash as a brand ambassador for renowned multi-million brands such as Cadbury, Johnnie Walker, and lifebuoyZA.
The South Africa radio broadcaster, in 2021, announced that he would be involved in Netflix's first-ever African reality series titled Young, Famous & African. The project follows a group of affluent and famed stars as they work and play, flirt, and feud in Johannesburg, South Africa.
The Johannesburg-Native Had A Short-lived Music Career 
Music is not for everyone, and it's good that Andile realized this on time and left the scene for those who have the talent. The presenter was briefly active on the music scene and even released a couple of songs. However, he abandoned the art after realizing that music is not his thing. The titles of his songs are:
Song For You
I AM Not A Dj
 Freestyle
He did not record an impressive success as a musician. Regardless of that, it would be difficult to ignore that he achieved a lot at his age and even surpassed most of his equals and seniors in the industry.
Andile Ncube Is Yet To Win An Award For His Works
Radio broadcaster Andile Ncube hasn't won any industry awards as of this writing. One thing we know is that he has done so well for himself and the South African media and sports industries. He stands a chance of winning one or more in the nearest future, being a powerhouse and someone with a thriving career. Andile, like most media personalities in the country, has had his fair share of work drama.
In 2018, he served SABC with a letter stating his intentions to take legal action against them after being removed from his sports show at Radio 2000. He asked that the public broadcaster should reinstate him or pay him almost R2-million. He and Thomas Mlambo were reportedly removed from their shows to pave the way for popular sports journalist Robert Marawa. Further information about the case and its resolution was kept away from the public.
The Better Part Of Andile's Relationship With His Ex-Wife Ayanda Was Kept On The Down-Low
Andile Ncube is known for his high-profile relationships with women in the industry. Of all his relationships, his marriage to Ayanda Thabethe was the most prominent. To date, the exes are yet to share how they got connected in the first place and how long they dated before they tied the knot.
Both Ayanda and Ncube are known for keeping information about their private lives secret. The public only knew that Andile had paid Ayanda's lobola after changing her surname to Ncube, following their engagement in 2013.
No pre or post-wedding announcement was made by either of them. Although it was a low-key ceremony, a couple of celebrities like Walter Mokoena, Somizi, David Kekena attended the event, which took place at Ayanda's hometown at Yellowwood Park, Durban, in KwaZulu-Natal province.
Andile Ncube's Marriage was Kept Discreet Until It Finally Crashed
Andile and Ayanda were one of South Africa's finest couples when they were together. A lot of people admired and looked up to them. However, little did most people know that their love would fizzle out so quickly. Their fans began perceiving trouble in their paradise after Ayanda dramatically went on social media and changed her surname to Thabethe, removing her ex-husband's name.
The duo officially called it quits in 2016, after two years together. In an interview with DJ Fresh on his show in 2018, Thabethe revealed that she had to walk away from the marriage she was no longer happy in her marriage at some point, adding that "when someone loves you, the person would want to make you happy." Ncube also opened up about his failed marriage with Ayanda in a subsequent interview with Gareth Cliff on CliffCentral.
He admitted to marrying one of the most beautiful women in South Africa and having a happy marriage while it lasted. He, however, added that their decision to end their marriage was not an easy one, even though it was on a peaceful note. Ncube also revealed that moving on had been difficult for him because he found it difficult to find love again. The couple's two-year marriage did not produce kids.
Andile Has Been With One Woman Since His Marriage With Ayanda Thabethe Failed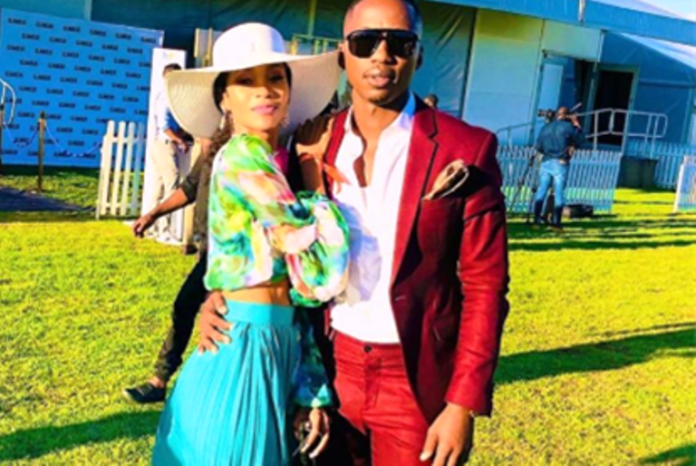 Andile has been in a relationship with South African socialite Sebabatso Mothibi since his last marriage crashed. The two reportedly started dating in December 2019, but they are yet to take their relationship to the next level.
Mothibi and Ncube live with their two kids – the former had one daughter (Talitha) from her previous relationship. At the same time, the other is Andile's daughter (Gabriella) from his past relationship with the South African model Rosette Ncwana. She is the oldest of the two.
Sebabatso and Andile welcomed their first child, a boy, together in January 2021. His name is Langalisabalele Ncube.
Unfortunately, there is no available information about Andile's girlfriend's background and personal life, and the presenter is yet to share more details about his son with his fans.