T.K Dlamini (Real Name: Ntokozo Dlamini, born January 8th, 1991) is a South African actor who is well-known for his role as Mastermind Maphumulo in Uzalo, a SABC telenovela.
T.K Dlamini has seen his stars shine pretty fast in the South African entertainment scene since his role in Uzalo. The show has made him a darling to many, but as it yielded fame to him, so also has it raised questions on the man behind the gangster character, whether that is him playing his real self or it is only make-belief.
The actor and host was born Ntokozo Dlamini in Pietermaritzburg, KwaZulu Natal, on 8 January 1991. He was brought up as the eldest of three kids, and while still a child, his parents separated. That, however, did not interrupt his dreams as his education continued to proceed with both his parents involved in his life. He went from Emsworth school, a Christian primary school, to  St Nicholas Diocesan School, where he matriculated. Next, he went to  Varsity College in Westville, Durban, where he studied International Marketing Management.
Summary of T.K Dlamini's Biography
Full name: Ntokozo Dlamini
Nickname: T.K Dlamini
Gender: Male
Date of birth: January 8th, 1991
Birthplace: Pietermaritzburg, South Africa
T.K Dlamini's Age: 32 Years Old

Ethnicity: Black
Nationality: South Africa
Zodiac Sign: Capricorn
Sexual Orientation: Heterosexuality
Religion: Christianity
Marital Status: Unmarried
Educational Qualification: Graduated in International Marketing, Management degree from Varsity College in Westville, Durban
College/ University: Varsity College in Westville, Durban
T.K Dlamini's Height in Centimetres: 172
T.K Dlamini's Weight: 68 Kg
Body measurements in inches: 41-31-35
Biceps Size: 14.5 inches
Shoe Size: 8
Eye Color: Black
Hair Color: Black
Famous for: His music career
T.K Dlamini's Instagram: tk_dlaminii
Twitter: @TK_DLAMINII
The Initial Dream of T.K Dlamini Was Not Acting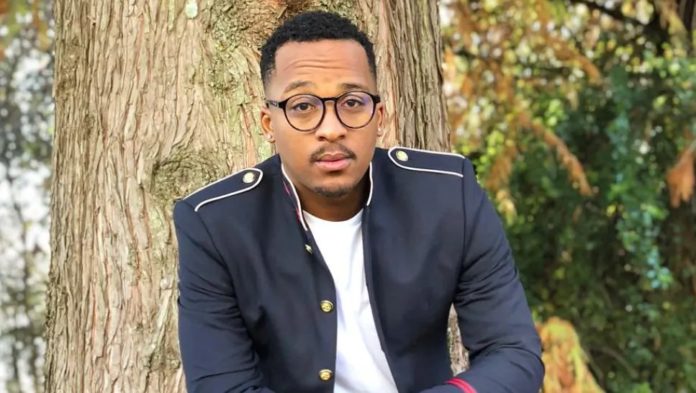 The Pietermaritzburg born actor did not necessarily see himself becoming an actor professionally, justifying his reason for studying business instead of a career in the showbiz. More so, his parents had wanted him to go to school and have a regular career. However, in his third year in college, he felt as though he was suffocating because he was not happy with what he was doing. He spoke to his mum, who supported him as he started going to theatres to develop his acting skills. Because his father was not happy with his desire to go for acting, he took away the car he bought for him to attend classes.
He first began his career as a public speaker, attending different youth events and delivering speeches. Dlamini soon got noticed and was hired to host and MC shows. He also got the chance to host the Durban HIP HOP Awards in 2011 and 2012, respectively. In 2012, he decided to move to Johannesburg in the hopes of getting more opportunities for himself. He had no money at the time, and so he had to stay with friends and relatives. At a time, he stayed at the University of the Witwatersrand, even though he wasn't a student there.
Even though he didn't at first see it as a career path, N.K Dlamini had always loved acting and appeared many times on stage when he was still in high school. This would later transition for the Uzalo actor into a profession, for which he has gained fame and fortune. He has appeared in productions, including the most talked-about Uzalo, for which he took home a Dstv Mzansi Magic Viewers Choice Awards nomination for Best Actor. Before his famous role, he appeared in Soul City, Rhythm City, as well as Single Ladies. More so, he had dreams of being on the American show, Two And A Half Men.
Before acting, Ntokozo Dlamini's interest was in having a radio career or becoming a presenter; that is still not off the books. He revealed that he uses acting to propel his business side, which he described as the core of who he is.
The Role of Mastermind In Uzalo Made N.K Dlamini More Famous
yah guys here i am in jail but i will come out in no time love you all my fans pic.twitter.com/YoXvPEDhAC

— Tk dlamini (@Tkdlamini16) August 16, 2018
In 2015, he landed his breakthrough role as the aforementioned notorious Mastermind in Uzalo. Although he didn't reveal how he got the role, he revealed that to prepare for the role, he stayed for a while with people who have been involved in criminal activities and those in the suburbs to learn how they live and their lingo.
For those who have been following the SA TV show, the character portrayed by T.K Dlamini, Mastermind, has been away from the show for a while. Being a gangster who has a way of getting in and out of trouble, Mastermind is currently languishing behind bars. This marked his end in the show or at least, for now.
According to the actor, he was not laid off the show, but instead, he asked for a little time off to pursue other things. Other sources alleged he was suspended because of bad behavior.
He Might Be Back On The Show
Because of the good looks and talent of Dlamini, as well as the strength he brings to the show, his fans and many lovers are never tired of asking if he will ever get to be back again on the show. Unfortunately, no one knows if he will make it back.
There are speculations, however, that he might be back to the show in 2020. The speculations seem to be supported by both T.K Dlamini and Uzalo spokesperson, Marang Setshwaelo, both of whom suggested he was going to be back to the show anytime soon. In addition to that, more faces are expected to be seen on the show.
He is Not A Thug In Real Life
https://www.instagram.com/p/CC8PG5BliW8/
As much as he has perfectly portrayed a gangster in most of his acting and people are beginning to feel comfortable with him as a thug, Dlamini is not one in real life. More so, he has also taken a few roles that have portrayed his character differently.
Aside from acting, his hands are filled with many other things, including having and running his own construction company, which he took a break from acting in 2018 to start. Also, he has been into the event business, including things like hosting and MCing, which have been the things he started with. In 2019, he revealed that he might also soon go into DJing, as there have been calls from corporate bodies for him to DJ for them at events.
To the long list of talents and skills he possesses, Dlamini is also a voice-over artist and a lover of sports. He plays soccer, cricket, and hockey. You can call him a complete fellow, as to add to his many skills, he speaks, reads, and writes English, Zulu, Xhosa, and Sesotho.
T.K Dlamini's Family
It is not only in his professional life that Dlamini has some good things to show. In his personal life, he is still not married and seems to presently be single, but he is a father of one. He was in a relationship with fellow actress and presenter, Jessica Nkosi. The Isibaya actress and Uzalo actor formed what many see as a beautiful couple set to form a power couple in the not too distant future, most especially with the birth of their daughter, Namisa "Nami" Dlamini, whose birth was announced by the couple on Instagram in October 2018.
Their relationship remained something they kept away from the public, hence it is not known when Dlamini and Nkosi began dating. However, by 2019, there were already rumors of cracks and a possible breakup in July, but the actor came out to deny such claims, insisting they were doing just fine. Nonetheless, the tide would change again by December when it was Nkosi herself that revealed she was no longer with her daughter's father. The reason for their breakup was not revealed, but rumors have it that it might not be unrelated to TK's alleged infidelity.