There are just a few radio stations that could compete with Algoa FM when it comes to capturing the hearts of casual listeners across South Africa.
Talk of personalities that are captivating with soothing voices that you can confidently welcome into your homes, and you talk of none else but Algoa FM presenters. They have made Algoa FM a good radio station that sounds familiar while never failing to surprise its listeners.
As a commercial radio station established to cater for the needs of the Eastern Cape and the Garden Route to the Wild Coast of South Africa, Algoa FM is one of the few radio stations established in the 1980s that is still a driving force in the media of the present day.
Read Also: 6 Lifestyle Changes To Save You Money
The on-air media is lifestyle focused towards adults who enjoy good music and indulge in quality life experiences. The station is licensed to broadcast as an Adult contemporary radio station and to play music that suits the tastes of the people in the region of the Eastern Cape and Garden Route.
Furthermore, the station provides global, national and local news as well as gossip, sport, local traffic and weather reports. This is being monitored by the South African licensing authority known as the Independent Communications Authority of South Africa – ICASA.
The radio FM started broadcasting in the Eastern Cape on 1 January 1986 but by December 2011 the station's broadcast footprint included the Garden Route and later Knysna, George and Mossel Bay. The signal was officially switched on in December 2011 by the station's Managing Director, Dave Tiltmann.
 Algoa FM Vision And Objectives
As a radio station that aspires to be the leading and most admired media brand, Algoa FM's main objectives include:
To provide entertaining and informative content to its target market;
To maintain a culture of service excellence;
To nurture an environment conducive to creative expression and personal responsibility;
To nurture a fervent commitment to the community.
Algoa FM together with OFM in the Free State and United Stations, a radio sales house, form part of the African Media Entertainment group (AME).
AME is a focused media group with clearly identified expansion objectives, and core interests in production, distribution and other commercial exploitation of all forms of content for media, communication and entertainment industries.
Algoa FM is available on most streaming media applications available for your phones including TuneIn Radio, Nobex Radio Companion, AmaRadio, RadioZA
Algoa FM Music Streaming Service 
No other station knows the secret to getting you out of bed. According to the service, the songs build slowly, send a positive message that will prepare you to face the business of every day.
The station presents the right tunes that will get you to bed and out of bed. US service, Spotify partnered with psychology PhD candidate David M. Greenberg to put together the perfect playlist for waking up in the morning.
The 20-song list kicks off with Coldplay's uplifting "Viva La Vida," and also includes timeless jams like Bill Withers's "Lovely Day," and the very literal "Wake Me Up" by Avicii.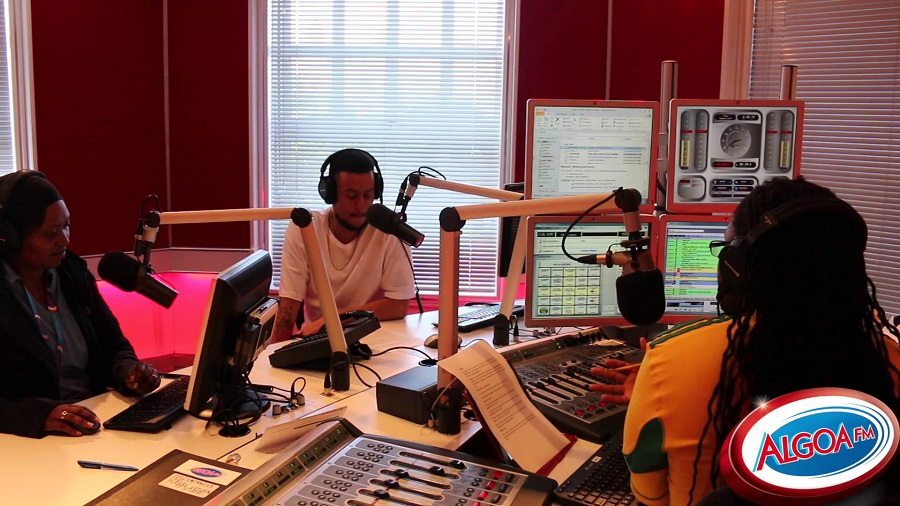 Top 30 Hit Songs
On Algoa FM, listeners enjoy unlimited music, including freshly released songs. On their top 30 music chat for the week, local listeners are entertained with the top thirsty best songs played in the country.
Interestingly, the hit station streaming online and broadcasting on air from Port Elizabeth, South Africa is now playing Top 40 and pop music 24 hours live online on its official website www.algoafm.co.za
There are basically three Drive shows from 3pm-7pm that cover different areas namely;
The Drive with Gordon Graham that covers the Border Region (East London through King William's Town, Queenstown and up to Aliwal North),
The Drive with Jacques Arendt that covers the Garden Route (from Knysna to Mossel Bay),
The Drive with Wayne Hart that covers Port Elizabeth and the remainder of the Algoa FM broadcast area. The Drive in East London and the Garden Route broadcasts through the Algoa FM signal as a transmitter split.
Sports On Algoa FM
Sports has always been used as a vessel to unite people and Algoa FM has not failed in being the channel through which sports lovers get updates on their favourite sports activities. From crickets, Rugby, Karate to football, the radio station leaves no stone unturned in ensuring it satisfies its local listeners.
Algoa FM local listeners are not just entertained, you stand the chance of winning interesting packages when you join the competition section.
Call Algoa FM:
Studio Tel (Port Elizabeth): 083 913 8 955 (VAS rates apply)
Studio Tel (East London): 083 913 8 956 (VAS rates apply)
Studio Tel (Garden Route): 083 913 3 866 (VAS rates apply)
Whatsapp: 0617 940 940. Use the tag 'border' or 'garden' if you're messaging from the Border and Garden Route area.
SMS 41851, first-word 'Algoa' (without the quote marks) or 'Border' for the Border Drive or 'Garden' for the Garden Route (Cost is R1.50/sms. Free SMS do not apply).
Algoa FM Departments
Finance: Deputy MD and financial director, Kevin Reed ensures that everything at Algoa FM adds-up. Under his guidance and the dedication of his department, Algoa FM has shown tremendous financial results. For further information, contact Kevin at [email protected].
Advertising: With a committed Sales Team in the business of effective communication, Algoa FM specialises in developing solutions to businesses of all sizes within the Eastern Cape and Garden Route. The team is led by Dennis Karantges, the Sales Manager. Contact the Sales team on 041-505 9497 or email Dennis on [email protected], and let them help you drive your business to the next level.
Digital: Chris Wright heads the Digital Departments, keeping Algoa FM live 24/7/365. The digital department ensures that Algoa FM is on top of the latest technical developments globally, making the media outlet facilities one of the most hi-tech radio stations in the world. The Digital Department sets Algoa FM ahead of the pack in terms of integration with the latest trends in digital, online and social media platforms.
News: Algoa FM brings the latest news and sports updates to its audience. The News team always delivers on getting it right and provides quality news content that can be relied on. Algoa News Department is headed by News Editor, Shadley Nash. Shadley and his team will ensure you receive updates every hour on the hour with the latest breaking local, domestic and global news.
Programming: The programming department is headed by, Baydu Adams. This diverse team ensures that the Eastern Cape and Garden Route is informed and entertained 24 hours a day.
Marketing: The Marketing Team is the creative hub of the station where all event, marketing and PR ideas are churned out. For more information about the marketing department contact [email protected] or (041) 505 9497. The Marketing team is led by Toinette Koumpan.
Read Also: Everything You Need To Know About Food Lovers Market
Human Resources: The HR Department is headed by Celeste Thomas who fulfils the strategic function of managing the company's most valued asset – its people, ensuring that only quality products and services are delivered both on and off air.
Manager of Algoa FM East London Office
Algoa FM's office in East London is managed by Tracey Gravett who ensures the smooth implementation of all Marketing and Sales events/initiatives in the Border Region. For queries regarding Algoa FM in the Border Region, please contact Tracey Gravett on [email protected] or call (043) 707 7801.