The relationship between South Africa's popular rapper and songwriter, AKA, and relatively unknown Anele Tembe came to the fore under controversial circumstances but so did the end of the relationship – after the sudden and tragic death of the latter in an alleged suicide. Tragedy struck in the already tumultuous relationship which the rapper and his upcoming chef girlfriend shared on the 11th of April 2021 when she was said to have jumped off from the 10th floor of Pepperclub Hotel in Cape Town, South Africa, to her own death in the early hours of that Sunday morning.
For starters, the relationship was unusual, seeing that Anele Tembe, also known as Nelli, was the first girl the Baddest hitmaker was dating who was not a celebrity like himself. Much to the chagrin of the naysayers who thought AKA would end up breaking the late Nelli's heart and abandon her for a "superior woman", the couple were engaged and heading towards tying the nuptial knot before Nelli's demise. Sadly, a lot of unraveled mysteries still surround their relationship and the events that led to her death. Perhaps, the disturbing part of the narrative is that there is a section of people who believe that AKA knows more about the passing of his late fiancee, Anele, than he's letting on – and top of that list is the family of Anele Tembe. Besides the fact that he was with her at the time of her death, their relationship was not entirely a smooth sail – a fact everyone got wind of through a viral video. We explore what we know about the relationship between AKA and the late Anele Tembe.
AKA and Anele Tembe Tried To Keep Their Relationship Private At First
With no information as regards how they met, a video of celebrated South African rapper, Kiernan Jarryd Forbes, popularly known as AKA kissing Anele Tembe (or Nelli Tembe, who was not well known at the time) went viral in January 2020. The reason it actually went viral was the fact that at the time, everyone thought AKA was still in a relationship with his baby mama DJ Zinhle and so, it was assumed he had been caught cheating. However, it later emerged that there had been a change of guard in AKA's 'heart department', only that he was yet to let Mzansi know about it.
So, instead of a backlash or dragging the person who shared the video for invading his privacy in such a manner, especially since he was yet to upload any picture or video of himself and Nelli on social media, he was so grateful to whoever did that. In fact, to express his gratitude to the anonymous person, he took to Twitter on the 18th of February, 2020, to announce that whoever uploaded the viral video of himself and Nelli had done him the biggest favor.
Before posting the appreciation tweet to express his gratitude to whoever shared the video, he decided to openly show off his new girlfriend to the public for the first time in an Instagram post on the 29th of January 2020. After all, there was no need to keep it a secret any longer.
Anele Tembe Was AKA's First Non-celebrity Love Interest Since 2008
Before his relationship with Nelli came to the limelight in 2020, AKA had been in romantic relationships with some of South Africa's finest female celebrities, including Bonang Matheba and DJ Zinhle (the latter is also the mother of his adorable daughter).
Compared to all his other relationships, what he shared with Nelli was different because she was the first girlfriend he was having who was not already a popular celebrity. It was obvious AKA loved what he shared with Nelli and wanted to keep it that way. When he was asked by a fan if she would appear in one of his music videos, he responded in the negative, pointing to the fact that his girlfriend was a very private person.
Not a chance. She's VERY private. First non celebrity I've dated since uhm … 2008. https://t.co/dZuvSndaBO

— AKA (@akaworldwide) May 23, 2020
In the actual sense, Anele Tembe was actually a private person and despite being in a relationship with a celebrity such as AKA, she still managed to keep her private life away from the public domain as much as she could. She was so discreet that her Instagram account was on private while she was alive. Judging from the fact that her boyfriend would tag her to his post whenever he uploaded a picture of her, you would have expected that she had a large Instagram following as he does, but that was not the fact. Nelli barely had 7k followers, which means that she probably did not accept all her 'follow' requests.
Though she was best known as AKA's girlfriend, Anele was actually a chef who graduated from Jackie Cameron School of Food & Wine and owned a kitchen at Sibaya Casino and Entertainment Kingdom. Before her sad demise, she had a dream of becoming a Michelin-star chef. She was also the daughter of a South African prominent businessman, Moses Tembe.
The 11 Years Age Difference Between The Lovebirds Was A Source Of Controversy
One of the biggest criticism AKA and his late girlfriend faced was the age difference between them. We have already established that Nelli was a private person, so she would not have given off her age just like that, but her boyfriend was so head over heels in love with her that it inspired the lyrics of one of his songs 'Cross My Heart' which was released in 2020.
From the lyrics of the song, listeners could deduce that his girlfriend was 21 years old as of 2020 while he was 32, which implied that they had an 11-year age difference between them. This outrightly got a lot of tongues wagging with some naysayers even speculating that their relationship would not last because of the age difference.
While those who were not in support of their relationship were waiting for it to come to an end, the lovebirds seemed to be waxing stronger and AKA could not help but consistently flaunt his babe for the world to see. She even modeled for his Bhovamania merch.
AKA Had A Unique Way Of Apologizing For His  Misdeeds When He Offended Her
AKA and Anele Tembe were not exactly known to have plenty of issues in their relationship, the only event that proved that there were times when things actually went wrong was when his girlfriend uploaded pictures and videos of pink flowers, a balloon decorated with the words 'Welcome Home' and a Louis Vuitton bag on Instagram with a caption saying that he was forgiven.
This made it obvious that there must have been an offense committed by AKA that needed forgiveness but being the private person she was, she did not give details about what transpired between them. AKA's gifts to his girlfriend became a social media trending topic because he particularly claimed that he would never buy his girlfriend a bag to apologize for any wrongdoing. Therefore, it came as a surprise that he actually did that but he did not seem to care.
Defying The Odds, AKA And Anele Tembe Got Engaged On The 21st Of March 2021
To the surprise of everyone, on the 22nd of February 2021, AKA uploaded a picture of  Nelli's hand, beautifully adorned with an engagement ring he had given her the previous day. Though a lot of fans had previously aired their disapproval of the relationship because of the age difference between the couple, the comment section of this post was flooded with congratulatory messages.
To confirm that he was truly ready to settle down with Nelli, AKA proceeded with the payment of the lobola for his girlfriend in March 2021, just a few weeks after his proposal. Being someone who keeps his followers informed, he shared pictures of himself and his 'lobola negotiation team' and captioned it with a cow and heart emoji.
There have been reports that he paid lobola of R300, but Anele's father refused to reveal the exact amount that was paid – even when asked by the media – making it clear that it is personal information and his family is private and will never disclose such information to the public. According to the businessman, not even Nelli knew the amount that was paid, and no member of his family would have made attempt to discuss it with her.
Questions About Her Death Emerged After A Viral Video Showed Anele Tembe Unhappy With How AKA Treated Her
As the news of the death of Nelli broke, so did a viral video with showed that all was not well in the love garden of AKA and his late fiancee, Anele Tembe. The viral video showed AKA forcing himself into a room where Nelli was in a bid to get to her, while Nelli, who was trying to stay away from him was shouting, saying nobody knows what he had been doing to her.
In AKA's explanation as regards how Anele Tembe died, he claims that she was suffering from a mental condition that made her spend nights at a psychiatric hospital in Durban after an incident that happened in Hilton, and subsequently, she was on medication. He also recalled that she tried to jump out of a moving vehicle the evening before her death.
Referring to the morning when she died, AKA said they were having an argument that made him decide to book another room for himself in the hotel, and when he came back to her room to drop her phone because he had gone with it, she was still offended that she threw the engagement ring on him and threatened to hurt herself. He then called the hotel security and went into the bathroom to cool his head off, by the time he got out, he could not find her and when he looked over the balcony, he found her body lying naked on the ground floor which he claimed left him in a state of shock at the realization that his fiancee, Anele Tembe, had just committed suicide.
Besides AKA's narrative of the events that led to her death, the only thing we know is that she fell from the balcony of the 10th floor of the Pepperclub Hotel naked and according to paramedics she was almost as good as dead when they got there before she finally took her last breath. Sadly, Anele Tembe died just two months after her engagement.
AKA Feels Bad That He's Being Suspected For Nelli Tembe's Death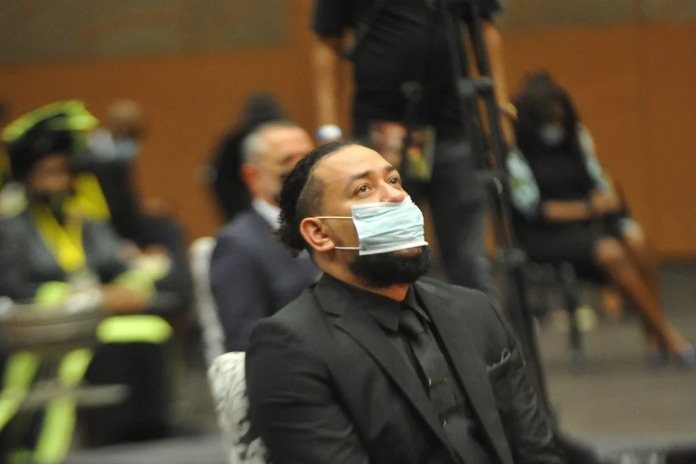 The family of late Anele Tembe does not buy AKA's description of events leading to the death of their daughter and sister as they have continually insisted that Nelli did not commit suicide and was never suicidal, as was claimed by her ex-fiance. AKA has had to face these claims and remained steadfast in his narrative that Anele jumped off the building to her death. According to him, the family is bluffing because they knew about her mental issues because he had spoken to her father on several occasions about it.
Right now, the All Eyes On Me hitmaker fears he is now a murder suspect in the death of his late girlfriend, seeing that DJ Zinhle, his baby mama and ex-girlfriend had been interrogated to know whether he was abusive during the time they were dating. Though Nelli's words in the viral video imply that AKA was probably abusing her one way or the other, he denies doing that, stating that he truly loved her.
There are also rumors that he may have been under the influence of drugs at the time of the incident, but according to him, even though it is true that he has tried out drugs in the course of his music career at one point or the other, he was not under the influence of drugs that particular day. When asked if his girlfriend did drugs of any kind, he refused to respond to the question.
Four months after the death of his late fiancee, AKA took to Instagram to express how sad he still feels and how his life may never be the same again while appreciating those who stood by him. According to him, his relationship with the late Anele Tembe was not toxic, but it was tumultuous. He claimed they had struggles that only the two of them knew about.
With Anele dead and buried, we only have AKA's words to go by and we may never really know what she must have meant by 'You don't know what he has been doing to me'. Until police investigations are over, we can only hope that her death is not a murder case.