ABSA, an abbreviation for Amalgamated Banks of South Africa, is a subsidiary of ABSA Group, an investment and wealth management business group in South Africa. It has its presence registered in 12 countries in Africa and in the United Kingdom as well. ABSA Group prides itself as one of the largest diversified financial services groups listed in JSE. The Bank was founded to provide value for all clients and it is undeniable that they are on top of their game when it comes to adding value in a very simple way. To make it easy and more convenient for users, ABSA bank launched cellphone banking. With this innovation, you can perform those services that would usually require that you visit a branch of the bank from the comfort of your home. As a customer, if you are not taking advantage of this offer, you are doing yourself a great disservice.
What You Need To Know About ABSA Cellphone Banking
ABSA cellphone banking enables customers to perform a wide range of services without having to visit the bank. One of the reasons why customers should make use of cellphone banking is the fact that it does not necessarily require airtime or a smartphone. It does not even require that you download an extra app on your phone. With ABSA cellphone banking, you can perform services like:
Loan application
Cash transfers
Bill payments
Play Lotto and Power Ball
Beneficiary payment
Top up contactless card wallet
Buy prepaid electricity
Redeem ABSA rewards
Inter account transfers
Purchase airtime and data bundles
Manage payments
The simplicity of using ABSA cellphone banking is second to none. It does not require that you have any professional skill, all you need to do to start using cellphone banking is to know how to dial a number on your phone and follow prompts.
How Do I Register For ABSA Cellphone Banking?
The process of getting started with the ABSA cellphone banking is also as easy as using cellphone banking itself. It does not require any airtime or data bundle. Cellphone banking is a great innovation from ABSA bank to accommodate non-smartphone users. To get started, simply follow the instructions below:
Open the dialer on your phone
Add ABSA banking number (*120*2272#) to your contact list
Dial the ABSA banking number
Select 1 then send
To accept terms and conditions, select 1
Input your South African identification number or passport number then send
Create a 5 digit pin that you can always remember
Once you have successfully signed up, you will be able to check your account balance but other banking services will not be available until after 24 hours.
How To Perform Activities With The Cellphone Banking Number
Once you have registered your mobile number for cellphone banking, you can now perform any service of your choice at your convenience, whether you have airtime or not.
One of the reasons why you had to first save the ABSA cellphone banking number is to avoid memorizing the number. Whenever you need to perform any service using cellphone banking, all you have to do is dial the number, enter your 5 digit PIN, and follow the prompt.
The ABSA Mobile App Is An Alternative To Cellphone Banking
Smartphone users who find using mobile apps more convenient than dialing USSD codes and following prompts can make use of the ABSA bank mobile app. The app is also simple to download and use. The only limitation to the use of the mobile app is that it requires mobile data.
How to Download And Register ABSA Mobile App
To download the Absa app, follow the steps below:
Download the ABSA mobile app from the Google Play Store or from the App Store depending on the software of your phone
Open the app and tap on I'm Ready With ABS
Tap on Register for Digital Banking
Enter details of your credit/debit card
Tap Continue
Confirm your contact details
Accept verification request
Accept the personal client agreement
Tap on Continue
Choose your access account and billing account for online banking fees
Create a strong 5 digit PIN
Create password
Confirm password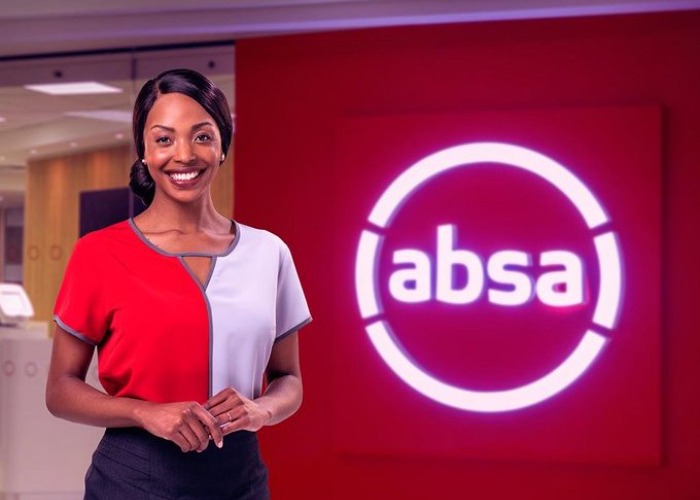 After following the steps above, you will be successfully registered on the ABSA mobile banking app. The mobile app can also be used to perform the same functions as the cellphone banking number.
Once you have successfully registered your number on the app, whenever you wish to perform any function, all you need to do is log in to the app. For a safe online banking experience, it is always advisable to log out of your app account after using it.
Possible Problems You May Encounter While Using ABSA Mobile Banking And How To Rectify Them
Mobile phone banking is not totally devoid of issues even though the bank has put all necessary things in place to ensure that customers have the best experience. Some of the issues you may face could as a result of a lack of knowledge.
When you face a challenge that has to do with a hanging transaction, it is best that you contact the bank customer service agent by calling 08600 08600 or sending a mail to [email protected].
In a situation where your complaints have nothing to do with money, but rather you need help on how to use the app, you can also call the customer service agent to put you through. Here are some problems you may face and how to go about them.
How Do I Link My New Device To My Already Existing Absa App Account?
If you still have your account signed in on an existing device, follow the steps below:
Download and install the app on your new smartphone
Tap on I'm Ready With ABSA
Tap on Login
Input your access account number, username, and PIN
Fill in the missing characters of your password
Accept the verification request sent to your old device
Enter a nickname for your new device, if you do not want this, simply tap on Skip
Create a 5 digit passcode and confirm it
Tap on Yes to select your new device as a verification device
Once again, accept the verification request sent to the old device
If the app is no longer signed in on any device, follow the steps below:
Follow steps one to five from the list above
Select 'I am not receiving my verifications, I deleted and reinstalled the app'
Enter the passcode for the app you deleted
Enter your ATM card number and PIN
Select Continue
If you wish to have a nickname, enter it, if not select Skip
Create a new 5 digit passcode and confirm it
Your former device will be delinked from receiving notifications when you use the second procedure. So, if your phone got stolen, this will be the appropriate step to follow.
How Do I Recover My Lost ABSA Cellphone Banking Password?
In a situation where you may have forgotten your cellphone banking password, here is how to recover it:
Dial *120*2272#
Enter your last known 5 digit PIN
Select 1 to reset your password
Input your ID number or passport number and send
Create a new 5 digit PIN and send