A-Reece is considered one of the richest South African rap artists with a net worth of $3 million which is equivalent to R51 million.
He was introduced to music by his older brother, a rap artist, during his fourth grade. Since then, the young star has taken the music industry by storm and thus, gained recognition in the local and international scenes. Launching his professional music career at 16, A-Reece started building his net worth by releasing multiple mixtapes. He then became a known name in the music scene following his debut studio album, 'Paradise,' which was commercially successful. He has released many hit songs such as 'Couldn't,' 'Mgani,' 'Safe Haven,' and 'Masquerade Party.'
How A-Reece Made His $3 Million Net Worth
In August 2013, A-Reece kickstarted his music career by dropping a debut mixtape titled 'Forever King.' He was signed to RawX/Mythron Records at the time, and through the record label, he released many Extended Plays, including 'Browniez.' He eventually sprung into the limelight after releasing his debut single, 'Couldn't' featuring Emtee under Ambitiouz Entertainment in 2016. The rapper rose to prominence while associated with the record label. He later left Ambitiouz Entertainment following a heated dispute between both parties.
Since becoming an independent artist, A-Reece has relentlessly worked hard to step up his net worth by releasing many full-length projects that have attained millions of streams. He dropped his fifth full-length project, a mixtape titled 'Today's Tragedy, Tomorrow's Memory,' via Platoon in March 2021. It has been well-received by his fans and thus, charted in over 10 countries. Having achieved a flourishing music career, A-Reece is said to be worth $3 million.
More so, his music career success has garnered him many accolades in the past years. In 2016, he bagged South African Hip Hop Award for Lyricist of the Year, making him one of the youngest songwriters to have claimed the award. He also got a nod for MTV Africa Music Award for Best Fan Base in January 2021.
A-Reece Amassed a Bulk of His Net Worth From His Music Career
For over a decade, A-Reece, whose real name is Lehlogonolo Ronald Mataboge, has dominated the SA music industry. While still in fourth grade, he started writing and recording music. He was inspired by his brother, Phologo Jogo Mataboge, who is professionally known as P-Jay. He is one-half of the music duo called B3nchMarQ. Born on March 27th, 1997, A-Reece is 26 years old. At the age of 16, the hip-hop artist caught the attention of South African record producer, PH Raw who signed him to his record label, RawX Productions.
A-Reece later signed with Ambitiouz Entertainment in 2015.  The following year, he released a critically acclaimed debut album, 'Paradise.' Within 24 hours of its release, it clinched the No. 1 spot on the iTunes chart. The album featured music artists such as P-Jay, Amanda Black, and Emtee. Also, it spawned many hit singles, including 'Sebenza,' 'Mgani,' 'Zimbali,' and 'Couldn't' featuring Emtee. Even though A-Reece was expected to have massively increased his net worth following the album's success, he was reportedly paid R20,000 monthly by Ambitiouz Entertainment.
He received the stipulated amount despite getting booked for live performances every week and his songs garnering millions of views on the Ambitiouz Entertainment YouTube channel. Consequently, he left the record label and has been doing quite well in the music arena ever since. In 2018, he was reportedly rated among the most streamed hip-hop artists in SA.
He is a Co-founder of Rubberband Records
After leaving Ambitiouz Entertainment to become an independent artist, A-Reece founded a record label named The Wrecking Crew with Mashbeatz, Wordz, Ex Global, and Mellow. It was later renamed Rubberband Records following the departure of some members. He then released a sophomore album, 'From Me to You,' in 2017 under the record label. The album was also a hit, as his debut studio album. It made the top 10 Hip-Hop South African charts on iTunes for three consecutive years and has achieved millions of downloads and massive airplay.
A-Reece subsequently augmented his net worth with the earnings from his collaborative works with other music artists. Though how much he earns from his music efforts since becoming independent has been kept under wraps. In 2018, he released a collaborative album, 'L3' (Long Lost Letters), with Wordz and Ecco. Then in the next year, the hip-hop star collaborated with Mashbeatz to drop a second collaborative album titled 'Reece Effect.' The album produced multiple smash songs such as 'Honest,' 'We Both Know Better', and 'Last Resort.'
He further released a mixtape, 'Today's Tragedy, Tomorrow's Memory' on March 26th, 2021, and has, over the years, released many EPs. They include 'Browniez' (2014), '1997/03/27 [The Best Things in Life are Free]' (2015), 'CUTaways' (2016), 'Gwan Big Up Urself' (2018), and 'And I'm Only 21' (2018).
The Rapper's Controversy With Ambitious Entertainment 
Following strings of financial disagreements between Ambitiouz Entertainment and some of their artists, A-Reece, B3nchMarQ, Fifi Cooper, and Flame departed from the record label. The disagreement ended in an ugly fight which was very public. In his song 'Loyal,' the rapper addressed the issue. He cited that although he had a verbal agreement with the record label, he was never offered a contract as they promised to do based on the agreement.
Also, that regardless of the money he made from his works, he only got paid R20,000 monthly. Hence, he has accused Ambitiouz Entertainment of taking advantage of his young age to rob him of the dividend of his hard work in the past years. After A-Reece's departure, the record label deleted his Facebook page and music videos on their YouTube channel.
A Look at A-Reece's Other Income Sources Besides Music
In addition to earning from live performances, music downloads, and music sales, A-Reece has gathered his current net worth from other endeavors, including endorsement deals and appearances in commercials.
Ad Appearance   
The 'Safe Haven' crooner, in 2018, featured in a commercial for a betting company, Bet.co.za. One of his songs, 'Gwan Big Up Urself,' was used as the soundtrack for the advertisement, which gained a broadcast during a soccer game in the English Premier League that year. Even though how much he pocketed for his appearances in the commercial is yet unknown, A-Reece must have surely added a substantial amount of money to his net worth with the advertisement deal.
Clothing Collection
Additionally, A-Reece launched an online Reece Effect clothing store in 2020 named Babyboy1606.com. The clothing collections have been modeled by his girlfriend, Rickelle Jones, since its launching. Having gained a massive fan base, A-Reece's net worth would definitely experience an upward movement in the coming years.
 Endorsement Deals
Since departing from Ambitiouz Entertainment, the 'Honest' rapper has continued to set himself up for greater success in the music industry. This he has achieved through persistence, hard work, and determination. With his height of fame, the rapper has been able to nab some endorsement deals with notable brands. One of his fans disclosed in 2020 that A-Reece had been working as a brand ambassador for the shoe brand, Vans. He was noticed to have been rocking shoes from the brand for a long while.
In addition, the award-winning rapper is also said to be working as a brand ambassador for LVMH's Hennessey. This was due to him posting a video of a bottle of Hennessy with an envelope in his name beside it on social media.
Highlights of A-Reece's Income Streams
Music career
Ad appearance
Clothing label
Endorsement deals
What Car Does The Music Star Have?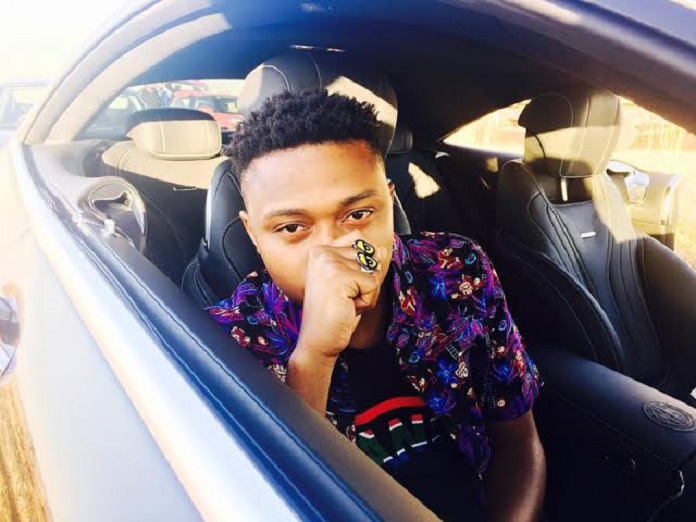 Following the unprecedented success the young rapper has attained at his age, many of his fans have been expecting him to show off his luxury car collection. Much to their surprise, A-Reece has desisted from showing off his wealth on social media platforms. As a result, it's still uncertain the number of expensive cars he has in his garage, though he hasn't stated if he owns any car at all. Unlike many music stars who love to flaunt their car collections on social media platforms, A-Reece has decided to keep that aspect of his life private.
A-Reece Owns a House in Johannesburg
In 2019, A-Reece reportedly shelled out $1 million from his net worth to purchase a luxury home in Johannesburg. He bought the mansion for himself and his crew – The Wrecking Crew. He and the entire crew, which formed the Rubberband Records, live together in the house. The mansion is said to feature many balconies, along with many bedrooms and bathrooms.