Lebohang Khitsane was a South African entrepreneur known for manufacturing artistic tombstones. Although the actual net worth of Lebohang Khitsane was not known, it is believed that he could be worth anything in the excess of $1 million.
Often regarded as the Steve Jobs of South African tombstone business, Lebohang Khitsane has built an empire in what many would never have believed had the prospects of anything significant. It is thanks to this that he had a net worth that stretched into the millions before his death.
He slowly built his business through hard work and sacrifice in the past years and has been involved in the creation of more than 11,000 tombstones for many famous individuals in the country. Until his death in August 2020, Lebohang maintained a thriving business, which ensured that he left behind a great fortune.
Lebohang Khitsane Left Behind A Mouth-Watering Net Worth 
Although the actual net worth of Lebohang Khitsane was not known, it is believed that he could be worth anything in the excess of a million dollars. He made his fortune from his career as a tombstone maker, and the industry he was able to build around it.
His path to an enviable fortune was paved in 2004 when he started his business, Bataung Memorials. In the years that followed, he had come to build a fortune that is only a dream for many others. Lebohang was not a flamboyant individual, and so he mostly kept his business life away from his personal life. Hence, the things he had, such as his cars, home, and other possessions, were kept away from the prying eyes of the public and media.
Nonetheless, he famously bought a Porsche car for his daughter to celebrate her 18th birthday in 2018. The car, which is valued close to a million rand, was handed to the young woman while she was still in school. While it generated a lot of buzz and criticism from those who felt it was too much for her, it only went a long way to show how wealthy Lebo was.
A Look At His Sources Of Fortune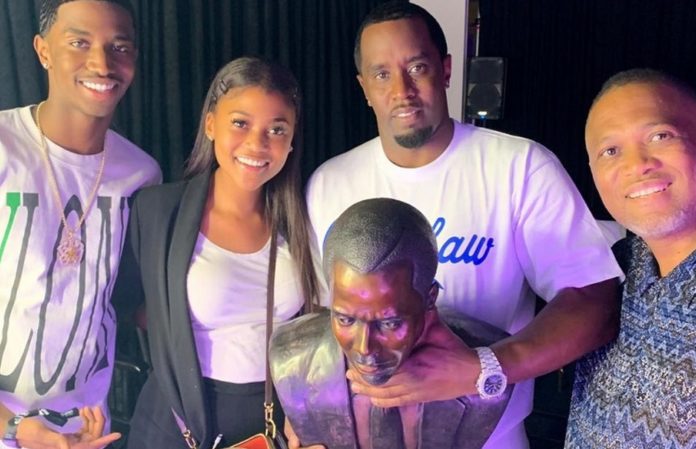 As already stated, it was through his Bataung Memorials company that he made his wealth. But more than that, he has also created statues for great individuals in different parts of the world, adding more to his fortune. Although he built his company around the funeral industry, he was able to sustain it into a multimillion-rand empire. He has cashed out in the design of tombstones for both unknown and well-known individuals who want something different from what is found every day. He had a catalog of already created tombstones, as well as tailored tombstones for clients.
Graveside dressing is another major source of income for the company as through his company, he decorates gravesites with flowers, tents, chairs, and other things. In addition to that, he also provides chauffeur services and other items one may need for a funeral.
Another aspect of the business he was into was locating the gravesite of your loved ones. If one is unable to locate the grave of a loved one, the company can be contracted to take care of this with the grave location number. If you are unable to provide this, the company can also find it with a one-off payment.
Beyond making money, he has also been involved in some charity works. In March 2020, during the Coronavirus pandemic, Lebohang Khitsane through his company made donations of food and other items to South Africans.
Among those he has made statues and tombstones for are:
Actor Joe Mafela
Singer/Producer Robbie Malinga
Football star John "Shoes" Moshoeu
Kwaito Juggernaut Mduduzi "Mandoza" Tshabalala
Former South African Minister Collins Chabane
He also made sculpting of Sean Diddy Combs, Jay-Z, the late 2Pac Shakur, and The Notorious BIG
Lebohang Khitsane Built His Tombstone Empire From The Scratch In 2004
Just when many would have thought the tombstone industry wouldn't have anything significant to give, Lebo, as he was fondly called by his friends and associates, took a leap of entrepreneurship and decided to cast his net there. He revealed that he got into what he did because he was passionate about it, and also creative.
More so, that he wanted to be regarded as the Steve Jobs of the tombstone industry. In his lifetime, he saw the empire expand its reach to other Southern African countries, including Mozambique, Zambia, Botswana, Lesotho, Swaziland, as well as Kenya, DRC, Gabon. Within the country, it has six showrooms distributed across Gauteng, Mpumalanga, and Limpopo Provinces.
The Inheritance Of His Tombstone Empire Is Still In Question
In 2011, the late Tombstone entrepreneur revealed that he was not the only member of his family that was involved in the business, as he was having his children there always to also see and learn from him. More so, his wife had also been in the business for a while, and she was in charge of one of the company's showrooms.
With that said, there has been no revelation about his will yet, neither is there any information on who he has left his fortune for. With the alleged fall out between the entrepreneur and his wife before his death, it is not known if he left everything in her care.
More so, with the obvious division in the family, it remains to be seen if there will be a battle over his fortune. For now, there is still yet to be a formal announcement as regards who will be the new CEO of Bataung Memorials.
Lebohang Charges Anything From Hundreds of Rand To A Million For A Tombstone
While it is mostly for tombstones that Lebohang Khitsane has come to be known, his company has been into many other things, as stated, including plague design, graveside dressing, Grave locating service, and Memorial repairs, among other things.
All the aforementioned have turned in great money for him. With more than 70% of his clients said to be ordinary people who want to have something different from the normal boring tombstones, he has still worked with some very big names who have paid for top-class designs.
In 2017, he created a three-ton rotating tombstone for the late actor, musician, and football star, Dumi Masilela, who was killed in an attempted hijacking. Sources revealed that the family paid a massive R160,000 to have the epic tombstone created. It gets interesting to know that even that was not his most expensive creation.
He revealed in 2018 that his most expensive creation at the time was as high as R1 million. He did not, however, reveal who he made the tombstone for. For his Robbie Malinga statue, Lebohang revealed that it cost him nothing short of half a million rand. The 7-ton 'tombstone statue' had to be remade after the first one was criticized for not having the semblance of the legendary composer.
Here is a list of the starting prices of his tombstones, according to the company's website:
Tombstone and plaque design- R1600
Tombstones for a full memorial- from R5500
Headstones- R3000
Grave locating service- R150
Graveside dressing- Special quotation