Lucas Radebe is a former South African professional footballer with a net worth of about R13 Million. He made his wealth majorly from his career as a footballer and other business endeavors. His net worth affords him some of his assets, including his houses and cars.
During his active years as a footballer, he was well known for playing with major clubs like Kaizer Chiefs, Leeds United, and Bafana Bafana. He also played a vital role in the success of the 2010 FIFA world cup held in South Africa. These are just some things that helped Lucas Radebe's net worth grow. 
Even though he retired from professional football well over ten years ago, he is still a person of interest and one of the most prominent retired footballers in South Africa. His unique style of play has endeared him to the hearts of South Africans home and abroad. 
Lucas Radebe's Net Worth of R13 Million is Primarily From Football
For many years, Lucas Radebe's net worth was classified information. It probably was not something he wanted to share with the world. However, the media found out sometime around 2021 that he has a net worth of about R13 Million. His net worth is not at par with some of the richest professional footballers in South Africa.
However, it does not change the fact that he is a millionaire in his own right. The way he amassed this much wealth for himself is not a surprise to anyone as he is a well-known retired footballer. Also, judging by how much footballers are paid, it would not be amiss to say his earnings as a football player, coach, and consultant contributed a good part of his net worth.
However, aside from his activities in the world of football, Lucas Radebe has also made good money from several brand endorsement deals he has inked. Let's see some of his football involvements that may have contributed to his net worth.
His Pro Career Began With Kaizer Chiefs in 1989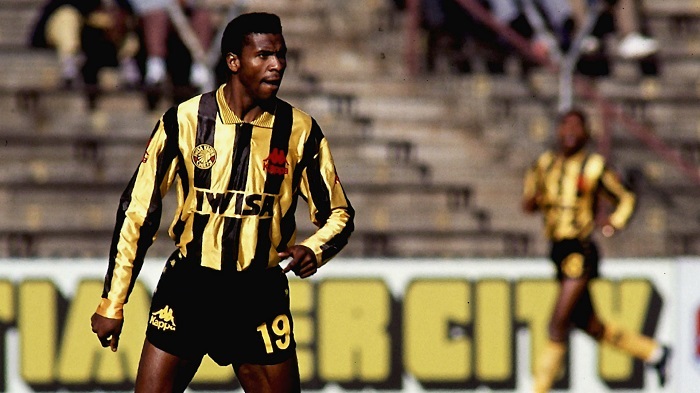 Lucas Radebe started his professional career with the Kaizer Chiefs, one of the most renowned local professional football clubs in South Africa. When he joined the club, details of the contract he signed were not made public. With Kaizer Chiefs, he started as a goalkeeper in 1989, and after a while, he moved to central midfield.
After playing central midfield for some time, he finally landed in the central defensive position. The exact amount of money he made from playing for Kaizer chief is unknown and may not have contributed so much to his current net worth because it was the start of his career, and he had not yet gained much recognition at that time. However, his stay at Kaizer Chiefs helped him understand his area of strength in football and improved his skill.
He joined Leeds United In 1994
In 1994, Lucas was transferred from Kaizer Chiefs to Leeds United, an internationally recognized football club. He was transferred alongside other players, but it eventually came to light that the only reason the club signed him was to please Philemon "Chippa" Masinga, who was their first choice. 
His transfer fee cost £250,000, and although they did not have plans for him, it was at Leeds he experienced some of the 'highs' of his career. When he moved to Leeds United, the manager of the club was Howard Wilkinson who Lucas never quite got along with. This stalled his progress. To make things worse, Lucas sustained injuries that stopped him from coming to his full potential and being a part of the first team.
And in 1996, he went back to goalkeeping after the club's keeper John Lukic sustained injuries during a match with Middlesbrough. He would also eventually replace Mark Beeney as a goalkeeper during a match against Manchester United. These changes marked his upwards scale at the club.
Lucas Radebe's Net Worth Was Bumped Up By Stay At Leeds United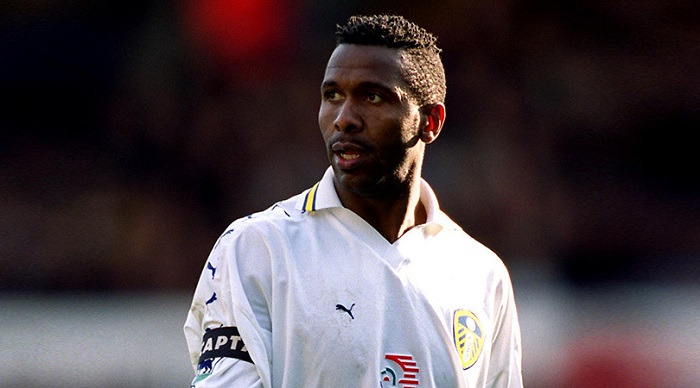 During his stay in the lead role, Lucas' salary improved. At some point, he was earning R80,000 per week. In 2001, his contract was renewed, and he was projected to start earning around R120,000 and R140,000. This notwithstanding, there is still no clear-cut fact on how much these earnings contributed to Lucas Radebe's net worth.
However, seeing as it was the club he played longest for and retired from, his earnings here have been referenced as the bedrock of his wealth. Lucas finally had his moment when he replaced Mark Ford in a match. His performance earned him a cult hero' status in the club even though Leeds lost the match.
His efforts all came to a head when the club's management changed. Under the new manager George Graham, his career in Leeds United blossomed from 1998 to 2000. He was the team's captain from 1998 to 1999, and in that season, he led the team to fourth place in the FA Premier League.
Lucas became a point of attraction that clubs like Manchester United, AC Milan, and Roma showed interest in buying, but he declined. His appeal increased when Alex Ferguson commented that everyone should be interested in him.
He Played For The South African National Team From 1992 to 2003
When he was playing for Kaizer Chiefs and Leeds United, Lucas was also a part of the South African national team. His first international match was against Cameroon on the 7th of July 1992. In 1996, he was a part of the national team that brought home Africa's cup of Nations. 
In 1998 and 2002, he was the captain that led the team to the FIFA World Cup. Unfortunately, the team did not do well both times. He was very active in 2010 in planning for the World Cup held in South Africa. The amount of money he made from South Africa's national team is not available, but it is one of the sources contributing to his high net worth.
What Contributes to Lucas Radebe's Net Worth Now?
When Lucas Radebe announced his retirement from active playing, many expected that he would quickly get coaching jobs, considering how skilled he is. However, this was not the case. He had made efforts to secure a world cup host position to be among the setup of Bafana Bafana, but when this did not pan out, he tried to go back to Leeds United.
With all these efforts and the passing of time, the former player was adored for his work but still failed to get any coaching gig. These days, Lucas Radebe's net worth has grown mostly from occasional host duties and endorsements.
Brand Endorsement Deals Lucas Radebe Has Earned From
Lucas may have retired from professional football, but he still earns money as an ambassador for some sports-related organizations. His Instagram handle is full of videos and pictures of brand endorsements with brands like; discovery SA, goal lounge TV, Adidas SA.
One of his most prominent brand ambassador gigs was with Jawitz Properties in 2018. He made headlines for working with Jawitz properties and telling stories about what makes a house a home. 
Lucas has over 40k followers on Instagram, and he is utilizing it to enrich himself. He has undeniably done a great job staying relevant because while the amount of money he makes from these brand endorsements is not available to the public, it has undoubtedly boosted his worth.
Lucas Owns A Beautiful Home And Nice Cars
Although Lucas Radebe's net worth is huge from what has been seen above, he lives a comfortable lifestyle but is not very loud about his material possessions. Details about the number of houses he owns are not available to the public.
There are reports that he owns a luxury apartment, but these have remained speculations since there are no details regarding its location. 
Lucas is also a lover of fast cars, but since j3 is not the show-off type, only the cars he drives are known to the public. Here are the specs of the car he drives.
Volvo XC90
Body type – Hybrid

Ground Clearance Unladen – 238mm

Fuel Tank Capacity – 68.0

ARAI Mileage – 42.0 kmpl