Once in a while, you get to meet a president who stands out even in a room filled with skilled, well experienced, successful, and highly educated people. One who isn't just remarkably charismatic while sleeping, but also remarkably likable when he falls asleep in public. The 90-year old Zimbabwean president Mugabe does a tremendous amount of thinking, which might be one of the reasons for his regular "doze-offs" in very nearly all the political related occasions he attends.
Here are some of the most epic sleeping times of President Mugabe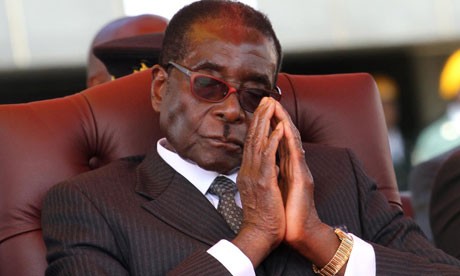 You could say he is trying to figure out many ideas even though implementation and results are everything. Robert Mugabe was elected AU chairman at the summit in Addis Ababa last week. But, guess what? He was also spotted sleeping on that very occasion. Okay, I particularly know much is expected of him which is why he thinks a lot just as every other president does, but Mugabe's thinking has somehow degenerated to regular snoring in public meetings and conferences and it is turning into a hobby. View the photos of the different occasions he had been caught Think-snoring.
Two Flags To Provide Shelter
How do you expect the man not to sleep when the flags seem to be cheering him on. Sleep on patriotically, Mr president.
You may also Like: Top 20+ Wise, Stupid And Rib Cracking Quotes Of Robert Mugabe
This photo was taken at the AU Summit
You are about to fail a serious test if you are asked to spot three people not dozing off in this picture.
Sleep-thinking with a pen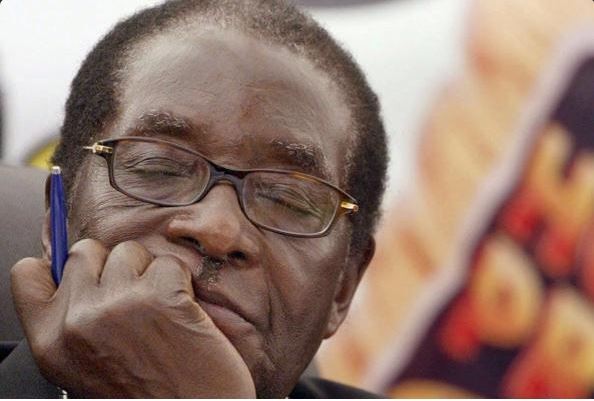 Mr president was sleeping here with a pen, probably to write out the vision he has seen for the country. By the way, why white glasses? Dark glasses would have done the job better.
Is everyone sleeping?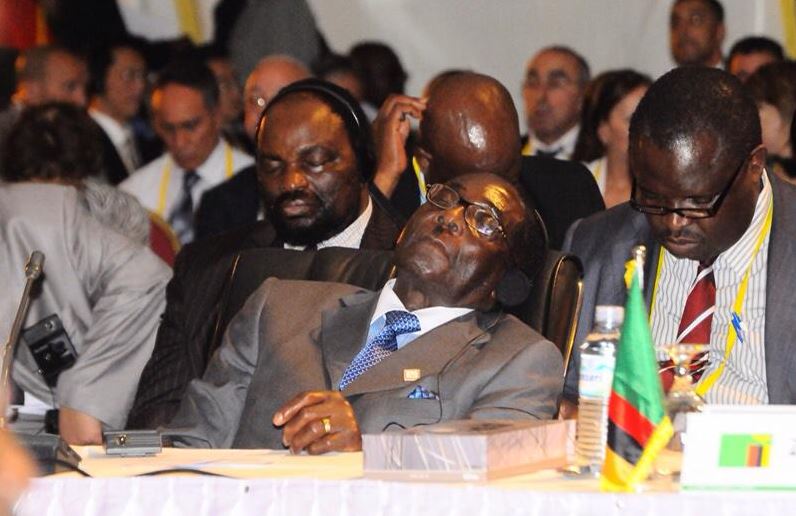 No meeting can be this boring, it just has to be a Mannequin Challenge. It just has to be!
Sleeping like a boss!
Am I the only one who has realized that the former leader was sleeping and smiling? Only God knows what sweet dreams he is enjoying.
Let me know when you are through baby, as for now, I'm off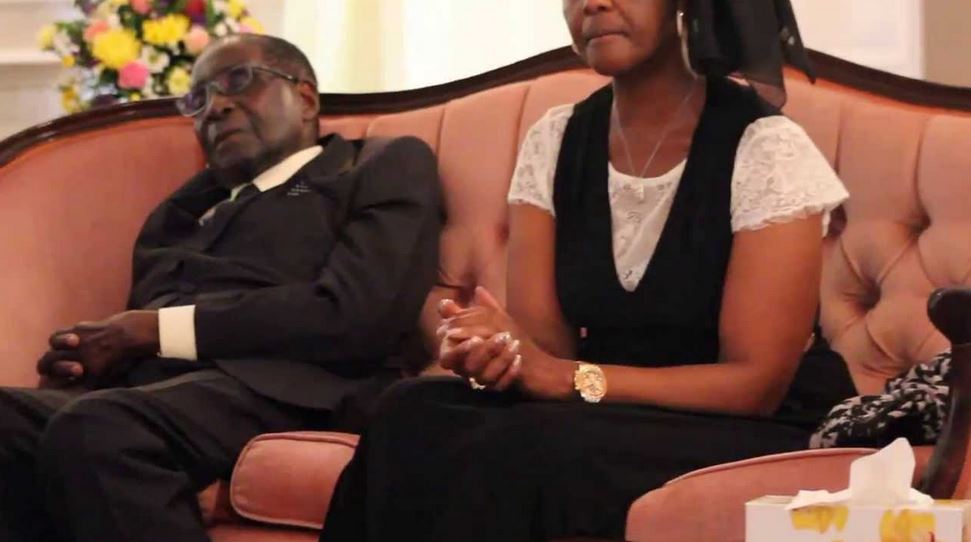 Grace Mugabe is not smiling here as her 90-plus husband is paying his dues to the gods of sleep. No wonder she declared herself president even before President Mugabe was ousted by this sleep.
Isn't it funny how he can sleep in any kind of position?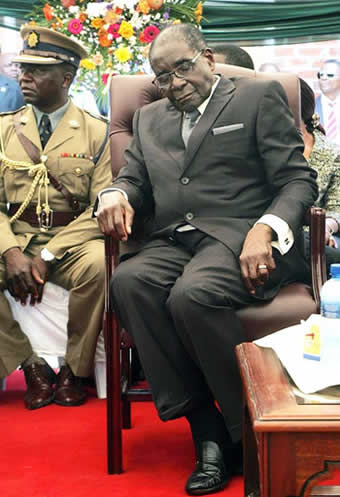 Well considering his age, I think its safe to cut him some slack. He needs all the rest he can get. By the way, one must respect the man for his ability to sleep anywhere and in any position. Trust me, not many youths can do that.
One more nap, Zim!
At least, since he has now resigned from power, he can have enough time to rest and sleep without having to do it in public or inconveniently. Another thing is that considering that the country and the new government has reached that based on his terms of resignation he will not be charged with anything and no investigation will be led against him, he will sleep in peace. Or maybe not…
President Mugabe made his first appearance since leaving office when he attended the Open University graduation. Even though he came with a heavy military escort, the man didn't miss the opportunity to catch one more nap.
Bonus: Other leaders that have dozed off in public
For the records, the former Zimbabwean leader is not the first to be caught napping on duty, as many other leaders world over, who are interestingly much younger than the veteran leader, have also had their own fair share of sleep in public. Leaders including the former Prime Minister of Britain, Gordon Brown, Former prime minister of Italy, Silvio Berlusconi, Japanese Prime Minister, Shinzo Abe, German Chancellor, Angela Merkel, the late Cuban leader, Fidel Castro, Austrian Minister, Heinz Fischer, Former president of Peru, Alberto Fujimori, and many other leaders have all had their sleeping time.
Here are some pictures of these and other world leaders sleeping where one would hardly think possible:
Silvio Berlusconi 
Before rushing to swear, this former Italian leader is only observing the table, the man has a history of sleeping his mind just as he has a history of speaking his mind.
Barrak Obama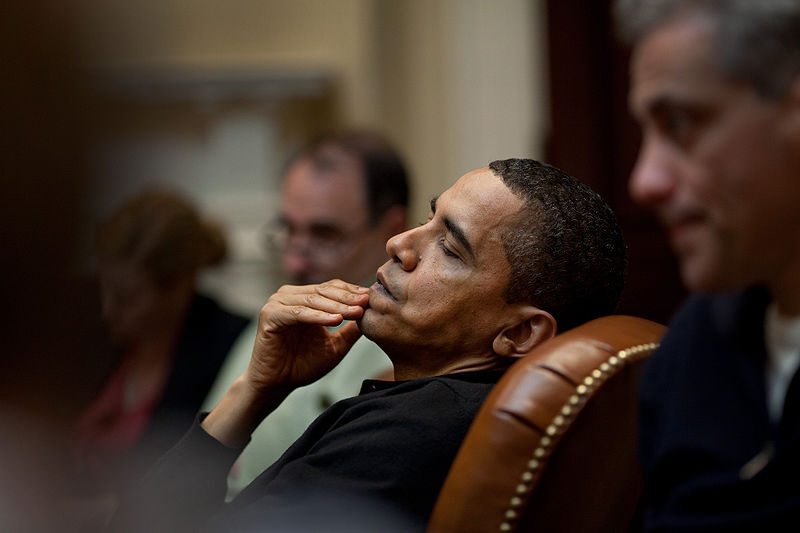 Just because it is Obama, many of us would want to insist he is only relaxing his head and thinking. We may need to chill a little and go with the fact that the man is actually sleeping.
Yoweri Kaguta Museveni 
The Ugandan president, Yoweri Kaguta Museveni is actually handling a 'business for room' during a business forum. At least, no one would notice the difference between the businesses.