South African drama series and telenovelas are quickly taking over television screens across Africa. No doubt, the gargantuan size of the South African entertainment industry has contributed in more ways than one to the rapidly growing market for South African entertainment, consequently stimulating the need to export more Mzansi content abroad.
Indeed, of all commercially exportable South African entertainment content, the largest is probably the Mzansi drama series and telenovelas. There are amazing, awesome, and suspense-filled drama series, airing almost daily across different terrestrial television stations, online channels, and platforms within and outside South Africa. Whatever your preferred genre, Mzansi has got you covered with original South African drama series.
Today we'll be going over the juiciest tips and teasers from the upcoming September installment of the popular South African series, 7 De Laan.
An Overview Of What We Saw On 7 De Laan In August 2021
Before we get to 7 De Laan teasers for September 2021, let's get you caught up with what went down in August 2021. In the opening episodes from the August installment, Gabby is pretty skeptical about the blossoming friendship between Tjatta and Amorey, while Lesedi utilizes her secret weapon. Bonita is hell-bent on protecting her secrets, damning the consequences as Thomas is blindsided by Rickus' revelation.
It also sees Vanessa encouraging Aggie and Connie to be positive in their thought process, as Lana gets to know Mariaan's true feelings for her. August sees Marko finally deciding how to move his life forward in the best possible way while the Hillside women need to make some serious choices.
Khethiwe makes an effort to bond with Ivy as Connie reflects on the downward spiral her life is on. Alexa and Fikani entertain the idea of parenthood, and Bonita begins to rethink things when she is slapped with an ultimatum. The series also sees Agigie in limbo over the status of her marriage as Ludo speaks to Shawn about the discomfiting call he received from home. Furthermore, Denzil is challenged by Ivy to a game of Roosterkoek as things between Romeo and Kethiwe progresses smoothly much to Connie's delight.
As the month's installment draws to a close, we see tension among the Welmans at an all-time high as Amorey, and Tjatta's chemistry catches Kethiwe's eyes. We also see Shady opening up about her insecurity in her appearance to Romeo as Andre is urged by DeWet to do whatever brings him happiness.
What lies ahead for Amorey and Tjatta? How does Lana manage her relationship with Mariaan despite her rattling revelation? Let's see what the 7 De Laan teasers for September 2021 hold.
7 De Laan teasers for September 2021 – What to Expect
Wednesday, September 1, 2021 – Episode 5127
Ludo tells Andre about the state of the relationship between himself and his father while Amorey is under intense stress.
Monday, September 6, 2021 – Episode 5128
Tjatta is used as Marco's guinea pig, as Chris is reprimanded by Maarian and Fikani and Alexa fall out.
Tuesday, September 7, 2021 – Episode 5129
The main electronic machine malfunctions as the Roosterkoek competition begins.
Wednesday, September 8, 2021 – Episode 5130

Business is looking up, and DeWet is excited about the success the business has recorded. Amorey tells Tjatta about her insecurities.
Monday, September 13, 2021 – Episode 5131
Marko is encouraged to find closure by Denzil, while Kethiwe attempts to build a relationship with Romeo's mother, much to his delight.
Tuesday, September 14, 2021 – Episode 5132

Shawn tries to understand what Shady is going through. Connie and Aggie comfort each other.
Wednesday, September 15, 2021 – Episode 5133

Amorey is inadvertently smothered by Alexa as DeWet is treated to a sorely needed distraction by Bonita.
Monday, September 20, 2021 – Episode 5134

Maarian speaks from the heart about family, while Tjatta is torn apart by what happened between him and Marko.
Tuesday, September 21, 2021 – Episode 5135

Romeo and Khethiwe are reminded of Kopano's death. Rickus is frustrated with all the obstacles in his way.
Wednesday, September 22, 2021 – Episode 5136

Fikanni tends to Vanessa's injury while Chris attempts to take charge of events at the ball.
Monday, September 27, 2021 – Episode 5137

DeWet is ecstatic over the success of his plan, as Gabby is worried and upset over Tjatta.
Tuesday, September 28, 2021 – Episode 5138

Rickus and Shawn discuss Lana as Thomas's Matric ball outfit is a total disaster.
Wednesday, September 29, 2021 – Episode 5139

The events of the past couple of days have left Mariaa rather overwhelmed as she struggles to come to terms with the day's events. Thomas is offered Chris' service as his driver to and from the ball.
A Brief Background on What 7 De Laan is All About
The series was officially premiered at the turn of the new millennium, precisely on the 4th of April, 2000. It was televised for the first time on SABC 2, one of the most popular television networks in South Africa. The South African series 7 De Laan was initially made its debut on Tuesday, 4 April 2000, on South African public television network SABC 2.
Initially, the series was aired on Tuesdays alone. Consequently, Thursdays were added to the viewing time, making the on-air time twice a week, and before long, 7De Laan was gracing SABC 2 from Monday through to Friday every week.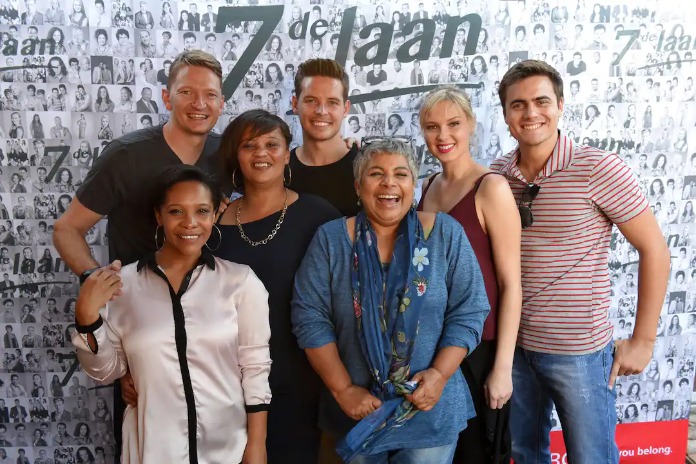 The series was aired by 6:30 pm every day for a long time. However, in 2016 the time was changed to 7 pm daily. However, the time slot change did not last for long because, by the next year, it was reverted to 6:00 pm. Now repeat of the week's episodes can be seen on SABC 2 and SABC 3.
The South African TV series celebrated its 10th year on screen in 2010. In April, fans of the TV show were gifted with slides and pictures of the show from its inception 10 years before. By 2013, this series had released over 3000 episodes, and by 2017 it had clocked 4000. The 5000th episode of the series was broadcast on the 7th of January 2021.
Although the TV series reduced each weekly broadcast from 5 to 3 broadcasts per week, the show's viewership is still very high, and this series is gaining more ground and traction across Africa with each passing day.
The Plot
The South African TV series, 7 De Laan, produced by Danie Odendaal Productions and created by Dannie Odendaal, is centered squarely on the happenings in the lives of the residents of the 7th Ave of the suburban hillside, also known as '7 De Laan.' The featured storefronts, streets, and avenues highlighted indie shows visuals are located in Johannesburg, precisely the 7th Street in Melville.
Even though the show is largely in Afrikaans, the drama series still has a large following because it is subtitled in English. Odendaal birthed the idea for the drama series as a resident of Melville Street in Johannesburg while observing the daily lives of people in the area.
The original title of the series was The Coffee Pot (Die Koffiekan). However, the name was changed to The More Days, which is translated as 'Hoe Meer Dae' in Afrikaans. But due to very close similarities both in the title and general theme of the series to an American soapie titled Days of our Lives, the title was again changed to 7 De Laan as it encapsulates and properly depicts the general idea behind the series.
The series, 7 De Laan, has had many successes, and this year, the just-concluded August installment of the show was a blockbuster right from the very first episode. It kept avid fans of the series on the edge of their seats right out of the gate. If you are a true fan of the show, then it means that you are among the millions who can't wait for the September installment.