Many black women with short hairstyles tend to feel awkward with their looks. This may be the case with you but just because you're short of ideas of what style to put on shouldn't make you feel out of place. Even with your short hair, you can look elegant and classy in different hairstyles. Here are some cute hairstyles for black women that can make you look stunning.
Short Natural Hairstyles for Black Women
If you decide to go on short styles with your natural hair, then you should check out these hairstyles. Ranging from puffs, finger coils, afro, blow-outs, twist-out, flat twists, etc. You are sure to find one that will be just right for you.
1. Cute Flat-Twist Out
This hairstyle is favored by many African women who love going natural. It is an easy hairstyle to make and it comes out beautiful with its full curls. One good thing about the cute flat-twist-out hairstyle is that you can have a good sleep without bothering about messing with the pattern of the curls.
2. Updo Flat Twists with Natural Hair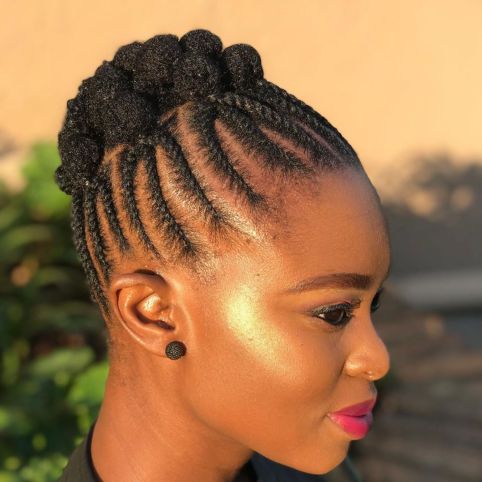 If you need an updo flat twist that'll look elegant on you, especially if you have fine or thinning hair, then you should try this hairstyle. It's a twist done towards the crown of your head, where you either add an extension to make it look unique or leave it just as it is. Whichever one you choose comes out perfect.
3. Natural Tapered Cut with Trimmed Edges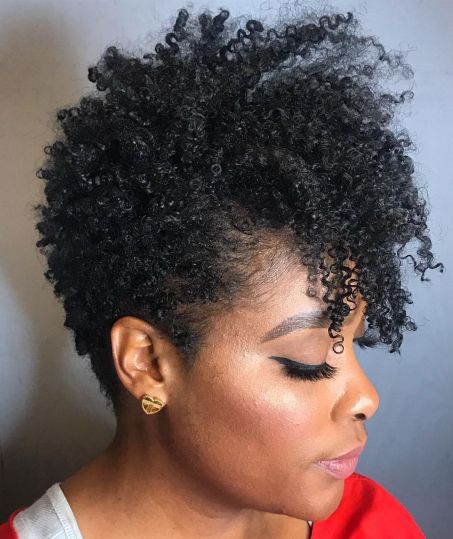 With this natural tapered cut with trimmed edges, you can pile the curly tendrils on the top of your head or you allow it to fall lossley down. This hairstyle also needs a little bit of gel or hair cream to bring out the shine in it but be that as it may, you don't need too much of hair products.
4. Fauxhawk Natural Hairstyle
This short fauxhawk hairstyle is a replica of the popular mohawk hairstyle but with this, you don't have to shave the sides of your head. Many people who love going on their natural hair love this style because it only requires you to neatly pack your hair towards the center and then place the bobby pins strategically to hold the hair.
For it to shine more, you might decide to apply a styling gel to the sides and always brush up the sides. This hairstyle also comes highly recommended if you don't plan to have your hair shaved at any time as it can be worn for a long time provided you maintain it.
5. Type 4 Hair Natural Coils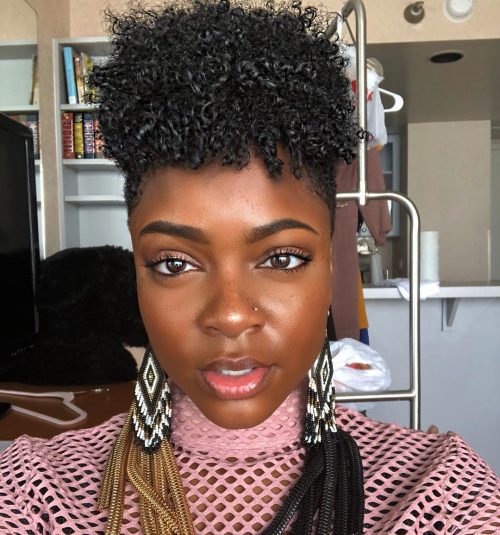 For many black women with type 4 natural hair, these coils have a way of bringing back their youthful look. The sides are neatly packed to the top where coils are added to the hair. Interestingly, the height and shape of the coils can be customized to fit the shape of your face. So, whether you have a round, square, or oval shape, the type 4 natural coils hairstyle can be adapted to fit you.
6. Side Flat Twists on Afro
Side flat twisting may be an alternative option for you if you want to get off braids. On your own, you can easily make these flat twists if you have an afro hairstyle already and it will consume less time. You can equally beautify the hair by affixing some pieces of jewelry to your hair.
7. Sultry Spikes Short Natural Hair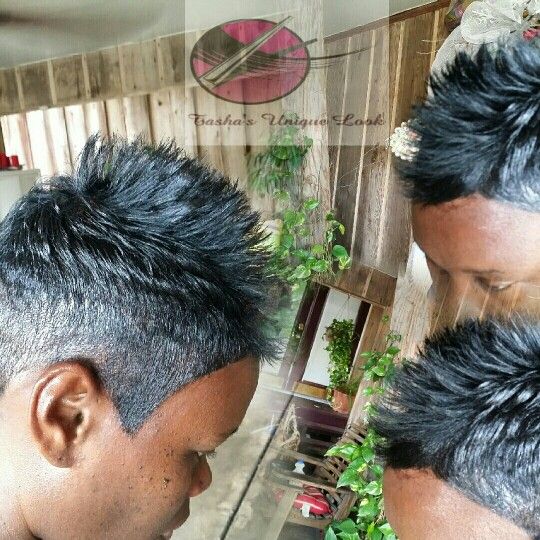 You can spike the top section of your short hair and trim down the sides to give you a pixie look. You may or may not decide to color the sides or top of your hair but whatever your choice is, this sultry spike short natural hair will give you a sassy look.
8. Natural Undercut with a Tomboyish look
If you don't mind the tomboyish look, then you can try out this natural undercut hairstyle. It is a natural undercut with a tomboyish vibe that makes you look glamorous and at the same time young. To make this hairstyle, you or your barber should neatly trim and acarve the sides of your hair and then cut the loose long hairs at the top, leaving only hairs that are medium length to form small dreads at the top.
9. Pixie Haircut For Naturalists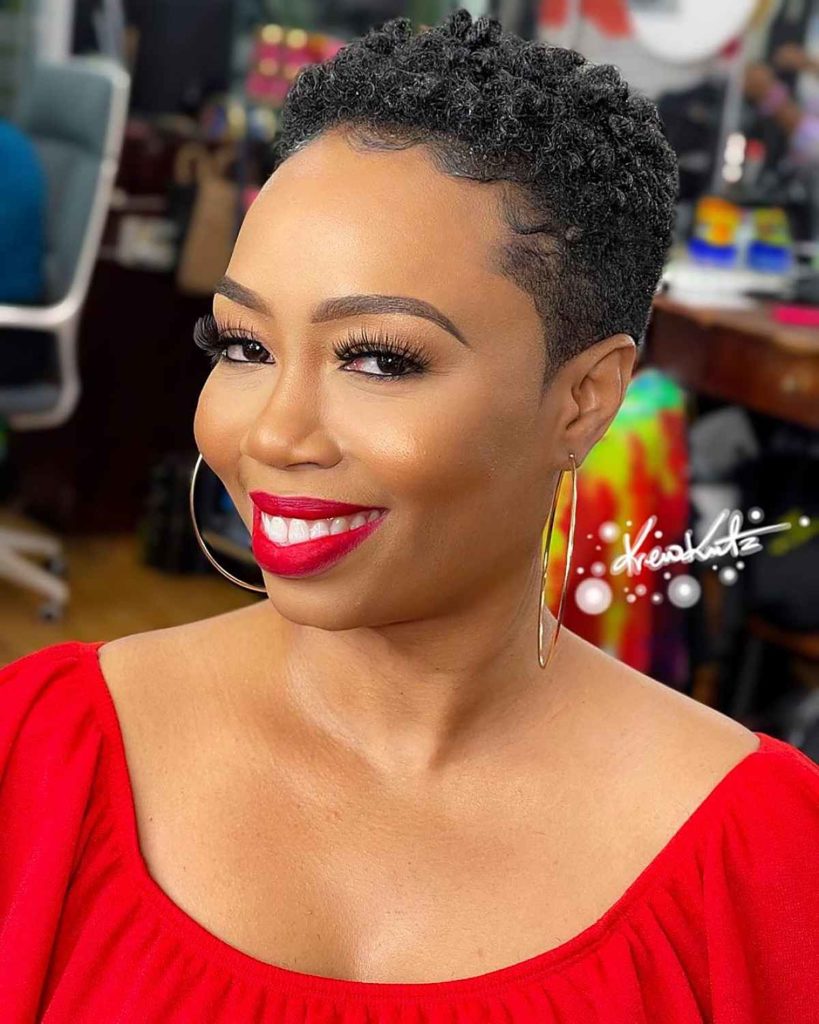 This pixie cut is a simple and easy natural hairstyle that you can rock anytime any day and even to formal occasions. Even if you have an oval, diamond, heart-shaped, or square face with thick or thin hair texture, you can still rock it. The hairstyle almost resembles the natural undercut with tomboyish look above but this is cut even thinner when styling gel is applied all over the hair.
10. Rainbow Highlights with Side Shaves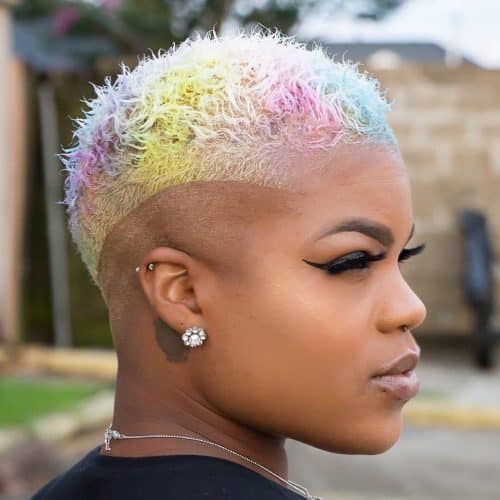 If you love the colors of the rainbow, then this hairstyle might entice you. You can 'paint' your short haircut with the colors of the rainbow and make some side shaves which allows for a sharper and stronger finishing. The highlights make it fun and give you a younger outlook. However, you should bear in mind that the colours won't remain forever and your hair will still grow out, so you will need another salon visit to bring out the shine in them.
11. Side Cornrows on Classy Updo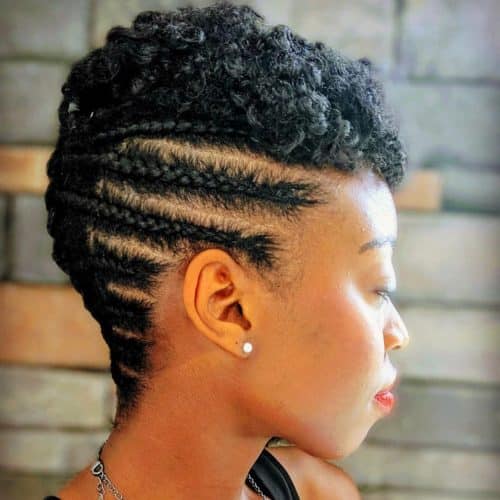 Bring your creativity into the limelight by wearing a classy updo on braided side cornrows. It gives a neat and textured look at the same time. This hairstyle also goes well with a simple earring and moderate makeup that will complement the simple nature of the hair.
12. Natural Hairstyle with Knotted Headband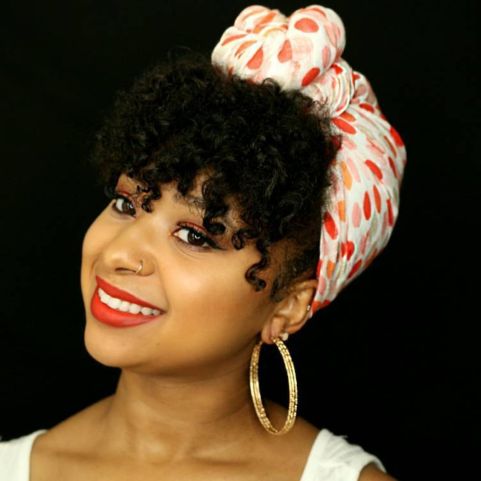 Some simple and cute hairstyles could go with accessories like headbands, bandanas, headscarves, etc. This can be worn on days when you choose not to show your hair. It helps protect some parts of your natural hair and keep it moist.
Short Curly Hairstyles For Black Women
Wearing a curly hairstyle can also make a whole lot of difference in how you look. It makes one look younger, especially when you apply the right shades of makeup. You can check out these trendy styles;
13. Short Natural Black Curls
You can pride your short haircut on black curls to compliment your square-shaped face. For healthier and good-looking curls, make sure to moisturize or hydrate the hair as they look more radiant when moisturized. With this style, you don't need heavy makeup to look glamourous, instead, you will look younger even with the least makeup.
14. Side Bantu Knot with Short Curls
This  Bantu knot has long twist-out curls falling over your eyes. The hairstyle is common with black women with natural curls who love going on natural African-American hairstyles to give respect to the past. The ringlet's curls can be thrown back in a decent topknot or worn in a mohawk style, as shown in the picture above.
15. Ultra-short Natural Curls
With Solange Knowles's ultra-short natural curls, she needs not worry about her looks and the same should go for you. The hairstyle makes her face look stunning and shiny. To make this hair, simply trim down your hair and apply gel to curl. The hairstyle is easy to maintain and a favorite style among the younger generation. Even if you are older, you will cut back some years by dazzling in this hairstyle.
16. Tapered Hairstyle with Curls
A tapered hairstyle with curls will make your hair look neat and glowing as you transit from shorter to longer tapers. The tapered short hair can face all directions and the more they are, the lusher they will look and ultimately make you look a lot prettier. Tapered hairs have been a traditional way to keep natural short hair without spending a lot in maintaining them.
17. Rod-like Natural Curls
These rod-like natural curls in various shapes look stunning at first glance and will become your favorite when you try them out. They're super easy to make and can be rocked to all occasions with you looking finest. To look the best in them, the curly rods at the back should be smaller while those at the top should look bigger and bolder. When you sprinkle some hair ointment, they will shine the more.
Short Bob Hairstyles For Black Women
The bob hairstyles are one of the cutest and most elegant styles you can wear on your natural hair. Be it a chin-length bob, shorter style, or a lob that gets to your shoulder, there are different ways to enjoy the look.
18. Short Curly Bob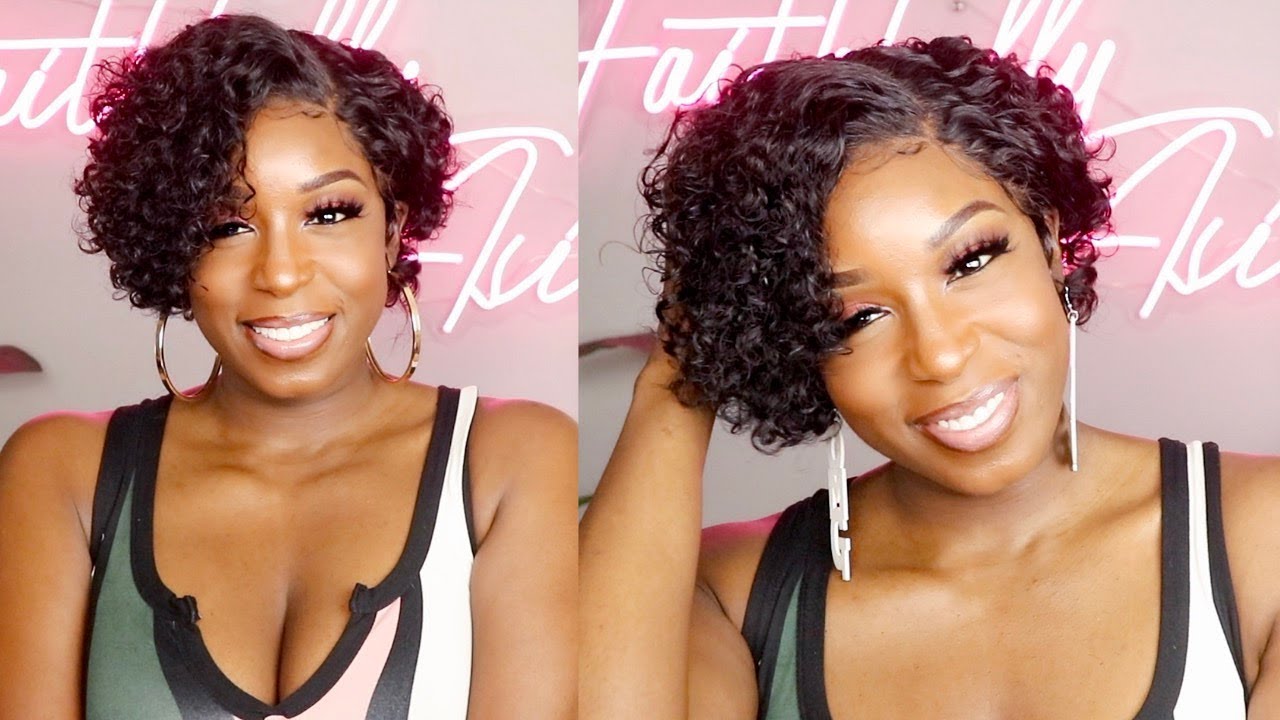 The short curly bob parted to the side in the middle is one hairstyle you will easily look good in with a round face. The two parts of the hair can be made to be unequal with one part brought forward towards the face and the other towards the back. With bold earrings and fine makeup, it will be very easy for the hair to show just how beautiful you are.
19. Cute Wave Bob
Angela Bassett added a few waves to her short cute bobs, resulting in a style everyone loves to mimic now. With regular brushing, it will be easy for you to look good on this hair though it might not be ideal for everyone, especially those who are always on the move.
20. Modern Asymmetrical Bob
This is a modern hairstyle loved by classy black women. You could decide to give your bob an asymmetrical parting. For example, Regina King's choppy bob above leaves one side longer than the other. That way, it makes it more unique and adds beauty to the bob.
21. Gorgeous Wavy Bob
Laura Harrier's wavy bob looks gorgeous on her and so will it look on any other lady with similar oval face shape. The hair is sleek and straight at the top but wavy as you move towards the end of the bob. This wavy end gives it a subtle and bouncy feel and you can always pack them behind your ears to reveal that gorgeous earring you are putting on.
22. Inverter Bob with Loosely Curly Hair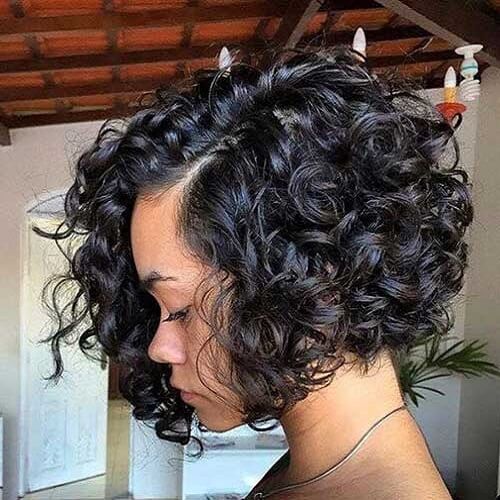 This long-inverted bob falls beautifully in place. The hairstyle looks perfect on loosely curly hair, especially for those black women that want to pride their long curls in a simple fashion. There is this elegance and bounce it adds to your beauty as you walk. With regular brushing and hair ointment, you will easily bring out the beauty of this hair.
23. Center-parted Afro Bob
Here is another Afro bob that gives you the chance to display your natural textured hair. Skai Jackson's afro bob is parted at the center with large volumes of hair falling to both sides which makes the hair an attention-grabbing style. You may or may not need earrings for this hairstyle but ensure that your makeup is charming enough to complement the style.
24. Curly Bob with Space Buns
You can add a quirky touch to your bob with space buns. That is what Yara Shahidi did with her curly bob. She kept the bob at the top with the space buns and the result is a chic bob hairstyle that is easy to play around with. You can also apply some gel at the front of the hair to add some glam to your look.
Short Weave Hairstyles For Black Women
Black women can also rock short weave hairstyles. Their hairstyle doesn't have to be long all the time as it is common with caucasian women. These short hairstyles are easy to care for and at the same time they bring out the unique beauty in African women.
25. Sleek Side Cut
You can style the weave to your desired preference, usually with a soft flat press. You can also trim the hair in a circular pattern to cover your entire head. Whatever your choice is, beautiful makeup and shiny bold earrings will amplify your beauty with this hairstyle.
26. Straight to the Point Weave
Check out this straight and thick short weave hairstyle. It's simple and will give your face a beautiful look. The hairstyle depends heavily on choppy layers of hair with nice cuttings at the edges. The hair should be trimmed at the same level around your head to give it a neat cut.
27. Short Shag Weave Haircut
The shag haircut is one of the favorites worn by many black celebrities. Just check out the elegant actress and singer, Jennifer Hudson as she rocks on her shaggy weave cut. The cut is right below her chin line with its edges resting on her neckline.
You can ask your stylist to apply a little thickening gel on the strands before blow-drying to give it a fine look. To keep it in good shape always, you should use a round brush and flip its ends evenly. This hairstyle perfectly fits an oval-shaped face.
28. Short Platinum Weave Hairstyle
For African-American women, platinum hair color strikes a whole different level of beauty and you can give it a try if you haven't already. The short platinum weave hairstyle is a partial weave showing your natural hair under a bold weave. An equal edgy cut is seen around the shades, making it one of the stylish short black weaves for women.
29. Blonde and Black Weave
A contrast of this two-colored weave might look great on you. The blonde comes in balayage style, offering a tender regrowth line. While the quirkiness of the black combo is balanced by a blunt cut at the edges. You can ask your stylist to tweak the hair to your taste.
Short Pixie Hairstyles For Black Women
Several pixie hairstyles look good on black women. You can check out these cuts and make your choice from them. They are simply amazing and unique in every sense of the word.
30. Pixie Cut with Short Bangs
A short hairline bang gives you a nice bohemian touch. Check out how Jennifer Hudson rocks her pixie cut with short bangs. The celebrity proves to us that you don't always have to keep your bangs long before you can be on point with your haircut.
31. Tousled Pixie on Sharp Undercut
A tousled pixie on a sharp undercut makes for a sleeky look. This style gives edges to your glamourous look. The hairstyle brings out the youth in you no matter how much you have aged. It is perfect for many occasions whether you are going for a formal event or a social gathering, it will simply announce your presence.
32. Super Pixie Cut in Blues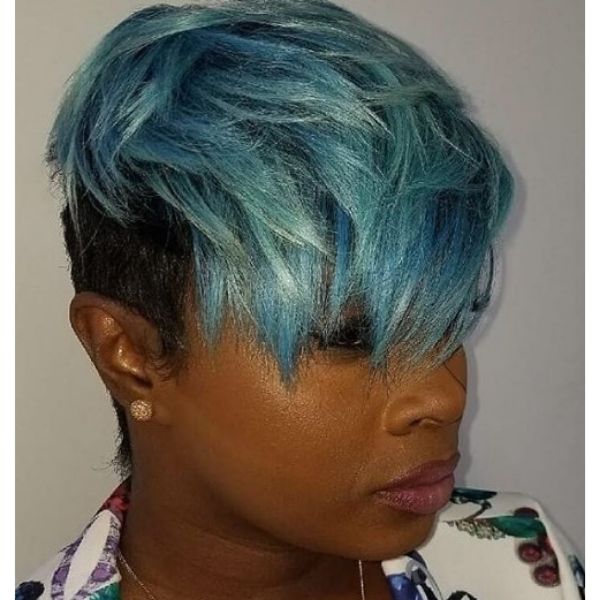 If you like blue, then you may fall in love with this hairstyle, a super pixie cut in shades of blue. At the top of this cut is a brilliant sky-blue color that is varied in different shades all over the hair. Ideally, the part closer to the neck area are in a darker shade of blue while those towards the top are lighter.
33. Punky Pixie Hairstyle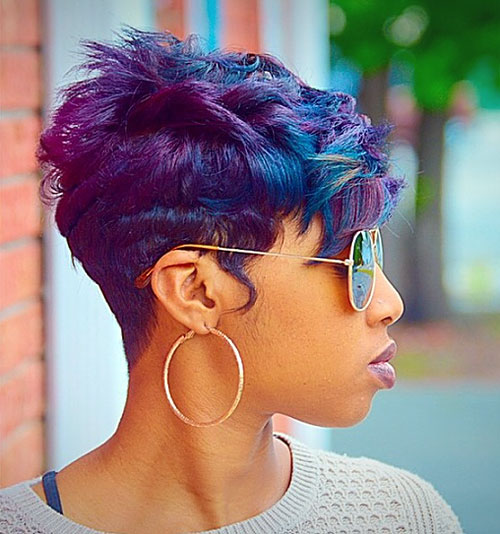 Here is a smooth and silky punky pixie cut that will look beautiful on you. You can trim the hair into several patterns or use various color shades to bring out the sparkle in the hair. A bold earring will do well to bring out the beauty of this hair.
Short Braided Hairstyles For Black Women
When it comes to braided hairstyles worn by black women, there are many you could draw inspiration from. But it all depends on what will look good on you bearing the shape of your face in mind. Here's a list that will inspire your next salon visit;
34. Fiyah Bun
For this simple braided bun, you can keep the base of your natural hair simple, then the braided part is a little lighter than the base. This is exactly what Issa Rae did, and she's looking super gorgeous. You should not look any less beautiful with this hairdo.
35. Side Chick Braids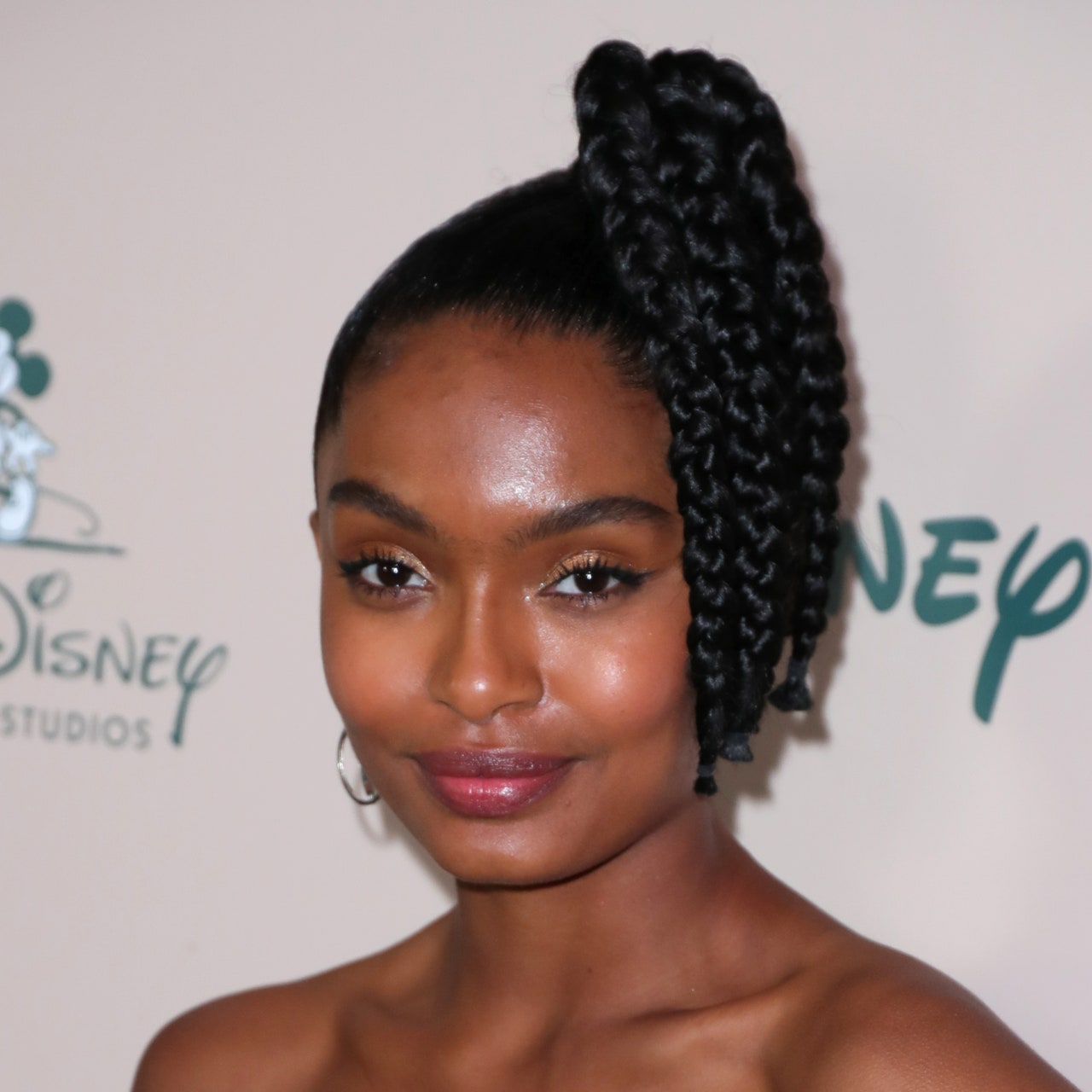 As the name implies, it's a braid falling over the side of the head. This is a high ponytail that reminds one of the '80s. But you can rock it in a modern way just like Yara Shahidi did. Instead of a single braid, she got four braids tied at the end with a little rubber band which seems not so obvious. You too can do the same or make your braids more!
36. Bantu Knot Braids
You can style your long box braids into three, four, or even more Bantu knots just as Brandy Norwood did when she mounted the stage at the 2020 Billboard Music Award Ceremony. The hairstyle reminds us of the versatility of short braids and it's great if you have box braids on.
37. Cinnamon Bun Braids
Your cornrows can be braided backward in a slightly swoopy pattern and brought back to the nape of your neck in a low bun, making it a cinnamon bun. That is exactly what Sheridan Ward made for Thandie Newton during her panel at Cannes Lions. It's short, simple, and easy to make and maintain.
38. Orange Soda Braids
If you love to go on flashy colors, then you should check out these orange soda box braids, they look adorable. Just as Lindiwe Dim secured each tip of the braid with yellow, pink, and peach elastic bands, you can do the same to make it look colorful.
39. Updo Bun Braids
Here is a hairstyle twisted into giant buns, creating a gorgeous updo with a mix of golden and black hair. You can as well leave the hair hanging loosely or part it to the side, but for our discussion here, it is packed tightly into a bun. This style will fit if you love heavy braids.
Short Hairstyles For Black Women with Round Faces
For black women with round faces who may want to choose certain hairstyles to fit their faces, it can be super easy to get that amazing look. Check these out patterns;
40. Deep-Parted Pixie
Mary J. Blige's deep-parted pixie has a dark-colored root, which draws more attention to the side of her head. The style is a bit tasking to care for because you have to keep maintaining the brilliant color with purple-based shampoo if you must get the desired result.
41. Black Lob Haircut
This short black lob haircut looks good on African-American women who are chubby in nature, and it is ideal for all events. The top of the hair is loose and lush while the part close to the neck at the back is trimmed short to lap close to the back of the head.
42. Pixie Cut with a Side-Swept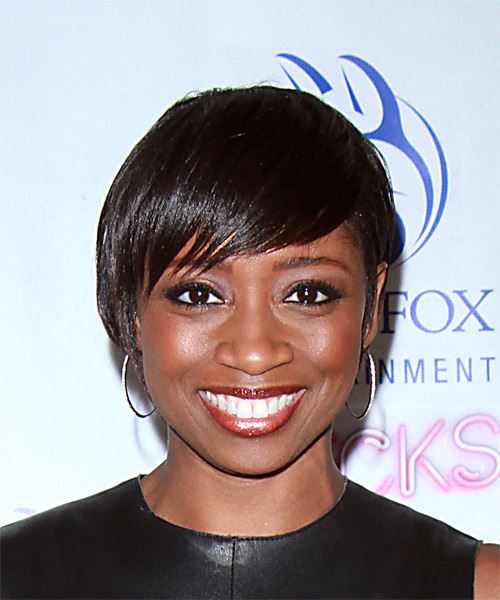 If the thought of a pixie cut like Montego Glover's excites you, then you can ask your stylist to cut some longer forehead sweeping bangs, so you can achieve an illusion of length to the front. Montego gives us a vivid example of what this style looks like.
43. Middle-Parted Sleek Bob
This middle-parted bob will give your round face a perfect projection. The bob style is sleek with middle parting and hairs that run smoothly down on both sides of the face down to the chin. This is one of several styles that will effortlessly bring out your beauty.
44. Short Afro Curly Hair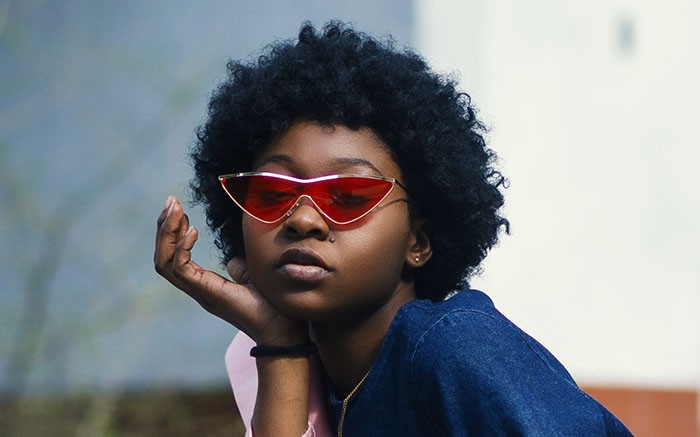 The option of how you can wear this short afro curly hair is limitless. It can either be a wig you can quickly brush and wear or a weave you can fix at the salon. Whatever the option is for you, the short afro curly hair will easily project the beauty of your round face with ease. The hair is also very easy to take care of as it does not require much oiling unlike some others here.
45. Low Cut
This is the foremost and perhaps one of the oldest hairstyles in Africa. It is also one of the easiest to make and maintain. Particularly, a low-cut hairstyle looks good on ladies with a round face and as with some others, makeup can enhance your beauty with this hairstyle. Most women prefer to color their hair to make them stand out the more.
Will Short Hairstyles for Black Women Be Good For You?
One thing that attracts many people to these hairstyles is the ease in maintaining them. But before you chose any, make sure it is right for you at that particular time as the ease of maintaining these hairs shouldn't be the underlying reason why you chose any of them.
You should also consider your facial structure, different short hairstyles fit specific facial structures and can be augmented with different shades of makeup and pieces of jewelry. So before opting for any hairstyle listed here, take your face structure into consideration and what makeup combination you come out best in.