In recent times, women all over the world have taken the lead with dreadlocks and accordingly, there are many dreadlocks styles for ladies that complement their beauty. The beauty of dreadlocks is that it fits well on just any lady, no matter their hair size or texture of the hair. There is a dreadlock style that matches every lady out there. Perhaps you've been contemplating on getting a dreadlock style but wonder if you can keep your girly hairstyle. One thing is certain, there's no need to say goodbye to your girly hairdos as most dreadlocks styles for ladies allow you to incorporate different styles into them.
Dreadlock is actually cultural and just as every other culture, it is evolving. What used to be termed as dirty and unkept is now a must-have for many ladies. Others too are joining the lock bandwagon. There is a dreadlocks style that can perfectly fit you as a lady and this is why we bring you the top 40 fancy styles that would make you stand out anywhere you go. You would surely get a style or two from here that matches your personality.
Long Dreadlocks Styles for Ladies
Dreadlocks styles can be either long or short, the choice is entirely yours to make but let's start with the long ones. The dreadlocks can be thin or bold, weaved or left in their natural form. One big advantage of having a long dreadlock is that you can take advantage of the long locks and style them into different patterns to suit various occasions or your mood. Below are the top 20 fanciful long dreadlocks styles for ladies who love to rock it long.
1. Long dreadlock Mohawk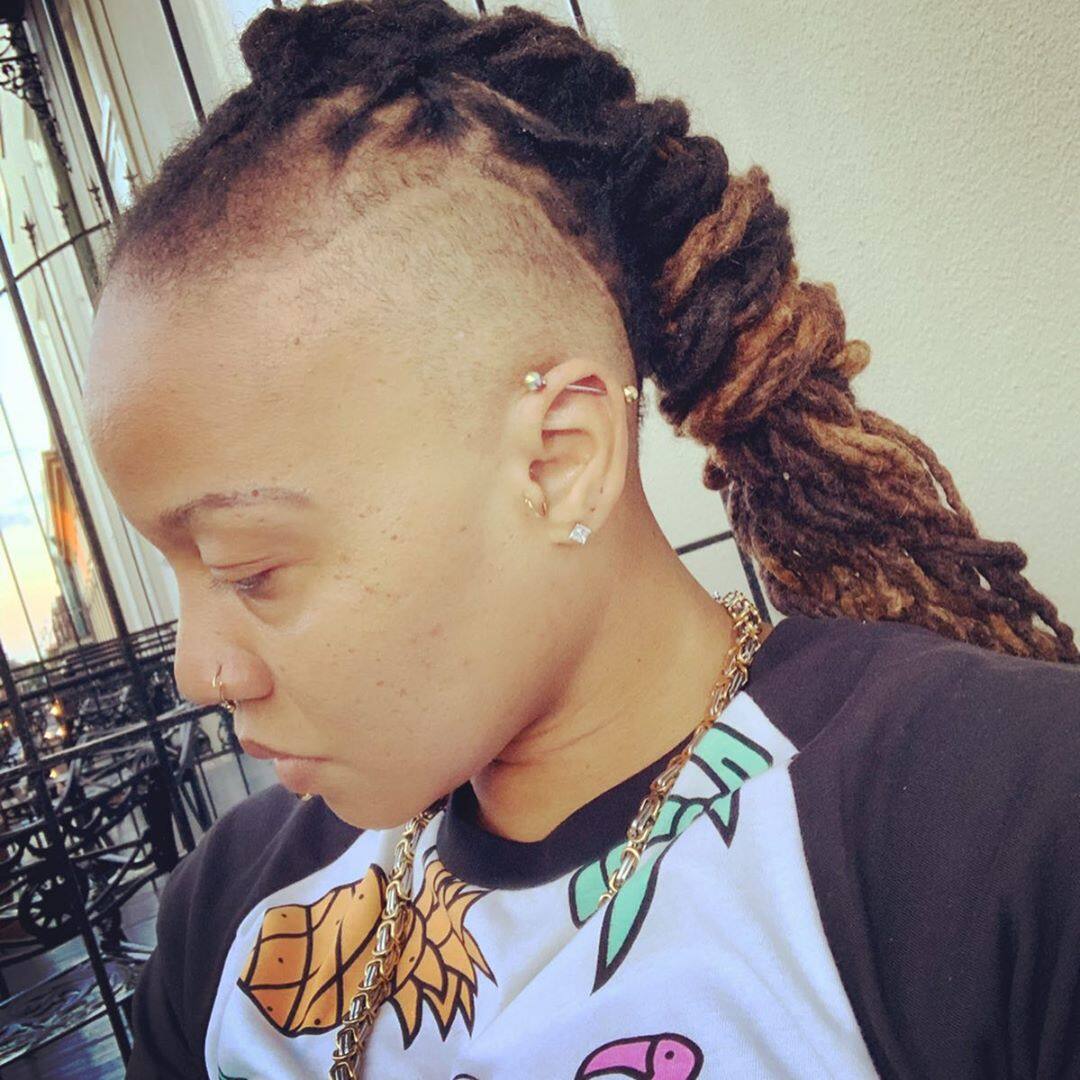 This style is perfect for ladies who seek to be different. For this style, you have to go all out to nail it. If you intend to look crazy while maintaining a cool look, this is for you. Both sides of the dreadlock Mohawk could be completely barbed or reduced to a considerable extent. You could also twist the long Mohawk to form a ponytail if you wish. This is perfect for tomboys or girls who naturally love to roll with the male folks.
2. Twisted thick long dreadlocks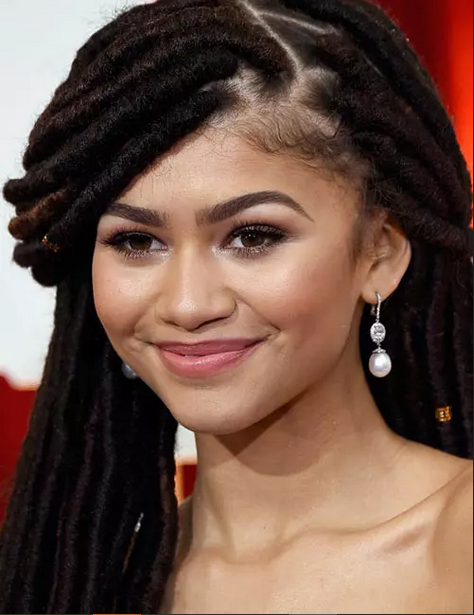 This is another beautiful dreadlock style you could use but it isn't that easy. Your stylists would have to take great care to ensure every strand of hair gets captured in the lock. When this is done, you will have a beautiful hairdo. This style is great for almost anyone but it's best for those with thick hair so there wouldn't be any need for a hair attachment underneath the dreads.
3. Twisted thin long dreadlocks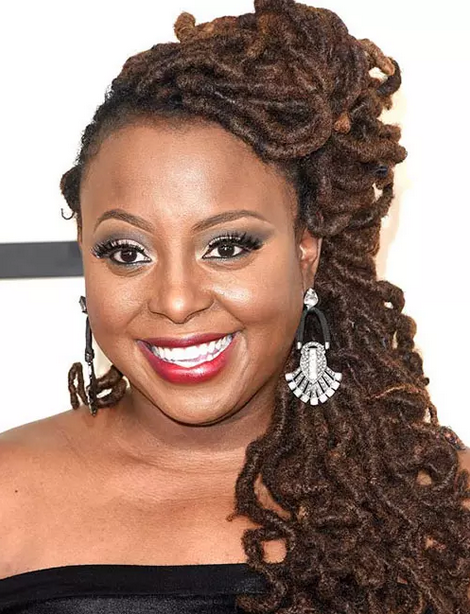 Another form of twisted dreadlocks you can rock with confidence. This style is great for people with thin hair. You can also decide to rock this style with thick hair, but your stylist might be required to put in extra work. To get the best of this style, ensure that only the best hands do them for you.
4. Long braided dreadlocks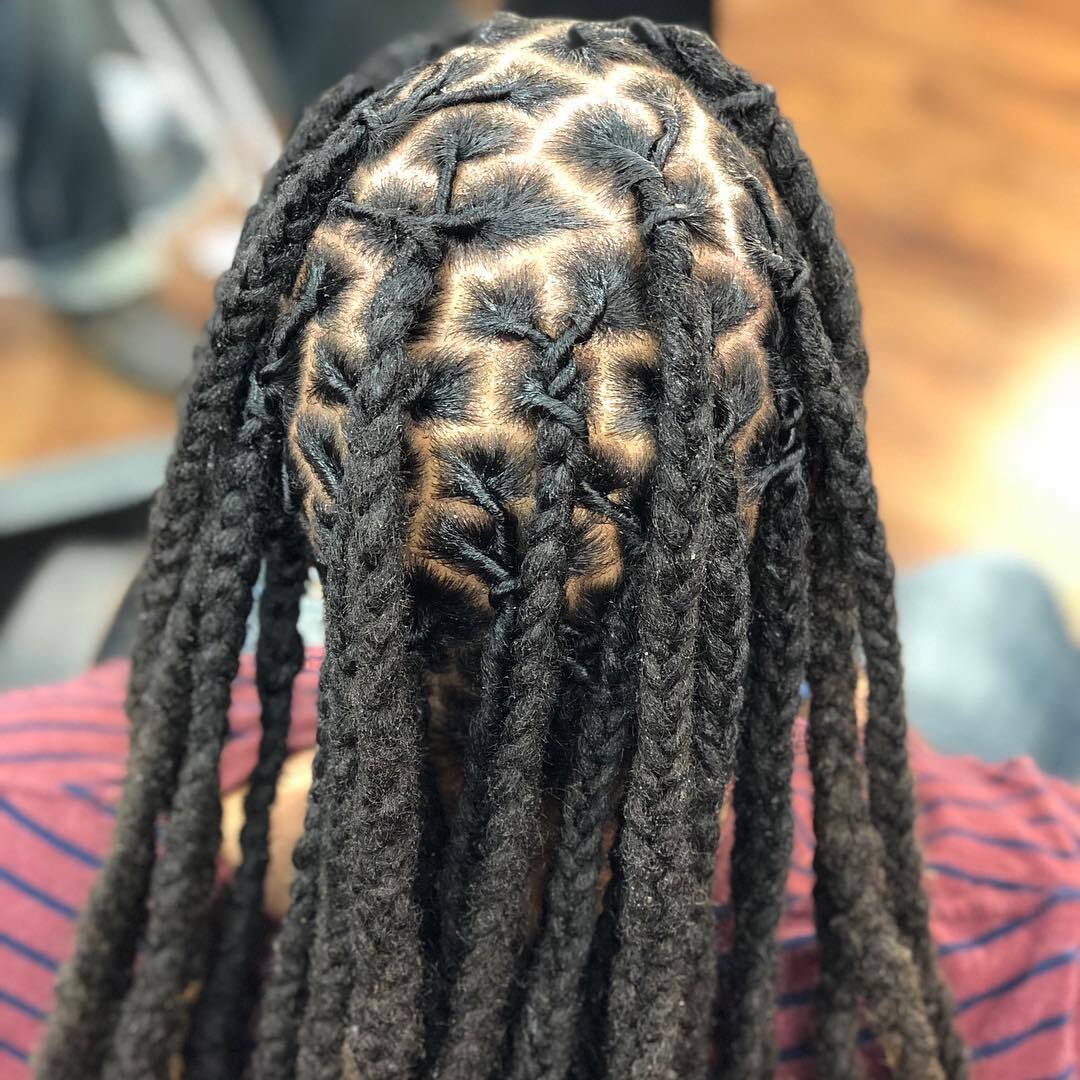 Perhaps you don't fancy twisted dreadlocks, you will definitely love braided locks. Braids make your hair look less voluminous and stylish and adding dreadlocks to it would surely give you more joy. This style would leave you looking gorgeous and rugged at the same time. Lovers of thick long hair are best suited for this style. It doesn't require much to maintain. Just brushing and applying cream would do.
5. Side-swept braided dreads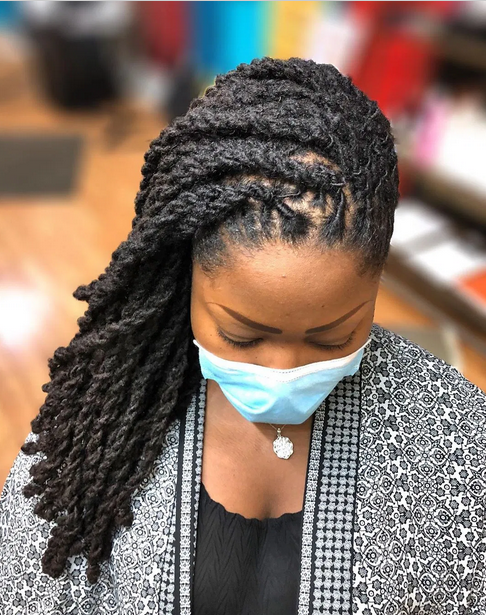 This is another dreadlock style you should try out. It's perfect for those with small faces, especially round ones. This style entails locking the dreads in braids and sweeping them to one side right or left, it depends on your choice. You can also choose the thickness you like.
6. Twisted lock bun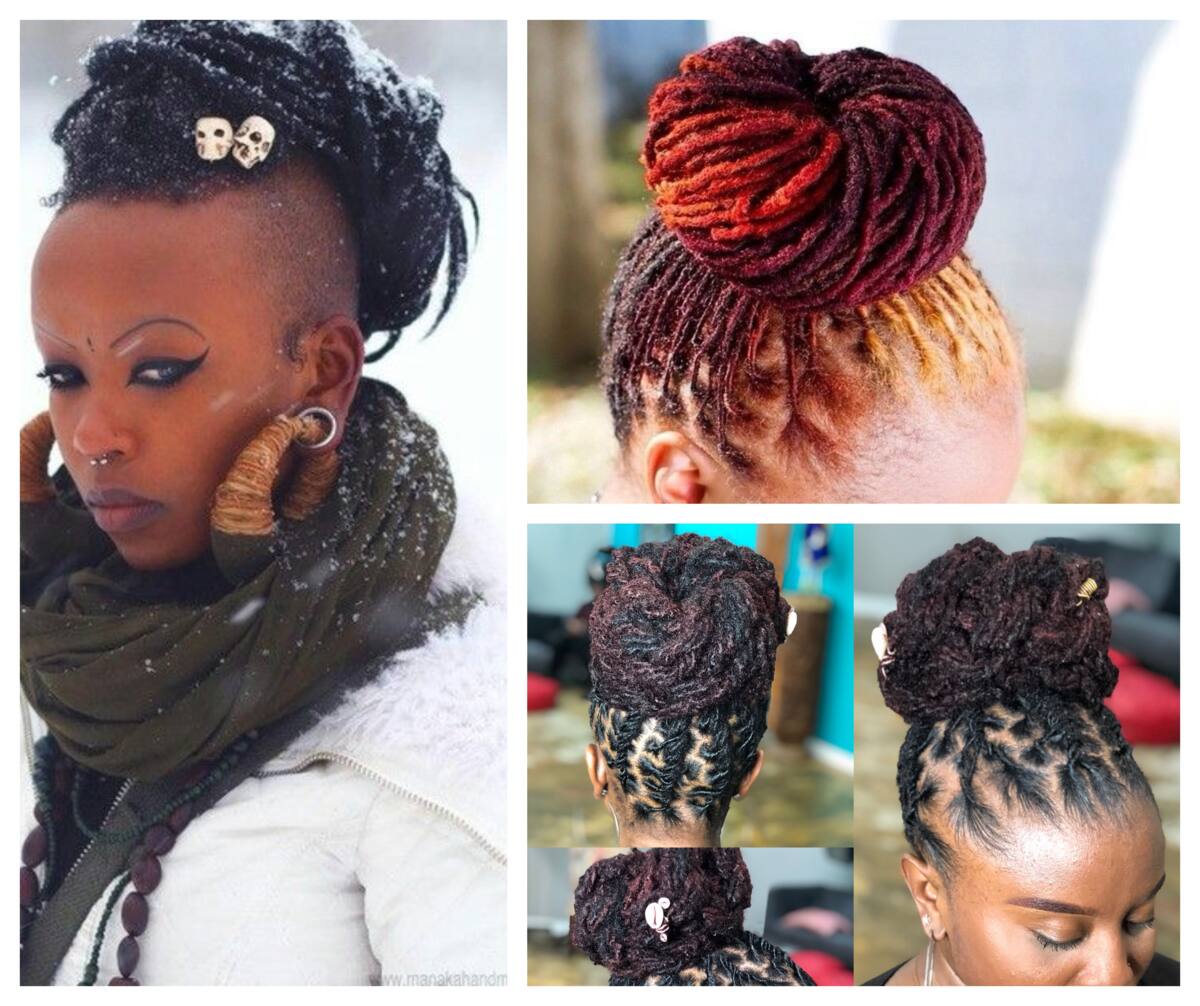 This is another great dreadlock style you should also consider. If you don't like your dreadlocks dangling on your shoulders, you can pack them beautifully in locks. The frontal bun updo is straightforward, classy, and neat. You can rock this hairstyle on your wedding day and at work, that's how versatile it is.
7. Curly long dreadlocks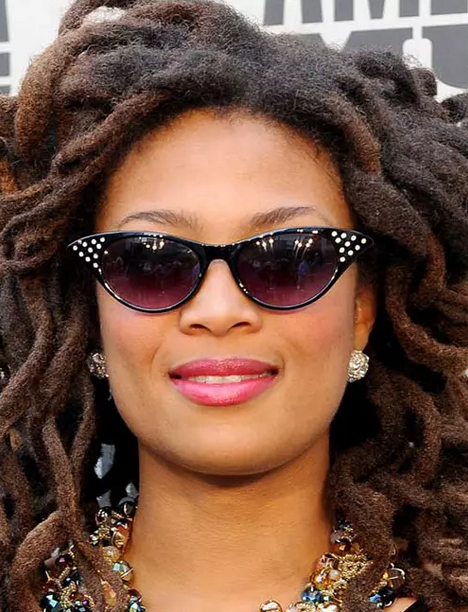 Dreadlocks are cool, aren't they? But have you ever wondered how "cooler" it would be to combine dreadlocks and curls? You would definitely jump at it by catching a glimpse of how it will turn out. You can wear dreadlocks with curls and have that Medusa look. It suits those with round faces better.
8. Long Synthetic Locks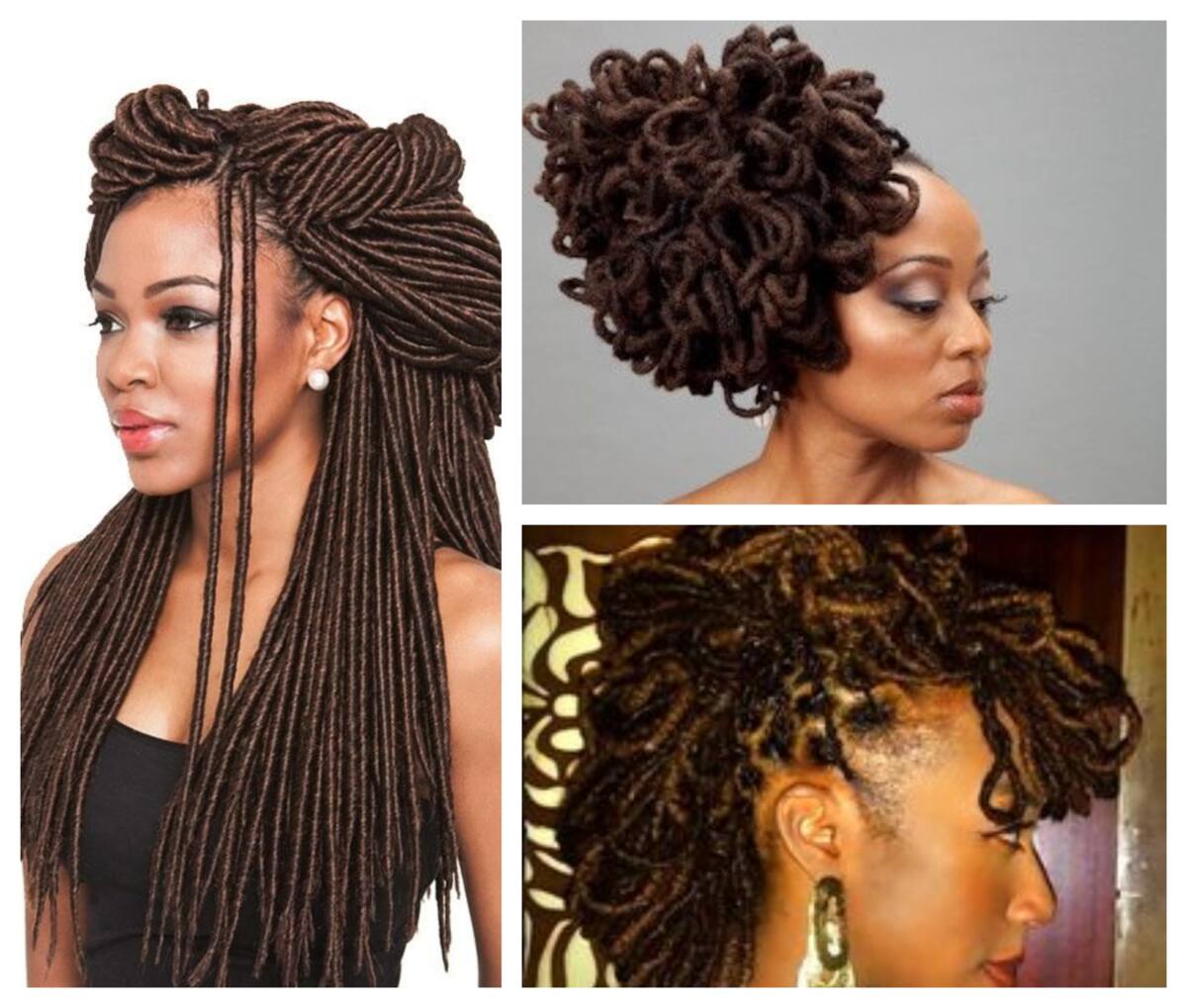 The truth remains that not all dreadlocks styles for ladies need you to lock or turn your hair to its natural texture. If you just want to try out dreadlocks for some time and revert to conventional hairstyles, there is always a style for you. This style uses synthetic (artificial) dreadlocks to give ladies that ultra-special look without touching their natural hair. Long synthetic locks are perfect for every lady who wants to rock the dreadlocks style.
9. Colored locks with a high bun
If you intend to add more color to your hairdo, this is the right style for you. Your locks could be colored all through or you may decide to color the tip. This style is perfect for anyone whether fair or dark in complexion. You may also incorporate different colors that match your taste or complexion. When the dreadlocks are held together in a bun, it gives you a colorful crown.
10. Long wavy dreadlocks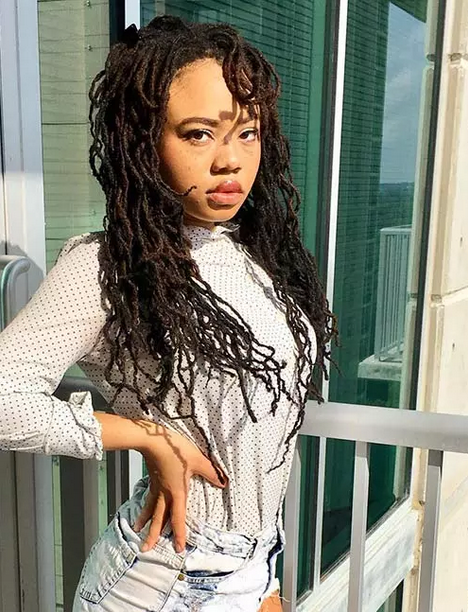 Let your inner beauty out by rocking this great dreadlock hairdo. With this style, you would turn yourself into a total classic chic. The wavy locks may go all the way down to the belle region or stop halfway. It depends on your choice. Rock this style to the beach and thank us later. You may also lace the locks with accessories and beads as you want to enhance the beauty.
11. Soft crochet locks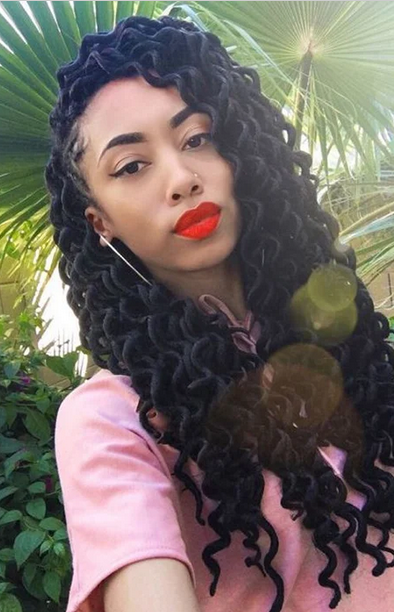 Crochet dreadlocks are beautiful in that they actually start from the front and take your hair edges into consideration. Crocheting makes sure that there's no stress on your hair, especially the frontal. This would make your dreads smoother and thicker. You should try this out if you have lots of hair on your edges.
12. Nested dreadlocks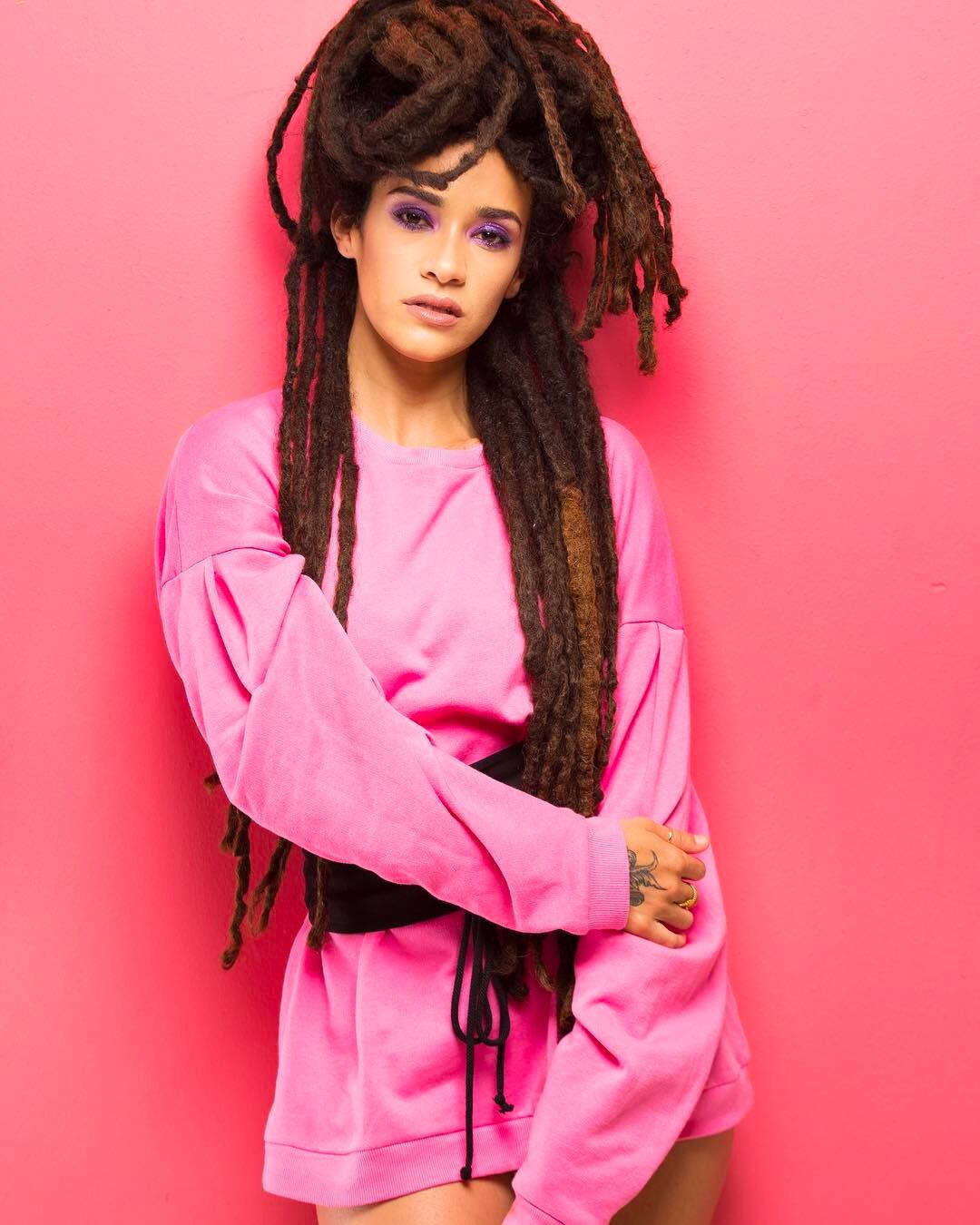 If you are a fan of thick locks and have been on the lookout for something extra, then the nested dreadlocks style is for you. Pack a greater part of the locks on top of your head and arrange them as you want. Use pins to hold them in place while allowing the long ends to flow down naturally to your shoulders and back. You don't need to stress yourself to maintain your hairstyle.
13. Uneven long dreadlocks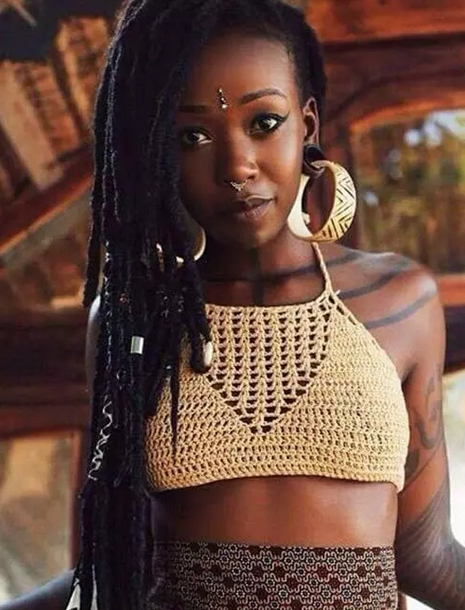 Why don't you get something out of the ordinary by trying this style that doesn't follow a conventional trend? Rock dreadlocks with different lengths and see how beautiful you would look in long dreadlocks that are unequal in length. To better enjoy the hairstyle, add nicely patterned beads to have a better look.
14. Dreadlock bang and ponytail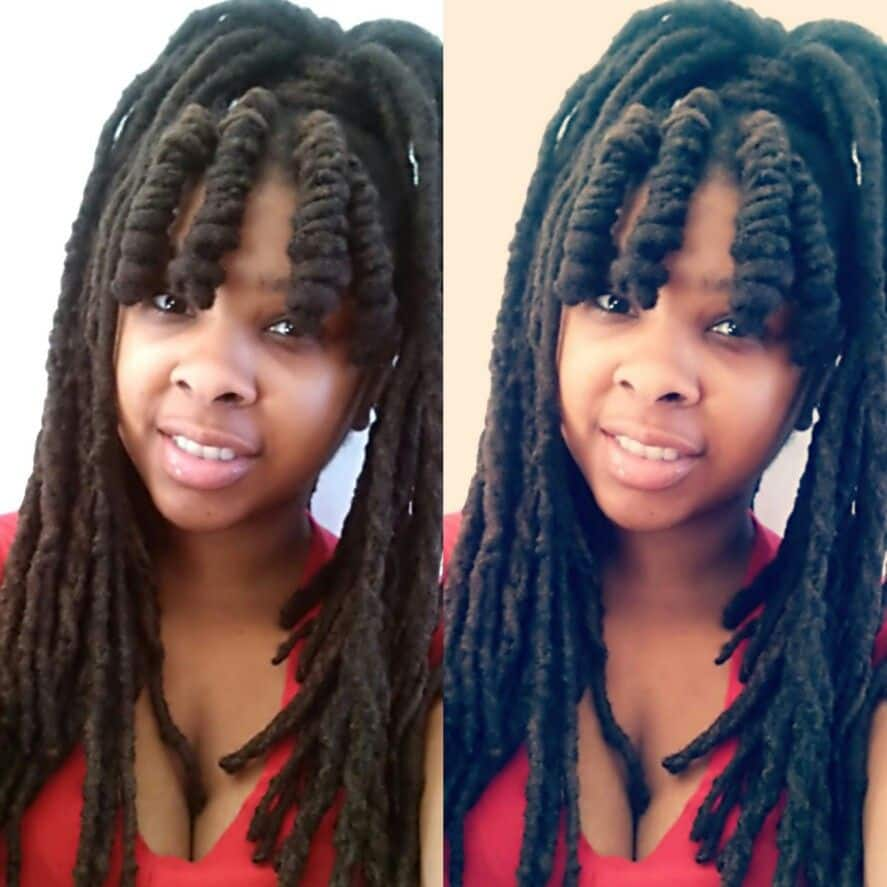 Add more flair to your dreadlocks with this style. If you don't want your locks to look ordinary, add some ponytails at the top and some bangs in front. Straight-up bangs would be the difference-maker here. Those with a high forehead would rock this style better. You can add some hair accessories if you wish to look outstanding.
15. Long dreadlocks with loose ends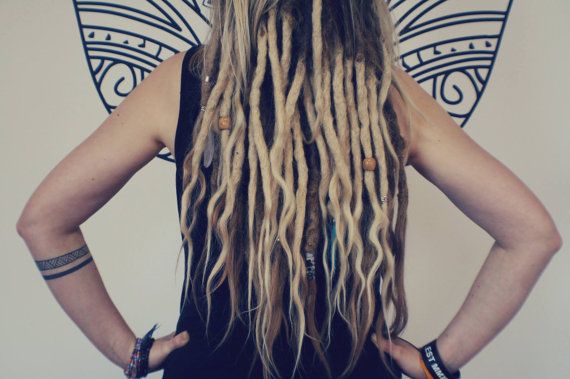 Are you stuck between choosing dreadlocks and your natural hair? Why don't you go for something in-between? Your locks can start from your scalp and be loose at the tips. This is a cool style for those who are new to dreadlocks. This style will definitely make you fall in love with dreadlocks more.
16. Colored spiral locks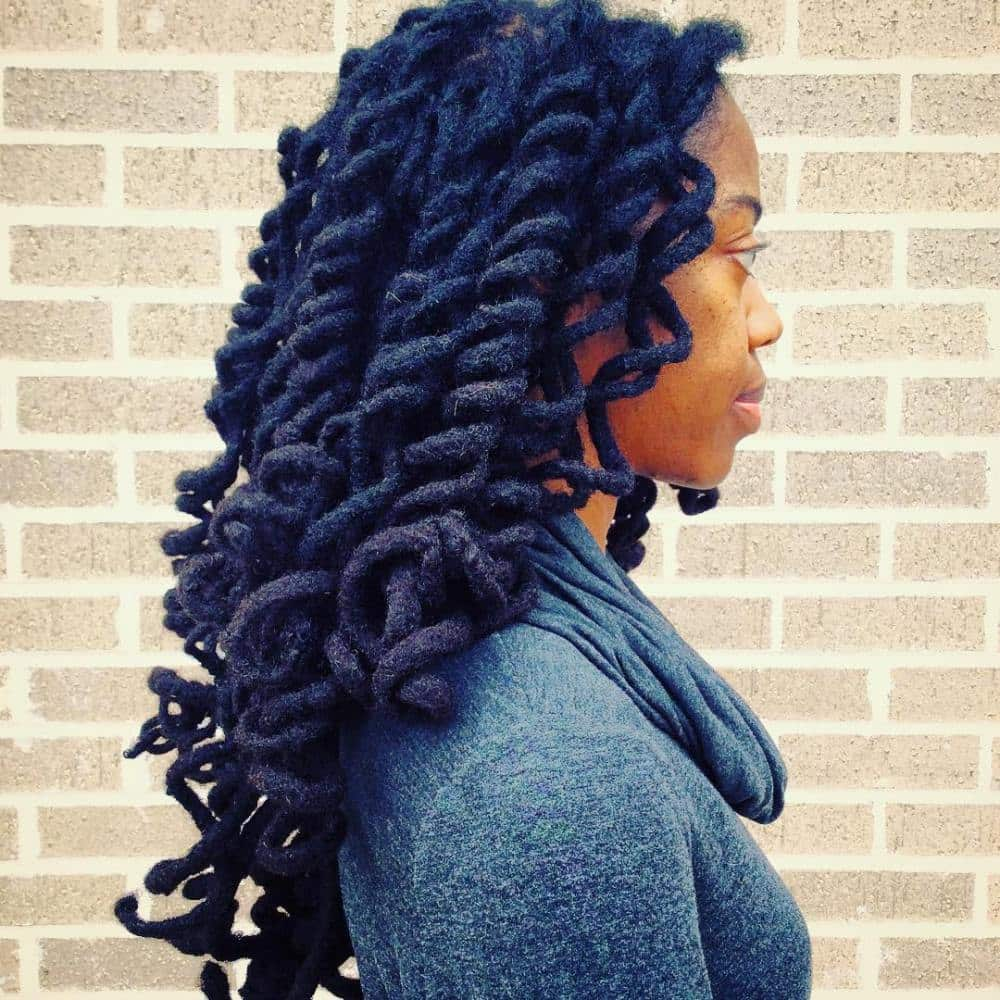 Spiral locks are among the best long dreadlocks styles for ladies. The color can be toned to match your quintessential nature while bringing out your ravishing beauty. This style can be worn by anyone. Just choose the right color for your skin tone and enjoy the style.
17. Half ponytail locks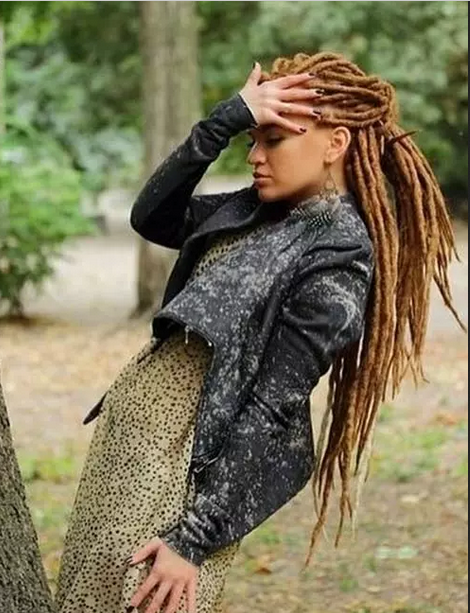 Half ponytail locks have come to stay. This is a style that would class you out of the rest wherever you go. It can also be converted to a full ponytail and vice-versa. You can use this style in a single color or with different colors. It blends well with your mane and is best for any kind of face. Lace it with some beads at some strategic places to get the best out of this style.
18. Long pigtails locks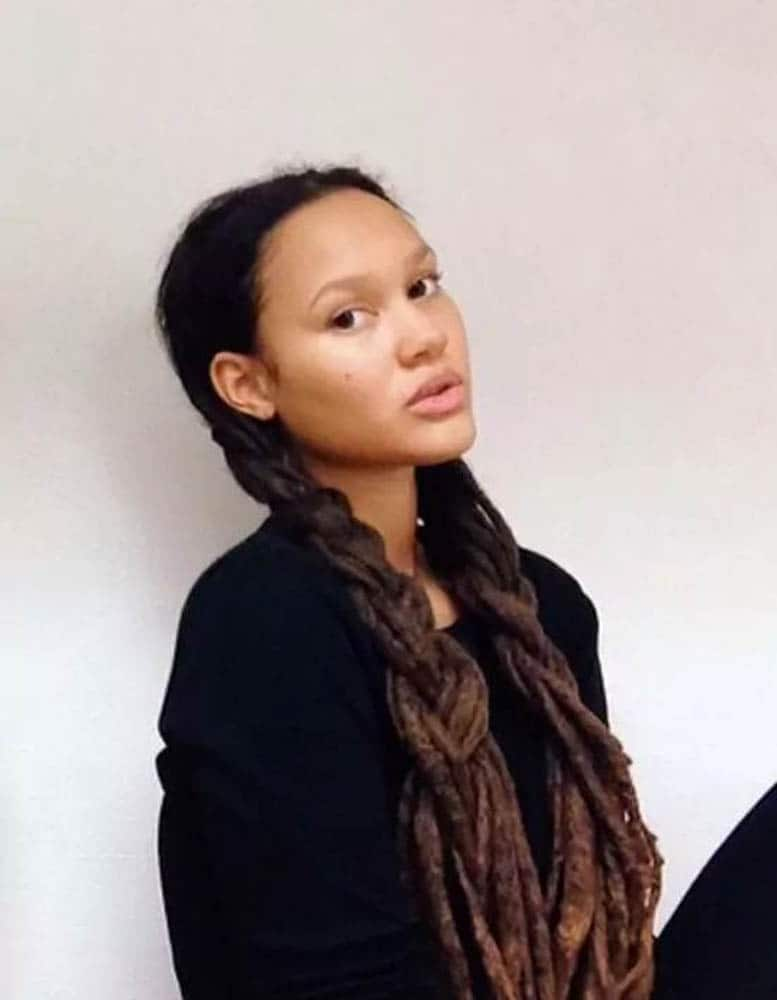 If you are undecided on the style to wear, consider this one. It's a simple dreadlock hairstyle that extends past the shoulder. The style is perfect for celebrities or those that have stayed in the dreadlock game for long. You can groom your existing dreadlocks into pigtails and keep it shinning all day long with a good moisturizer.
19. Bow-shaped bun dreadlocks style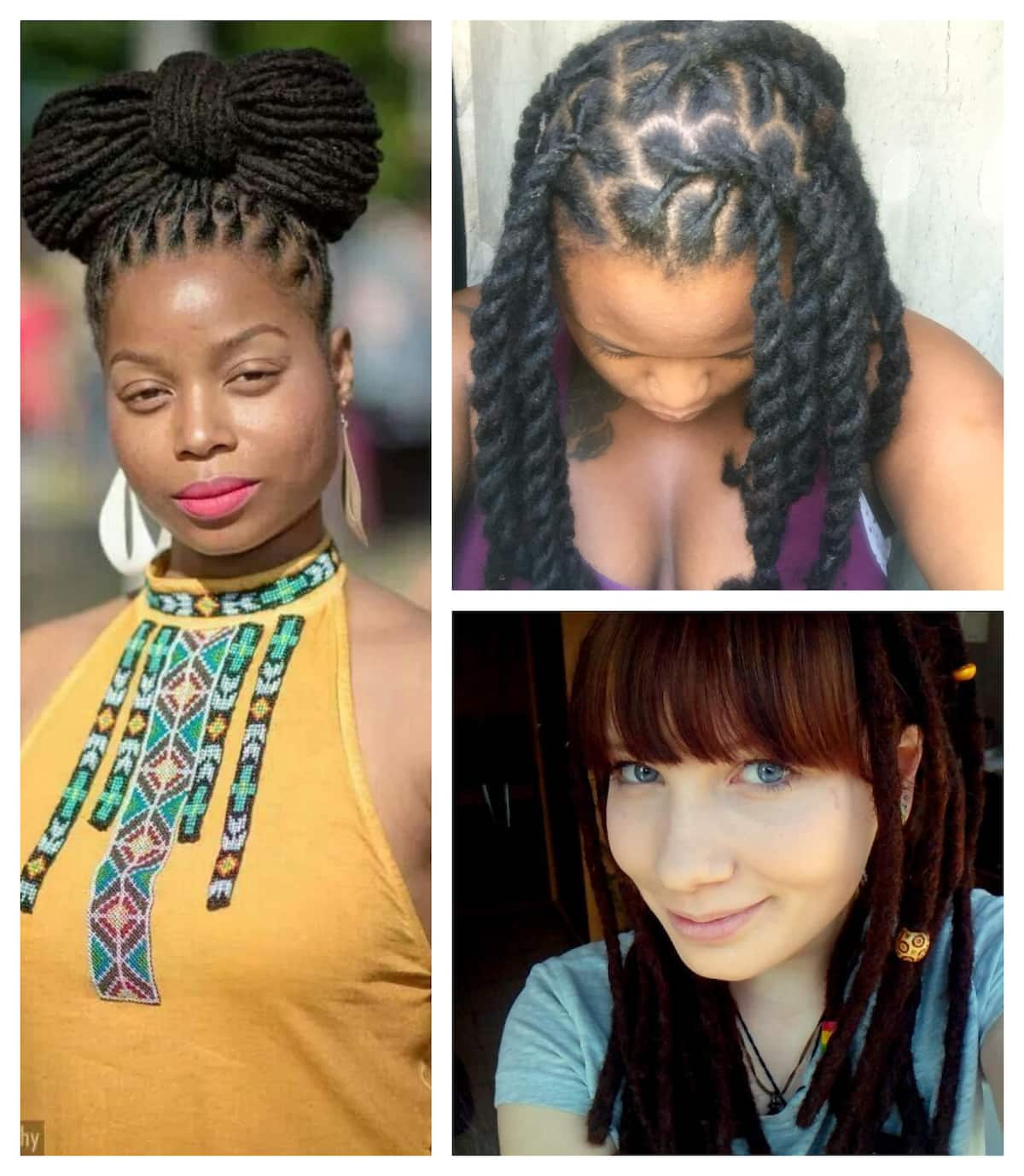 Dreadlocks are actually an art and the bow-shaped bun style shows that you can freely and creatively express yourself with this unique dreadlocks style. It is not only creative but also beautiful. Rather than stick to the conventional circular bun, you can employ this style and look different in a unique and classy way. This style is perfect for ladies with light skin color and face round structures. You just have to get the right professional to fix it for you. You can "spice" things up with some colors, beads, and any other hair accessory.
20. High Ponytail with Undercut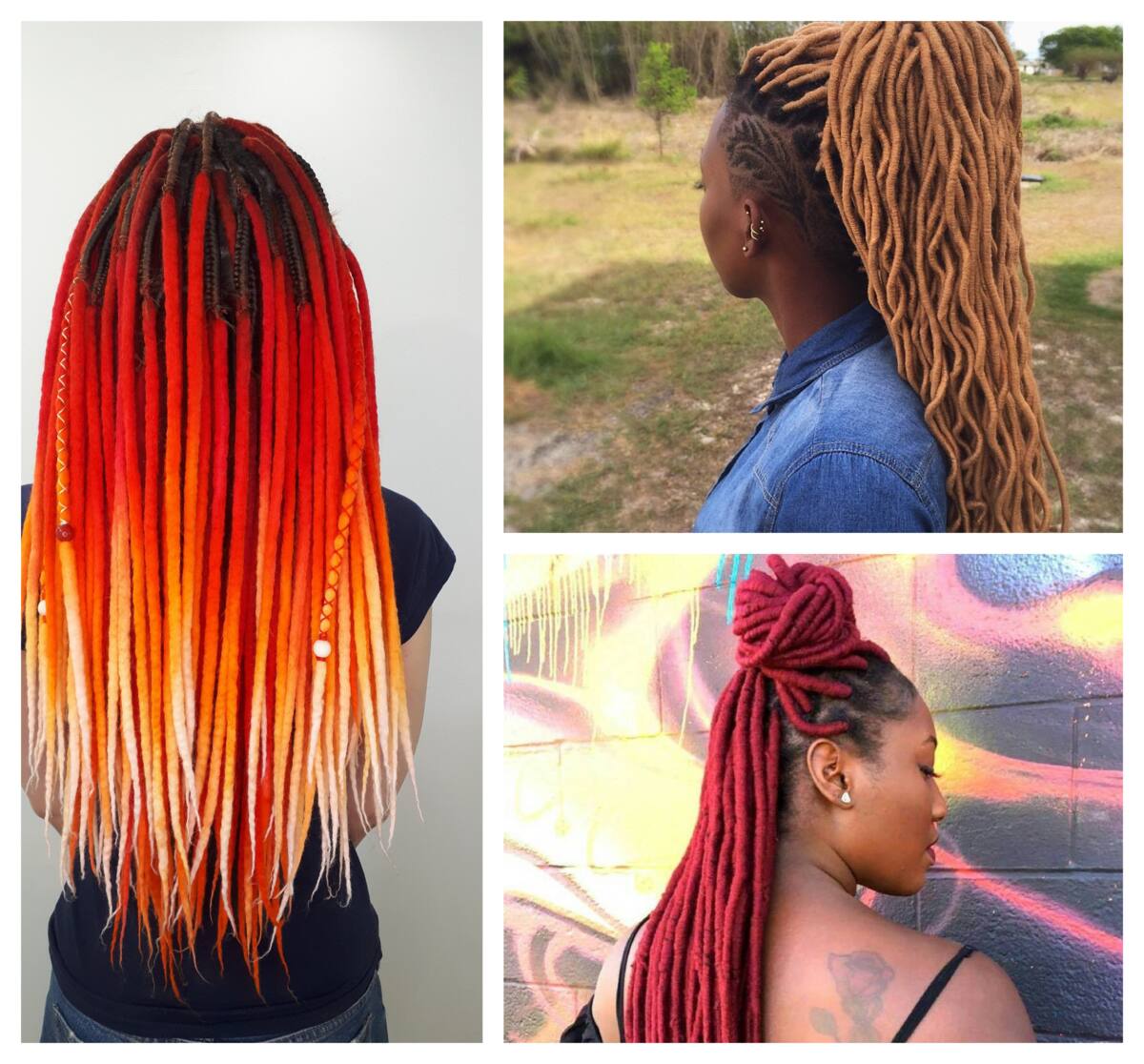 Amongst the fancy dreadlocks styles for ladies, this can be regarded as one of the classiest. While it may look simple, the undercut brings a whole new look to this. If your intention is to look rugged and smart at the same time, then this is your best bet. Tall ladies with small faces are best suited to wear this style.
Short Dreadlocks Styles for Ladies
Short dreadlocks styles for ladies are a fashion trend many ladies are going after these days. The length of the dreads in contrast to long dreadlocks styles for ladies do not extend beyond the neck of the person wearing it. They typically stop at neck-length for most and can be thin or bold. It is also common to see these dreads in various colors, depending on the preference of the lady. Some of the short dreadlocks styles here like Dreadlock Ponytails, Short dreadlocks with beads, Short thick dreadlocks, Plain Skinny short dreadlocks, The bob length locks, Crazy short dreadlocks, Small ombre colorful locks, and Pinup dreadlocks can also go for men and in fact, looks spectacular on them.
21. Short dreadlock ponytails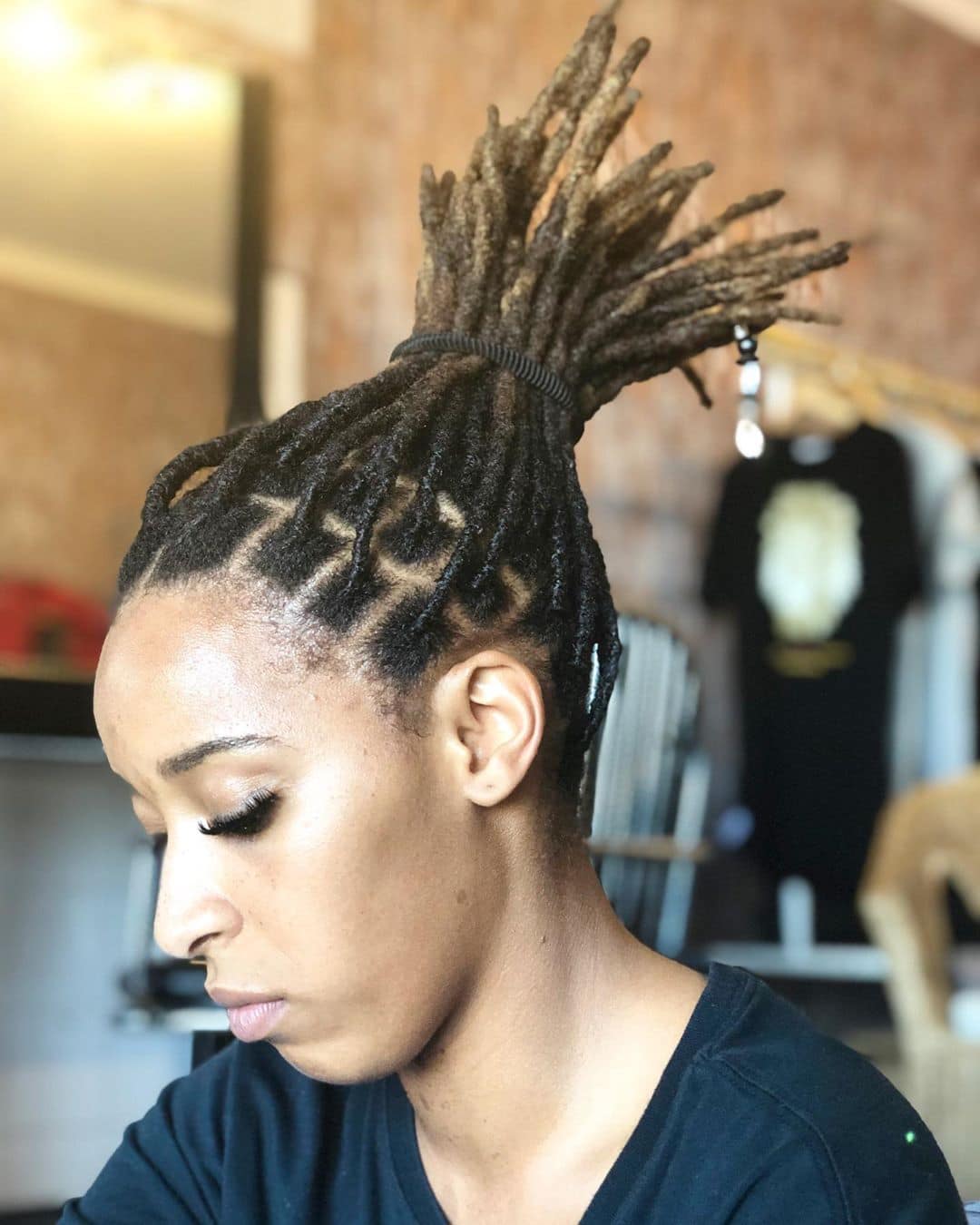 Top on the list of our short dreadlocks styles for ladies is the dreadlocks ponytail. This style looks clean and makes ladies who adorn them beautiful effortlessly. Combining ponytails with well-patterned dreadlocks will be nothing but an eye-stunner. The style fits just anyone perfectly regardless of the length of their short hair. You could leave the ponytail at the middle and lace it with a brightly colored ribbon or band.
22. Short dreadlocks with beads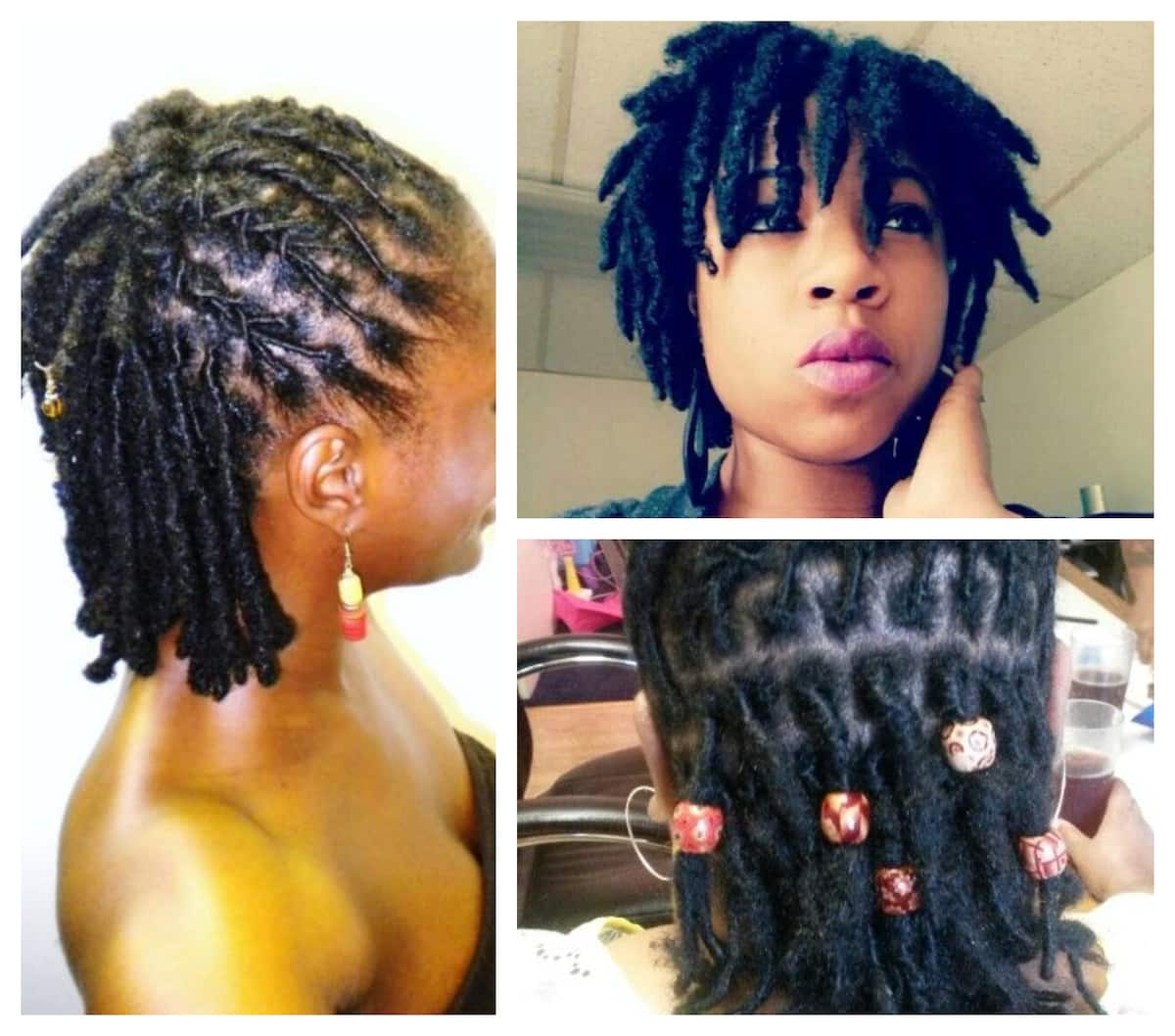 Want to try something exceptional? This traditional short dreadlock style with beads should be your next option. It adds more glamour to your hair and brings out your innate African beauty. The type and color of the beads to use are ultimately up to you but it would be best to use one that either reflects your identity/culture or matches your style. It is also important to note that thin short dreads ideally go with thin beads while bold dreads ideally go with bold dreads. You can also use beads you can easily remove to vary how your dread looks when you step out.
23. Short thick dreadlocks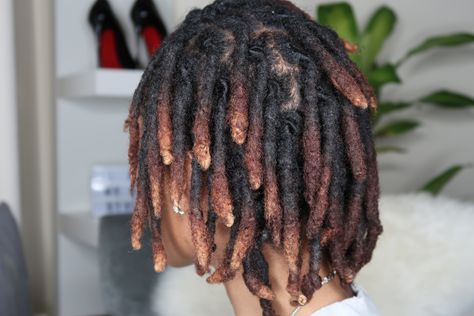 Perhaps you have short thick hair and you are wondering which dreadlock style it would match. The short thick dreadlock style is the answer. This style is easy to craft and straightforward to maintain. It is an avenue to make good use of your thick hair and another advantage it has is the option it gives you to color your braids the way you want. Most ladies prefer brown color at the tip and bold part of the dread as this has a unique way of contrasting with the color of their hair and also skin.
24. Plain skinny short dreadlocks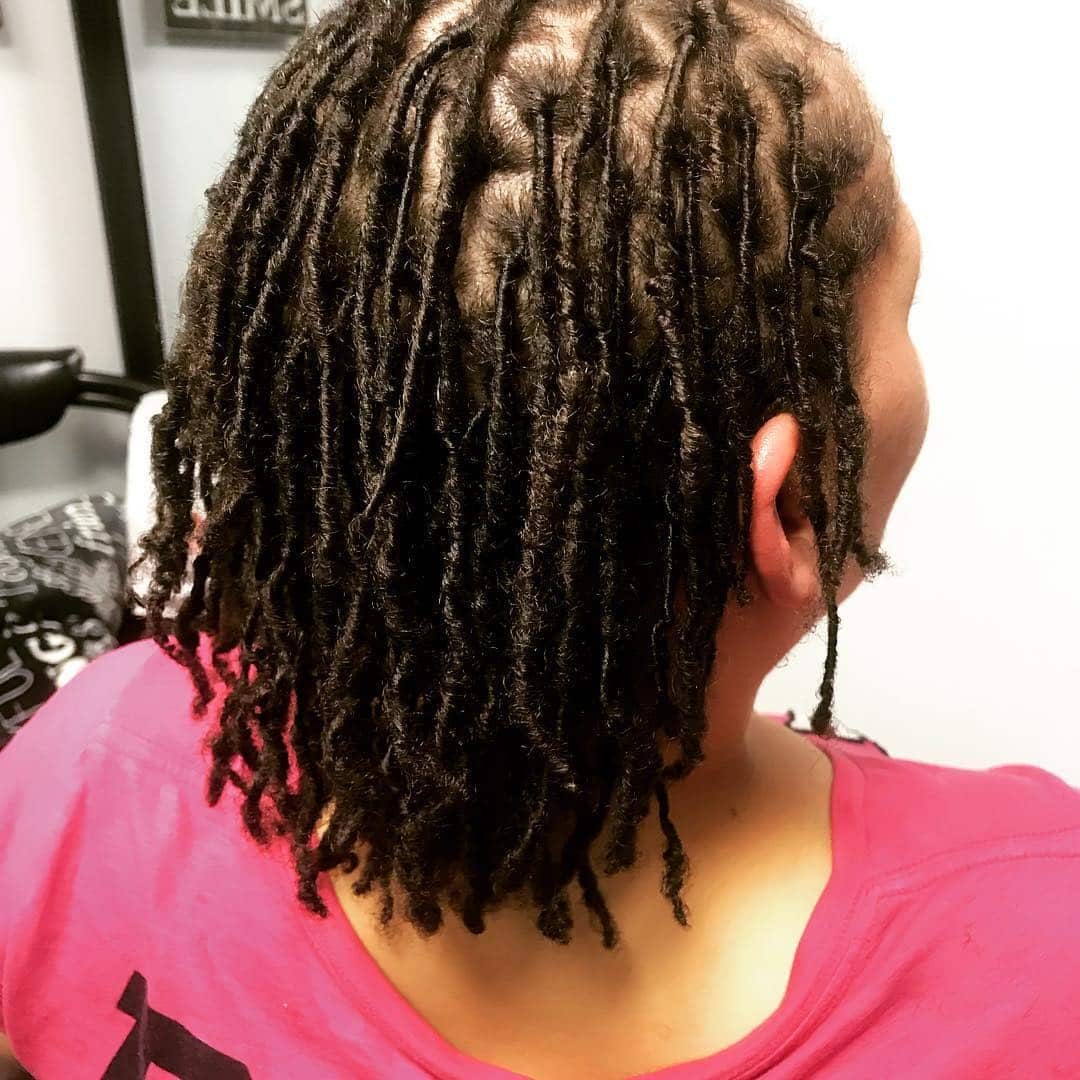 You don't only have the ability to incorporate other styles into dreadlocks styles, you are also at liberty to choose the thickness. The plain skinny short dreadlocks are simple yet stylish and beautiful. It's perfect for those with small scalps or without long hair. That way, making the dreads into thin and short strands won't be a problem. Taking care of this dreadlocks style is also easy as the locks require minimal maintenance. Simple warm water wash with shampoo will get your dreadlocks cleaned up and fresh.
25. The bob length locks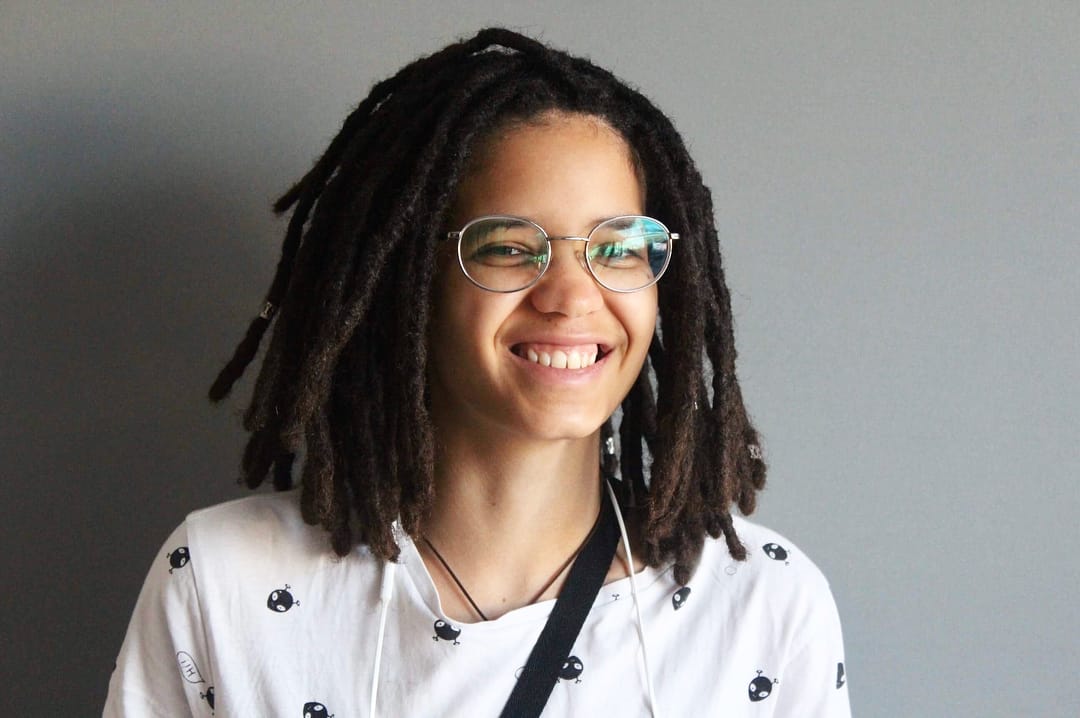 The bob length style is perfect for light-skinned ladies. You don't need to invest much time and materials to have this dreadlock and it doesn't require much maintenance. If you have short hair, just get this dreadlock and let it flow. Always remember to wear this lock with a smile and your beauty would be as radiant as ever. This style also makes slim ladies stand out with their bold beautiful dreadlocks.
26. Short curly colored dreadlocks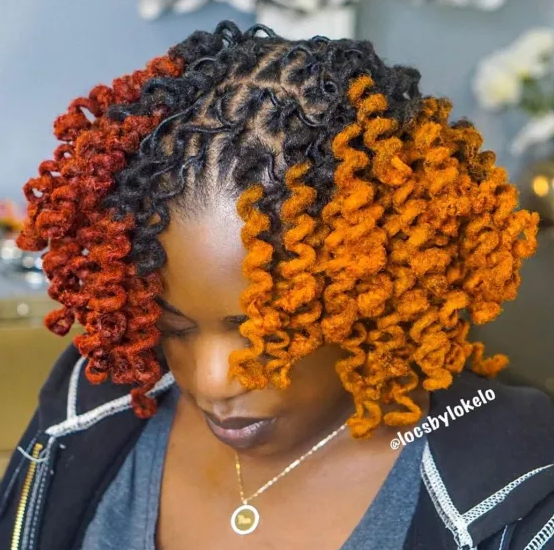 Short dreadlocks are wonderful on their own and adding some color to them is nothing short of a beauty enhancer. It's best to color the dreadlocks at the tips of the locks. You can use a single color or multiple colors to match your complexion or just whatever you feel comfortable with. Rock this style if you are chocolate or dark in complexion and watch people compliment your beauty.
27. Coral Reef Updo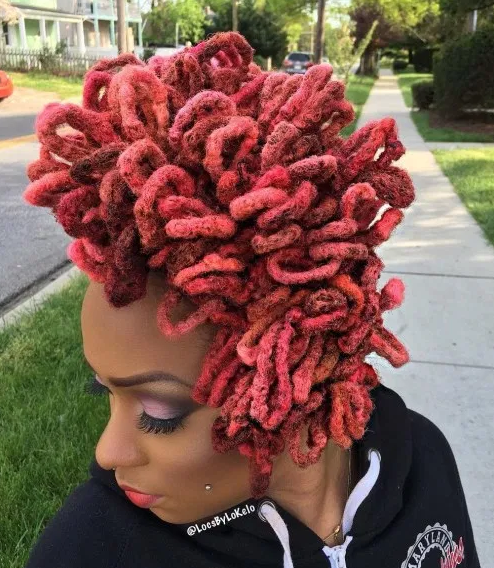 Many people often think dreadlocks come with limited styles but this isn't the case as you can see with this style. The coral reef is undoubtedly stylish and would perfectly fit just anyone no matter the hair size or face pattern. It can also be colored to bring out the best look, depending on preference. If you rock this asymmetrical hairdo, be ready to answer questions on where you saw the style and the stylist that made it for you. You get the best look when you color this dread in a bright color and you can always match it up with the colors you use for your makeup.
28. Two dreads high up buns
Perhaps you are tired of a single high-up bun, you can as well switch to this style. You can convert that big single bun to two cool smaller buns on both sides. You can add some color to this style when styling. Both buns can be of the same or different colors. This style is perfect for teens and young adults who have a playful and joyous attitude to life. Just as with many other dreadlock styles, maintenance isn't much of an issue.
29. Petals-shaped locks style
Are you a lover of flowers and want your dreadlocks to be shaped like one? Then the petal-shaped lock style is something you should consider. This is obtained by folding the dreadlocks to form the shape of a petal and keeping them in position with pins. You might be wondering how one can sleep with this but with satin bonnets on, you would surely have a sound sleep.
This style is perfect for just anyone but those with a high forehead are better suited for it as the petal-shaped lock would need some space to settle on.
30. Messy lattice lock crown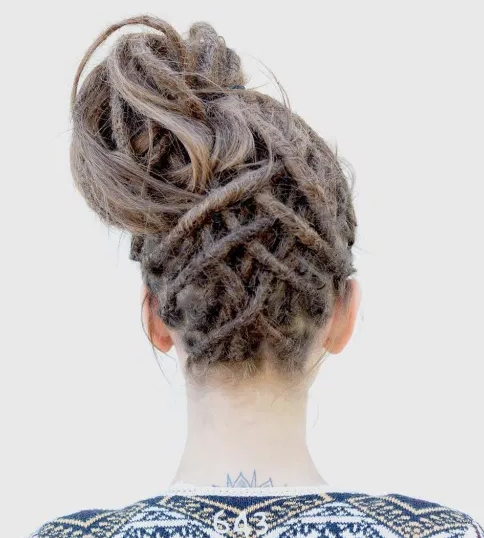 Still, thinking that dreadlocks are only restricted to one style? Check out this style and see how beautiful short dreadlocks can be when you turn them into different styles. For this style, you can lock your hair in full or keep the ends open the choice is yours. Then your stylist can arrange the locks in a regular pattern to form a lattice crown. Perfect for fair-complexion ladies, this style can be worn to any occasion and you will surely steal the show with the unique aura it brings out.
31. Short mohawk dreadlocks hairstyle 
When you have long dreads in mohawk style that you would love to style differently, your options are pretty much limited but with this short mohawk dreadlocks style, you can look entirely different with the same dread. All you need to do is to cut the long dreads you already have and take a good clean shave to the sides of your head, then pack your dreads either to one side or in the middle.
There is also another option for not cutting your long dreads but this would require you to weave the dreads at the side of your head into one lock from one side of your head to the other. You can also weave the locks to support the locks in the middle of your head to form that traditional mohawk look. With either style, you will come out looking elegant.
32. Short bob dreadlocks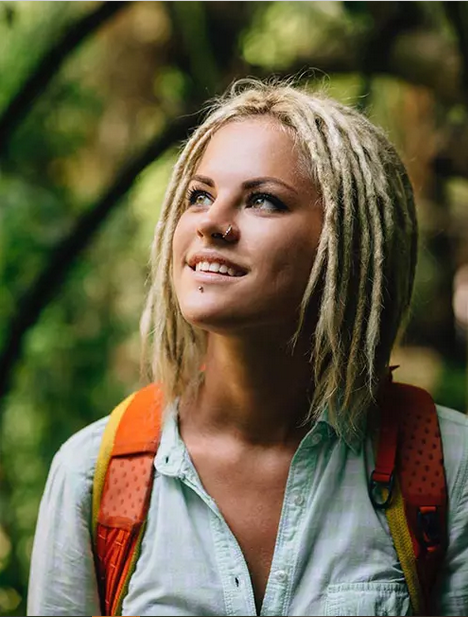 With the short bob dreadlocks, you would stand out anywhere you go. This style would bring out that young look in you while leaving you with a classy look. The hairdo is perfect for outings with family and friends, work, and more. It also makes sense when keeping to time is an important factor.
33. Crazy short dreadlocks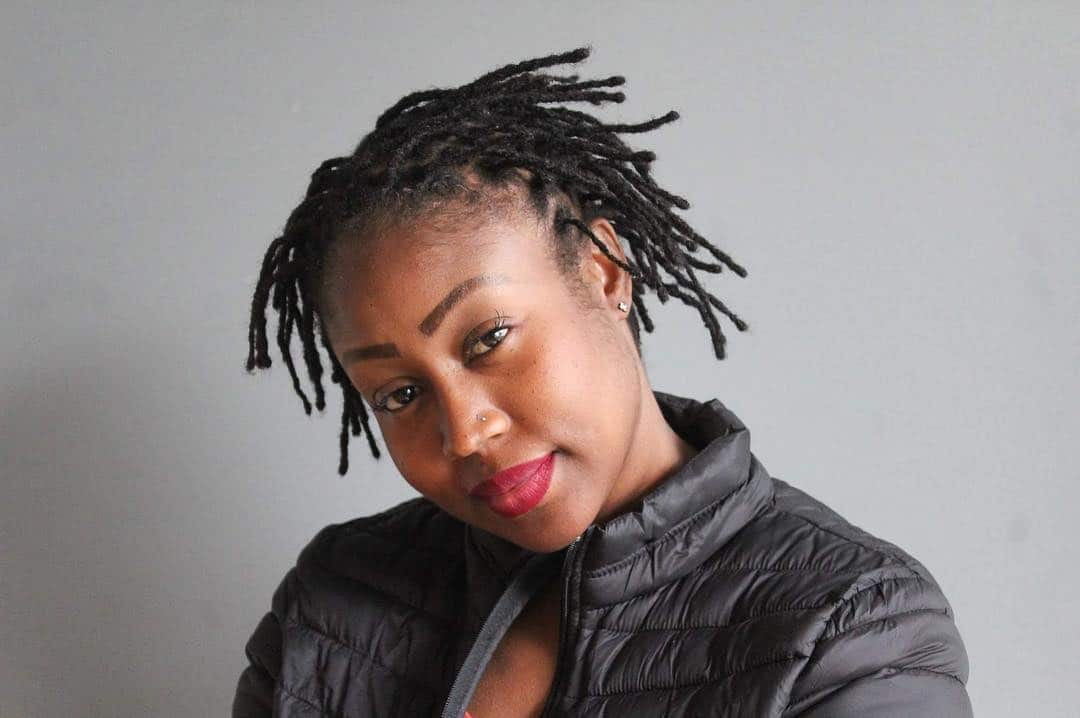 Although this came up due to the inability to choose a style, it has become one of the fancy go-to styles many women wear these days. It's also a style many dreadlock newbies try out first but guess what? Many fall in love with it instantly and stick to it. This style may look crazy but it's cool. If you have short hair, wear this style with pride. You might want to add one or two accessories to it but keep it simple.
34. Small ombre colorful locks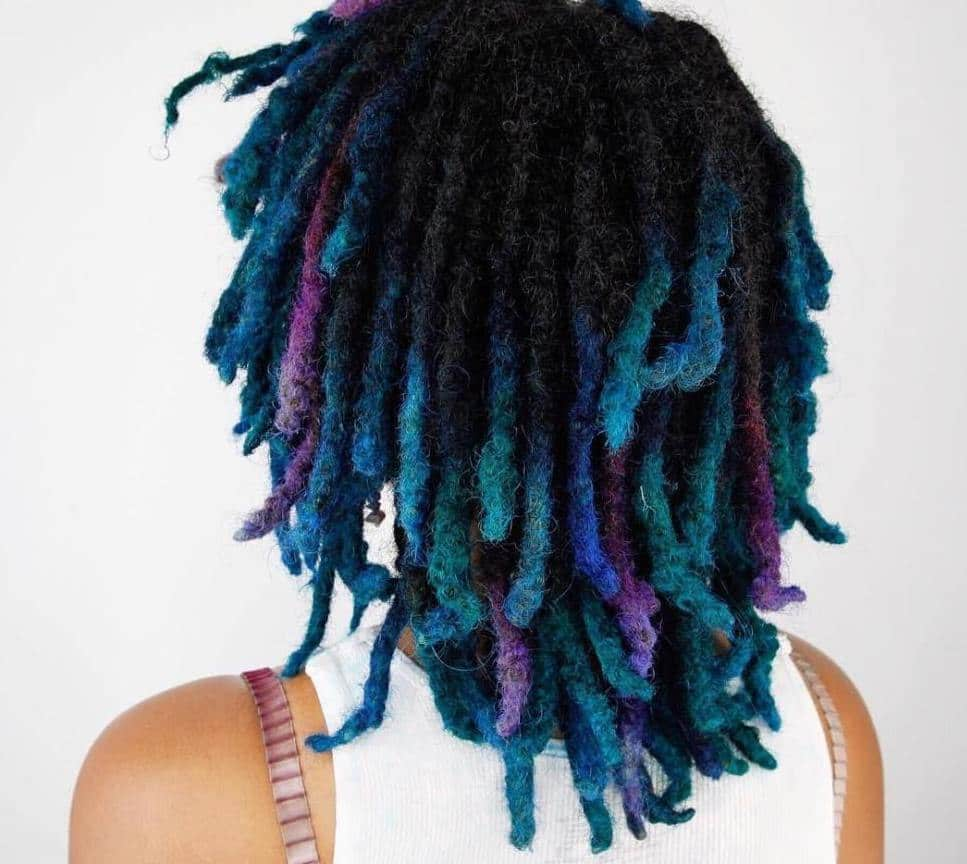 This style best suits those that don't fancy organized dreadlocks. This colorful dreadlocks style makes you look adorable in a unique way. Pattern the locks the way you want with colors of your choice. You may decide to use beads too. It perfectly fits any skin complexion and doesn't require much styling.
35. Pin up dreadlocks
Have you considered turning your short dreadlocks to the pin-up style? You should if you haven't. Gather up all your locks as a whole and tie them with a bandana. Spread the locks out at the crown of your head and make it look full. This style can enhance your appearance and make you look younger than your age.
36. Crinkle locks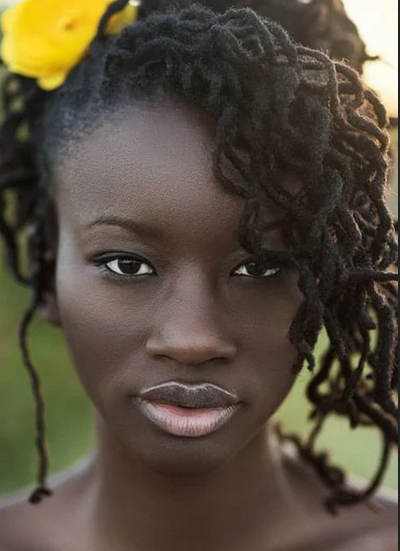 Get more from your locks with the crinkle dreadlocks style. This style is fun and quite technical to create but if you eventually have it on, you would be glad you did. Perfect for a black lady with a high forehead, this style makes you a model and more. You also do not need anything extra because its maintenance doesn't require much for this style.
37. Side-twisted dreadlocks style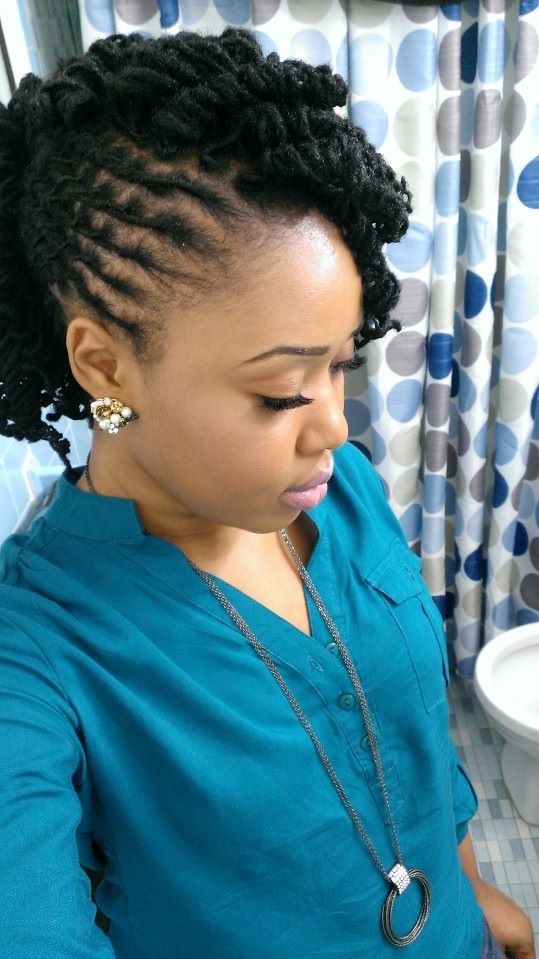 This is yet another petal-shaped dreadlock but this time it is positioned on one side. This can be plain black or colored. You can also make it in multiple colors. This style fits perfectly on dark-complexioned ladies and doesn't require much to maintain. Just some lotions in the morning and evening to make it look silky and shiny.
38. High top locks
One distinguishing factor that separates high-top dreads from others is that it's more of a personal expression than a hairdo. This style gives structure to your hair while giving you that matured lady look. Although it's preferable for the dreads to be short, you can also grow them as long as you like. To style the hair, you can sweep them forward or to the sides, depending on your preference.
39. Bantu lock knots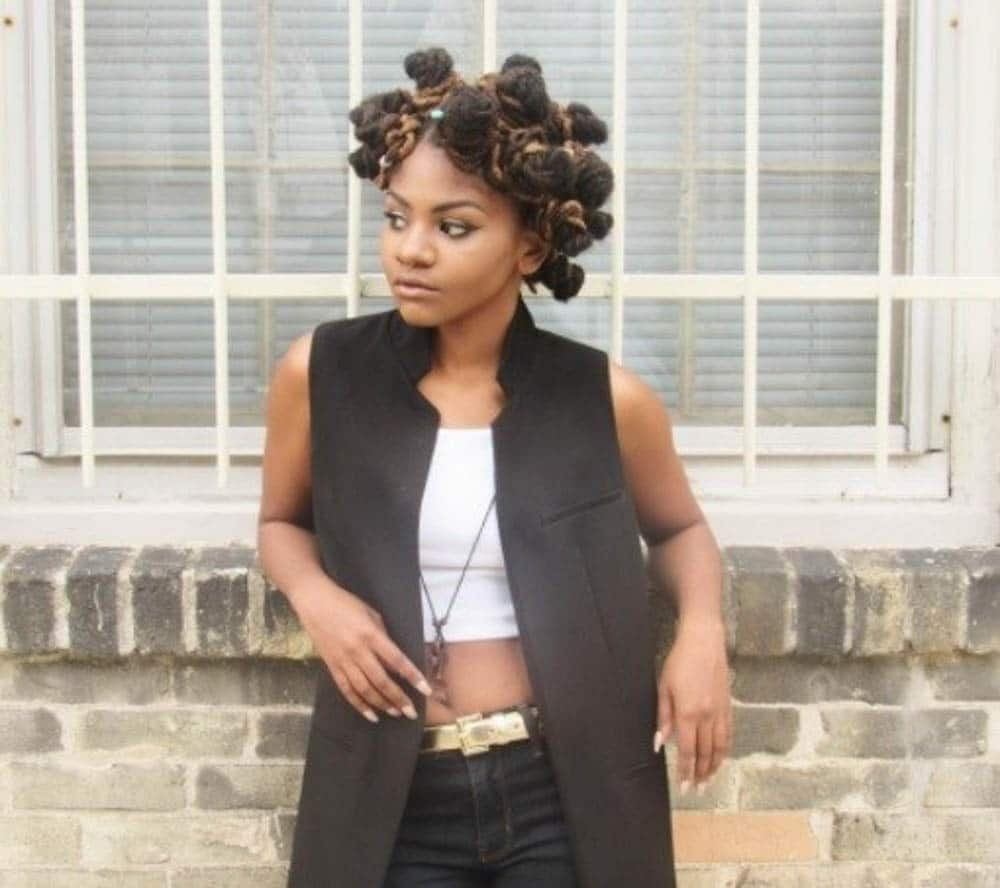 Want to look more African with your dreadlocks? Try out the Bantu knots dreadlocks style. This style perfectly fits the black woman as it brings out the natural beauty in her. For the style to fit better, you may need to style your hair edges with gel to make your edges and side balls stand out. Secure the knots in place with a band.
40. The side puff bun
Do you have small thin locks and wonder how you could style them? Try taking the dreadlocks to side puffs and see how glamorous you will look. This hairstyle stands out amongst the best for weddings and other occasions. It's best suited for a small round face with a dark complexion.
Recap of the Top Fancy 40 Dreadlock Styles for Ladies
Long dreadlock Mohawk
Twisted thick long dreadlocks
Twisted thin long dreadlocks
Long braided dreadlocks
Side-swept braided dreads
Twisted lock bun
Curly long dreadlocks
Long Synthetic Locks
Colored locks with a high bun
Long wavy dreadlocks
Soft crochet locks
Nested dreadlocks
Uneven long dreadlocks
Dreadlock bang and ponytail
Long dreadlocks with loose ends
Colored spiral locks
Half Ponytail locks
Long pigtails locks
Multi-colored long yarn locks
High Ponytail with Undercut
Dreadlock Ponytails
Short dreadlocks with beads
Short thick dreadlocks
Plain Skinny short dreadlocks
The bob length locks
Short Curly colored dreadlocks
Coral Reef Updo
Two dreads high up buns
Petals-shaped locks style
Messy lattice lock crown
Bow-shaped bun dreadlocks style
Short bob dreadlocks
Crazy short dreadlocks
Small ombre colorful locks
Pin-up dreadlocks
Crinkle locks
Side-twisted dreadlocks style
High Top locks
Bantu lock knots
The side puff bun
How to Ensure Your Dreadlocks Does not Destroy Your Edges
It's a common belief that locking your hair would adversely affect your edges but this isn't totally true. Edges are those soft hairs that grow along your hairline. They are just like baby hairs, very delicate, and frame your face. Their delicate nature makes it imperative for you to take extra care with them when you are wearing locks so they don't break or pull out. Let's consider some techniques you can employ to ensure your locks don't destroy those edges.
Wear dreadlock styles that don't put too much pressure or stress on your edges. This mostly has to do with the length and bulkiness of the dreadlocks. When there is much stress, your edges may fall out. In essence, it's best to choose the one that suits your hair type and strength.
It's advisable you choose dreadlocks styles that don't start from your edges. Some locks can grow to become quite weighty and this can put stress on your edges. If your lock doesn't cover your edges, massage them with natural oils. The oil will stimulate growth while strengthening the edges.
Don't touch your edges too much if they are exposed and even if they are locked, don't pull the dread. You can pull out the edges too.
Choose only the right hats, bandanas, and headbands. A satin scarf is more preferable as it would protect your soft edges. Headbands with silk lining can also go.
While moisturizing your dreadlocks, don't forget your edges. They need care too but you have to be careful while at it.
Apply edge control when you have dreads on but to protect the locks, avoid applying them everyday. Three times a week is okay. Choose only the right products and ensure your edges are damp before applying.
Only use a soft brush when brushing your locks or edges.
Be careful with heat. Hair edges don't like heat due to their delicate nature. While drying your dreadlocks, use a minimal amount of heat or dry naturally after washing.
History of Dreadlocks: It Dates Back to the Ancient Times With Spiritual Reverence

There have been lots of questions about how dreadlocks came into existence. Dreadlocks aren't new to many people and cultures. There are even speculations that they are as old as the earliest of men and as humanity evolves, different dreadlock styles have also been invented.
The earliest records show that prominent personalities in ancient Egypt such as the Pharaohs and other important officials of the royal court locked their hair. It was seen as a symbol of wealth and great power at the time. This can be seen from the drawings and carvings of ancient Egypt. Other cultures like the Celts, Greeks, Vikings, Aztecs, and others also wore dreadlocks.
Dreadlocks have also been seen as a symbol of spiritual authority or status. Many religions ask some special set of people not to comb their hair or even cut it. This is evident in the case of Samson in the Bible. After he lost his dreadlocks, he became powerless against his foes. In the Vedic scriptures, the Hindu god of destruction Shiva was described as wearing dreadlocks. The scriptures called it "jaTaa" (meaning twisted lock of hair).
In many parts of Africa, people with dreads are treated with some form of respect and some are even feared. In the western and eastern parts of Nigeria for instance, dreadlocks are called "dada" and special children are said to be born with them rather than growing them later in life. It is said that these people bring blessings to their families and are special in terms of strength and health. No one has to touch or cut their dreadlocks as this could make them very sick and they could lose their lives in the process.
The Term Dreadlocks is Traceable to Ethiopia
We have become so familiar with the name that it's hard to determine where it came from. The term "dreadlock" can be traced back to 1936–1941 when Emperor Haile Selassie I of Ethiopia was forced into exile as the Italians invaded the country. Keen followers and guerilla fighters of the country vowed not to cut their hair until the Emperor was reinstated. Due to this, their hair became locked in a way thought to be frightening and disgusting which led to them being seen as dreadful. The term "dread," used to describe their locks, later stuck and became known the world over as dreadlocks. Their actions later became an influence in the Rastafarianism religion named after the Emperor's given name, Ras Tafari, which many Jamaicans adhere to, to date.
The Jamaicans took dreadlocks to a whole new level. Dreadlocks grew in popularity rapidly in the country just as Rastafarianism grew. Men began sporting this unique hairdo in adherence to the religious instruction given in the Bible, book of Leviticus 21:5, where men were instructed not to make baldness of their head. It didn't take much time before women in the country followed suit and the use of dreadlocks grew rapidly amongst them. The growth of Reggae music brought dreadlocks into the international limelight and made many people know they can rock the style without any spiritual undertone or implications. Bob Marley, a Jamaican and Rastafarian, through his music generated lots of international interest in dreadlocks.
The Changing Narrative in Favour of Dreadlocks in Recent Times
At the mention of dreadlocks, the first thought that comes to the minds of many people is entangled and unkept hair arising from the owners' negligence, filthiness, and/or laziness. This was the picture most people who were yet to see the intricate beauties of dreadlocks, had about them. They were seen generally as a non-formal hairdo which placed some restrictions on who can wear them and where they can be worn to.
Dreadlocks were thought to be for men alone. Not just any man but those who are spiritually "set-apart." Aside from these, any other person wearing dreadlocks was seen as wayward, dirty, or lazy. However, this narrative is fast changing in our world today as many people have come to embrace dreadlocks due to their beauty, flexibility, ease of maintaining nature, and the freedom it affords those who adorn it.
Dreadlock brings beauty to a woman's face. It also offers convenience and freedom. In this fast-paced world where every lady must be up and doing either in her career or business, spending time on a hairdo can be time-consuming and worrisome. Dreadlocks can help ladies take away this stress. They are easy to style and maintain and do not require much time or resources to do so. Most dreadlocks styles for ladies only require hair cream and brush in the morning. Aside from giving you the attractive, well-arranged, and shiny hairdo, dreadlocks can protect your natural hair. They can aid hair growth while keeping it safe and healthy in great tight locks.
Dreadlocks Became the go-to Hairstyle For Ladies at the Turn of the Century
The turn of the 21st century saw ladies embracing the dreadlock culture even at a faster rate. They even adorn them in places that are thought "too-formal" for dreadlocks. Many dreadlocks styles for ladies were also developed during the early 2000s (many new styles are still coming up though). From educationists, sportswomen, to actresses and models, many ladies now prefer to wear dreadlocks. High-fliers such as Angela Onwuachi-Willig and Toni Morrison are great lovers of dreadlocks. The former, who is a professor of law and the dean of Boston University's School of law, has been wearing dreadlocks for many years while Toni, the first black American to win the Nobel Prize in Literature in 1993, unapologetically adorned dreadlocks during her teaching years.
Other queens who have significantly grown the popularity of dreadlocks include international beauty queen, Dee-Ann Kentish-Rogers who worn the Miss Universe Great Britain while adorning dreadlocks, Angela Bassett who rocked dreadlocks while acting as T'Challa's mother in the famous Black Panther movie. The list of dreadlock queens also extends to Lisa Bonet, award-winning TV presenter Whoopi Goldberg who has been on dreadlocks for as long as we can remember, Emmy award-winning movie director, Ava DuVernay, Willow Smith, amongst others.
It's now evident that dreadlocks have been embraced by ladies of different walks of life. Another thing worth noting is the confidence, comfort, satisfaction, and beauty they all radiate. Dreadlocks and their different styles have now been adapted to fit into the modern-day fashion and lifestyle of ladies all around the world and they are loving it by the day. You too can fall in love with dreadlocks when you find the right style.
Overall, dreadlocks are fast becoming rampant when it comes to hairdos for both genders, little wonder new dreadlocks styles for ladies are coming out often. The top 40 fancy dreadlocks style for ladies here is a collection of the best you can try out. These styles were carefully chosen to suit different face structures and face shapes as they may apply to you. Choose the style(s) that suits your personality and fashion style and start enjoying the dreadlocks trend.