Clarens is a small 'village' situated in the Thabo Mofutsanyana region of the Free State Province in South Africa. The town, which was established in 1912, was named after the Swiss town of Clarens, which was where President Paul Kruger, who had greatly influenced the town, spent his last days in voluntary exile. Clarens sits in the beautiful Maluti Mountains' foothills and is nicknamed by the locals as the "Jewel of the Free State." It does indeed live up to its name as it has an abundance of wild flora and fauna, amazing rock formations, graceful rivers, breathtaking scenery, and a gentle ambiance.
Clarens sandstone mountains and wonderful climate no doubt are what draws tourists to the scenic spot year after year, especially during the spring and summer months. It is the perfect getaway spot for lovers of nature, quiet life, and extreme adventures. Many of the buildings in Clarens have been built out of sandstone, which adds to its charm and appeal. The 'village,' as locals fondly call it, has a communal yet thriving vibe about it. It challenges you to explore and still offers a chance for quiet contemplation, a perfect recipe for a restless spirit.
Where is Clarens Located?
Clarens is located on Latitude 28.5166667 / -28° 31′ 0.0012″  and Longitude 28.4166667 / 28° 25′ 0.0012″, covering an area of 13.7 km2 (5.3 sq mi). It is situated 336 km from Johannesburg, 284 km from Bloemfontein, 389 km from Durban. The Clarens Valley in the Eastern Free State Highlands is situated 20 km's from the Golden Gate National Park, 40 km's from Bethlehem, and on the Northernmost point of Lesotho. Cities, towns and places near Clarens include Newcastle, Welkom, Botshabelo and Vanderbijlpark, Die Ark, Derots, Letselaskraal and Hendriks.
List of Fun Things to do in Clarens
Clarens is renowned for its art scene, scenic natural spots, restaurants, and unique shops scattered across the village. Besides adrenaline-pumping adventures, Clarens also have relaxing and fun activities like hiking, golf, horse riding, spa treatments, cafés, beer, wine tasting adventures, etc. Not to worry, if you can't cover all these in one day, Clarens offers a wide variety of cozy and interesting accommodations. These facilities include bed and breakfasts, self-catering units, guest houses, and camping sites.
1. Explore Nature's Free Gift At The Clarens Golden Gate Highlands National Park
Location: Golden Gate Highlands National Park, Clarens, Free State, South Africa.
Entrance Fee: Yes
Website: sanparks.org/parks/golden_gate/
Phone: +27 (0)58 255 1000
Instagram: @sanparks
Visiting time: Monday to Sunday 7am – 5:30pm
The Golden Gate National Park is roughly 300 kilometers southeast of Bloemfontein and 257 kilometers south of Wepener on Route 701. The Caledon River flows through it, and on the southern part is the Welbedacht Dam. This 11 600 hectares of unique habitat is home to various mammals like the black wildebeest, eland, blesbok, oribi, springbok, and Burchell's zebra – and birds such as the bearded vulture (lammergeier) and the bald ibis.
This vast oasis of nature has a lot of activities visitors can explore; hiking, horse riding, cave exploration, swimming in the natural pool at Glen Reenen, guided excursions, night drives, video shows, lectures, and much more. Visitors can make stopovers at popular spots like Basotho Cultural Village, Vulture's Restaurant, Cathedral Cave, and the Brandwag Buttress. Mainly a visit to The Golden Gate National Park is for those who love the outdoors; it is the perfect destination for families to explore, surmount challenges, and bond over fun activities. As well as take amazing pictures.
Fun Facts:
The Golden Gate National Park derives its name from the brilliant shades of gold cast by the sun on the park's sandstone cliffs, especially the imposing Brandwag rock.
Mongoose, eland, zebras, and over 100 bird species are wildlife in the park. While on your horse trail, you can enjoy spotting these animals while also taking in the beauty of the landscapes.
Guided rides are dependent on the weather, as the area is prone to sudden weather changes.
Pre-Booking is essential for most tours
Pets are not allowed.
Firearms must be declared and sealed on arrival.
Picnic site for day visitors has ablution and barbecue facilities.
2. Satisfy Your Crave At Clarens Brewery
Location: Shop 1, Rosemary Centre, 326 Main Street, Clarens, Free State, South Africa
Entrance Fee: No
Website: clarensbrewery.co.za
Phone: +27 (0)58 256 1193
Instagram: @clarensbrewery
Visiting time: Monday to Thursday 10 am – 7 pm; Friday and Saturday 10 am – 10 pm; Sunday 10 am – 6 pm
Clarens Brewery is the place for beer lovers; it has an assortment of different high-grade beers and a variety of mouth-watering food to go down with the drinks. And guess what, they can take you through the process of making their signature beers! Clarens Brewery has options for dine-in or take away, and you don't just have beers on the menu; there are cocktails, hot and cold beverages, wine, liqueur, fruit juice, ciders, etc., to go with their craft burgers, chicken, steak rolls, rice dishes, fish and chips, salads and so much more.
For a pleasant time with either family or friends and a guaranteed sumptuous meal, Clarens Brewery is the place to go. Their beer options include; Clarens Blonde, Clarens Weiss, Clarens IPA, Clarens Red, English Ale, Stout, Smash, and Clarens Goes Nuts.
Fun Facts:
Signing up for a loveLOYAL card gets you a free bottle of cherry liqueur, and with the loveLOYAL card, you will get your bill discounted in subsequent visits. NB: T&C applies.
Clarens Brewery does not take reservations.
Clarens Brewery courier their beers, ciders, fruit juices, and gins all over South Africa!
Some brews are seasonal, like the Smash and Clarens Goes Nuts
There are options for the kiddies menu (Under 12 years)

Crumbled chicken stripes & chips R56.00
Mini BBQ meatballs & chips R56.00
Toasted cheese quesadilla & chips R56.00
3. Actualize Your Fairytale Fantasies in Clarens Castle
Location: Off the R712 near Bokpoort Farm Clarens, Free State
Entrance Fee: Yes
Website: castleinclarens.co.za
Phone: 083 2680 497
Visiting time: Check-in time after 2 pm; Check-out time before 10 am
Have you ever had a dream of living in a castle? Well, Castle in Clarens is here to fulfill that dream. The Rapunzel-themed castle has been delightfully decorated with décor from all over the world; cornerstones from Windsor Castle, tapestries from Dubai, light fittings from America, and tiles from Europe. There are two double rooms with en-suite bathrooms: with a bath suspended 12 meters above ground level. The garden itself is designed to fit in with the Rapunzel fairytale; thorns, trees, small pathways, and of course, the vegetable garden with the famous Rampion.
The interior and exterior of Castle in Clarens are designed for that royal feel, and guests get to feel like royalty as they have the entire castle to themselves. At the same time, the Chamber of Angels prepares delicious meals, including barbecues. While you sip your wine, you can watch the sunset behind the Red Mountains or admire the spectacular view of Mount Horeb, or delight in the Clarens lights in the valley below.
Fun Facts:
The Prince's Room is situated on the ground floor at the base of Rapunzel's Tower.
It is a self-catering guesthouse – breakfast is available on request.
The castle sleeps a minimum of 2 people and a maximum of 4 people.
Regardless of the number of people, the entire Castle is at their disposal
Children under 12 stays free
Guests will pay a 50% non-refundable deposit on a reservation of dates. The balance of the amount will be processed 30 days before arrival at the Castle.
Any cancellations during the 30 days before arrival will result in a forfeiture of the full amount.
Prices for staying over at the castle are;

Weekends & Public Holidays R1500 per person per night
Weekdays R700 per person per night
4. Adventure on Horseback At Schaapplaats Farm Cottages
Location: S1028 Schaapplaats Farm Road, Clarens, 9707, South Africa
Entrance Fee: Yes
Website: clarensaccommodation.org
Phone: +27 58 256 1176
Visiting time: check-in after 2 pm; check-out before 10 am
Schaapplaats Cottages offers visitors the relaxing experience of a farm stay. Cottages in Schaapplaats Farm are set in the sandstone, built before the turn of the century, and they provide comfortable accommodation. There are three fully self-catering cottages; the Golden Mole Cottage, the Jemina Puddle Duck Cottage, and the Guinea Fowl Cottage. Then there are the animals on the farm to complete this delightful farm setting.
The major attraction in Schaapplaats Cottages, apart from the beautiful ambiance, is the horse riding adventures. There are horse riding lessons for beginner and advanced riders, cross country courses, dressage 20X40 & 20X60m and jumping, horse picnics, pony lead rein picnics, and much more. While on horse round trails, riders can stop over at the San Rock Art and other historical sites as well as war graves. There are also fun activities like mountain biking, tractor rides, swimming in Rock Pools, and Angora goats and Mohair products.
Fun Facts:
Self-catering is from R 325 (family units from R 1,250)
On these riding trails, you'll get to see mountain wildebeest, zebra, blesbok, springbok, and sometimes Eland.
There are options of shorter trails, ideal for the less experienced rider and children.
Braai facilities are available.
For mountain biking, you have to bring your mountain bike.
For Tractor Rides, only group bookings are allowed.
5. Test Your Endurance at Rhebok Hiking Trail
Location: Start and finish in the Golden Gate National Park, Free State
Entrance Fee: No
Website: afritrails.com/trail/rhebok-trail-golden-gate-highlands-national-park/2620
Instagram: @sanparks
Visiting time: The latest time to start walking the trail from Glen Reenen is 8 am, and during summer, walking should start before 7 am.
This is the perfect adventure for hikers, starting from Glen Reenen Rest Camp, Golden Gate National Park, and finding at Golden Gate National Park; it takes two days of 31 km circular walk to complete this hike. While on this trip, you will be accompanied by some of the most incredible mountain scenery in the country; views over Mont-aux-Sources and the Malutis.
The two-day trail, which involves trekking up to the highest point in the park (Generaalskop), is planned accordingly;
Day One is a 14 km hike to the overnight Rhebok Hut. The trail starts with a climb up Brandwag and past some of the best sandstone cliff formations in the province. The trail evens out past rock pools, perfect for swimming and through grasslands, where it descends to the overnight hut.
Day two is a difficult walk, taking up to 8 hours to complete. You start by heading up a waterfall to where the trail heads up Generaalskop, which provides a panoramic view of Lesotho and the Orange Free State. After the ascent, there is the descent before venturing down a picturesque kloof and down to Glen Reenen, where you can wash off for the day.
Fun Facts:
Rhebok hiking trail is just one of the many hiking trails in Clarens. There are others like; Cathedral Cave hike, Wodehouse hike, Mushroom Rock hike, Eco-Ravine hike, Boskloof hike, Holkrans Hike, and Brandwag Rock hike.
The fitness level for this hike is moderate to difficult
There are also several day trails for shorter walks
While on the hike, you can look out for black wildebeest, Burchell's zebra, the rare bearded vulture, the black eagle, jackal buzzard, and various waterfowl species.
Hikers must be older than 10 years.
Endeavor to pack clothing for any eventuality, as the weather in the mountains is unpredictable
Wear ankle-high boots as Puff adders and rinkhals are common.
Although hiking is free, you must report at the reception before departure.
6. Enjoy a Bird' Eye View of Clarens with Hot Air Balloons
Location: Clarens
Entrance Fee: Yes
Website: www.hotairballooningsa.co.za
Phone: +27118024318
Instagram: @ballooningsa
Visiting time: 7 days a week and all year round
Another way to marvel at the beauty of Clarens is from up in the air, so while you check off the hot air balloon ride from your bucket list, the spectacular sight of beautiful Clarens terrain will accompany you below. The Maluti Mountains and the surrounding scenery is magnificent when viewed from above, along with the village architectural landscape. While the pilot drifts with the wind, he varies the height he flies at, from treetop height to about 1000′ above the ground.
Hot drinks before the flight, sparkling wine upon landing, buffet breakfast and a flight certificate are other complimentary items to make your ballooning experience worthwhile. For visitors who might not have days to explore the beautiful landscape of Clarens on land, hot air ballooning is a wonderful alternative. Whether on land or on-air, Clarens is still breathtaking. In fact, you can explore both perspectives and cherish the different experiences.
Fun Facts:
It is an outdoor activity that is weather-dependent. Calm early mornings allow for a high success rate.
There is no age limit for hot air ballooning as it is a gentle experience
There are discounted rates for large groups.
Riders would meet with their guide at a predetermined location a little before sunrise.
Flying time is approximately 1 hour.
Souvenir certificates are presented to successful riders at the end of the trip.
The entire experience takes 3 – 4 hours.
7. Quad Biking with Maluti Mountain Adventures
Location: 28.34'04.0″S 28 26'36.0″E, Clarens, 9707
Entrance Fee: Yes
Website: www.malutimountainadventures.co.za
Phone: 076 727 7920/ 082 454 9164
Instagram: @maluti_mountain_adventures
Visiting time: Monday to Sunday 8am – 5pm
For that exhilarating quad biking experience, Maluti Mountain Adventures is the place to go. The 4×4 quad biking adventure deep into the Maluti Mountains is guaranteed to take you on an unforgettable adventure with rewarding breathtaking views. The route takes you through an incredible and scenic mountainous game viewing area where springbok, zebra, black wildebeest, Zealand, and caracal, amongst many others, can be seen.
There are provisions for beginner or experienced riders; beginners could ride as passengers. You can also challenge your team to an adrenalin-pumping quad racing or go on a lone journey. This experience is ideal for team building and an excellent way for friends to bet on races while having fun.
Fun Facts:
The 4×4 quad adventure takes 3 hours and 16 km on rugged mountain terrain
Pricing per hour

3 hr R990
3 hr R490 ( for passengers accompanying another rider)

16 years old or older can ride a quad, while 7 years and older can ride with an adult as a passenger or an instructor.
No driver's license is required.
Riders are to wear closed, sensible shoes. Rain gear and helmets are provided.
8. Clarens Xtreme Adventure Company
Location: CX Shop 531 Sias Oosthuizen Street, Clarens
Entrance Fee: Yes/No
Website: www.clarensxtreme.co.za
Phone: +27 (0) 58 256 1260
Instagram: @clarensxtreme
Visiting time: Everyday 9am – 5pm
Clarens Xtreme has different activities for a group experience and extreme sports lovers. From adventure sports, cultural tours to family vacations and unique custom-built expeditions and corporate packages. Fun activities to do with Clarens Xtreme include; Paintball games like capture the flag, king of the hill, last man standing, and the free for all. There is also a 10m or 6 m high outdoor climbing wall for wall climbing and abseiling over a 50m high sandstone rock cliff overlooking the picturesque town of Clarens.
For the timid ones, a relaxing round of Putt-Putt or fun at the zip lines is enough excitement for the day, while for the bold ones, rafting on the Ash river or quad biking and cycling caters to their needs. Clarens Xtreme Archery range is also equipped for practicing your archery skills. A day or two at Clarens Xtreme will no doubt leave you in great shape. There are many activities to be done as a group and an individual.
Fun Facts:
Booking is essential for quad bike adventures and abseiling.
Clarens Xtreme has the first ZIP LINES in Clarens.
Day tours to Fertility Caves, Basotho Cultural Village And Golden Gate, Lephofung Cave, And Local Village Tour are unavailable due to the covid restrictions.
9. Visit the Adorable Bibliophile
Location: Bibliophile, 312 Church Street, Clarens, Free State, South Africa
Entrance Fee: No
Phone: +27 (058) 256 1692
Facebook: facebook.com/bibliophilebooks/
Visiting time: Monday to Saturday 9 am – 5 pm; Sunday 9 am – 3 pm
Are you a book lover? Well, Bibliophile got you covered as your holiday in Clarens. You don't need to pack books while making this trio, just stop over at Bibliophile, an independent bookstore in Clarens and have the pick of your favorite book genre. This adorable-looking bookstore offers an incredible selection of fiction and non-fiction books – many at low prices. So while at the café or on a rainy afternoon in your cottage, you have a worthy companion in your books from Bibliophile.
Talk of souvenirs for those back home, or just keepsakes to recall the memories of Clarens, Bibliophile has got you covered. There are also maps, road atlases, and travel guide books to ease your journey. Enjoy an evening of games and puzzles with your favorite pastimes from Bibliophile. This is a fun way for families and friends to bond as the sun descends behind the mountains.
Fun Facts:
The Clarens Country Market is situated just in the front garden of Bibliophile.
For non-avid book readers, there is an assortment of jazz, classical, and world music available on CD and vinyl.
The Artist's Corner offers a treasure trove of canvases, paints, easels, sketch pads, and other handy essential art supplies for budding or seasoned creatives.
You can absolutely browse for free!
10. Hiking in the Clarens Village Conservancy
Location: 1 Hill St, Clarens, South Africa
Entrance Fee: Yes
Website: clarensvillageconservancy.com
Phone: +27 (082) 881 6251
Instagram: @clarensvillageconservancy
Visiting time: Best during daylight hours.
The Clarens Village Conservancy (CVC) is a group of people, homeowners, and businesses who came together to look after Claren's natural resources so that everyone may enjoy them. A registered Non-Profit Organisation, Clarens Village Conservancy works together with the local municipality to manage the nature reserve area. Areas within that reserve are mainly hiking and cycling trails, on whose path visitors could observe nature at its finest.
On this trail, you can fish in the dam, encounter little waterfalls that only thrive in summer, get a chance to see the Blue Scilla that flowers in October, pass the highest point on all the Clarens, and marvel at the Titanic rock, which is a large sandstone cliff in the shape of a ship's bow named after the Titanic ship that sank in the Atlantic in 1912. And most importantly, you will get to admire the scenic landscape of Clarens and her majestic mountain terrains.
Fun Facts:
A permit is required for all activities in the Clarens nature reserve, which includes hiking, Mtb, and fishing for non-members.
Permit cost: R30 per adult and R15 for a child. The permit is valid for a week from the date of purchase.
Income from permits is used for conservation and to maintain many trails in the Clarens nature Reserve.
Annual membership R360 for a family of 4 valid for one year
Always take water with you and keep your cell phone handy in case of emergencies.
Check whether the trails are rideable or not beforehand.
11. Enjoy a Lovely Farm Stay in De Molen Farm
Location: Golden Gate Road Farm Number CL09, Clarens
Entrance Fee: Yes
Website: www.demolenfarm.co.za
Phone: +27 (82) 490 9186
Visiting time: check-In: 12:00am – 8pm ; check-Out: 7am- 10:30am
De Molen Farm is situated in the Rooiberge Mountains between Clarens and the Golden Gate National Park. The farm was established in 1872 and holds a 3-star rating from the South African Tourism Grading Council. It offers fully furnished and equipped accommodations, serviced daily, and self-catering. There is also a garden with a grill. Aside from relaxing with the farm animals for company, you can go trout fishing in the Little Caledon River or explore the Maluti Drakensberg Mountains. Restaurants, pubs, art galleries, and coffee shops are all within 5km from the farm and attractions like the Cherry Festival, Asparagus Festival, Clarens Golf Estate, and the Golden Gate National Park, which offers: abseiling, Whitewater rafting, horse riding, quad-biking and bushman paintings and lots more.
Fun Facts:
The accommodations come with free private parking.
There is a 'no smoking' policy within the establishment and no pets as the farm management has their pets on the premises.
The farm does not have TV facilities.
Golden Gate Highlands National Park is 17 km from De Molen Farm, while Blou Donki Gallery is 9 km away.
Make online reservations.
Nightly rates from $56.
Available Rooms options include; bungalow with patio, double family room, deluxe queen room, three-bedroom bungalow.
12. Maximum Relaxation Awaits You at The Clarens Golf & Leisure Estate
Location: Corner Golden Gate Road and Fouriesburg Road (R711)
Entrance Fee: Yes
Website: theclarens.co.za
Phone: +27 58 256 1270
Instagram: @theclarensgolfandleisureestate
Visiting time: 23h00 to 04h00. The course is closed on Mondays (except in cases of public and school holidays)
Clarens is not all about hiking and quad biking and farms, you can also enjoy a game of golf in the golf estate owned by The Clarens Home Owners Association, and the options range from full membership to pay as you play. All you have to do is book online and make your payment online, and then you are good to go. The takeaway kitchen service is fully operational, and alcohol is permitted for on-site consumption. Also, their events center caters for small, intimate board meetings to the function of up to 100 people.
Fun Facts:
Wednesdays and Fridays are for competitions.
Membership Fees Breakdown;

Full member R7 450
Student R2 000
Scholar under 18 years  R1 780
Country member R3 200
Non-Member Fees Breakdown for weekdays;

Student R105 – R170
Guest House Guest R200 – R235
Group 16 – 40 Players R235
Golf day 41 – 100 players R190

Non-Member Fees Breakdown for weekends;

Student R120 – R180
Guest House Guest R210 – R245
Group 16 – 40 Players R285
Golf day 41 – 100 players R235
13. A Gypsy Life Awaits You in the Gypsy Wagons
Location: 105 Malherbe Street, Clarens
Entrance Fee: Yes
Website: sa-venues.com/visit/gypsywagons/
Phone: +27 83 324 3780
Instagram: @gypsywagons_clarens
Visiting time: check-in after 2 pm; check-out before 10 am
Nothing screams ultimate freedom, which is the spirit of wild Clarens, as gypsy wagons. Visitors can choose to have a full gypsy experience by renting one of the beautifully furnished and unique wagons. Not to worry, these wagons come with an equipped kitchenette, a full-size bath, and a flushing toilet. With the gypsy wagon, you will feel closer to nature and even closer with your companion.
Restful days could be spent listening to the sounds of the woods, pro gazing at the stars at night, or taking turns on the swing. It offers the ultimate glamping experience, camping in style, making your visit to Clarens unique and memorable.
Fun Facts:
Facilities include; free wi-fi, secure parking, BBQ facilities, and a garden with swings and hammock.
Gypsy Wagons can sleep between two and four guests
There are no TVs in the wagons
Minimum stay is for 1-3 nights
14. Immerse Yourself in the World of Art at Blou Donki Gallery
Location: 15 Van Zyl Street, Clarens, South Africa
Entrance Fee: No
Website: www.bloudonki.co.za
Phone: +27 82 466 6406
Facebook: facebook.com/BlouDonki/
Visiting time: Sunday to Thursday 8 am – 5 pm; Friday and Saturday 8 am – 6 pm
Art lovers would enjoy a visit to Clarens because there are several art galleries in the quaint town. Blou Donki Art Gallery is one popular, and it is situated in the heart of Clarens in the Windmill Centre. The gallery houses a fine collection of paintings, ceramics, functional art, sculptures, and photography by leading and emerging artists from across South Africa. You can purchase wonderful artworks as souvenirs for friends and families as well as to decorate your home. Having an art piece from Clarens would keep the memories of your adventures alive.
Fun Facts:
You can relax with a cup of coffee on one of their leather sofas and immerse yourself in the art around you.
Blou Donki Art Gallery deals mainly with contemporary art
Blou Donki Art Gallery is co-owned by Tobias Viljoen and his life partner
15. Highland Coffee Roastery
Location: 354 Van Zyl Street, Clarens, Free State, South Africa
Entrance Fee: No
Website: highlandcoffeeroastery.co.za
Phone: 058 256 1136
Instagram: @clarenscoffee
Visiting time: Monday to Saturday 7:30 am – 4:30 pm; Sunday 7:30 am – 3:30 pm
Coffee enthusiasts aren't left out of the Ourfun in Clarens; Highland Coffee Roastery is there to satisfy their needs. Established in 2009, the micro-roastery and café offer a high-quality blend of aromatic coffee. What's more, you get to enjoy your cup of freshly roasted, freshly ground, and perfectly prepared coffee with the beautiful view of Mount Horeb as an accompanying view. Nothing relaxes the nerves as a warm cup of coffee on a cold morning or after a tiring day of hiking activities. You can also gather with friends and enjoy the view over coffee and lively conversations.
Fun Facts:
Highland Coffee signature blends include;

Espresso Blend: A blend of four origins – Brazil Barbosa Gold, Tanzania AA, Colombia Popayán, and Guatemala Finca el Morito – roasted medium to dark.
Mountain Blend: A blend of three medium roasted origins – Tanzania AA, Colombia Popayán, and Guatemala Finca el Morito.

Highland Coffee Roastery post their coffee to anywhere in South Africa
Highland Coffee Roastery also does events catering
16. Two Things that go well Together: Art & Wine Gallery on Main
Location: 320 Market Street, Clarens, South Africa
Entrance Fee: No
Website: artandwine.co.za
Phone: 082 341 8161 / 072 2910 685
Visiting time: Monday to Sunday: 9 am to 5 pm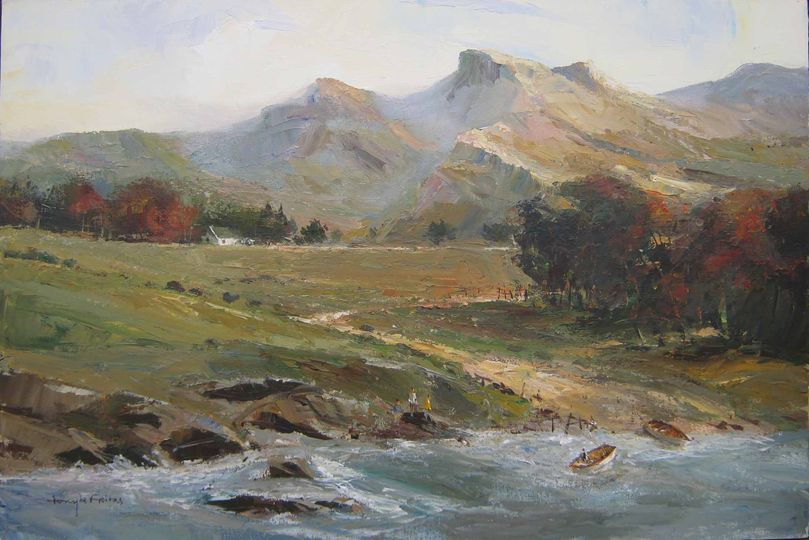 Art and Wine Gallery on Main offers art lovers and wine enthusiasts a unique opportunity to feast their eyes with beautiful works of art and stimulate their taste buds. And their wine selection is from the best Wine Estates and quite affordable. The gallery itself boasts of collections from well-known artists like Gregoire Boonzaier, J.H. Pierneef, Pieter van der Westhuizen, Aviva Maree, Erik Laubscher, Jan Vermeiren, Marjorie Wallace, Eben van der Merwe, Conrad Theys, Hennie Niemann, Hannetjie de Clercq, ceramics by Laura Du Toit, sculpture by Louis Chanu and Jean Doyle, glass by David Reade and Shirley Cloete.
Fun Facts:
The first and only Art and Wine Gallery in Clarens, South Africa
You can view some of their artwork on their website.
There is also a list of artists whose works they have on their website.
17. Get Pampered at Clarens Wellness Day Spa
Location: 410 Main Street, Clarens, Free State, 9707, South Africa
Entrance Fee: Yes
Website: clarenswellnessdayspa.co.za
Phone: +27 (0)82 887-1503
Instagram: @clarenswellnessdayspa
Visiting time: Monday to Sunday 8 am – 5 pm
After all the hiking and fun activities in Clarens, you would need a place to relax your aching muscles. Clarens Wellness Day Spa is the place to go for that much-needed relief. The spa focuses on de-stressing and draws you into a space filled with aromas of healing. With options for couples treatments, facial therapy, body therapy, massage therapy, manicures, pedicures, waxing, and tinting, you and your loved ones are guaranteed an unforgettable experience. So while you have all the fun and play in Clarens, don't forget to pamper yourself with a likewise memorable spa treatment.
And while you enjoy your spa treatment, you can also enjoy some wine and snacks. A fitting to satisfy both your body and soul and a perfect way to end your visit to Clarens.
Fun Facts:
Always call to book ahead.
Clarens Wellness Day Spa has a passion for what they do and does extensive research to ensure their treatments are the best.
You can purchase your personal beauty products at the spa.
18. Take Breaks at Sugar and Cinnamon Restaurant
Location: 13 Km On The R712, 9707 Clarens, South Africa
Entrance Fee: No
Website: willowmanorclarens.co.za
Phone: 0823823515
Visiting time: Monday to Friday 9 am – 4 pm; Saturday 9 am – 5 pm; Sunday 9 am – 3 pm.
Sugar and Cinnamon is a day Restaurant serving breakfast, lunch, and tea or coffee with pastries. It is a perfect place for stopovers on your hiking trip as it is just outside Golden Gate National Park. Menu options include; Moroccan lamb, omelet, pancakes, caffe latte, beetroot, chili chutney, beef burgers, and fruits and snacks. While filling up, you can plan the day's activities or enjoy the beautiful view.
Sugar and Cinnamon is part of the Willow Manor, where provisions are made to accommodate guests. Each of the luxury fitted units in Willow Manor feature an en-suite bathroom equipped with a walk-in shower, corner bathtub, twin washbasins, bathroom fan heating unit, and heated towel rail.
Fun Facts:
A braai unit is also fitted on the patio of each unit.
Should the visitor decide to stay in for the evening, a meal of their choice can be ordered from the restaurant at breakfast.
There are vegetarian and vegan options too.
19. Take a Trip Back in Time at Basotho Cultural Village
Location: Next to the R712 from QwaQwa to Golden Gate National Park, Free State
Entrance Fee: Yes
Website: clarensnews.co.za/basotho-cultural-village/
Phone: +27 (0)58 721-0300
Instagram: @basotho_cultural_village
Visiting time: Guided tours Monday to Friday 9 am – 4:30 pm; Saturday and Sunday 9 am – 5 pm.
One of the frequent stopovers along the Golden Gate National Park trail is the Basotho Cultural Village Rest Camp. Here you will step back in time into an 18th century Basotho village, where you will get to see and experience the lifestyle of South Sotho from the past few centuries. Your tour will start at the Khatloa; as you enter the chief's village, you will be offered a sip of mqombothi (sorghum beer), and you may engage in a traditional game of maraba-raba.
Next, have a peek at your future at the Ngaka (the chief's bone thrower) and then enjoy some motoho and dipabi from the chief's wives. As you would be guided by a tour guide, an educational experience is going on as well, as various utensils, objects and crafts would be explained by the guide. A trip to Basotho Cultural Village is worthwhile as you get to immerse yourself in a true African experience.
Fun Facts:
The Village regularly hosts art exhibitions as well as live stage performances.
The curio shop offers traditional clay pots, basket ware, and other handmade items.
Traditional dancing is part of the tour.
20. Do Your Weekend Shopping at the Clarens Country Market
Clarens Country Market is a farmer's market, where locals are encouraged to come and sell the products every Saturday. It is a seasonal market, operating from the end of August to the end of May and local fresh produce is only available in spring and summer. Local entrepreneurs are encouraged to exhibit and sell their own homegrown, handcrafted wares, and tourists would patronize them to boost the local economy—what a fun way to do your weekend shopping. You are not only getting fresh products directly from the farm or oven, but you are also supporting the locals and, by extension, Clarens; as if to say thank you for a beautiful experience in the tranquil and breathtaking Clarens, Free State, South Africa.
Fun Facts:
Clarens Country Market, situated in the front garden of our Bibliophile bookshop
Clarens Country Market specializes in seasonal home-grown produce and handmade arts and crafts.
Wares at the market are mainly home industry and handcrafted items and garden plants.
When is the Best Time to Visit Clarens?
Clarens is known to have four distinct seasons packed with loads of different fun activities to do there. The best time to visit Clarens will depend on the particular activity you want to participate in, as different seasons offer various spectacles in the "Jewel of the Free State."