Even though it takes a lot to make it happen because people fall in love and hop out quite often, there are those who have proved that love gets sweeter when two committed individuals spend a long time together. Most South African celebrity couples we know are having a good time in their relationship right now because they apparently found the right person. This particular class of couples has, on several occasions, proved that true love really does exist and that it makes everything beautiful. We are not going to bore you with all the names of South African celebrity couples out there as we have picked out just 20 of them who made us fall in love with the way they love and look out for each other and how they've been able to conquer all odds just to be together.
1.  Melinda Bam and Adriaan Bergh
Melinda is a South African TV personality, international model, once Miss Epitome of Beauty South Africa and Miss Universe. Born on May 13th, 1989, she is married to the love of her life, Adrian Bergh who also won the title of Mr. South Africa. Mr. Adrian was born on the 22nd of May 1987, in South Africa.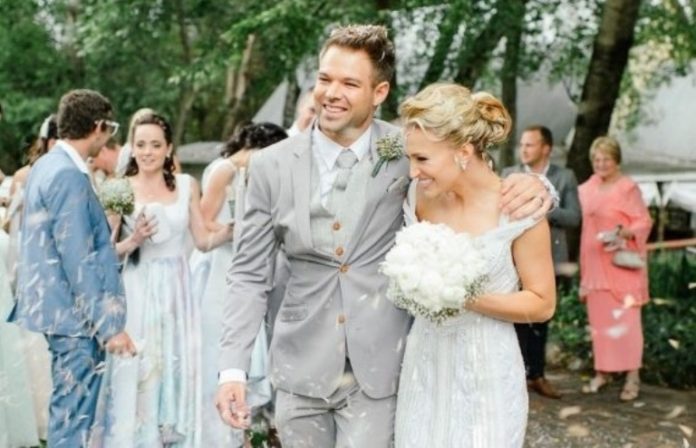 These lovebirds met at the University of South Africa where they both attended and sometime in 2013, they announced their engagement. A year later, the couple that looks like they've been snatched right out of the cover of magazines – a picture too perfect to a fault, tied the knot in 2014. The lovebirds have been married ever since and he has been spoiling and pampering her all the way.
2. Connie Ferguson and Shona Ferguson
What these two have is enough to make anyone want to throw themselves into matrimony forever. The amazing couple is celebrating more than 20 years of blissful marriage. When Connie and Shona met for the first time, it was love at first sight. Their meeting was totally by accident and it took place when Shona came to drop his friends at her sister's house. There, he saw Connie when she came out to say 'Hi' and he instantly liked her from that moment.
The two started dating shortly after and got married two months later, precisely in the year 2001. Together, they have two children; Alicia (she had with Shona) and Lasedi (whom she had from a different marriage).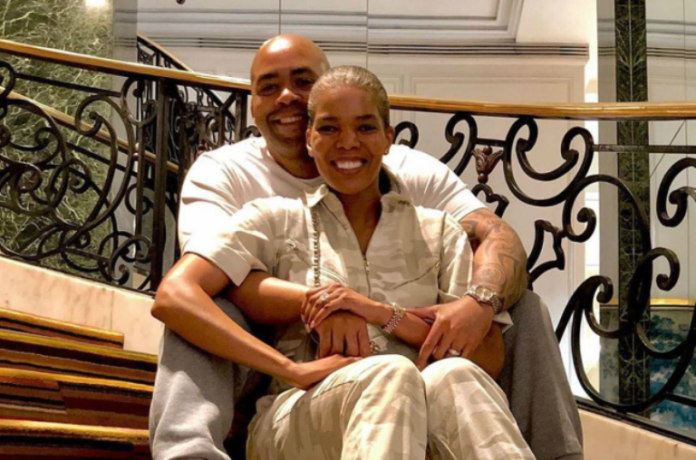 Connie was born on the 10th of June 1976. She is an actress, a filmmaker, and a businesswoman. She graced the cover of Forbes woman Africa magazine in the year 2018. Born on the 30th of April 1972, Shona is an accomplished actor and a producer who has been around in the industry for many years.
Though Connie is older than her husband, there couldn't be a better example of true love as the two have proven to the world that love can be perfect.
3. Danny K and Lisa Gundelfinger Koppel
Danny, born on the 8th of September 1977, is an actor and a pop singer. He met his wife many years ago after which the two got married in 2012 at the Lourensford Wine Estate in Somerset West. Together, they have two children. One of their sons named Jayden was born in 2014 while his brother joined the family in the month of April 2017.
The family has a Bulldog named Bansky whom they love and adore so much. Bansky has been with Danny even before his babies arrived. The dog is almost as popular as Danny; it has severally featured on his Instagram photos as well as his album.
Mrs. Gundelfinger shares a strong bond with her husband. She often showers praises on him on social media for treating her like a wife she is. The couple and their children have been flourishing in love and happiness ever since their family started growing.
4. Lee-Ann Liebenberg and Nicky Vander Walt
Lee-Anna and her husband Nicky have been married since 2011. The beautiful Lee-Ann is a model and once Miss South Africa finalist who was crowned FHM-South Africa's Sexiest Woman In the World in 2005. The pair has three children – two girls named Gia and Gabrielle and a boy named Jagger (born on 4th March 2021). He shares his father's birthday.
The love and happiness that exist between the couple and their children just make one's heart flutter by just looking at them. The two have been through a lot following the death of Lee-Anne's father in 2018 but she says positively that nothing else matters as long as they are all together. Lee-Anne was born on December 9, 1982, in Roodepoort, Gauteng while her husband is two years older than her.
Vander Walt is an ex polo player and a businessman who has ventured into the cannabis oil enterprise. He mentioned in an interview that the idea came into existence when his father was talking to Lee Ann's father when he was ill about taking the oil to help him get better faster and so after his death, he and his wife decided to use the business to help others who might be in need of it.
5. Kabelo Mabalane and Gail Nkoane
Kabelo Mabalane and Gail Nkoane have been married for over 8 years now and their love keeps waxing stronger with each passing day. Gail, who is an actress born on the 27th of December 1984, is also a model, singer, and businesswoman.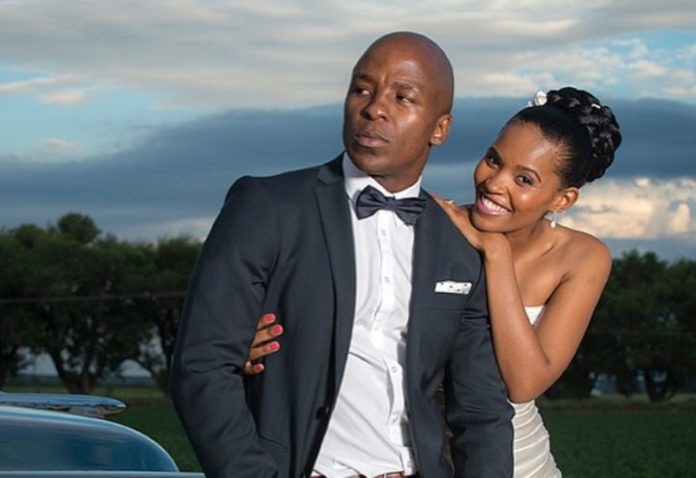 Her husband, Kabelo, is a South African Kwaito music legend born on the 15th of December 1976, in Johannesburg. He has had a fruitful musical career since he debuted, having opened for world-famous artists like 50 Cent, Ja Rule, Rihanna, and Jay-Z. He has been working as one of the judges on S.A Got Talent for two seasons now.
The couple sealed their love for each other in the year 2013 and together, they have two lovely children.
6. Minnie Dlamini-Jones and Quinton Jones
Minnie Dlamini-Jones And Quinton Jones are among South Africa's beloved celebrity couples. These two just literally make us believe true love does exist. Minnie, whose real name is Minenhle, is a South African model, actress, and on-air personality. She was born on the 7th of July 1990, in Durban, South Africa.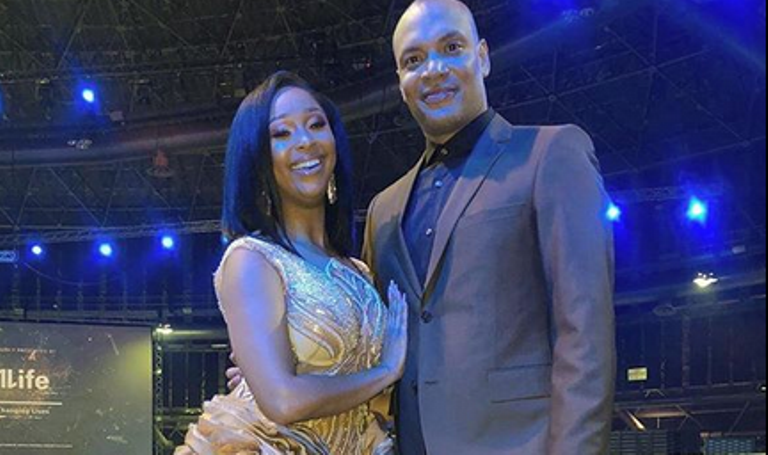 She and her sweetheart sealed their love for each other on the 8th of July 2017 in a lavish private traditional ceremony and later had their white wedding. They have been happily married since they exchanged their vows in the presence of families and friends and together, they have a child.
The two started out as senior and junior colleagues, then best friends, and right now, they are growing old together. Quinton is a senior media personality and a former football player. The lovebirds make us believe in genuine love even among celebrities.
7. Gugu Khathi and DJ Tira
DJ Tira and Khathi have, on several occasions, restored the faith of so many in love. They have been married since 2016 but still can't get enough of each other. Tira, a renowned musician, and producer once admitted on Instagram during Gugu's birthday that he is still madly in love with his dear wife. He proves this all the time without holding back.
Born Mthokozi Khathi, DJ Tira's parents welcomed him on the 24th of August 1976, in Hlabisa while Gugu, a social media influencer and businesswoman, was born in Soweto.  The two have been together for 20 years but they have only been married for close to five years now. They share three children together.
8. Nomuzi Mabena and Sbudaroc
Nomuzi and the love of her life Sbudaroc have been together for a couple of years now. Sbudaroc happens to be her manager, lover, and best friend. After years of blissful friendship, news making the rounds have it that the two might have plans of settling down soon to begin their happily ever after.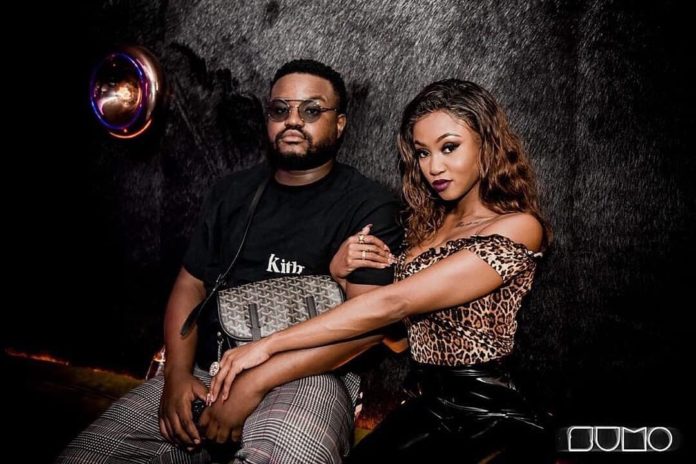 Nomuzi is a South African TV presenter and model born in Benoni, South Africa, in 1992, precisely on 22nd September. She has worked with notable artists in the country, including AKA, Somizi Mhlongo, Rouge, Da L.E.S, Gemini Major, DJ Speedsta, Vanessa Mdee, and Victoria Kimani. Her boyfriend Sbudaroc has been her manager for a while and they have been inseparable ever since.
9. Dineo Moeketsi and Solo Langa
Star actress Dineo Moeketsi and her husband Solo Langa, a talented rapper also known as Zothille, got married in 2019. The lovebirds did something a little bit unusual during their traditional marriage when they decided to pay each other's lobola to make their ancestors coexist peacefully.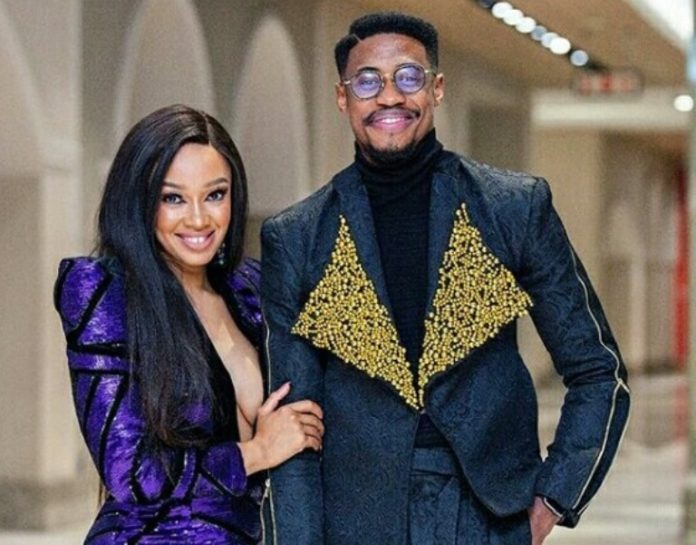 She often professes her love for her man on Instagram. According to her, the eight years she has spent with Solo have been nothing short of pure love and happiness. Moeketsi was born in South Africa on the 20th of July 1989 and her husband was born in Soweto in the 1980s.
10. Mpoomy Ledwaba and Brenden
Mpoomy Ledwaba and Brenden Praise's love story is quite inspiring. Mpoomy's personal journey towards greatness was not an easy one but her husband was there for her through hard times and struggles, even when her parents wouldn't stand by her.
These two eventually tied the knot in 2017 and now have two children. Ledwaba is a wisdom & wellness coach, digital creator, and speaker. She equally has a YouTube channel and podcast. She and her lovely husband have been closer and much in love than ever.
11. Ntokozo Mbanbo and Nqubeko Mbatha
Yet another lovely pair on our list of South African celebrity couples that can be referred to as the epitome of love and sacrifice. The gospel musicians have been together for more than a decade and it's been awesome years of undying love and bliss.
Ntokozo was born on the 6th of November 1985 while her husband Nquibeko was born on the 30th of August in an unspecified year. They got married in May 2008 and have two lovely children. The two are sensational gospel singers with massive followership and incredible profile. They absolutely make us believe that true love exists.
12. Bontle Modiselle and Priddy Ugly
South African rapper Priddy Ugly (born Ricardo Moloi) and his lovely singer wife have been keeping the fire burning in their marriage. The lovebirds even sealed their marriage by releasing a song together to mark the beginning of their life as husband and wife. The two started off as friends before Bontle made the first bold step and asked him out.
Bontle Modiselle and Priddy Ugly have been together since their teens, which is over ten years now. They got married on September 28, 2019, and together, they have a child. Priddy was born on the 2nd of April 1992 while his wife Bontle was born on the 7th of October 1990. She is a model, dancer, and actress.
13. Janez Verneiren and Juliiana Vasconcelos
Janez Vermeiren is a former Top Billing presenter, former model, TV presenter, and film-maker. He and his wife Juliana Vasconcelos make an epitome of a model couple, always traveling around the world, sunbathing, or hiking, the two are undoubtedly one of the South African celebrity couples that are greatly loved.
This lovely couple had an intimate wedding ceremony and have been married for over 8 years and counting. The two have been through a lot over the years. They earlier called off their engagement but later found their way back to each other's arms.
Janez is a TV presenter and his lovely and beautiful wife is also doing great. They have two children together while Janez has a ten-year-old son from a previous relationship.
14. Romeo and Basetsana Kumalo
Who says celebrity love doesn't last long? As much as we know, Romeo Kumalo and his sweetheart are proof. The couple is one of the most respected duos in the country and also a huge inspiration to the younger generation.
Basetsana and her husband have spent over two decades of their lives together; they tied the knot in 2000. Even though it has not been a smooth journey, they have been able to make it work. Basetsana is a former Miss South Africa, TV personality, and businesswoman who loves every bit of time she spends with her loving husband and family.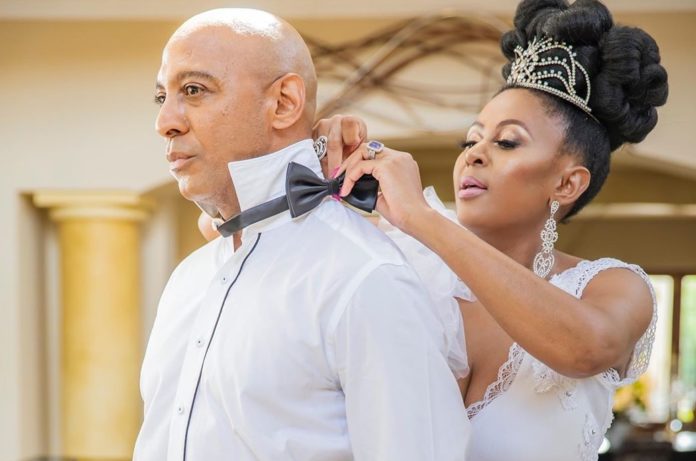 They have three children together – a daughter Bontle Bamorena and two sons named Shaka and Nkosinathi. Kumalo is a loving husband to Basetsana and a dutiful dad to their children.
Romeo is an accomplished businessman – the CEO of the pan-African investment firm LLH Capital and former CEO of Vodacom/Vodafone international. He was born on the 25th of February in 1972 and his wife was born on the 29th of March 1974 in Soweto. The love that this couple share is rare and magical.
15. DJ Lalla Hirayama and Kent Blake
DJ Lalla's name rings a bell in the South African entertainment industry. Though born in Japan, she was raised in South Africa. Today, she is a prominent dancer, actress, model, television presenter, and voice artist. She has also worked with numerous local and international acts as a dancer and performer, including but not limited to the late Lebo Mathosa, Loyiso, Slikour, Relo as well as Unathi.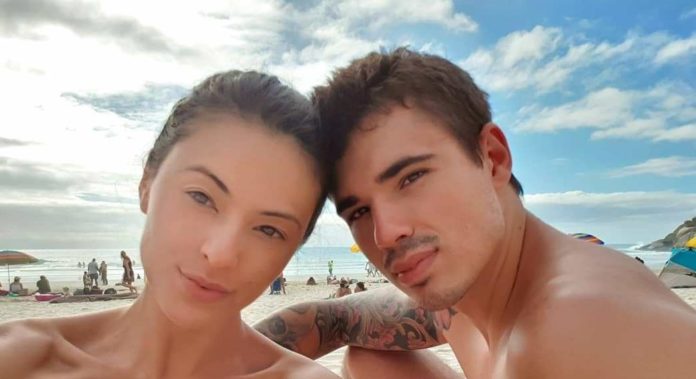 The celebrity dancer has a man in her life and he is none other than her boyfriend Kent Blake. She was formerly in a relationship but left because she was reportedly cheated on. Ever since DJ Lalla met Kent, her life has known bliss.
Blake is simply a lovely person who loves animals, especially dogs and cats. Their fans are quite eager to see this beautiful relationship blossom into something bigger someday.
16. Bokang Montjane and Siphiwe Tsabalala
Siphiwe Tshabalala is a professional football player and one of the well-known and most decorated South African footballers of his generation. The player's full name is Lawrence Siphiwe Dambuza Tshabalala while his date of birth is 25th September 1984. He met his sweetheart Siphiwe on one of South Africa's famous radio stations, Kaya FM, he requested for her contact and things took off from there.
Bokang, a model and beauty pageant titleholder, was born on the 30th of April 1986. She has been involved in several pageant competitions but above all, she is the only woman after Tshabalala's heart.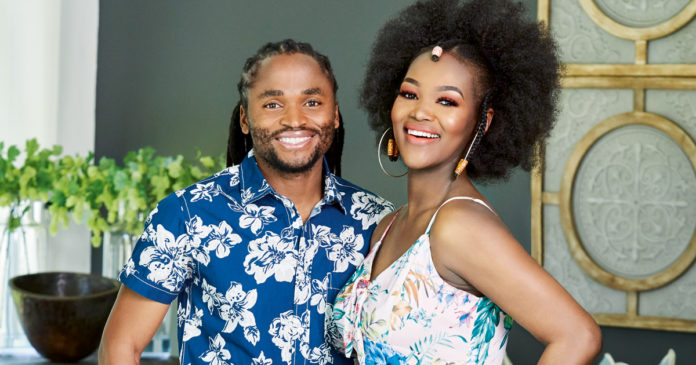 The two have welcomed two children after tying the knot in the year 2016. Bokang and her husband have one thing in common – they do not crave public or media attention, unlike most South African celebrity couples.
Over the years, the lovely couple has kept their relationship and wedding a secret and that decision has been paying off. Bokang once shared in an interview that building a relationship is actually not easy as many people think but what makes the difference is being supportive and transparent.
17. Reneilwe and Mpho Letsholonyane
Reneilwe and Mpho are just too amazing. They've been together through thick and thin and have come out stronger and better. This beautiful couple started living together sometime in March 2018. Their wedding was gorgeous, grand, and star-studded.
Prior to their marriage, the two once called off their relationship after some misunderstandings. However, they've remained inseparable since they decided to take their relationship to the next level.
Mpho and her husband have a child together. The latter, who is popularly known as 'Yeye' is a soccer player while the former is a celebrity sports broadcaster. Reneilwe was born on the 9th of June in 1982 while Mpho was born on the 25th of September 1984. These two belong to the class of South African celebrity couples that absolutely make us believe true love can be found in the universe.
18. Matthew and Sonia Booth
Matthew and Sonia Booth are couple goals!. In fact, they literally make us want to fall in love every time they make public appearances. Despite their color and background differences, they have proved that love knows no skin colour.
Matthew Paul Booth, born on 4th March 1977, in Fish Hoek, South Africa, has been married to Sonia for over 11 years. The former is a retired professional footballer who had a productive career in all the football teams he represented.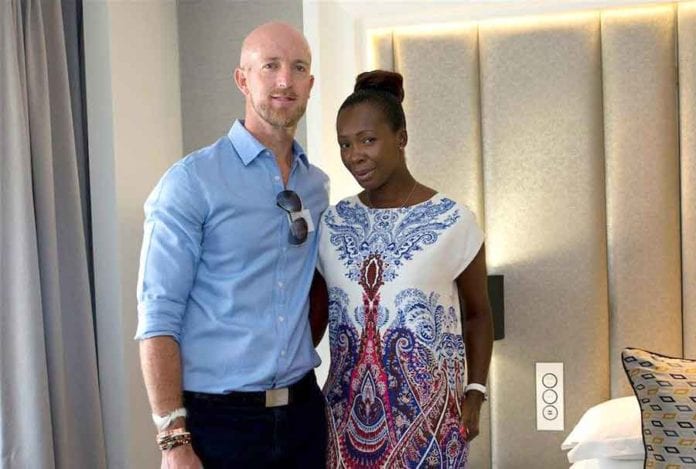 Sonia, on the other hand, is a former model and businesswoman. They have two kids together named Noah and Nathan.
19. Abdul Khoza and Baatile
This beautiful couple met in a most unusual way. The two saw each other outside a shopping mall parking lot when she was looking for a parking spot and seeing her effort, Abdul Khoza offered her a parking space. From the moment he saw her, he just knew he had met his future wife, but she on the other hand thought he was a bit annoying and talks too much.
Eventually, they started dating, and when it was time to meet their parents, Baatile was scared that her folks will not approve of their relationship. After seven months of dating, Abdul asked her to marry him.
The two spend so much time together and are each other's best friends. Baatile shared that Abdul is a lively man while she on the other hand is calm. They got married in 2019. Abdul was born on the 14th of August 1987, in South Africa, and on his birthday in 2020, his wife Baatile gave him an awesome birthday gift – a baby girl! He has a child from a previous relationship before he met his wife.
Abdul is an award-winning actor, musician, and stunt coordinator. These two are definitely among South African celebrity couples that are greatly loved.
20. Khanyi Mbau and Kudzai
The actress and reality TV star has been inseparable from her new multi-millionaire boyfriend ever since they got together. The two started dating after Mbau's break up with her former lover Tobege. Since the lovers started dating, Kudzai has spoilt his woman dirty with lavish and expensive gifts, trips which included flying all around the world in his private helicopter, and more.
The two are in love and Mbau has his name tattooed on her thigh, hopefully, not far from now, wedding bells will ring. Kudzai Terrence Mushonga also known as Ndege Boy is a Zimbabwean businessman. Mbau was born on October 15, 1985, in Soweto and was previously married to Mandla Mthembu from 2006 to 2009.