Just like every other content creator on YouTube, the biggest and most successful South African YouTubers right now also had their days of little beginnings. The struggles and low moments probably served as a boost as they have been able to grow their YouTube channels with consistency and constant improvement. And as a result, their hard work and efforts have absolutely paid off, and YouTube has now become a good income stream.
Although African YouTubers as a whole still take the backseat when it comes to YouTube channel subscribers' views and income, especially when compared to other big YouTube channels in the world like MrBeast, T-series, PewDiePie, and 5-minutes craft, there are still some noteworthy African YouTubers who stand out among the rest.
While surfing through YouTube, you should absolutely check out some of the biggest and most successful South African YouTubers and subscribe to their channels to support what they do and help put South African-owned YouTube channels on the list of biggest YouTube channels worldwide.
Most Successful South African YouTubers
The level of a YouTuber's success is determined by the number of subscribers they have, the average number of views per video, number of impressions, total number of views, and cost per mile, contributing to the overall income from YouTube. It would be best if you also kept in mind that a person's income is not determined by the number of subscribers they have but rather by the number of views they get per month.
So, the fact that one YouTuber has more subscribers than another does not automatically translate to more money for the person. However, having more channel subscribers puts you at an advantage point with regards to potential earnings. The biggest and most popular South African YouTubers are big, not just because of their subscribers' count but also because of the number of views they get on each video. Here is a list of these successful South African YouTubers to check out.
1. Trevor Noah
Number of YouTube channels: 2
YouTube channel names: Trevor Noah and Daily Show with Trevor Noah
Number of subscribers: 2.92 million and 9.24 million, respectively
Content type: Satire, Comedy
With 9.24 million subscribers (and still counting), Daily Show with Trevor Noah seems to be the most subscribed YouTube channel, not just in South Africa but also in Africa. Trevor Noah is a South African comedian who hosts the satirical American comedy show, The Daily Show with Trevor Noah, where he talks about major news worldwide, especially the United States, with a taint comedy but based on reality. His most popular video on this channel – Tomi Lahren – Giving a Voice to Conservative America on "Tomi" – has over 17 million views.
On his eponymous channel, Trevor Noah expresses himself as a real comedian. The channel showcases his comic side, and that's where you see all of his stand-up comedy shows. The most popular video on this channel – Don't Lose Your Accent – has over 9.4 million views. Trevor Noah is just like Africa's Ellen of the Ellen Show, and he is verified on both channels. As the most successful South African YouTuber, Trevor Noah earns about $112.5k per month, translating to about R1,586,058.75 per month.
2. Caspar Lee
Number of channels: 2
Channel names: Caspar Lee and Morecaspar
Number of subscribers: 6.89 million and 1.7 million, respectively
Content type: Vlog, Prank, Comedy
Caspar Lee is a 29-year-old British-South African YouTuber. He was born in London but raised in South Africa and later moved back to London. Although Caspar doesn't live in South Africa, neither did his channel growth happen in South Africa. South Africans still count him as their own, and in his channel bio, he refers to himself as a South African as such, he can be called a South African YouTuber.
The kind of content you will see on Caspar Lee's channel are comedy videos, vlogs, pranks, bloopers, and, most interestingly, celebrity collaborations with some of your favorite American celebrities. Despite being raised in South Africa, you will observe his British accent while watching his videos. The most popular video on his bigger channel is his prank videos with his friends, which have over 23 million views. As of the time of this post, Caspar's last video on this channel was in 2020, while on the second channel, he has not dropped a video for a couple of years, and fans are waiting for a comeback.
3. Die Antwoord
Channel name: Die AntWoord
Number of subscribers: 3.36 million
Content type: Musical
Despite having lyrics full of powerful and controversial words, the YouTube channel where Yolandi Visser and Watkin Tudor Jones (Ninja) upload their music audio and videos seems to be doing really well. Over 3 million subscribers show that people appreciate their counter-culture movement (Zef), which is fully expressed in their songs.
Although they do not have as many subscribers as Caspar Lee, their most popular video,  Baby's On Fire, has over 255 million views. They also have a couple of other videos that have crossed the 100 million view mark. However, it is noteworthy that musicians generally enjoy more views than any other content creator on YouTube.
4. Nadav Ossendryver
Channel name: Kruger Sightings
Number of subscribers: 2.4 million
Content type: Wild Life
Nadav Ossendryver is a South African who took his passion for wildlife to another level by opening a YouTube channel to share wildlife videos. Unlike most YouTubers who mostly create their content themselves, he collects footage from people in different parts of Africa. His channel is full of fascinating and interesting videos of different types of wild animals. Lovers of wildlife and Nat Geo Wild will absolutely love his channel.
5. CRASH Driven
Channel name: Crash Driven
Number of subscribers: 1.16 million
Channel type: Gaming
The exact identity of the owner of this YouTube Channel is not known, but people do not seem to care about who is behind the screen. Even without an identity, Crash Driven YouTube channel has over 1.5 million subscribers. This is way more than so many other African YouTubers that show their identity.
The oldest video on the channel was uploaded 4 years ago, and since then, they have been consistent with uploading car crash video games. Their video quality and sound are of high quality, which may account for why they have many subscribers despite being anonymous. The most popular video on the channel was uploaded in November 2017 and had over 11 million views.
6. Peter Carvel
Channel name: Sixpackfactory.com by Peter Carvell
Number of subscribers: 1.46 million
Content type: Fitness
For the past 15 years, Peter Carvell has consistently been uploading fitness videos on his YouTube channel, and his consistency has paid off. His channel is now one of the biggest South African YouTube channels. His channel aims to help men who want to lose tummy fat, build muscles and stay fit. Aside from his workout tutorials, he also makes videos on fitness tips and diet plans.
Whether you are new to fitness or advanced, there is something for you on his channel, and most importantly, he also has workout tutorials that do not require any equipment, so there is something for all classes of men.
7. Rob The Ranger Wildlife Videos
Channel name: Rob The Ranger Wildlife Videos
Number of subscribers: 1.22 million
Channel type: Wildlife
This channel contains real African Wildlife videos. Rob joined YouTube 13 years ago, and his channel has grown to 1.22 million subscribers – and is still growing. This shows that many people are interested in wildlife videos, and he has remained consistent with making that available.
The most popular video in his channel is that of a rare southern white Rhino marking his territory. The video was uploaded in May 2012 and has gotten 165 million views. Those who love to watch wildlife videos should stay glued to this channel.
8. Cobus Potgieter
Channel name: Cobus
Number of subscribers: 978k
Content type: Drumming
Cobus Potgieter also expresses surprise at how he has grown a YouTube channel to almost one million subscribers with just drumming contents on the about section of his YouTube channel. But the fact that he did it means that many people love his content, and he has found a good number of them.
People are always attracted to excellence, and that is one thing you can find in all his drum covers. Potgieter has also been doing YouTube for more than a decade now, and his consistency, improvements, and hard work have started to pay off. We know there is nothing as cool as doing what you love doing and making money from it, and that is what Cobus Potgieter is enjoying today. The most popular video on his channel was uploaded in May 2014 and had over 18.6 million views.
9. Daniel Maritz
Number of channels: 2
Channel name: DLM Model Lifestyle and DLM Christian Lifestyle
Number of subscribers: 747k and 531k, respectively
Daniel Maritz is a South African model who was born in Namibia and raised in South Africa. After a very successful modeling career – which spanned over 10 years, Daniel Maritz decided to start up a YouTube channel in 2018 called DLM Model Lifestyle. The channel aims to teach male grooming, style, and fitness. In less than 8 months of starting the channel, it grew to 140k subscribers. Since then, it has grown to over 700k subscribers.
Maritz is not like the regular kind of model we all know; aside from being gentle and humble, which are attributes most successful models have, he is also religious. In 2019, he started his second YouTube channel called DLM Christian Lifestyle, which has grown to over 500k subscribers. Both channels are successful and have amassed millions of views in less than three years of starting them up.
10. Caitlin de Ville
Channel name: Caitlin de Ville
Number of subscribers: 661k
Content type: Musical
Caitlin de Ville is a professional electric violinist who hails from Zimbabwe but resides in South Africa. On her YouTube channel, she uploads videos of herself playing covers of songs – both hers and those of other artists – using a violin. She has performed at various festivals and events in different countries.
On her YouTube channel, she has playlists for her older videos, studio covers, behind-the-scenes, announcements, stage performance, latest music videos, and many more. Lovers of music and violin covers will love this YouTube channel. She has been actively uploading YouTube videos for over a decade, and her passion and consistency have earned her the level of growth she has enjoyed.
11. Matt Dubber
Channel name: AirArmsHuntingSA
Number of subscribers: 432k
Content type: Hunting
Matt Dubber's kind of Youtube channel is not your regular kind of channel. He has been uploading YouTube videos since 2014 and is one of the most consistent YouTubers on this list. His YouTube channel is not the type that just anyone can like, but he has found his right kind of audience who do not fail to watch his uploads.
Dubber makes videos on ammunitions, such as ammunition testing and reviews, reloading, and hunting with these ammunitions. The most popular video on his channel titled "The Grey Menace | The Oxwagon Diaries, Part 7" has over 11 million views. He also has 19 other videos that have gotten over one million views. Vegetarians and those who feel bad about animal death may have to stay away from his channel.
12. Michael Philips
Channel name: MCPEMike
Number of subscribers: 283k
Content type: Gaming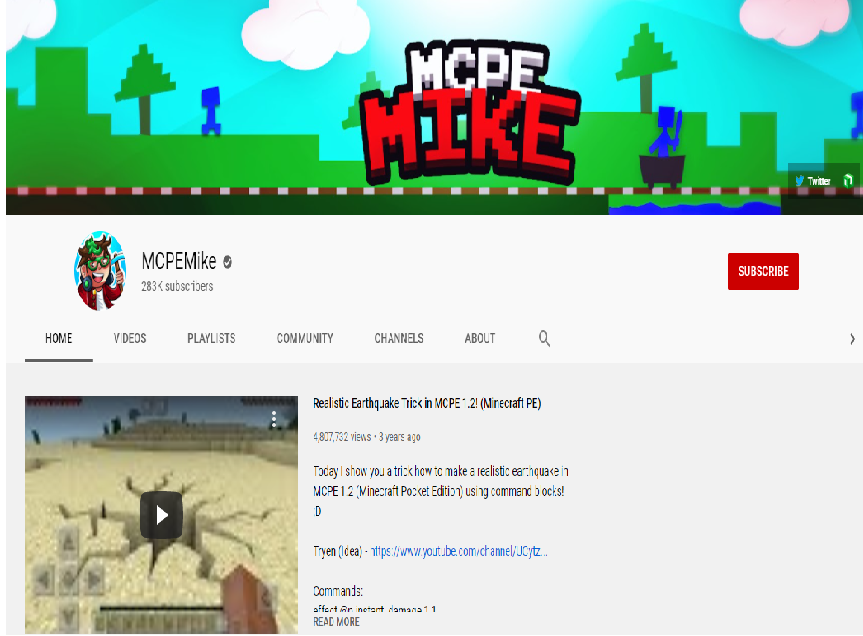 Anyone who watches YouTube very much and has some inclination about who the biggest YouTubers in the world are would know that gamers are topping the charts. Some of the biggest and most popular YouTube channels like PewDiePie are big-time gaming channels. So it is no surprise that MCPEMike is on the list of the biggest South African YouTube channels.
With the improvement and increase in the number of online games with awesome user experience, many people are going into playing games online for money- some enjoy watching professionals play. Through channels like MCPEMike, one can learn basic tricks to mine craft video games. Although he has not uploaded a new video since 2018, his channel is still one of the biggest in South Africa.
13. Theodora Lee
Channel name: Theodora Lee
Number of subscribers: 200k
Content type: Advice, Personal Vlog
With no video since 2019, the dating and relationship coach Theodore Lee still makes it to the list of biggest and most successful South African YouTubers. Before she stopped posting videos on her channel, she started hosting a podcast dubbed, Pretty Lonely. Her podcast aimed to help people find love in their world.
Theodora Lee is Caspar Lee's elder sister. He had featured in some of the videos – especially those from eight years ago when she started making YouTube videos. Both she and her brother have been away from YouTube for over one year now. As of now, the most popular video on her channel is Boyfriend Vs. Brother, which has over 1.7 million views.
14. Derick Watts & The Sunday Blues
Channel name: Derick Watts & The Sunday Blues
Number of subscribers: 158k
Content type: Comedy
If you are looking for a channel where you can find hilarious comedy, Derick Watts & The Sunday Blues is just the right place. Although they haven't uploaded a new video since October 2018, there are still so many rib-cracking videos on the channel.
Derick Watts & The Sunday Blues joined YouTube in 2011, and since then, they have amassed over 150k subscribers. All their videos also get many views and likes, showing that people love what they are doing. So if you are a lover of jokes and comedy, one of the biggest South African YouTubers to check out is Derick Watts & The Sunday Blues.
15. Julia Anastaspoulos
Channel name: SuzelleDIY
Number of subscribers: 155k
Content type: DIY
South Africa's YouTube DIY queen, Julia Anastaspoulos, started her YouTube channel in 2014. In the space of almost seven years, she has gained millions of views and over 150k subscribers. If there is anything you intend to learn how to do by yourself, SuzelleDIY is the right channel to check out.
She has DIY videos on making facemasks, wall hangings, unicorn popcorns, rugs, phone accessories, and even YouTube videos. You can learn a lot of things from her channel. There is just so much to learn. In the space of six years, she has been able to create 137 videos. Although she has not uploaded a new video since October 2020, her channel is still a knowledge mine. It is absolutely worth being a part of the biggest South African YouTube channels.
How Can One Build An Organic Audience/Subscriber Base On YouTube
Learning about the most successful YouTubers in South Africa may serve as a morale booster for someone who has a passion for content creation to try and launch their own channel. The pertinent question in their minds maybe how do I become successful as a YouTuber – and we will discuss that for a bit. Let's understand the concept of YouTubing and who a YouTuber is.
A YouTuber is a content creator who creates specific content (it may be general depending on your subscribing base) on the YouTube platform targeted at a particular audience. They aim to build a base and command a following – people who subscribe to their channels to view their content regularly. This "audience" is what makes one a successful YouTuber.
To become successful as a YouTuber, certain things must be in place. The content of your YouTube channel must be original and must have a personal touch. No one will bother subscribing to a channel to view what they have seen somewhere else or something they don't feel emotionally connected to. It would be best if you tried to build a personal connection with your viewers. Once they know you are reaching for them through your contents, they would feel drawn to you.
Earning on YouTube
As clarified earlier, not everyone who is sharing videos on YouTube can be classified as a YouTuber. For so many, it is a hobby. However, when that begins to gain traction and garner a base with daily views and subscriptions, YouTube can become a huge source of steady income.
When that happens, the step foot forward would be to run the channel as a business as this opens up the channel for more value in terms of earnings. There are three ways YouTubers can earn on YouTube:
Google Adsense
Products Advertising, and
Google Partnership
As your channel grows, businesses and brands lookout for those particular contents, which gain the most traction on the platform and try to place their ads in them so your active subscriber base could see it. Also, they go into contract with YouTube channels with very active audiences, which allows them to place their adverts on all the videos put out by the YouTuber. And, of course, the YouTuber receives an agreed sum for these kinds of collaboration.
Lastly, Google itself offers some partnerships to YouTubers who have grown their channels to a viable extent. The partnership program is channeled towards generating revenues for the YouTubers as people visit their channel.
Biggest South Africa YouTubers FAQ
Here are answers to some of the frequently asked questions about the biggest and richest South African YouTubers.
Who Is A YouTuber?
As mentioned before, a Youtuber is a YouTube content creator that makes video content and uploads them on YouTube for others to watch. The nature of the content may vary depending on the primary purpose of the particular YouTube channel.
How Do African YouTubers Get Paid On YouTube?
There is a general monetization threshold for all YouTubers, which is 1k subscribers and 4k watch hours. Once a YouTuber reaches this threshold, the person becomes eligible to make money on YouTube and apply for Partnership.
YouTube will review your application, and once it is approved, ads will start running on your videos. This would mean that for every 1000 video views that an ad runs, you make money. Once your income reaches $100, you can now withdraw it into the dollar account you registered for the particular YouTube channel.
Who Has The Most Subscribed YouTube Channel In Africa?
The Daily Show with Trevor Noah is currently the most subscribed YouTube channel in Africa with 9.24 million subscribers.
Who is The Most Popular YouTuber In Africa?
Being the biggest YouTube channel in Africa, Trevor Noah is still the most popular African YouTuber.
Who Is the Richest YouTuber In South Africa?
Caspar Lee used to be the richest among the crop of South African YouTubers, but Trevor Noah seems to have taken that title away from him since the former stopped posting content on his channel for over one year.
Who Is The Richest YouTuber in Africa?
Trevor Noah still retains this position. He is the richest South African YouTuber and also wears that hat across the continent. With The Daily Show with Trevor Noah, he uploads at least one video a day, and all of these videos get hundreds of thousands of views.