We all have our favorite holiday destinations or somewhere we love hanging out with friends and family. For people who love water but unfortunately do not live near a water body, water parks are great substitutes and what's more, water parks in Johannesburg these days are equipped with features that imitate the waves of the oceans, without the sharks of course. They are great ways to live out your water fantasies, go through heart-pumping adventures, and of course bond with loved ones. Greater Johannesburg has a lot of amazing water parks that offer unimaginable adventures and much more. Just remember to bring your swimsuit along!
Best Water Parks in Johannesburg
Water parks in Johannesburg are great places to cool off, have fun, picnic, connect with family, and splash around, but only the best water parks in Johannesburg as we have listed them below will leave you with a memorable experience and a craving for more water fun in the City of Gold.
1. Happy Island Waterworld
Name: Happy Island Waterworld
Location: 107 Lake View Drive, Muldersdrift just off Beyers Naude, approximately 6km from the N14 Freeway, Johannesburg South Africa
Year It Opened: December 2018
Size: Happy Island spans across 4 large properties
Owner: South African businessman Tim Hogins and China's Happy Island Group
Highlight: Two giant wave pools and water rides like the Spiral Slide, High-Speed Slide, Rainbow Slide, Master Blaster Super Tubes, Four-person Behemoth Bowl, Typhoon Slide, and the Python Slide. There are also massage pools, a spray park and kids' rides for the kids, and a lazy river for those having a lazy day.
Capacity: 35,000 people per day
Other attractions: all-day dining facility, restaurant, and accommodation facilities, shopping plaza
Entrance Fee: Adults pay R199, children under 1.3m, pensioners and disabled can enter for R99, while children under the age of 2 enter for free.
Dubbed Africa's largest water park, Happy Island Waterworld is truly a sight to behold, a haven for fun lovers. Its main attraction is the double wave pool with its sea-like waves; fun-seekers have fun counting down (along with the MC) and riding in the artificial waves. The four-person Behemoth Bowl tube ride is ideal for a family ride, while the Master Blaster Super Tubes and the Typhoon Slide, which spirals downwards in the shape of a literal typhoon, are not for the fainthearted. There is also an Amazon Rainforest-themed ride, Boome Range, and Lazy River for those who want to just relax while cruising through. The massage pools are heated after summer.
Visitors can purchase RFID wristbands for R20 on which they can load money for food, drinks, tube rentals, etc. This makes it convenient to navigate the park cashlessly. The wristbands are also used to open the lockers where visitors can keep their stuff. Restaurants and food trucks that offer various food choices abound.
There is a medical center and three full-time ILS registered paramedics onsite daily. There are also full-time security personnel and security cameras around the facility. Apart from the locker facilities, there is also a lost but found facility, a changing room with showers, and free parking.
Fun seekers who have visited Happy Island Waterworld opine that it's a nice place to be and is also a good place for kids. Others have also commended the management of the park for the beautiful environment and several safety measures put in place at the park. For some others, Happy Island Waterworld is by far the best water park in Gauteng as it accommodates everyone and not to mention the music and the water waves. The slides are worth the experience.
2. Gold Reef City
Name: Gold Reef City Theme Park
Location: Corner of Northern Parkway & Data Crescent, Ormonde, Johannesburg
Year It Opened: Early 1970's
Size: 45 Acres
Owner: Tsogo Sun
Highlight: Water rides, Roller coasters, Vintage mining town, and an underground gold mine tour
Capacity: N/A
Other attractions: Casino, Hotels, Cinema, Restaurants
Entrance Fee: R200 per person (General admission), Gold Rewards cardholder R180 per person, Platinum Rewards cardholder R170 per person, and Black Rewards cardholder R160 Per person. Children under 3 do not need to pay to enter the theme park
The Gold Reef City Theme Park has the Raging River Rapids, which is a memorable trip through old caves and waterfalls. Its slogan "Pure Jozi, Pure Gold" really speaks of its representation of the Jozi spirit; the City of Gold.
Gold Reef City is an excellent holiday destination because it offers so much more. Its water features, which are part of the theme park, are one of such offers. The water slides and the Raging River Rapids can be enjoyed alongside the rollercoasters and helicopter rides. There is also the Tower of Terror, the Anaconda, the Golden Loop, etc. Visitors can also go for an underground tour of the mines and learn about the gold rush from the museum. Other attractions include; the Apartheid Museum, Johannesburg Botanic Garden, the Casino, the Game Room, the Opera House, the Art Movie Theatres, Horseback Riding activities, and a visit to the shopping mall.
Gold Reef City Theme Park is no doubt an amazing place that has a lot of activities, including water activities. It also offers accommodation and conference facilities. If you are planning for a day trip with family and want to enjoy water sports, come in the appropriate clothing. The water park makes you feel like a kid again as you will get VERY WET on some of the water rides, don't think it's just a sprinkle.
3. Pines Resort
Name: Pines Resort
Location: 2 Ivan Smuts Ave, Silverfields, Krugersdorp, 1739, South Africa (situated just outside of Johannesburg in Krugersdorp)
Year It Opened: N/A
Size: N/A
Owner: N/A
Highlight: Water Slides, solar heated swimming pool, mountain and aqua slides, and a rope adventure park with ziplines and climbing obstacles
Capacity: N/A
Other attractions: Picnic and braai (barbecue) area, joint castle, and kiddies playground
Entrance Fee: Adults and Children from 8 years up R140, Children from 3 years to 7 years and senior citizens R80, Children from 1 to 2 years R40 while entry for 0 to 1 year is free. Combo tickets R 270 per person.
The Pines Resort is the perfect place for family time. Aside from its three different water slides; the speed slide, the mountain slide, and the aqua slide, as well as an Olympic-sized and toddler swimming pool, there are picnic and braai areas where families can sit together, grill, and enjoy their own food. Unlike some parks where outside food isn't allowed, the Pines Resort encourages this.
Other available facilities include toilets, changing rooms, a Lapa to hire out, jungle gyms, and a splash pad. There are no restaurants but there is a shop, bar, and takeaway that sells delicious food. Some rules have been put in place to ensure safety.
At the Pines Resort, you, your friends, and or family will have a great time reveling and taking in all that has been put in place in this water park. You will have fun, and lots of it; this is guaranteed. The resort has also been praised for how clean, accommodating, and safe the place is and people who have visited Pines Resort have repeatedly commended the management for how everything is so well kept and clean.
4. Aquadome at Emerald Resort & Casino
Name: Aquadome
Location: 777 Frikkie Meyer Blvd, Vanderbijlpark, 1900, South Africa
Year It Opened: Unclear (Emerald Resort & Casino possibly opened in 1997)
Size: N/A
Owner: Emerald Resort & Casino
Highlight: waterslide and shipwreck, lazy river
Capacity: N/A
Other attractions: An outdoor deck area, beach volleyball, and basketball court area.
Entrance Fee: R60 for adults and children below 3 on weekdays and R100 on weekends and public holidays
The Aquadome is an indoor water park at Emerald Resort & Casino, less than an hour away from Johannesburg. The indoor climate-controlled aquadome is truly a place for all seasons as visitors can have fun throughout the year. There are water slides, a lazy river, and a shipwreck to be explored. There are also trained and experienced lifeguards onsite. Of course, one can take a break in the casino or spend the night in their luxurious hotel.
The Aquadome at Emerald Resort & Casino is really a beautiful place with nice swimming pools. A great place to have a great time with the whole family, with lifeguards on guard, no doubt, you will have so much fun here. The place is great for families with children as there are lots of things to do, such that you may even lose track of time, and still want to stay back. The pools are warm and they have a variety of sizes for different age groups and swimming capacities. The food they serve there is also good with a variety to choose from for you and your family. You will definitely love it here and look forward to coming back after your first/last visit.
5. Wild Waters
Name: Wild Waters
Location: 1 Margaret Ave, Bardene, Boksburg, 1459, South Africa.
Year It Opened: N/A
Size: N/A
Owner: N/A
Highlight: A 500m super tube, raging rapids tube ride, a speed hump slide, a wave pool, and the kamikaze ride on boards.
Capacity: N/A
Other attractions: Picnic areas and braai facilities, cafes, and regular swimming pools.
Entrance Fee: R130 per person, no charge for children under 5 years
"The Beach Within Reach" can be described as family-friendly. Just 30 minutes east of Johannesburg, Wild Waters offers varieties of fun water activities; there is a wave pool, raging rapids, speed slide, adult supertube, kids supertube, kamikaze slide, and kamikaze boardslide. Whatsmore, there is a cafe, picnic and braai area for family time!
Reviews from people who have visited the place have them commending Wild Water as a great spot for just relaxing or having braais, kids also love the water and slides. The place is always clean and beautiful. The lifeguards are always on the lookout and they are very helpful by teaching the children safety rules when it comes to water. The public restrooms are decent and tidy. The place has friendly staff and you will always be greeted with smiling faces.
Also, their pricing is one of their big selling points as it is generally agreed to be reasonable compared to other water parks in Johannesburg. One thing is certain; if you visit Wild Waters, you will definitely recommend the place to those you care about and even just about anyone looking for a water park in Johannesburg that would just love to hang out in the sun for the day and relax with friends and family at the pools.
6. GOG Lifestyle Park
Name: GOG Lifestyle Park
Location: Plot 126, Nooitgedacht, Johannesburg 1739 South Africa
Year It Opened: N/A
Size: 10 hectares
Owner: Tim Paul Hogins
Highlight: Water Features and Spray Park, Gyms
Capacity: N/A
Other attractions: A Cabin Restaurant, Play areas and obstacle courses, bike rental, picnic areas, and much more
Entrance Fee: R150 for adults and children above 4 years old
The cool thing about GOG Lifestyle Park is that there are lots of activities for adults and kids. There are 7 unique rides, BMX track, a kids pump track, a climbing wall, zip line, inflatable pool, spray park, trampolines, and sprint obstacle courses. True to its name, Green Outdoor Gyms focuses on activities targeted at healthy living, so for visitors who want to keep fit while having fun as well, this is the place to be. The park does have childminders and operators at every play area. There are also lifeguards, as well as paramedics at the swimming pools.
Many people who have visited GOG Lifestyle Park agree that it is a fantastic place to take kids for water fun; even parents can join in the fun. Water slides, splash park, swimming pools, slides, volleyball, zip line, abseiling, wall climbing, trampolines are som are some of what you will enjoy for spending quality time in this Johannesburg waterpark. On the other hand, their food is good; typical carnival food like burgers, hotdogs, pizzas etc. are served here and are also not badly priced either.
7. Buksies Resort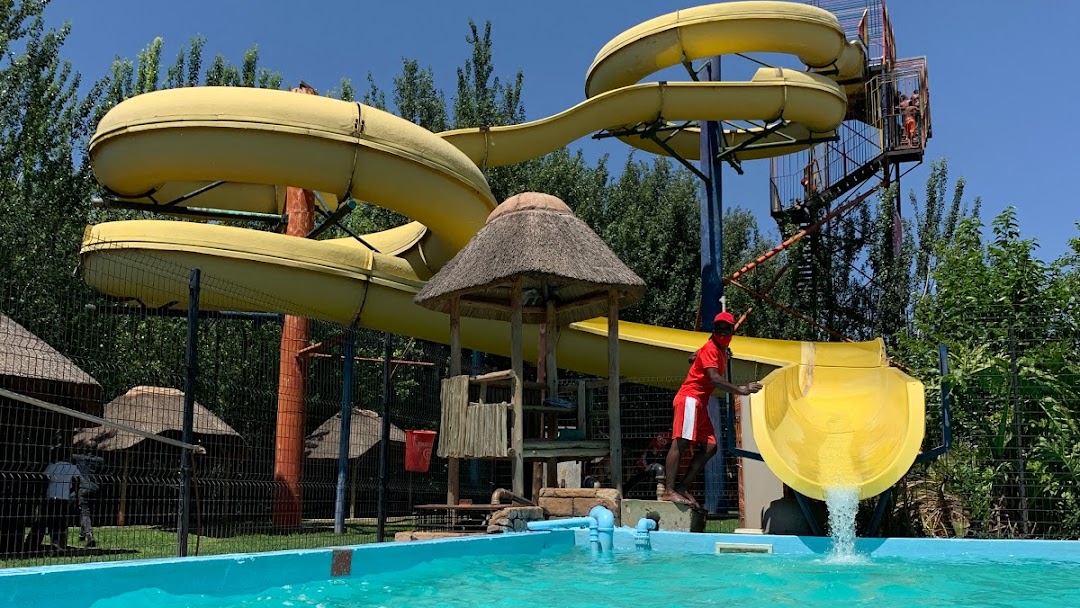 Name: Buksies Resort
Location: 155 Kliprivier Road, Eikenhof, Johannesburg South 2091 South Africa
Year It Opened: N/A
Size: N/A
Owner: N/A
Highlight: Waterslide, pools, braai facilities, super slide
Capacity: N/A
Other attractions: Touch Farm Reptile, trampolines, swimming pools, Jumping castles, VIP area etc.
Entrance Fee: R40 for kids (1-12 years) and R80 for adults
With its Super Slides, adult and kid pools, Lapas with braai facilities, VIP area, Cottages, and more, Buksies Resort is the perfect place to host fun activities like birthdays, graduations, and parties. There are a lot of open spaces, as well as exclusive VIP sections. The security level at Buksies Resort is top-notch and management is quick to respond to complaints.
Buksies Resort is a nice place to chill, especially for families with kids as it has kiddies pools in every sitting area and play structures for children. The water park is equally great for birthdays or any other celebration which the management will have to approve. The open space means there's a lot of space for people to bring their own gazebo and as the resort was built in braai stands, with swimming pools, there's an unlimited option of what will thrill you and your companion.
8. Fun Valley Pleasure Resort
Name: Fun Valley Pleasure Resort
Location: Plot 32-54, Olifantsvlei , Johannesburg, Gauteng, South Africa
Year It Opened: N/A
Size: N/A
Owner: N/A
Highlight: swimming pools, water slide, kiddie play area
Capacity: N/A
Other attractions: Picnic and braai (barbecue) areas, self-catering and non-catering accommodation units
Entrance Fee: R80 for adults and R30 for kids (2-11 years)
Fun Valley Pleasure Resort is a fun place to spend time with family. There are activities for both kids and adults in a serene and quiet atmosphere. While kids have fun at the slides and swimming pool, adults have fun at the picnic area as they look out for the kids. There is also provision for events and catering services.
One unique thing about this place is its simple design with lots of water features for kids and adults to play with. They also have a green area for other activities like a party, picnic, or any such events. However, endeavor to clarify from the management if it is okay before going ahead as the waterpark is carefully being looked after.
9. Little Falls Pleasure Resort
Name: Little Falls Pleasure Resort
Location: 5 Falls Rd, Little Falls, Johannesburg, 1725, South Africa
Year It Opened: N/A
Size: N/A
Owner: N/A
Highlight: Outdoor Public Swimming pool and kiddies paddle pool with picnic area, Waterfall
Capacity: N/A
Other attractions: Swimming, Nature Conservation Education, Meditation, Character Development training, and (LTS) Learn to swim courses.
Entrance Fee: R41 for adults and R23 for children between 4 – 18 years and senior citizens. Parking costs R41 for cars and R202 for buses
Little Falls Pleasure Resort is a great place for recreational activities. Surrounded by beautiful mountainous terrain and waterfalls, one can go for hikes and swim in natural water bodies. It is also a great place for group activities. While learning about nature, visitors can also have fun and create fond memories.
Little Falls Pleasure Resort as the name suggests is a nice venue to spend some quality time with friends and family. If you crave a water park in Johannesburg that is not too congested, has the sun shining and a mountainous view almost as if you have been removed from the hustle and bustle of Joburg, then this is the place for you. For the amount you will pay, you will also have the pleasure of viewing a waterfall which is not something you get to see everyday. So basically, the selling point for Little Falls Pleasure Resort is their serene environment despite being a place you can have lots of fun.
10. Weekend Market JHB: Kids World & Water Park
Name: Kids World & Waterpark
Location: Cnr Nasrec Rd & Rifle Range Rd, Ridgeway, Uncle Charlies, Johannesburg South
Year It Opened: N/A
Size: N/A
Owner: N/A
Highlight: Kids Pool, Adult Pool, Water Slides, Super Slides, Boat Rides, Jumping Castles
Capacity: N/A
Other attractions: Dj, Braai Area, Bar and Live Performances like Jugglers, Stilt walkers
Entrance Fee: kids R90 and adults R60, Cooler Box R150
As the name suggests, it is a great place for kids. Attractions include Jumping Castles & Inflatables, Super Slide, Carousel Rides, Rocket Rides, Gladiator Pits, Foam pits, pools, pool Slides, Adult Pool. There is also provision for parties and parents can take advantage of the weekend market and do some shopping.
Have These Tips in Mind when Visting Water Parks in Johannesburg

Although Johannesburg is a landlocked city, the various water parks within the city provide excellent alternatives to have fun-filled activities for residents. From the information available, it is clear that Joburgers love their water parks.
On a good day, most water parks in Johannesburg receive a large number of visitors, especially during the summer.
For some water parks that have other facilities like picnic and braai areas, families can enjoy their outing in a much more wholesome way with lots of things to have fun within the park.
Tourists can also visit water parks in Johannesburg that have museums and reserves while accessing the water park and learning new things about South Africa.
The different price tags for different water parks in Johannesburg mean there is a water park for everyone and at different suitable price ranges and different value-added services.
It isn't all fun and games in Joburg waterparks, some visitors to these water parks might have one complaint or the other. Chief among the complaints is the large crowds and long queues in some parks.
For the best experience and if you want to avoid crowds, customers are advised to visit on weekdays as opposed to weekends. On the other hand, if you don't really care about the crowd and in fact, you have the most fun with the crowd around you, then you should visit one of these water parks in Johannesburg on weekends.
You can explore the option of using online payment options (speedy tickets) and avoid queuing up to pay at the park's gate.
Sunscreen and swimming suits are must-haves for a pleasurable experience at the park or you might have to buy them at the venue.
If you are a parent, you should keep an eye on your kids and ensure you all obey safety rules in the park.
Recap of the Best Water Parks in Johannesburg For Adults and Children
Happy Island Waterworld
Gold Reef City
Pines Resort
Aquadome at Emerald Resort & Casino
Wild Waters
GOG Lifestyle Park
Buksies Resort
Fun Valley Pleasure Resort
Little Falls Pleasure Resort
Weekend Market JHB: Kids World & Water Park