Celebrity feuds have become part of the entertainment industry and the South African entertainment industry is not left out. One way or the other, fans tend to ignite these celebrity social media feuds – intentionally or unintentionally – through debates on whose favorite celebrity is better at one thing or the other. From what we have seen in the South African entertainment space, social media celebrity feuds can also be caused by simple emojis.
This article tries to pick out 10 of the most controversial and dramatic celebrity feuds that have rocked the South African performing arts industry. From the longstanding beef between rappers AKA and Cassper Nyovest to the legendary Twitter war between South African politician, Fikile Mbalula and singer Ntsiki Mazwai, here are some of the spiciest celebrity feuds that have been served on the streets of social media.
1. Cassper Nyovest and AKA – 2014 to Date
There is no better place to start off this article than with the age-long feud between South Africa's most popular rappers, Cassper Nyovest and AKA. This feud has survived several attempts to bury it once and for all. Each time it seems the celebrity feud has cooled a bit, all it needs to be resurrected again is a tweet, a song, a comment, or even a fruit – yes, a fruit emoji. The feud, which started in 2014 began on Twitter.
In April 2014, Cassper Nyovest put out a tweet that claimed that his new single at the time, Doc Shebeleza, was the number one hip-hop track in the country and this did not go down well with AKA, whose new hit Congratulate, was also making waves the same period and was ranked at number one on South Africa's iTunes charts.
It is important to note that both rappers were friends at this point, however, AKA did not resist the temptation of throwing a shade at Nyovest for his claim. He took to Twitter to post a jab aimed at the Nokuthula hitmaker – even though he did not mention his name. The now-deleted tweet read:
There's a rapper running around saying he got the biggest song in the country … I challenge you to find his song in the iTunes Top 100.
This exchange began the AKA vs. Cassper Nyovest feud that has now taken several shades over the years. In August 2015, Nyovest alleged that AKA had assaulted him which led to the infamous release of diss tracks directed at each other by both rappers. AKA, in his 2015 hit track, Composure, called out Cassper Nyovest with several punch lines and as expected, Cassper responded with a diss song of his own, Dust to Dust.
Everything seemed to be okay in 2016 when the two rappers shared a hug at Nyovest's Fill Up Orlando Stadium concert with AKA also congratulating him for the success of the show, however, that turned out to be a whitewash. While Cassper was preparing for his 2017 concert – Fill Up FNB Stadium – he was very public about his financial constraints. This made it rather insensitive that AKA would come on social media to offer to feature in the concert for R1 million. An obviously angry Cassper Nyovest responded with a 'thanks but no thanks' reply, asking AKA to just buy tickets for the show instead.
Things further degenerated between the two and in June 2018 when they were close to getting physical with each other at one of AKA's parties which made the Good For That hitmaker declare that they would never reconcile.
On April 9, 2019, while American hip-hop star, P. Diddy, tweeted a gif of his dancing self with watermelon emojis as a caption from the comfort of his bed in the US (or wherever he was), the tweet resuscitated the feud between Cassper Nyovest and AKA a million miles away in South Africa. The hip-hop legend was trying to promote a new blend of Ciroc vodka – Ciroc Summer Watermelon – through his tweet.
🍉🍉🍉 pic.twitter.com/q7c4f7S3Bz

— Diddy (@Diddy) April 9, 2019
AKA responded to the tweet with the hashtag #Everyoneloveswatermelon. This should have been as a reference to his partnership deal with Cruz Vodka as the face of their watermelon-flavored brand of vodka – but not for Cassper Nyovest who sensed a veiled jab aimed at him. The Siya Trenda hitmaker had signed a partnership deal with Ciroc Vodka in 2018 and he weighed in on the conversation with the "No" emoji claiming that no one wants the Cruz watermelon flavor in South Africa.
AKA responded by suggesting that Cassper is getting fussed up because of a fruit emoji. This sparked up a series of tweets and counter-tweets from the two rappers which continued the next day. AKA has since talked of a September 2020 boxing match between them – to settle their beef on the ring. The Starlight crooner promised to 'shatter Nyovest's face in front of his family.'
I'm going to shatter your face in front of your family. Sign the contract and stop talking to me through social media.(please tag this guy) NOW.

— AKA (@akaworldwide) March 19, 2020
However, Nyovest has said AKA does not want to fight him as he has asked for them to go ahead with the fight but the former is withdrawing from the engagement. While this feud between the South African rap icons has gone on, tweeps have played their part in fueling the fight by setting them up with questions about each other or just photoshopped pictures which ends up making them throw shades at themselves.
2. Lerato Kganyago and Bonang Matheba – 2017
When Bonang Matheba, popularly referred to as "Queen B" was given the TV role that was supposedly meant for her fellow Metro FM show host, Lerato Kganyago, fondly called LKG, everyone expected that to degenerate into a "beef" between the two media personalities. Entertainment enthusiasts around South Africa watched with keen interest to see which way it would go but both Queen B and LKG never gave anything away, insisting that all was well between them.
There were pictures of both of them on their social media handles in a bid to sway fans into believing that nothing was amiss. Both Metro FM hosts attacked any publication that suggested that there was a feud between them. Perhaps, a more convincing play came in May 2016 when True Love magazine was accused of body-shaming LKG after they posted unedited pictures of her from a photoshoot she had done with the magazine. Bonang was quick to defend her colleague, calling out the magazine for body shamming Lerato.
I'm so livid!! @leratokganyango poured her heart about the most delicate part of her life. She dared to express her displeasure of how she was "altered". The response from one of the most iconic publications in this country was to body shame her. When will our black led publications be in support of each other? What a shame. Its going to be a while before I grace this publication… Not under this leadership! So hurtful! So wrong!
This show of support was enough to sway fans that there was no feud between them. But the pack of cards crumbled in 2017 when she resigned from Metro FM after the station added Lerato Kganyango as a co-host on her show, The Front Row. Even though she claimed otherwise, it was obvious that she resigned because she was not ready to share her spotlight with someone (LKG) who had been compared to her for a long time. Her exit from Metro FM has marked the end of any friendship they may have had as they have not spoken to each other since.
3. Uyanda Mbuli 
and
Anele Mdoda – 2018
This was one of the social media celebrity feuds that rocked South Africa celebrity streets in 2018. The nasty war of words started when Brian Hlongwa who was Gauteng's ANC chief whip at the time resigned from the position. This was after the Special Investigating Unit (SIU) implicated him in an embezzlement scandal amounting to R1.2 billion during his time as Health MEC between 2006 to 2009. While this trended on social media, businesswoman Uyanda Mbuli thought it was the best time to tweet about her past relationship with the embattled Hlongwa. She posted on Twitter:
Long before it was fashionable to talk about *MENTAL HEALTH ISSUES* Brian Hlongwa appointed myself and other young people (I was 23) on the Tara Hospital Board to educate our pears about MENTAL HEALTH. He paved the way for many young people to grow in the corporate sector💯✊🏿… pic.twitter.com/xU3P5C7Rnd

— Uyanda (@UyandaM) October 30, 2018
She also followed that up with another one, saying that while Hlongwa may have made some wrong decisions in his life, he had also made some very good ones. However, some people didn't think her post was unnecessary and among them were the Mdoda sisters – Thembisa and Anele Mdoda – who replied Uyanda's post, expressing how unnecessary it was – which ultimately began a Twitter war between them.
This post is unnecessary 🤷🏽‍♀️, but go ahead sis🙌🏾 !!!

— Thembisa Liyema Nxumalo (@tembisa) October 30, 2018
It's interesting that you never comment on anything I post yet you know what necessary🤷🏾‍♀️✨ Nawe qhubeka Doll… You have my full permission

— Uyanda (@UyandaM) October 30, 2018
Anele, probably in defense of her sister, told Uyanda Mbuli that if she really was interested in mental health she would want the issue to become fashionable so it could be discussed as much as Gucci bags are discussed. Whatever made Anele mention "Gucci bags" did not do her any favors as it seemed to have riled up Uyanda and she came out hunting for blood. She came for Anele's career and took a swipe at the cancellation of her show Real Talk with Anele.
She reminded the TV personality that she was on TV long before she (Anele) began her TV career and advised the latter to concentrate on her career and leave her Gucci bags alone. Anele tried to calm things down by saying there was no need to attach anyone's career and that her reference to "Gucci bags" was only metaphorical as she was not referring to Uyanda's bags.
4. Phil Mphela 
and 
Bonang Matheba – 2018
Another South African celebrity feud that played out on social media was between Bonang Matheba and Phil Mphela. Their fight started in 2018 when a South Africa tabloid – Sunday World – ran a story about Bonang's tax fraud case, much to the displeasure of the TV personality.
This resulted in her dragging the tabloid to court, demanding R10 million for defamation. Mphela felt engaging in a court battle against journalists was unwise and took to Twitter to advise Bonang not to continue with her quest. However, his advice was rebuffed as she replied by telling him "Go f*** yourself! Honestly."
My thoughts: Moghel should have just let this go. It's tabloid and responding or suing only gives the story traction.

Furthermore, I dont think it is wise for her to be waging a war with journos. Her influence is waning & she needs positive coverage to remain at the top.

— Kgopolo Mphela ☕️ (@PhilMphela) August 28, 2018
This began a series of tweets and rebuttals between the two former friends which persisted until Mphela threatened to expose her and her dealings in Sun City. He said he had information on her that would reveal her darkest secrets if she doesn't stay in her place. After that tweet, Bonamg seemed to quit the fight and there was peace on the streets of Twitter. Fans implored the entertainment commentator to go ahead and expose whatever dirt he had on the BNG boss, however, that did not happen.
Following Mphela's threat to expose Bonang Matheba, peace reigned between the duo for a couple of months and everyone thought that was the end of the Phil vs. Bonang war, however, they were mistaken. In December 2018, Phil Mphela tweeted his preferred nominees for the breakout actors of 2020. Popular stylist, Dumi Gwebu showed his displeasure about his inclusion of Busi Lurayi on the list and asked him not to disrespect Lurayi. Subsequently, Bonang jumped on it to reignite their feud.
She labeled Mphela "disrespectful" in response to Gwebu's post and in another reply to another tweet directed towards Mphela, the media personality also labeled him "the worst human"
In my opinion…

These are the breakout actors of 2020

– Ama Qamata
– TK Sebothoma
– Busi Lurayi
– Lunathi Mampofu

They really had a good year to showcase their prowess.

Will elaborate more on my next reaction video thread. pic.twitter.com/VIlBrxoK6U

— Kgopolo Mphela ☕️ (@PhilMphela) December 27, 2020
Shots fired! This reopened an old wound for Phil Mphela and he came at Bonang with all the ammunition he could find. In a series of tweets, he claimed Bonang was obsessed with him and cannot get him out of her head. He asked fans to asked her why she is picking on him of all people. He also posted screenshots of earlier conversations where Matheba appreciated him for his contribution to her work and ended by saying she is only mad because he called her out on her BS.
It all went wrong when I started calling her out. Telling her, you can't treat people like that. That makeup artist sacrificed to be there please be nicer. Don't do that here because we don't know these people.

Don't talk to me like that, I'm not one of your fans.

— Kgopolo Mphela ☕️ (@PhilMphela) December 28, 2020
5. Emtee and Flame – 2018 to date
South African rappers Emtee and Flame are part of the number of celebrities who are feuding with each other on social media. There has obviously been bad blood between the two rappers who were previously under the same record label Ambitiouz Entertainment. Whatever happened during their time there was, however, big enough for Emtee to begin a twar with Flame in 2018.
While we were recovering from his 2017 feuds and Twitter wars with other zalebs, including Cassper Nyovest, the Manando hitmaker was still in the mood for some in 2018. It began when he threw a jab a Flame on Twitter in response to fans who asked him about the Swimming With Sharks singer. Nobody was prepared for the reply he had to give.
Hey y'all need to stop asking me about Flame. Never f*cked with him first time I saw him. Someone tell that kid I don't know him! He should stop acting like he know me. I ain't never had (a) conversation with the clown. Ever! Travis Scott wannabe ass n*gga.
Like an invitation to come and eat a sumptuous meal, Flame wasted no time in making it clear to Emtee that he was losing relevance in the music industry and that his days as a force to be reckoned with in South African music were winding down.
Somebody tell this f*ck nigga Emtee I said f*ck him with a long one. Your days are numbered. You're out here missing with your music and becoming a real target. Look at you going off here about a whole lot of nothing. You're slipping, composure is key at this point.
Flame went further to tell fans to expect a full diss EP from him after suggesting that the reason Emtee blocked him on social media was that he dissed him in a verse of A-Reece's single Tell Me What You Want on which he (Flame) was featured.
In November 2019, the feud escalated further when Emtee suggested that Flame was a cheap artist. It started off as a public appeal by an upcoming artist, Dizzy M, to Emtee for a feature in his (Dizzy M) single. A tweep replied to the tweet, saying it will cost Dizzy M R5000 to get Emtee to feature in his song. The Roll-Up rapper did not seem happy with the ongoing conversation and tweeted saying he is not (as cheap as) Flame who charges peanuts.
On February 12, 2021, Emtee's tweet about who makes better hooks than himself was an invitation for more war of words between himself and Flame, maybe also featuring their fans. Flame rejected the notion that Emtee was better, insisting that if Emtee believes he is better than him, he also believes he is better than Emtee. When Emtee tried to clarify that his tweet was not directed at anybody, Flame was not having it as he told the Johustleburg rapper that his last hit song came in 2017.
I never said anything about ur boy. Ukuthi niyanyobana ang'ngeni ndawo https://t.co/jiTmbIxuma

— eMteeLOGAN (@emteerecords) February 12, 2021
I hate these kids who think dropping out of school and running away from home, showing ur folks the middle finger and being a rebel is Cool.

— eMteeLOGAN (@emteerecords) February 12, 2021
Emtee in his rebuttal reminded Flame that he is a graduate but cannot say the same of the Home Run hitmaker who is reported to have dropped out of high school in Grade 11.
6. Pearl Thusi and Bonnie Mbuli – 2019
The social media fight between South African TV actresses, Pearl Thusi and Bonnie Mbuli, in 2019 shed light on the issue of colorism in the South African film and TV industry. It started in March 2018 when the former TV presenter called out Pearl Thusi for a picture she posted on Twitter where she painted her face to look darker. Among the comments was that of Bonnie who reprimanded the former Miss South Africa for her post while calling it 'distasteful'.
In June 2019, when a tweep accused the Quantico actress of being talentless and only successful because of her light skin color, the issue of colorism for the Queen Sono star reared its head again. However, no one on the streets of social media expected what would follow that troll as her response triggered a twar between herself and Rockville star, Bonnie Mbuli.
In response to the troll who said she lacked talent and was only favored with movie roles because of her skin color, Thusi tweeted that she has also lost roles to dark-skinned women and that no role was handed to her as she has had to work hard for every movie and TV role she ever appeared in.
15 years of hard work I've put in means Jack s**t here. It's incredible how your entire being can all come down to your skin colour. I dare them to say this about the likes of… Beyonce, Diana Ross, Angela Davis. As if there wasn't an Aretha Franklin, Nina Simone, Miriam Makeba.
I've lost many jobs to dark skinned women. Because I didn't fit the mould of a real black woman for people. And other times because that woman was more beautiful or talented. Being light won't get you there and keep you there, you need to work. And work harder to prove that point.
Several celebrities weighed in on the issue but it was the reaction of Bonnie Mbuli that provoked a reaction from Pearl which turned the whole conversation into a Twitter war between the two celebrities. Bonnie had responded to her rant by tweeting:
So when a light-skinned actress complains abt the one or two roles they didn't get coz they weren't dark enuf; I'm like but the part ur crying abt was being the slave who gets raped and beat up in the thing, ppl who look like u have never had to be in that position to begin with (sic).
Although her name was not mentioned and because they had had a brush on the issue in 2018, Pearl quickly attacked Bonnie for her comments, saying she was surprised the Invictus actress would spread so much negativity, considering she had battled depression in the past. Her tweet read:
You have absolutely no clue which other parts I didn't get but because it makes you feel better to believe my acting career is working out only because I'm light-skinned. And for someone who survived depression and wrote a book about it you sure have love spreading negativity.
After the back and forth between the two South African celebrities, Bonnie tried to deflect by claiming she wasn't even referring to Pearl Thusi in the first instance.
Pearl, this isn't about you, you can't place yourself at the centre of such a huge issue, it can't be reduced to a twar, I don't know your shoe size but if you feel like it fits, then wear it ! https://t.co/IOa2sc8fLT

— Bonnie Mbuli (@BonnieMbuli) June 27, 2019
But that did not cool things even a bit as Thusi accused Mbuli of lacking the courage to confront her on the issue she has against her. The damage became even more irreparable when the latter suggested that Pearl Thusi should come and talk to her after she had paid South African rapper Emtee royalties for making her popular.
7. Cassper Nyovest and Lerato Kganyago – 2019
Most social media feuds between celebrities are caused by their fans – and this was one of such. While the celebrations were ongoing during Easter in 2019, South African celebs, Cassper Nyovest and Lerato Kganyago were dragging each other on Twitter streets. It began with a tweet by a Nyovest fan who asked why the former's latest single Move For Me was not good enough to make the Metro FM's Top 40 count down.
Is @casspernyovest #moveforme song not on @METROFMSA top 40 or am i imagining things?

— Meshack Mesh (@Meshack_kiler) April 20, 2019
To the tweet, the Monate Mpolaye rapper replied sarcastically that maybe the song is not good enough. Lerato Kganyago, who works with the radio station quickly chipped in by saying Cassper Nyovest's song gained airplay everyday on the station. But when Nyovest replied by asking LKG to "Relax", she was tipped over the edge as she accused the rapper of being childish. She said he didn't appreciate the support he was being shown. Things went ugly from that point with both celebs trading tweets, leading to LKG telling Nyovest not to call her his friend.
That's your problem! O childish! Im here re assuring you and supporting you ong karaba snaaks!

— leratokganyago (@Leratokganyago) April 20, 2019
Nobody spoke about support. The conversation was about the charts. I said maybe it's not good enough wa tla ka di comment tsa gore I must not forget to mention that it's on high rotation making it look like I'm complaining. You like coming at me side way wena and ha ke sbaye!

— Don Billiato (@casspernyovest) April 20, 2019
Side ways where? You making it sound like @METROFMSA isn't for you! You HATE being corrected. GROW UP!That's why I mentioned high rotation . You KNOW how TOP 40 works you've been there MANY times! And don't call me WENA I'm not your friend!

— leratokganyago (@Leratokganyago) April 20, 2019
You whylin but it's cool. Get your clout mama. It's all love from this side. This situation is done. ❤️

— Don Billiato (@casspernyovest) April 20, 2019
8. Ntsiki Mazwai and Fikile Mbalula – 2014
Next on the list is the 2014 legendary social media fight between controversial poet cum musician Ntsiki Mazwai and the former South African deputy police minister, Fikile Mbalula. Though Ntsiki has had well-documented fights with well-known Mzansi celebs such as Pearl Thusi, DJ Zinhle, Mihlali Ndamase, Bonang Matheba, and whoever you want to add to the list, her twar with the South African politician made national news.
It started with a tweet the then-Minister of Sports and Recreation also known as "Mr Razzmatazz" sent the American superstar songstress, Beyoncé. The politician who has never hidden his admiration for the US-based pop star tweeted the Brown Skin Girl singer, wishing her a happy holiday. Many didn't see anything wrong with it but not Mazwai, who wrote a scathing open letter to the minister, berating him for being a "Beyoncé groupie". The letter read in part:
Minister as a local artist, your obsession with Beyoncé is killing me. I saw your tweet to Beyoncé, Mr Minister, and I saw red. Before you are Beyoncé's groupie, you are an ambassador of South Africa. You are a leader. You are a person of influence. Please could you exercise this with some responsibility?… A few years ago you wanted to spend millions of public funds (not even your own money) to bring Beyoncé to South Africa, the masses protested and said 'oh hell no!!! Not with our artists!
I saw you at the Channel O award dressed like a young rapper who rolls with lil weezy….I was so disappointed. Mr Minister, are you so ashamed of being African that you must put on costumes to impress us? I just want to let you know that it is ok if you behave your age, people will still like you. You don't have to dress like an American to fit in.
Fikile Mbalula, who is not one to take this kind of open challenge lying down responded with a rebuttal of his own. In a series of tweets, Mr Razzmatazz seemingly gave the Injabulo singer a piece of his mind, throwing jabs to ridicule her lifestyle, music career, financial status, and what have you.
This so called open letter is not about my duties as minister of sports whether (sic) am doing my job or not it's a personal attack…. Ntsiki mazwai is not fit to question my bonafides ngubani yena?… Questioning my dress sense when you go around naked nobody ever said your dress sense is an invitation for prostitution.
She's fond of disrespecting ministers on Twitter, thinking we aren't able to respond to her insanity. This isn't the first time she does this. She can't blame me for her inability to pay rent. She invests her energy in attacks than self-development.
Following this exchange, the duo unfollowed themselves on Twitter. However, they seem to have smoked the peace pipe. On the second season of Tumi Morake's TV talk show, WTFTumi, in 2018, where Mbalula and Mazwai appeared as special guests, they both followed each other again.
9. Anele Mdoda and Bonang Matheba – 2018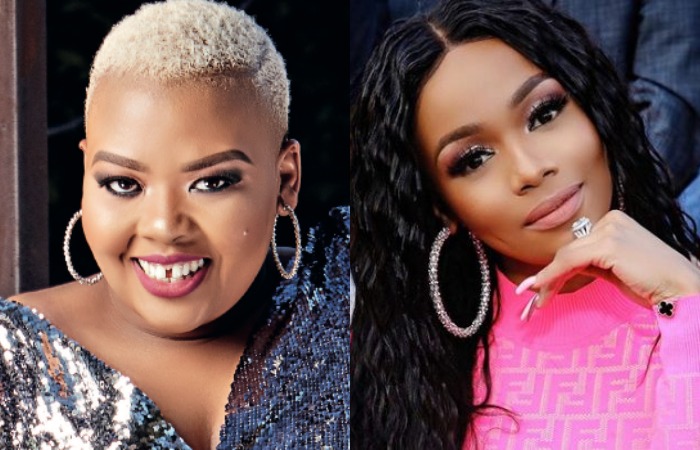 The feud between media personalities Anele Mdoda and Bonang Matheba is said to have begun several years ago when Bonang, also known as Queen B had issues with a friend of Anele. This led to the bad blood between the two women which caused the latter allegedly refusing the former from appearing as a guest on her afternoon TV show, Real Talk With Anele in 2018 – as reported by Sunday Sun – even though she denied the fact.
However, the fact that Queen B later made an appearance on the show – with Azania Mosaka – after she left SABC proves that the article report in 2018 was true. In 2019, their feud further escalated when Anele ignored Bonang when she tweeted about the best dressed at Somizi Mhlongo's traditional wedding in September – even though most tweeps thought Queen B was on top of her game with her dressing.
Pearl Thusi, Nomoozle And Thando Thabethe were best dressed at SomHale's nuptials.

— Anele Mdoda (@Anele) September 29, 2019
Weeks passed with no response or rebuttal from Bonang, however, when Anele tweeted some mean comments about the US-based singer, Kelly Rowland, The BNG boss found her opportunity and called on tweeps to clap back at Anele with a two-word cryptic tweet "Finish her." It was obvious who her tweet was directed at as she tweeted it the same day Anele was bashed for her comments about Kelly Rowland.
When i saw Bonang's "Finish her" tweet i knew she was referring to Anele😂

— Julie La Soul (@Julia_Maphutha) October 12, 2019
10. Prince Kaybee and Black Coffee – 2020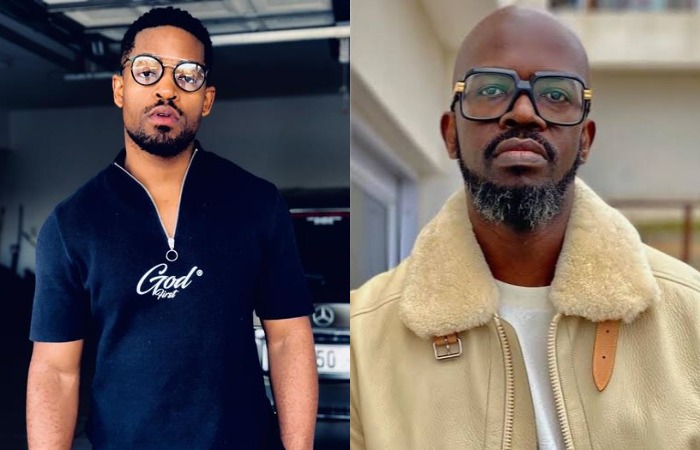 Prince Kaybee and Black Coffee are known for their long list of 'beef' in the music industry. While the former is known for having feuds with DJ Maphorisa, Cassper Nyovest, Msaki, etc, the latter's feud with rapper AKA and subsequent slapping of his road manager on stage are legend-worthy. In 2020, when Prince Kaybee decided to box in all 'celebrities' and offer them unsolicited advice on his timeline, he should have been ready for what followed afterward before he tweeted:
The problem is that celebrities fall for the same trap all the time, 'the urge to sound wise'. You watch a few youtube videos you (sic) wanna sound intelligent. Carry on, you will meet your maker.
As you would expect, several celebrities came for him and tweeps pulled out their chairs (with their popcorns in hand) as they watch things unravel. First, there was a heated exchange of tweets between him and South African DJ, Euphonik (who tweeps thought the original tweet from Prince Kaybee was aimed at). However, everything blew up when DJ Black Coffee entered the ring and asked Pince Kaybe if he thought he was a celebrity. What followed can only be found on movie scripts.