Zulu people have diverse traditional foods which are mostly prepared communally, with several families eating from the same pot. Zulu traditional foods are mostly farmed crops, as well as wild edible leafy vegetables. Dishes like porridge, maize meals, beans, and so many others commonly feature in their food menu. Another delicacy that is a common part of Zulu cuisine is meat. Zulus are known for often roasting their meats whole on a spit or adding them to porridge or vegetable-based broths. Despite western and other cultural influences – recipe-wise, traditional recipes for preparing Zulu dishes are never far from reach. Below are 10 amazing Zulu traditional foods you probably didn't know about.
Some of the Best Zulu Traditional Foods
Ujeqe
Samp and beans
Phutu
Chakalaka
Amasi
Beef
Amadumbe
Isijingi
Imifino
Izinkobe zikabhontshisi
How Common Are Zulu Traditional Foods In South Africa?
Zulu dishes are common in South Africa, owing to some factors. Zulu foods are not only consumed by Zulus alone, interestingly, other ethnic groups also consume some dishes that are known to have originated from the Zulu kingdom.
The Zulus are mostly scattered across South Africa and they make up the most populous tribe in the country. So, by extension, their food (which is majorly made from cultivated crops and wild edible plants) seems to have attained some sort of greater visibility and acceptance in the country.
Traditionally, the diet of the Zulus revolves around grains, wild plants, and meat because they are mostly nomadic farmers. They are known for cultivating mostly cucurbits (pumpkins, African melons, and gourds), legumes (especially cowpeas and groundnut), and cereals (sorghum, finger millet, and bulrush millet).
These crops are used to make so many types of meals that can be eaten separately or combined with other foods.
Another reason most people love consuming traditional Zulu cuisine is that their food is mostly organic, hence, does not require extensive processing. Though this generation tends to consume more processed foods, Zulu traditional foods are hardly rejected regardless of the occasion.
The Most Savored Zulu Traditional Foods
In South Africa, Zulu foods are mostly consumed by older people more than younger people generally. Regardless of urbanization, these foods can be easily found around and are mostly consumed with delight.
1. Ujeqe (Steamed Bread)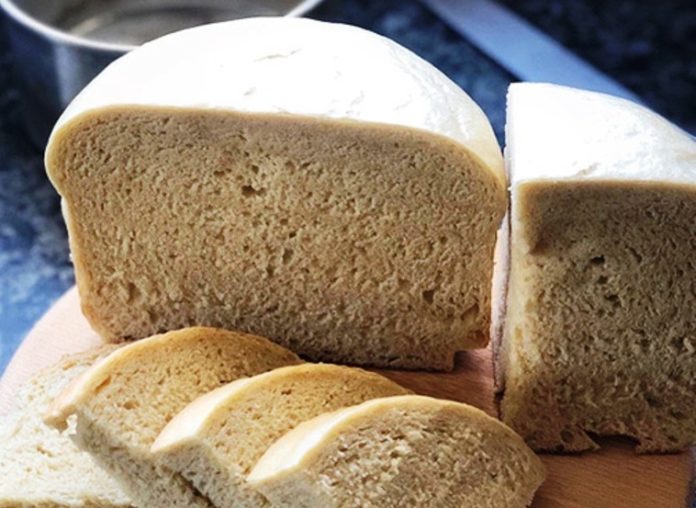 Ujeqe is a well-known Zulu traditional bread that is specially prepared at almost every traditional event in the Zulu kingdom.
It can be served with various dishes such as stews and soups or even meat or chakalaka. It also goes well with butter. For drinks, any wonderful drink can go as well, especially if it's chilled.
Traditionally, ujeqe can be prepared using the native ground mealies (corn), whereby the bread is steamed into the sack of the corn. These days, the preparation process has changed slightly for most township folks as they mostly cook Ujeqe without mealies.
Ujeqe is made with the following ingredients
2 ½ cups all-purpose flour
1 teaspoon salt
2 ½ tablespoons butter
1 teaspoon baking powder
200 ml lukewarm water
10 grams yeast
3 teaspoons sugar
sufficient water for steaming – depending on how big pot you us
How To Prepare Ujeqe
Add the all-purpose flour, baking powder & salt to a mixing bowl.
Add in the sugar
Mix well
Add butter
Rub the butter into the flour using your hand. It should look like breadcrumbs
Add the yeast and mix well
Pour in a little amount of water at a time and mix very well.
It should form a somewhat sticky dough
Sprinkle flour on a surface and begin kneading for about 10 minutes
Put the dough in a lightly greased bowl and leave for about an hour or more.
By now, it should be much softer and bigger in size. Go ahead to punch down the dough
Grease a pot or enamel bowl with vegetable oil and place the dough in it
Full a much bigger pot with water (Do not overfill it so it won't get into the dough because if it does, it can result in a soggy bread which wouldn't rise when steamed)
Allow the water to boil and then place the dough-filled pot or bowl in it
Cover with a lid & allow the bread to steam on medium heat for 30 minutes. Thereafter lower the heat & steam for another 30 minutes.
Your Ujeqe should be cooked by now. Allow the bread to cool before handling.
Slice and enjoy your bread with soup or curry.
2. Samp And Beans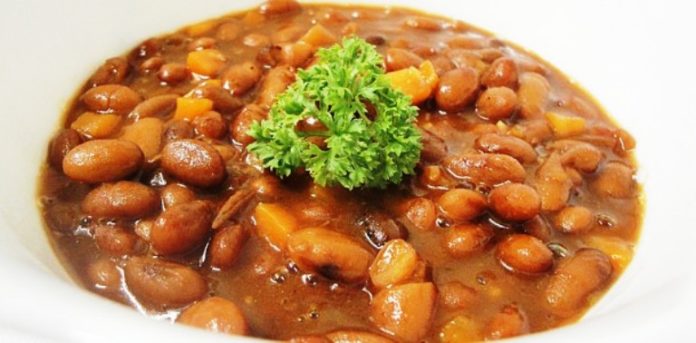 This staple dish is made from slowly cooked sugar beans and samp. Samp is actually roughly-cracked corn kernels. The outer layer of the kernels is usually removed during the cracking process, leaving behind the tender inner layer which becomes soft & fluffy when cooked.
There are so many ways to prepare this dish. It can be made with curry, chilies, or even without any spice. It also goes very well with gravy and meat and any drink at all.
Unlike in the olden days, the preparation of this dish takes just a little time. You can easily lay your hands on this staple food at shops as it is now sold pre-packed and already mixed for easier preparation.
Samp and Beans is a common dish in Zulu land and interestingly a favorite dish of former South African president Nelson Mandela. It is ideal for cold weather. The word 'samp' is believed to have originated from the Native American word "naussamp" which the English called "samp". It is most likely that the word entered the shores of South Africa during the British colonial period.
Samp and beans ingredients/recipe
1 onion, chopped
2 jam tomatoes
1 teaspoon ginger & garlic paste
1 star aniseed
2 bay leaves
1 teaspoon garam masala
Vegetable oil
1 teaspoon jeera (cumin) powder
1 teaspoon dhania (coriander) powder
1 cinnamon stick
2 tablespoon chili powder
½ teaspoon turmeric powder
¼ teaspoon soomph (fennel) seeds
Salt
1 sprig of curry leaves
1 sprig thyme
½ teaspoon elachi (cardamom) powder
2 cups samp
1 cup sugar beans (pinto beans)
½ cup jugo beans (optional)
½ teaspoon bicarbonate of soda
How to prepare samp and beans (with mutton or lamb)
Add the sugar beans to a bowl.
Add the jugo beans (Zulu nut) to the bowl of sugar beans (if you so desire)
Rinse them very well and soak them overnight with water so as to get them done very fast. when cooking. You may use a pressure cooker if you don't want to soak overnight.
Drain the water and transfer them to a cooking pot. Add water, bicarbonate soda, and vegetable water to hasten up the cooking process.
Start cooking the beans on medium heat. Set them aside when they become soft, not mushy. Do not drain the excess as this will thicken the gravy.
Wash your samp, place them in a pot and add water to it
Add in 1 teaspoon of vegetable oil and ½ teaspoon turmeric powder
Mix very well and start cooking. Set the samp aside once it is done. Do not throw away the water it was cooked with.
Cut and rinse your lamb or mutton and set them aside. Grate or blend your onions and tomatoes.
Heat 3 tablespoons of vegetable oil in a medium or large pot. Go on to add in the onions, bay leaves, thyme, star aniseed, cinnamon stick, curry leaves, jeera (cumin) seeds & the soomph seed. Stir them very well.
Add in the dhania (coriander) powder, jeera (cumin) powder, garam masala, chili powder, turmeric powder, ginger & garlic paste & the elachi (cardamom) powder.
Add in your mutton or lamb and salt to taste
Mix the meat very well in the spices. Cover the pot and allow to braise for 5 minutes. Do not add water.
Add your blended tomatoes and allow to cook for about 20 to 25 minutes.
You can add a little about 10 minutes into cooking and mix well.
Once the meat has cooked, give it a quick stir.
Add in the soft samp with a little water.
Add in the boiled beans
Allow to simmer for five minutes and turn off the heat.
Garnish with fresh dhania (coriander)
3. Phutu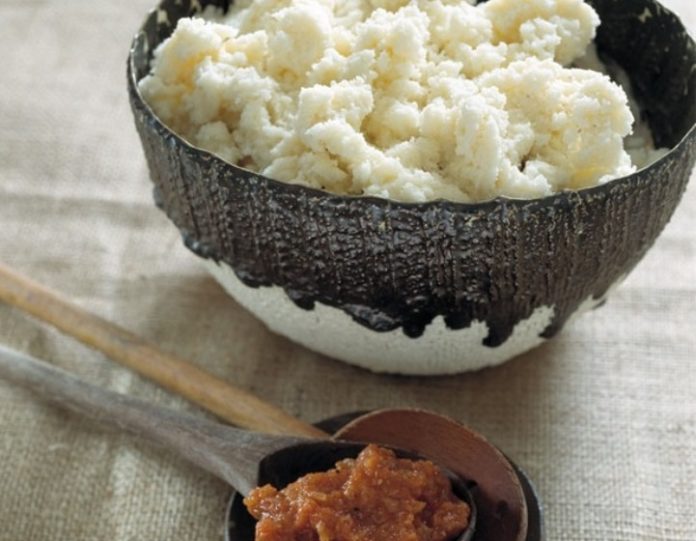 Phutu is a traditional South African porridge made by steaming maize meal until it develops a crumbly, grainy texture. It is one of the common staple foods regularly consumed by the Zulus, as well as most people in the country.
The dish is typically served with vegetables, sour milk (amasi) and sugar or sweetener, beans, tomatoes, and onion gravy, or meat. You can also eat it with Braais, Curries, Chutneys, Chakalaka, or even as a side meal to the main dish. Durban prawn curry or sausage with baked beans curry makes an amazing combination with phutu too.
Being a common dish, virtually everyone knows how to prepare this meal. It is easy to prepare and takes little time to get done. There is no specific maize meal to cook the dish with – you can use any maize brand of your choice.
Phutu recipe
1 teaspoon butter (optional)
2 cups maize meal
500ml (2 cups) water
1 ½ teaspoon salt (as per taste)
How to cook Phutu
Pour in water In a large thick based pot/pan
Add the salt and starts boiling
Turn down the heat once the water starts to boil
Immediately add in the maize meal
As soon as the maize meal hits the water, begin stirring with a fork or a wooden spoon. To achieve a crumbly dish, a fork is preferable
Continue mixing with the fork or wooden spoon until the water starts evaporating
At this point, the crumbly texture must have started forming
Add more maize meal if you want to thicken the dish more or more water if you want to make the mixture weaker
Add in the butter (remember this step is completely optional). The butter only gives the dish an extra flavor
Mix well and serve hot
4. Chakalaka
One of my favorite Zulu traditional foods, Chakalaka is a well-liked dish among Zulu people. The dish is simply a staple spicy dish of onions, tomatoes, and often beans. The vegetable relish has been around for many generations and is a necessary condiment at South African braais or barbecues.
The original chakalaka was probably a simple dish of onions, tomatoes, and a little curry powder. These days, this food can be prepared in so many ways with different recipes and can be served with anything – from stew to pap, meat, bread, samp, mashed potato, and bread. Depending on one's taste, Chakalaka can be prepared to be very spicy with big chopped veggies or even more elaborate.
Apart from the regular traditional ingredient, you may even decide to add other ingredients in desired quantity and Chakalaka will still come out nice. It is delicious as a flavoring for stews and sishebos and lasts for weeks in the fridge.
Chakalaka ingredients/recipe
3 tablespoons oil
1 onion, finely chopped
400 grams (14 ounces) canned baked beans
2 sprigs fresh thyme, leaves only
Salt and freshly ground black pepper
1 green bell pepper, finely chopped
1 red bell pepper, finely chopped
1 yellow bell pepper, finely chopped
2 cloves garlic, crushed
50 grams (2 ounces) ginger, finely grated
2 green bird's-eye chiles (Thai chiles), seeded and chopped
2 tablespoons mild curry powder
5 large carrots, scrubbed, topped, tailed, and grated
400 grams (14 ounces) canned chopped tomatoes
2 tablespoons tomato paste
How to prepare Chakalaka
Heat the oil in a pan and fry the onions until soft and translucent
Add the chiles, garlic, and half of the ginger
You can now add the curry powder and stir to combine
Add the bell peppers and cook for another 2 minutes
Add the carrots and stir very well. Ensure the other ingredients are coated in the curry powder.
Add in the tomatoes and tomato paste and stir. Cook until the mixture is well combined and slightly thickened.
Remove the mixture from the heat and add the baked beans, thyme, and remaining ginger.
Stir to combine and then season with salt and pepper.
Serve your chakalaka hot or cold.
5. Amasi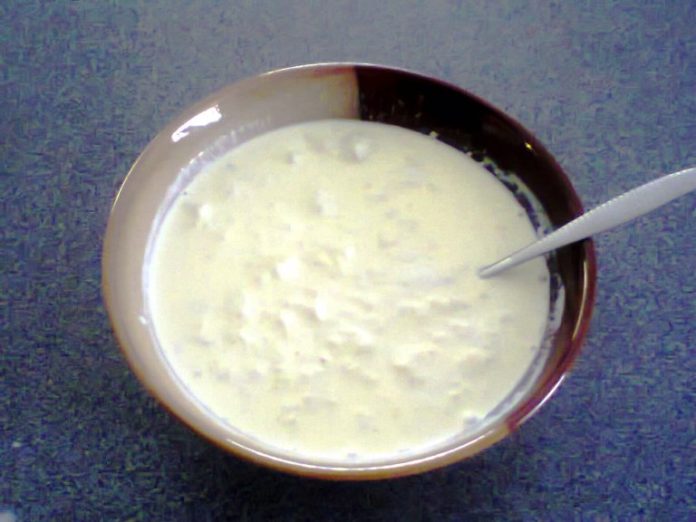 Amasi, a common Zulu traditional food, is fermented milk that tastes like cottage cheese or plain yogurt. It is an integral part of Zulu cuisine and is usually reserved for only the family members of the person that is preparing it.
Zulus traditionally prepare Amasi by storing unpasteurized cow milk in a calabash container or hide sack to allow it to ferment. After thickening, the whey is separated from the curd, and the curd is consumed. The amasi gourd is not to be cleaned, instead, it is refilled with a new batch of milk that gains a special taste from being prepared in the gourd.
Once Amasi is ready to be served, it is presented in a clay pot and then eaten with wooden spoons. It can also be poured over mealie meal (pap). It is an amazing source of protein, magnesium, calcium, Vitamin E, and iron.
Like some Zulu traditional foods, this particular one is mostly gotten from cattle, and rarely from goats. It typically contains 170 calories, 8 grams protein, 10 grams carbohydrates, 11 grams fat, and 7 grams sugar. Amasi contains a lot of valuable probiotics.
Nothing has changed about the way this traditional milk drink is prepared. To begin, you need to have the following equipment – a glass jar, plastic spoon, rubber band, and coffee filter.
Amasi Ingredients
500 ml Organic full-fat milk
2 tbsp Amasi Starter Culture
How to prepare Amasi
Pour the Amasi starter culture into the clean glass jar
Add milk into the jar
Stir very well
Cover the mixture with a muslin cloth or coffee filter and secure with a rubber band.
Store at a room temperature of about 20-25C out of direct sunlight and direct heat source.
Store for about 12-24 hours or more till the sets like gelatine. You can ascertain this by tilting the jar; it should firmly pull away from the side of the jar as a single mass.
Cover and refrigerate for 7 hours once it is set. Do not stir.
Serve in a calabash with a wooden spoon.
6. Beef
Unlike in some parts of the world where beef is served alongside the main dish, the Zulu tribe prepares beef as the main dish. It is commonly prepared and divided among members of the family based on certain factors.
In Zulu, beef is shared according to age and sex. Again, the men get the most desirable parts such as the front legs, liver, and head. These portions are referred to as "high-status portions". Women and girls get the ribs and tripe while young boys are served the feet and hind legs.
Beef is a must-have at a typical Zulu traditional occasion. Zulus generally consume beef a lot due to the majority of traditional ceremonies that require the slaughtering of animals. Zulu beef dish can be served as both a main and side dish. It can be eaten with any kind of dish such as samp, rice, and taken with your favorite drink as well.
As for the recipe, it largely depends on the cook. One thing that is certain, however, is that the dish is always delicious regardless of the ingredients used and how it is prepared.
Zulu Beef ingredients
3 pounds boned, fat-trimmed beef chuck
2 onions
1/4 cup curry powder
2 tablespoons mustard seed
1 tablespoon minced garlic
1 teaspoon ground dried turmeric
2 cups fat-skimmed beef broth
1 1/4 pounds Roma tomatoes, rinsed, cored, and chopped
2 tablespoons minced fresh jalapeño chilies
2 tablespoons minced fresh ginger
Salt
How To Prepare Zulu Beef
Rinse beef, pat dry, and cut into 1-inch chunks
In a 5- to 6-quart pan, combine beef, onions, and 1 cup of water
Cover and bring to a boil over high heat; reduce heat and allow to simmer for 30 minutes
Uncover, turn heat to high, and stir often until liquid evaporates and meat and onions are lightly browned
Spoon them out and discard any fat.
Add curry powder, mustard seed, garlic, and turmeric to the heated pan and stir until spices are more fragrant
Add broth, tomatoes, chilies, and ginger and stir to free browned bits
Return to a boil, cover the lid, reduce heat, and allow to simmer until meat is very tender.
Add salt to taste and serve.
7. Amadumbe
Amadumbe is believed to have been introduced to Southern Africa in the 1500s by Portuguese traders and subsequently Indian indentured laborers. Today, it is a common dish among the Zulus, who normally cultivate it on wetlands.
Amadumbe is a herbaceous, tropical root crop with rough skin. This traditional Zulu vegetable and staple food are rich in Vitamin C, fiber, magnesium, Vitamin B1, potassium, iron, vitamin A, vitamin B2, and carbohydrates. In fact, it has more amino acids and protein than any other root crop.
The rich earthy flavor food is cooked like potatoes or sweet potatoes. Besides boiling,  it can also be roasted, grilled, or even served as mash, chips, or stews. It is an important root vegetable food crop in the Zulu kingdom.
You can enjoy Amadumbe with both local wine and modern drinks. You may decide to garnish your favorite sauce and eat your Amadumbe with it as most city folks do.
Amadumbe ingredients
How To Cook Amadumbe
Wash your Amadumbe
Put them in a pot
Add enough water
Close the pot with lid and bring to boil
Turn down the heat and boil the Amadumbe for 30 minutes. Keep checking them until you can stick a fork in your Amadumbe and it goes in easily. You can keep adding water to the pot If the water level drops during cooking
Once it is tender, bring down your pot and drain the excess water.
Your Amadumbe is ready to be served with or without any other food.
8. Isijingi/Ibehece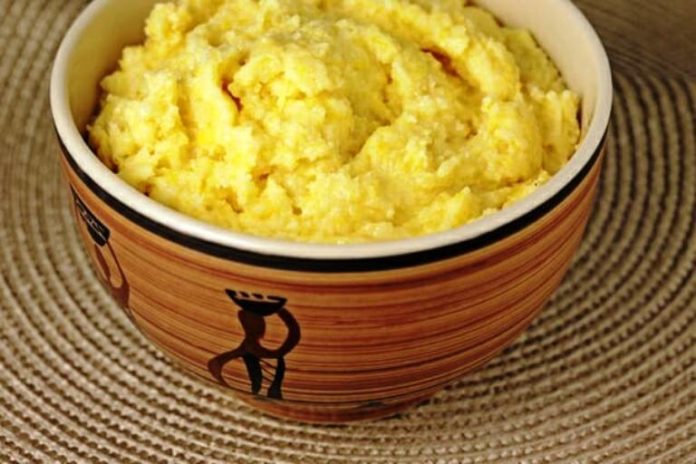 Isijingi is a traditional Zulu porridge made from Butternut or Pumpkin. It is very nutritious and commonly served during events. This porridge dish can be enjoyed alone or with any other side dish and drinks.
2 ½ cups Cubed Pumpkin or butternut
1 cup Maize Meal
½ cup Brown Sugar (or white sugar)
Water
How To Cook Isijingi
Peel, clean and dice your pumpkin/butternut and place it in a pot
Add enough water to cover and bring to boil
Once boiling reduce heat and simmer for 30 minutes or until soft
In a bowl add your maize meal and a cup of water and stir until properly mixed. It should form a paste
Add your maize meal paste to your pumpkin/butternut and stir continuously until it thickens and becomes smooth. Close your pot and reduce heat to low. (Depending on the consistency you want to add more or use less water/maize.)
Reduce heat and let it simmer for 15 minutes. Stir occasionally.
Add your sugar and let it cook for another 5 minutes.
Serve and enjoy
9. Imifino (Wild Edible Greens)
Zulus are not only known for eating beef, pumpkins, and grains alone, they also consume leafy greens, including Imifino, a traditional dish of mixed weeds and vegetables.
Like most weeds, they typically boil imifino or cook them into a stew or even stir them into grain dishes. The dish can be eaten with pap or as a side dish for your sishebo. The dish contains a whole lot of relevant nutrients including iron, calcium, vitamins A and C, and omega 3s.
Imifino is well-liked in the region and there is no right or wrong way to prepare it. Eating this food with any type of drink makes it more enjoyable.
Imifino Recipe
2 potatoes, diced
1 green pepper, sliced
45 ml (3 Tbsp) vegetable oil
750 g fresh spinach leaves or morogo
1 onion, sliced
15 ml (1 Tbsp) Rajah Mild & Spicy Curry Powder
5 ml (1 tsp) Robertsons Peri-Peri
Salt to season
How To Cook Imifino
Heat the oil in a frying pan and add the onion, green pepper, Rajah Mild & Spicy Curry Powder, and Robertsons Peri-Peri.
Fry gently until soft
Add the potatoes, spinach or morogo leaves, and a little water
Cook for about 10 minutes, stirring occasionally and adding a little extra water if necessary.
Season to taste with salt
Serve hot with mielie pap
10. Izinkobe zikabhontshisi
Izinkobe zikabhontshisi is a traditional Zulu dish that is prepared with beans and maize grains. Here, the maize grains are partially cooked, after which beans and salt are added to the maize. Both are then cooked until they become tender with a significant amount of liquid.
There have been some modifications in the cooking method of this corn stew and beans dish. These days, people add salsa, spices, salad, and other ingredients to the dish to achieve a more contemporary Izinkobe Zikabhontshisi.
This yummy food can be served with warm custard or cooling ice cream or any chilled drink. Izinkobe zikabhontshisi is a common dish at every Zulu event.
Recipe for the Stew
1 cup dry sugar beans/ red speckled beans
4 cups/ 1000ml water
1 vegetable or chicken stock cube
1t/ 5ml oil
¼ t/ 1.25ml cayenne pepper
½ t/ 2.5ml salt
Black pepper to taste
1 cup/ 250ml young white corn
Recipe for Salsa
3 tomatoes (finely chopped)
½ red onion (finely chopped)
Juice of ½ a lemon
1 green chili (optional, finely chopped)
Salt and pepper to taste
¼ cup/ 60ml fresh coriander (roughly chopped)
How To Cook Izinkobe zikabhontshisi
After carefully picking your beans, rinse them with cold water and place them in a medium pot.
Add water, oil, cayenne pepper, stock cube, and salt to the pot.
Cook the beans over medium heat for 20 minutes until beans are slightly tender. Do not overcook
Remove the corn from the cob and add corn to the beans and cook for a further 10 minutes until beans are completely tender.
To prepare the salsa, mix all the ingredients in a small bowl.
Serve the stew in a bowl and top with a few spoons of salsa
Conclusion
Like most parts of the world, Zulu traditional foods still hold an important cultural significance in their communities and the country at large. Some cultures may have influenced Zulu traditional foods, resulting in the addition of non-traditional food items (such as vegetable oil and spices). Some facts that have not changed over the years, though, are their traditional names and nutritional values (to a large extent).
Most Zulu traditional foods are prepared these days via modern methods of cooking traditional foods and with more contemporary ingredients. For instance, people who do not like the bitter taste of some wild indigenous leafy vegetables easily replace them with mild-tasting ones like spinach. Regardless, Zulu traditional foods are refreshing and always tasty.