The Xhosa people of South Africa have some of the most delicious meals which are also affordable and very nutritive. One of the major ingredients in most Xhosa traditional foods is maize, and with this ingredient, Xhosa people are able to create a variety of tasty meals that taste different. Maize meal can be made into pap that can be served as breakfast or a crumbly meal that can be served as a main dish for lunch.
Other major ingredients that make up the cuisines of the Xhosa people are samp, vegetables, grains, white and red meat. These ingredients contribute greatly to what makes most of Xhosa traditional foods nutritive. Whether you are from Xhosa or not but you wish to learn some of the best Xhosa traditional foods and how to prepare them, you will find this post very interesting.
Xhosa Traditional Foods, Cuisines, and Recipes
The Xhosa people of South Africa are known to have a rich cultural heritage. This is usually obvious at their traditional events, especially weddings. It is displayed through the dresses worn by Xhosa makotis and grooms as well as the cultural songs played at these events. They say a lot about the Xhosa cultural heritage.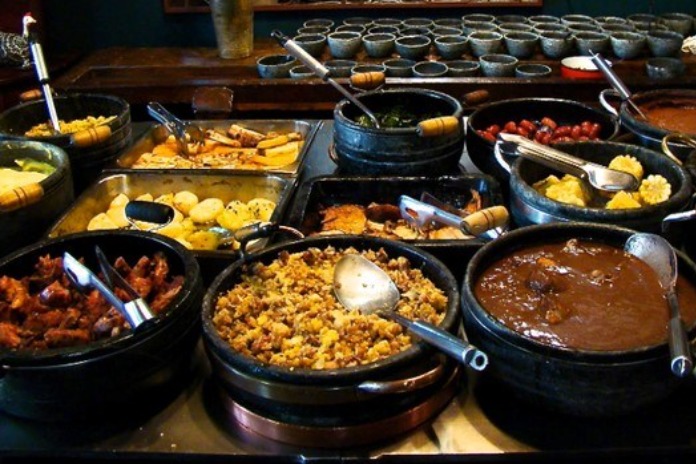 Another aspect that tells how rich the Xhosa culture is would be their local foods. Xhosa people are known to have very tasty and nutritive delicacies. Despite being traditional foods and cuisines, they are very easy to prepare and can easily be learned by anyone who is not Xhosa by birth.
A makoti who is not originally Xhosa, but is married to a Xhosa husband and wants to learn how to prepare Xhosa dishes will not find it difficult learning to prepare the cuisines on this list. Note that even though these traditional foods are originally from isiXhosa, they can still be cooked and enjoyed by anyone, even those who are not from South Africa. Here are 10 of the best Xhosa traditional foods that you should try out.
1. Mieliepap
Mieliepap is a tasty Xhosa delicacy that you should give a try. It can be served with meat or even just as Mieliepap porridge or with cereals for breakfast. The best part about it is that it does not take so much time to cook. Although it is Xhosa food, Mieliepap is also appreciated by people of other descent. So, if you want something light as a main dish, then Mieliepap is also a great idea.
Ingredients/Recipe
Corn flour – one cup
Salt – Half tablespoon
Butter – one tablespoon (optional, but makes a lot of difference)
Water – five to six cups
Preparation
Add salt and butter to boiling water in a pot.
Carefully pour in the cornflour while stirring to avoid creating lumps.
On medium heat, allow the pap to start bubbling.
Cover the pot to allow the pap to simmer for about thirty to forty-five minutes.
To get a more delicious taste, allow it to heat on a lower heat for a longer time. It may be slow, but the wait is worth it.
You can serve the pap with milk and sugar for breakfast or with barbeque meat and brown gravy as a main meal.
2. Umvubo
This Xhosa cuisine takes about 10 minutes prep time and 25 minutes actual cooking time. This means in less than an hour, you can finish preparing Umvubo. What makes this Xhosa traditional food unique is that it can be served at any time of the day, and as such can be a great breakfast idea in the morning before rushing off for work and also a great dinner idea in the evening after a long day, as it takes little time to prepare.
Ingredients/Recipe
Maize meal – 375g
A pinch of salt
Water – 2 cups
Amasi
Preparation
Pour the water into a saucepan.
Add a pinch of salt to taste.
Under medium heat, add the maize meal and stir until you get a crumbly texture.
Cover the pan and allow to simmer for about 15 minutes.
Beat the pap with a fork and stir in the amasi.
Your Umvubo is ready to be served and enjoyed.
3. Umfino
Umfino is another tasty Xhosa traditional food that you should try out and even consider preparing at home. As tasty as this meal is, you may expect that it takes a long time to prepare, but that's not the case. It has about 10 minutes of prep time and 40 minutes of actual cooking time. It is also a very affordable meal and nutritious as well.
Ingredients/Recipe
Butter – 50g
Vegetable seasoning – 2 Tablespoon
Vegetable Oil – 4 Tablespoon
Salt – To taste
Garlic – Two cloves
Spinach – One cup of sliced leaves
One large potato – cook and cut into cubes
Celery leaves – 10g of roughly chopped leaves
Onion – medium-sized and sliced
Cabbage – One cup and sliced
Maize meal – 300g
Water – 1 liter
Preparation
Boil the water.
While boiling, carefully stir in the maize meal to have a thick consistency.
Add a pinch of salt.
Keep the paste aside.
Heat a pan for some seconds then add the vegetable oil, with medium heat.
Throw in the onion, cabbage, celery leaves, potato, garlic, and spinach.
Add the vegetable seasoning
Add the Maize meal you kept aside earlier to the vegetables.
Serve while hot.
4. Umngqusho
Umngqusho is a very nutritious Xhosa meal that contains different classes of food like protein, minerals, carbohydrates, and vitamins, and it does not cost so much to prepare. But if you want to eat this traditional delicacy, you will have to start preparing it at least 24 hours prior. Aside from soaking the beans overnight, it takes about 1 hour 30 minutes to prepare.
Ingredients/Recipe
Potatoes – 1-2
Vegetable stock cube – 1
Tomatoes – 1 or 2 pieces
Curry powder – 2 or 3 tablespoons
Oil – 2 tablespoons
Salt – to taste
Sugar beans – 500g
Samp – 500g
Preparation
Soak the sugar beans and samp separately overnight.
Mix the samp and beans you have soaked overnight together.
Drain off the water.
Pour the samp and beans mixture into a large pot, add seven cups of water and allow to simmer under medium heat.
Allow to heat until the mixture becomes soft.
Add salt to taste.
In a pan, add the vegetable oil and sauté the onion, with some curry powder for about 3 minutes
Add the tomatoes, vegetable stock potatoes, and half a cup of water.
Allow to heat under medium heat until the potatoes are soft.
Drain the soft samp and beans mixture and add it to the pan while heating under medium heat.
Add the butter and stir to mix well.
Your meal is ready.
5. Umleqwa
Umleqwa is the Xhosa name for 'road runner' which would be the symbolic representation of the chicken – the main ingredient in this Xhosa traditional food. The meal takes about 3 hours to prepare and is also very easy to cook. To prepare this meal, you can follow the procedure below:
Ingredients/Recipe
Bay leaves – 3
Onions – 2
Garlic – 4 cloves
Chicken pieces – 2 to 2.5kg
Potatoes – 3 large pieces (peel, wash, and cut into small pieces)
Beef stuff cube – 1
Curry powder – 1 tablespoon
Black pepper – to taste
Salt – to taste
Preparation
Prepare and put all the ingredients, except the potatoes into a large pot and add water that covers the chicken.
Cover and allow to heat for about two hours. Stir at intervals and add water when necessary.
Add the chopped potatoes and allow them to cook for another 30 minutes until the potatoes are soft and the gravy is thick and rich.
If you feel the gravy is not as thick as you would prefer, continue cooking until you obtain the texture you desire.
You can now serve your Umleqwa with steamed bread, umngqusho, or ipapa.
6. Umbako
Umbako is a locally made Xhosa bread that has similar ingredients as the regular bread, but a different making procedure. If you want to eat tasty locally made homemade bread, Umbako is a great option.
Ingredients/Recipe
Flour – 1kg
Warm water – Half liter
Dry yeast – 1 tablespoon
Sugar – 2 tablespoons
Salt – 1 teaspoon
Preparation
Mix the dry ingredients together.
Make a hole in between the dry ingredients you have mixed and add water – while mixing until you get a smooth dough.
Wet the batter to be sticky.
Cover and allow to rise in a warm environment for about an hour.
After an hour, the dough should have risen significantly. Mix it down and cover to rise again.
While the dough is rising, you can use the time to rub butter on a metal bowl.
Use a bowl or pot that is large enough to contain it with little more space.
After the dough has risen for the second time, transfer it into the buttered bowl.
Add half a liter of water in another bowl and allow to boil.
Put the buttered bowl (which has the dough) into the bowl with the boiling water and ensure that the water is not more than halfway up the bowl.
Allow to heat under medium heat for about 2 and half hours and at intervals, if need be, add some water to the pot carefully to avoid touching the dough in the bowl.
Use a knife to check the thickness of the bread before taking the bowl out of the pot of water.
You can also check to know if the bread is done by picking it with a toothpick to see if dough sticks on it.
When the bread is done, remove the bowl from the pot and remove the bread from the bowl and allow it to cool.
Serve warm.
7. Umqa
Umqa is another tasty Xhosa traditional food that you should try out, not just to taste, but also to prepare at home. This food is made of just three ingredients but it tastes so good. It is also very easy to prepare and does not take so much time. Mostly, it is an affordable meal.
Ingredients/Recipe
Preparation
Peel the butternut and chop it into small pieces.
Pour the chopped butternut into a bowl and add sugar to taste.
Pour water into an empty pot, pour the butternut mixture into the pot, and heat until the butternut is soft.
Add the masa and stir until the mixture is properly mixed.
Allow it to simmer for about 25 minutes.
Your Umqa is ready to be served.
8. Umphokoqo
If you are having a hot summer day and you need a meal that will make you feel calm, then Umphokoqo will be a great idea. It can be served as a late afternoon braai, as well as a fast breakfast, as it is light and takes about 35 minutes to prepare.
Ingredients/Recipe
Amasi – 1 liter
Maize – 400g
Salt – to taste
Preparation
Boil 4 cups of water.
Add salt to taste.
Carefully introduce the maize meal into the boiling water while you stir in such a way that it creates lumps.
Keep stirring until you have a texture that is dry and crumbly.
Immediately water has dried out, cover and allow to simmer for 25 minutes.
Allow to cool and then serve with amasi on top.
9. Umxhaxha
Umxhaxha is a traditional Xhosa food that takes about 45 mins to cook and is very easy to prepare. Just like other Xhosa traditional foods on this list, this meal is very nutritious and also affordable. With just four power ingredients and a few cooking steps, your nutritious meal is ready to be served and enjoyed.
Ingredients/Recipe
Water – one cup
Sugar – 2 tablespoons
Fresh mielies – 2 cups
Medium pumpkin – ½ cup
Preparation
Wash the pumpkin and rinse it with clean water.
Pour the pumpkin into a pot.
Add the mielies, sugar, and water.
Boil at a medium temperature.
When the pumpkin, mielies, and sugar is well cooked, drain out the water.
Mix the mielies and pumpkin.
Your Umxhaxha is ready to be served.
10. Umqombothi
South Africa is home to many wine production companies where products that compete at the international level are made. However, as great as these wines may taste, most people will argue that they don't beat the locally produced Umqombothi, when it comes to South African local drinks. Umqombothi is a popular South African alcoholic drink that is brewed traditionally. It is made from maize and is low in alcohol content but rich in vitamin B. It takes about 3 hours 50 minutes to prepare it.
Ingredients/Recipe
King Korn (umthombo) – 1kg
Sorghum – 2kg
Maize meal – 2kg
Brown sugar – 1kg
11 liters of water
Preparation
Using 6 liters of water, make a paste with 1kg of sorghum and the maize meal.
Cover the paste and allow it to ferment for about 2 to 3 days in a dark and warm environment. To show that it has started fermenting, you will observe bubbles at the surface.
Set 2 cups of the fermented paste aside after the fermentation period.
Boil two liters of water and while boiling, add the fermented paste as you continue to stir
Reduce the heat and allow for simmer for about an hour.
Put off the heat and allow it to cool.
Transfer to a bucket, add the two cups you set aside earlier, and stir.
Throw in the remaining dry sorghum and add three liters of water, then stir properly.
Cover the bucket with a thick blanket for 24 hours to allow further fermentation.
Your locally brewed Umqomboth is ready. You can now strain and serve.