Driving can be a very big challenge for anyone who is a first-time driver. This is often associated with the stages that you have to pass through before being qualified to become a driver. Becoming a driver is not just about moving your vehicle from place to place but being able to do so in accordance with the regulations and safety measures that come with it. When you apply for a driving license in a bustling city like Cape Town, you may have to struggle through your sweat before you can be issued a driver's license for completing your driving course, perhaps with one of the approved and well-regulated driving schools in Cape Town.
Cape Town is one of the busiest cities in South Africa, and the vehicle traffic can get very hectic as the day's activities start and close. Despite that, driving around Cape Town can be one of the best things you can engage in since it can give you ample opportunity and freedom to tour the city and get a good view of all the sights around. But before you can do that, you need a good driving instructor to show you the ropes. This is where driving schools in Cape Town come in.
The Top Driving Schools in Cape Town
1. Champs Driving Academy
Location: Son Vida and Belton, Somerset Rd, Green Point, Cape Town 8051, South Africa
Phone No: +27737407722, 0737407722
Work Time: Mondays to Saturdays from 7 am – 7 pm
Areas Covered: Southern Suburbs, Cape Town CBD, Cape Flats, and the rest of them.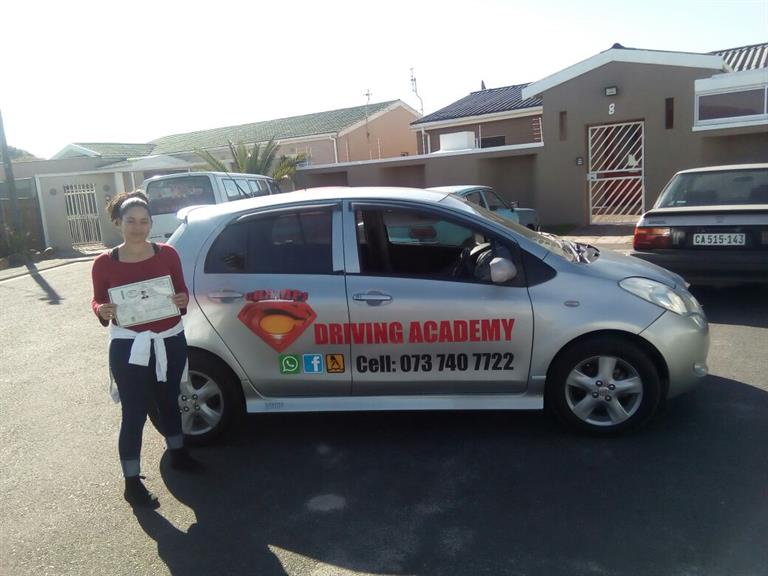 Champs Driving Academy is the place for that special driving lesson that will lead you on the step by steps of driving, and this is like the elementary school of driving. The school has maintained its excellence by hiring some of the best professional drivers that will tutor the people learning under them to get their driver's license in no time without much delay. The Champs Driving Academy instructors begin by understanding your demeanor when you're on the wheel and will detect whether you're nervous or not.
Learning basics that Champ academy help their learners to finesse includes basic movement of the car, clutch control, steering methods, reversing without having to look back, stopping and moving off techniques, robots intersections, mastering your speed limit, parking methodology, and a bunch of other techniques you need as a  driver. The academy is efficient and reliable and has gathered over two decades of experience in driving lessons, with many of their learners getting their driver's licenses with ease.
Client Reviews of Champ Driving Academy
From reviews, learners have confirmed that they pick your nervousness as a point that you can use to build on your confidence and get bolder as you navigate Cape Town roads when driving.
It was also noted that at Champ, every driver is qualified to register and learn under the Champ Academy as long as you're of age, willing, and ready to learn new things about driving so that you can get your driver's license. Champ Academy does not discriminate on the age and experience of the prospective drivers under their tutelage, and even newbie drivers will be taught carefully and meticulously.
Special Packages Champ driving Academy Offers Include:
R250 per hour (this may depend on the area of learning)
5 lessons for a combined fee of R1200
10 grand packaged lessons on all techniques for a fee of R2400
Cars for hire and test for brands which will cost R600
You can also contact Champ for their provided for future packages that can be available for other learners.
Champ Academy will provide the following services:
Instructors that have been grilled and tested to be professional, patient, and duly qualified.
Trained instructors by the academy's ex examiner.
Easy-to-drive car brands such as Hyundai Getz with power steering and dual control pedals, Toyota Etios.
K53 code 8 driving lessons.
Free pick up and drop off for the learners who cannot get to them using the normal routes.
Study notes and evaluation tests may include voice notes on what to do by the instructors.
Cars for hire for drivers that need to test specific brands.
2. Conquest School Of Driving Cape Town
Location: 46 Riverside Rd, Lotus River, Cape Town, South Africa
Phone No: +27 78 035 9146
Site: www.conquestschoolofdriving.co.za/
Work Hours: Seven days a week
Conquest was opened when it became tough for drivers to pass their driving tests. There was a time when you needed to be meticulous before being trusted with a driving wheel, and many driving students found it hard to cope. Conquest changed the narrative and became one of the reputable brands that can teach you to drive and be a master in no time. The school of driving was opened in 1999 and has built up a respectable reputation since then.
Choosing conquest would mean that you're ready to learn how to drive at your own pace without any rush, and this is a massive arsenal for drivers that are slow learners. The aim is for you to become a professional on your own without the need for the instructors to rush you through the process. Getting a selfless driving school service is hard since most of them are becoming more business-oriented against the ethics of the business, which should be squarely focused on grinding out seasoned drivers that can hold their own on the steering wheel. This is why Conquest is revered amongst other driving schools in Cape Town. Their instructors are trained to leave no stone unturned when teaching driving techniques.
The fact that Conquest's owner is a former traffic instructor is a huge boost for anyone that is still having doubts about their ingenuity. The owner knows all the information about how you can drive without breaking traffic rules, and this shows in the professionals they employ as instructors. This experience is what gives Conquest school of driving the needed experience that sets them apart when driving schools in Cape Town are mentioned. Conquest instructors are trained to guide you through driving on any road or terrain and have your best interests at heart. You will be in control of the driving lessons that have been tailored to meet your ability, and with time, you can be able to cope on your own.
Slow learners are offered an unlimited training package that will run as far as they can master all the techniques they need to be proficient. Conquest also recognizes the role that trust plays when learners are involved with their instructors. This is why they issue every learner with a single instructor for the duration of their learning to build their confidence and trust in them. Conquest only gives driving tests when the learning driver is ready to take the step and has mastered all they need to master. This saves the time and money that goes into re-testing for failed drivers. The principle is to build drivers that have better chances of passing their test and those worthy of being trusted with a driving wheel.
Conquest School Of Driving Cape Town also provides all driving school services, including driving lessons, driving tuition and tutor, driving instructors and instructions, and driving academy.
3. BSI Driving Academy Athlone, Cape Town
Location: 75 Koodoo St, Athlone, Cape Town, South Africa
Phone no: +27 74 133 0069
Business Hours: Mondays to Sundays between the hours of 07:00 to 19:00.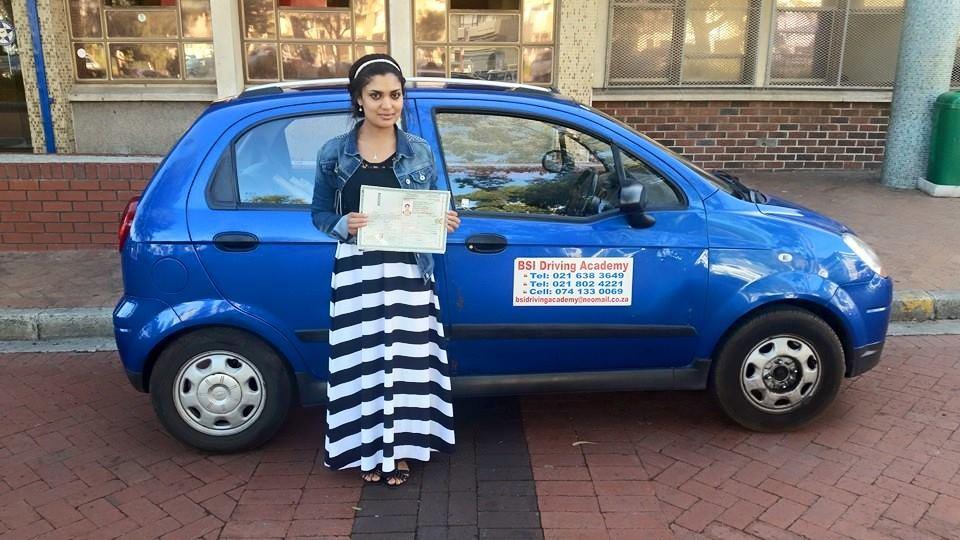 BSI Driving Academy is another practical learning academy that is located in Cape Town. The driving school is located in Athlone Cape Town and has a reliable network of professionals that are focused on getting the best out of their prospective learners. The learning process offered by BSI is unique because it has been tailored to meet the needs of the learners, even at the cost of them spending more time on learning.
The learning process has been structured to cover the aspects that the learners are supposed to have covered, such as driving techniques applicable to some roads and terrains. This will give the learner the required confidence to navigate through Cape Town and rely on his experience to survive on their own.
BSI is not a time freak, which means that there are lesser cases of learners having to start the whole learning process all over again just because they've not been able to pass their tests. Therefore, the instructors have been instructed to suggest a training package for all learners after gauging their ability for the first session. This will give them the required edge to then proceed to offer skill-induced training for any learner on their roaster. This decision implies that learners will not be restricted by the number of hours for training. The training will continue to go on for as long as the learner can learn and master their driving skill.
Client Reviews of BSI Driving Academy
Professional Driving Instructors
Client/customer reviews for BSI driving academy have been overwhelmingly positive as learners confirmed that the instructors employed by the academy are thorough professionals who put in a lot of work to ensure that learners achieve their goals. The instructors are deemed to be patient, skilled and help the drivers to gain mastery of areas that they've been deficient in the course for their driving training.
They Carter for Drivers that are Slow Learners
The added treat that made BSI special is the special hours that the instructors added for special needs learners and drivers that are slow in learning. This enabled them to build their confidence and finally ace their tests and get their driver's license. BSI is undoubtedly one of the best in the driving school business, not just in Cape Town but in South Africa as a whole. However, their charging rates have not been listed and may be agreed on when bookings are made.
BSI Driving Academy Practical On-car Training Services
Free collect and drop services for prospective learners.
Seasoned and patient professional instructors.
Fully insured training vehicles.
K53 driving lessons
Duration of training is as it is required for the learner to perfect their skill.
Courses Modules: Pre-trip inspection, yard test parking for K53 standard, Road driving K53 standard.
4. Torque Driving Academy Surrey Estate, Cape Town
Location: Comet Street Cape Town, Western Cape, South Africa 7764
Phone No: +27 829922827
Site: www.torquedriving.co.za
Work Hours: Mondays to Saturdays between the hours of 8:00 and 18:30.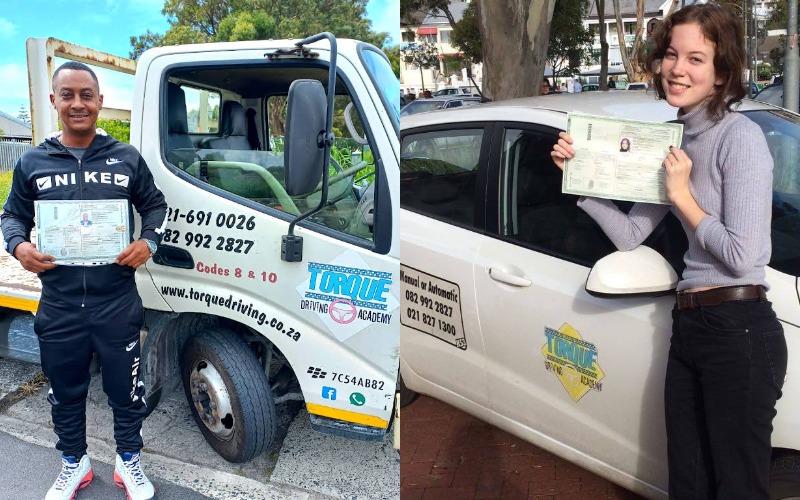 Toque Academy was started in 2009 by a man called Hassan Lombard in Surrey Estate Athlone. The foundation of the business was built up from the passion of the owner who was doing the training sessions alone and trained drivers in different categories on the skills they need to become full-time Cape Town drivers. The dream seemed so big then, but Mr. Hassan has done a remarkable job with this driving school and has turned it into a huge outlet for willing learners.
The owner's passion was to get drivers that are road-worthy and can be able to pass their tests when they're ready. The academy now runs a team of three instructors that includes Mr. Lombard with Bashier and Waheed as additional instructors, and they have done well for themselves. The services that the Toque Academy offers are not made to churn out as many drivers as possible but rather to train the best learners in line with the ethics of driving, bearing in mind that human lives and resources may be at risk. Therefore, honesty and ethical services are the first ethics that Torque is renowned for. They are an innovative outlet that has created structures that will enable their learners to become more and more confident on the wheel without overpaying for it.
Client Reviews of Torque Driving Academy
Patient Driving Instructors
Much of the reviews for the Torque Academy complimented their quality services to the latter and confirmed the fact that they're a good outlet that anyone willing to understand the basics of driving in Cape Town should sign up with. The instructors have been noted to be patient and will guide you through the steps of learning as long as you're willing to put in the work.
High Rate of Driving Test Passes
Torque academy also has a reputation for churning out drivers that passes their driver's test even with past experiences not being in their favor.
Flexible Practical Training Hours
The training hours are all adapted to fit your learning capability and your ability to show what you learned through live driving sessions on the road. Some of the learners even described the service as 100%, and this is convincing as much to anyone who wishes to get driving lessons in Cape Town and get that driver's license as soon as possible.
They Reward Drivers who Learn Fast
The Torque academy also offers package promotions for learners that have shown promising signs of getting on the wheel in no distant time. This is a structure that has never been seen before in the history of driving schools in Cape Town. The aim is to keep finding innovative ways to keep their learners grounded on the rudiments of driving and focused on passing their driving test and getting that driver's license.
Different Driving Training Packages
In addition, Torque Driving Academy provides all driving school training packages for vehicles and motorbikes. And their work focus is hinged on giving theoretical driving lessons and practical, driving tutor training and preparation for vehicle driver's license and motorcycle license tests.
5. Behind The Wheel Learner Driving Academy Lotus River, Cape Town
Location: 6 Alice Road Grassy Park, Cape Town, South Africa
Phone No: +27737946718
Email: [email protected]
Work Time: Mondays to Saturdays between the hours of 08:00 and 17:00.
Rates: 1 hour of driving training at R160, 5 hours training at R750, 10-hour training at R1500.
Work Focus: Driving lessons for both automatic and manual driven cars, learners license classes, K53 professional drivers training, and driving tuition.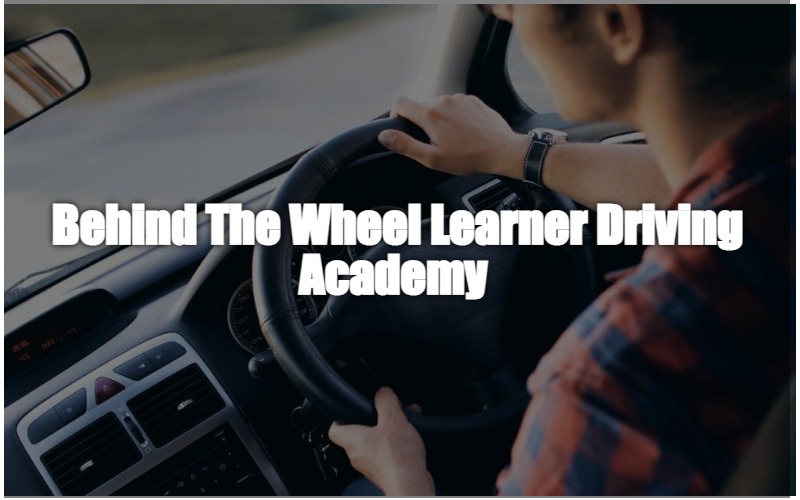 Behind the Wheel, Driving academy is all about driver independence and freedom to navigate through the roads in Cape Town with relative ease and peace of mind that comes with perfection. This is a place where your needs to develop properly as a driver is met with the thorough guidance and patience of the instructors. The goal of the driving school is to train drivers that can be independent and drive safely and appropriately on their own.
Their target audience are student drivers and amateurs that have never driven before. As a parent, you can enroll your undergraduate kids to learn to drive without having any worries. The training techniques are thorough and have been adapted to obey the traffic requirements of Cape Town roads without being told what to do at any point in time. Therefore, in the Behind the Wheels Driving Academy, passing the driver's test is good, but that will only become an option when the learner has mastered all the processes that will enable him to be considered roadworthy.
Being one of the best driving schools in Cape Town, they structured their classes such that the training they offer is based on each learner's skill set, which is crafted from the beginners to the ones that need to refresh their knowledge. Another specialization of this academy is the ability to target your learning and enable you to learn at your own pace. This will build any driver's confidence with time and allow him to master all the modules of the K53. Their prices are also quite competitive and justify the package that is offered by the driving school. The skillset you can learn in this academy is not restricted and is a full course depending on the package that you have chosen.
Trust and patience are needed for a struggling driver to get ahead of the game and master the driving art, and this is what Behind the Wheel will provide all learners with. The instructors are assigned on a personal basis to monitor the progress of the learners under them and for continuity.
6. Aubrey's Driving School Cape Town
Location: 7th Avenue Athlone, Western Cape, South Africa
Phone No: +27(0)21 6338637
Site: www.drivingschoolcapetown.co.za/
Email: [email protected]
Rate: Lessons are charged at R120 per hour, although this may vary with special packages. You are to pay R400 if you're to use a vehicle for the driving test.
Aubrey Driving school has been around for a while and has racked up a reputation as one of the best driving lesson centers in Cape Town. The center has been in existence for 17 years, and they're a group that pays attention to the details when driving processes are involved. The school pays good attention to the last details and demands that their instructors provide progress reports of the drivers that are learning under them. This is done after each session to ensure that they're moving in the right direction.
The instructors have been trained to be professionals, patient and polite when dealing with the individuals under their tutelage. The instructors are to focus on the current drivers under their care and are not allowed to book new ones for as long as their training duration lasts. This is entirely professional and beats what many driving schools offer in the same vicinity. This makes the driving school an obvious choice if you wish to make the most of the opportunity to widen your learning and improve in confidence.
The training amplifies between different vehicle specifications such as the usage of power steering and other models in the same feature. The implication is that they will bring out drivers that are grounded in the art and can control any vehicle that they lay their hands on. The target is to get the learners to be ready to pass the driver's test on the first try instead of the frustrations that come with failing and having to do a repeat. Aubrey driving school also prioritizes their theoretical training where the drivers are trained on the ethics of the profession and the need to understand traffic regulations when driving in a busy city such as Cape Town. The study is closely monitored by the instructors of each learner and will be the qualifying factor for any driver to proceed to the road training.
7. GP Driving School K53 Specialists Plumstead, Cape Town
Location: 128 Churchill Rd, Plumstead, Cape Town, 7800, South Africa
Phone No: +27 21 762 8081
Work Hours: Monday to Saturday between 7 am and 4 pm.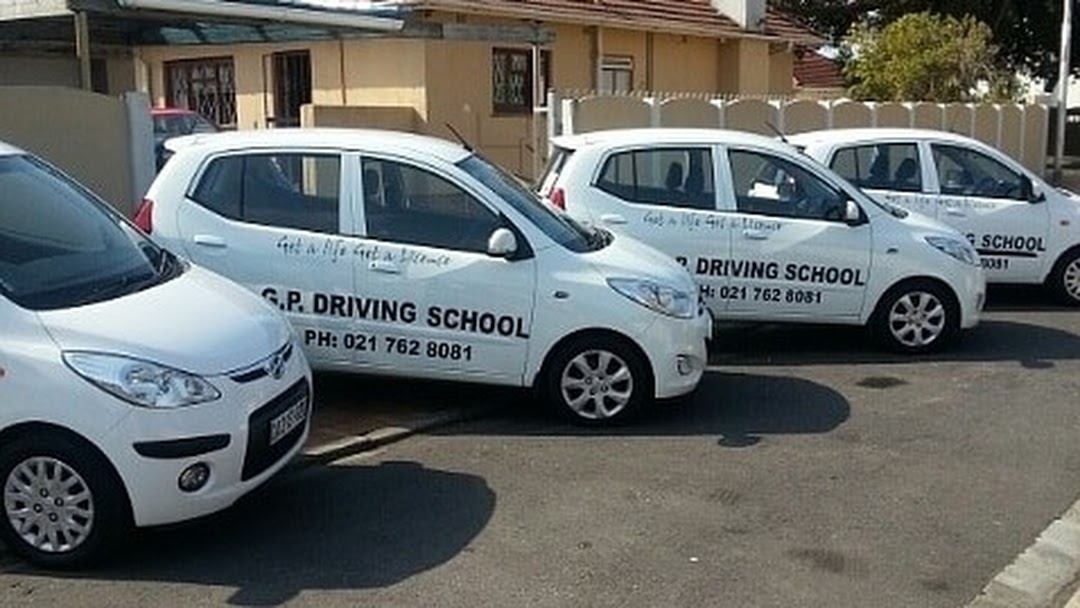 GP Driving School is not your average school as far as driving schools are concerned; they're giants in the business and have achieved quite a lot in recent years. They are a renowned driving school company that has been in existence for over 60 years. The school can boast of some of the best instructors in the industry and is guaranteed to give you that much-desired success when you take your driving test. The instructors are all K53 trained and are patient enough to guide you through the skills you want to acquire. You can gain your confidence with time and then start making some decisions on your own.
As one of the best driving schools in Cape Town, GP Driving School also possesses the personnel to train drivers that can drive vehicles of different categories such as automatic, manual, and even trucks. The truck training module that they teach is code 10 truck training, and there are reliable vehicles that you can use. You can decide to choose your training regimen as long as it's enough to set you on the way to achieving that pass in your driving test. The process may seem quite pricey, but the reviews have proved that it is worth it. There are different stages that you may have to pass depending on the level of your skill and your ability to adapt.
The instructors have been equipped to guide all the learners in their care to choose the appropriate driving test that will be suitable for them. The driving school covers almost all the areas in Cape Town and offers car rental services for drivers who have passed their driving test and have been offered their driving license.
8. He and She Driver Training Centre Cape Town
Location: 1 DUNCAN ROAD VALLEY, CAPE TOWN, 7500., Parow, Western Cape, South Africa
Phone No: (021)931-8214
Site: www.heandshedrivingschool.co.za
Rates: Price is stated at R185/hour, which may change depending on the area, R1700 for 10 booked lessons in one.
Work Days: Mondays to Saturdays.
Another notable mention among the best driving schools in Cape Town is the He and She Driver Training Center. He and She as a company is a legend as far as the South African market is concerned. The company is national and has been doing this for over 44 years. You can never mention the best driving schools in the country without calling this driving school. The school has the best instructors in the business, having years of experience with driving and the ability to teach it. They start with the theoretical classes where each learner will understand the basics of driving. Once the theoretical classes have been concluded, the next step is to proceed to live training on the road, but that must be after the learners have passed the theoretical test.
Road training is done every day apart from Sundays and will include all skill sets that have to do with driving on the roads of Cape Town. The training is for all drivers with different levels of skills from newcomers to the experts that wish to brush up their skills either for employment or a for more knowledge. There are also special packages for free drop-offs and pick-ups of clients from locations around the Cape Town service areas. Learners are encouraged to use the company's insured manual vehicle for appropriate learning. There are also added lessons, such as the anti-hijacking driving lesson for the professional drivers in the game.
In summary, their driver training packages include Pre-trip inspections, basic maneuvers in the yard, driving on the road, practical in-truck training where the client is assigned one instructor, comprehensively insured vehicles, vehicles with fitted dual controls, highly trained and professional instructors with certificates.
9. Helderberg Driving School, Cape Town
Location: 79 George Street, Strand Cape Town, Western Cape, South Africa 7140
Phone No: 084 771 7777
Rates: The lessons will cost R170 per hour, although packages may alter them.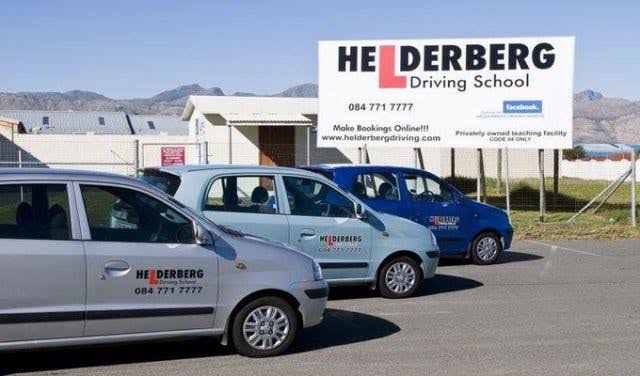 The Helderberg driving school is locally owned and is one of the few verified driving schools that has a standard K53 parking facility. The business is run by the Helderberg family and is good for learners looking to get very good control of their manual and automatic cars. The school has the edge over its competition with its many years of experience in the driver's training business which makes them one of the choices everyone will consider as far as Cape Town is concerned.
This school aims to train confident drivers who can comfortably make decisions while on the road. They also have the pattern to guide the learners through a process suited to their learning ability. The learners would have to feel comfortable when learning due to the teacher's ability to be flexible with their teaching. There are enough manual cars available for training, but any learner that prefers automatic would have to provide one before lessons can commence. The courses that the learners need are also available in the facility, and there are free drop-offs and pick-ups for the clients.
10. West Coast Driving School Cape Town
Location: Cape Town 7500, Western Cape, South Africa 7500
Phone No: +27 (0)21 558 7038
Site: www.k53drivingschool.co.za
Rates: R160 per hour
Work Hours:  Mondays to Saturdays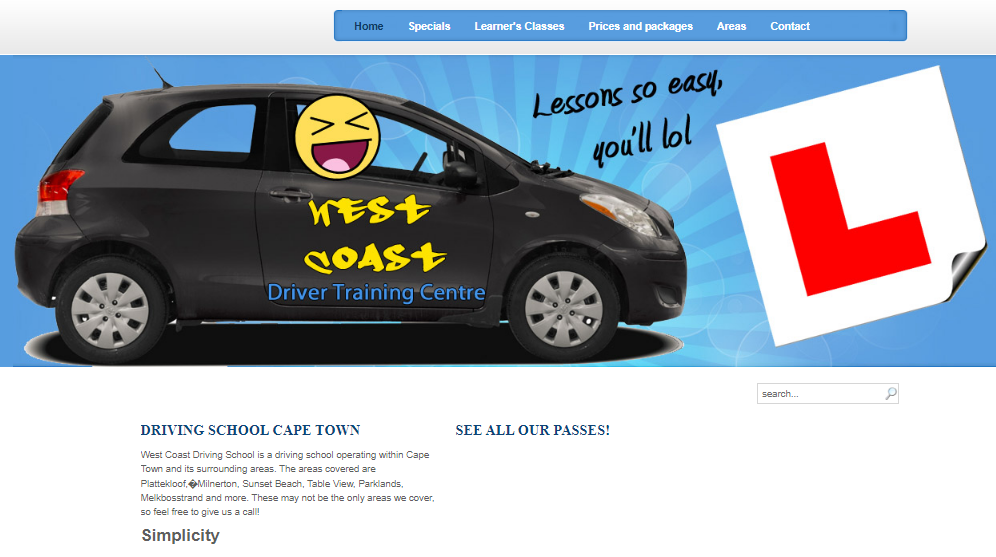 This school is regarded as one of the top driving schools in the Bay area of Cape Town due to its many years of experience on the driver's training job. They have emotionally intelligent instructors that recognize the importance of the right knowledge for driving lessons. Oftentimes, learning to drive can be tedious and frustrating without the right training model; this is why the West Coast Driving school focuses on teaching their learners varieties of skills for different scenarios. The learning process is done in such a way that learners will learn efficiently and in a way that will boost their driving.
Manual cars are the default cars for learning, while learners can provide automatic if they wish to use them for learning. The target for all instructors is to get the learners able and ready to write and pass the driver's test, which is the last proof that they are ready, after which they are offered a driver's license. The special thing about the West Coast Driving school is that their instructors have all been trained to meet the needs and learning demands of any type of driver they are tutoring. This is more than enough for any driver to get required driver's training to any level as far as safe driving is concerned. With all these, it is not surprising to see that West Coast Driving School comes highly recommended as one of the best driving schools in Cape Town.
Why Driving Lessons are Necessary for Cape Town Roads
Driving Lessons are necessary for any new driver in Cape Town for many reasons.
1. Cape Town has Left-Hand Driving
The first and most important reason is that the driving rules in Cape Town are different from a few other cities in the country. For instance, the cars in the city are both rentals and otherwise are right-handed, and they do their driving on the left side of the road. You will require a lot of guide and instructions if you're coming from another country or a city that drives on another side of the road.
2. Well Regulated Speed Limits
Another reason you need a thorough driving lesson in Cape Town is because of the speed limits that are being maintained throughout the city. The general speed limit for drivers in Cape Town is 120km/h on highways, while secondary roads maintain a speed of 100km/h. The roads in the built-up areas that are usually full of people maintain a speed limit of 60km/h unless it has been indicated otherwise. Therefore, for one to be able to navigate successfully through the roads of Cape Town, you need to get appropriate instruction from a reputable driving school that can train you to drive in accordance with the driving regulations of the city.
3. Ability to Drive in Other Cities
The special thing about the driving lessons that you will get in Cape Town is that they will give you an edge that you can use to navigate driving in other cities that are not as busy as Cape Town. The only issue that people encounter is the challenge of getting a befitting driving school that will give them the skills they need to become proficient drivers. You do not need to worry, as our list has provided you with some of the best driving schools in Cape Town and how you can get access to them if you wish to take lessons.
Do I need a Learner's License to book a Driving Lesson in Cape Town?
Yes, a learner's license is a required document for anyone that wants to learn how to drive. Acquiring a learner's license means that you are ready to learn the basics of driving before being issued a driver's license when you pass your driving test. Before you can be able to book for a licensed K53 driving training, you must,
Have a learner's license
A valid Identification card
Proof of Address
Be 16 years and above
A learner's license is a permit that you need to be given before driving on Cape Town roads under the supervision of a Cape Town driver who has a valid driver's license. A learner's license proves that you have acquired basic knowledge of a vehicle and the rules that guide the road. Another thing is that the Category of vehicle you are driving may require that you get a professional driver's permit before you can be allowed to learn with it. This means that your instructor must have that driver's permit before both of you can hit the road.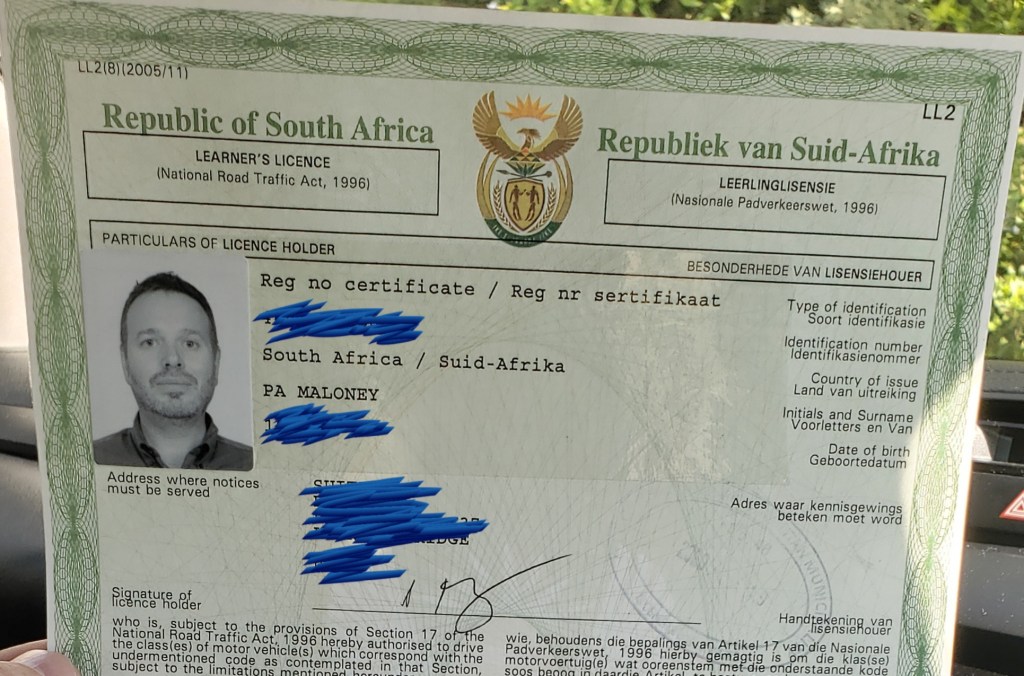 Categories of Learner's License
Code 1: This is issued for learners that wish to learn how to drive a motorcycle (with or without a sidecar), motor tricycle, or quadricycle. You must be over 16 years before the date that you applied for the permit as long as your motorcycle's engine does not exceed 125cc, while those with engines above 125cc are for those over 18 years old.
Code 2: This is issued if you're learning to drive a vehicle that includes a minibus, bus, or vehicle that carries goods. The entire mass of the vehicle must not exceed 3500kg. Only those 17 years and above at the time of application can successfully apply for this.
Code 3: This is for vehicles whose body mass exceeds 3500kg. This is issued mostly for heavy-duty vehicles and trucks. You must be 18 years and above before you can acquire this permit.
You can apply to get your learner's license at any driving license center and book a test date with the following documents:
Valid ID
Two identical black and white passport photographs
Booking fee
Proof of postal and residence address.
Letter from the Ward Councilor for residents in informal settings
Recap of the 10 Best Driving Schools in Cape Town
Champs Driving Academy
Conquest School Of Driving Cape Town
BSI Driving Academy Athlone, Cape Town
Torque Driving Academy Surrey Estate, Cape Town
Behind The Wheel Learner Driving Academy Lotus River, Cape Town
Aubrey's Driving School Cape Town
GP Driving School K53 Specialists Plumstead, Cape Town
He and She Driver Training Centre Cape Town
Helderberg Driving School, Cape Town
West Coast Driving School Cape Town
Driving is a process that requires careful learning. Therefore, you need to apply the services of some of the best driving schools in the business to understand the rules of driving and its ethics and not just the techniques. The driving schools on this list will compete with some of the very best in the business, not just in Cape Town but also in South Africa. They have proven track records that have proven that they have produced well-trained drivers over the years. More so, the drivers they trained have high pass rates when they apply for their driver's license on the first try.